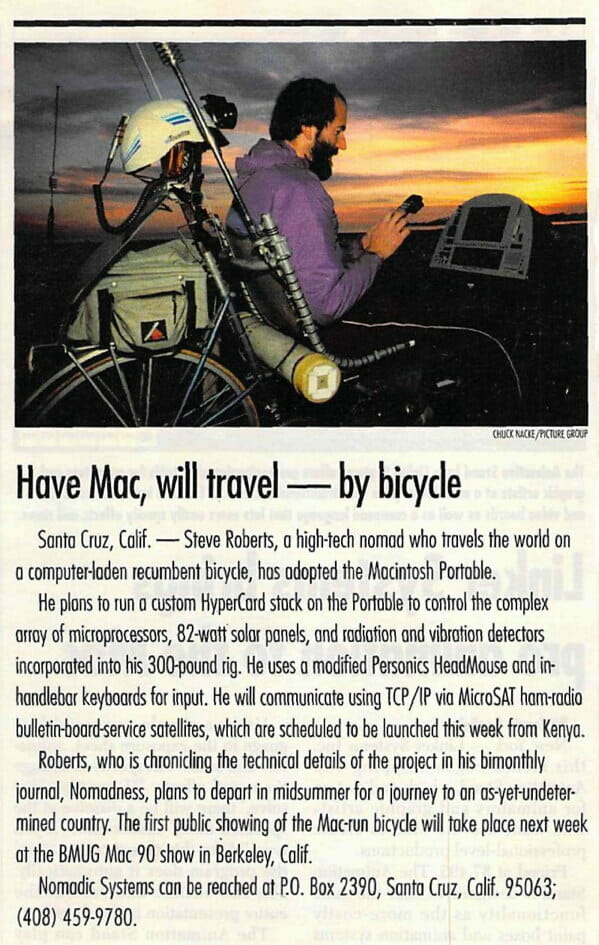 Have Mac, will travel – by bicycle… MacWeek
The decision to use a Macintosh Portable in the console of BEHEMOTH was significant, and led to a very interesting bicycle-mobile work environment (with handlebar keyboard and ultrasonic head mouse, both mapped to the Apple Desktop Bus) than would have otherwise been the case. Apple donated the machine, and the Mac-related press loved it.

MacWeek
January 23, 1990
Santa Cruz, Calif. — Steve Roberts, a high-tech nomad who travels the world on a computer-laden recumbent bicycle, has adopted the Macintosh Portable.
He plans to run a custom HyperCard stack on the Portable to control the complex array of microprocessors, 82-watt solar panels, and radiation and vibration detectors incorporated into his 300-pound rig. He uses a modified Personics HeadMouse and in-handlebar keyboards for input. He will communicate using TCP/IP via MicroSAT ham-radio bulletin-board-service satellites, which are scheduled to be launched this week from Kenya.
Roberts, who is chronicling the technical details of the project in his bimonthly journal, Nomadness, plans to depart in midsummer for a journey to an as-yet-undetermined country. The first public showing of the Mac-run bicycle will take place next week at the BMUG Mac 90 show in Berkeley, Calif.
You must log in to post a comment.