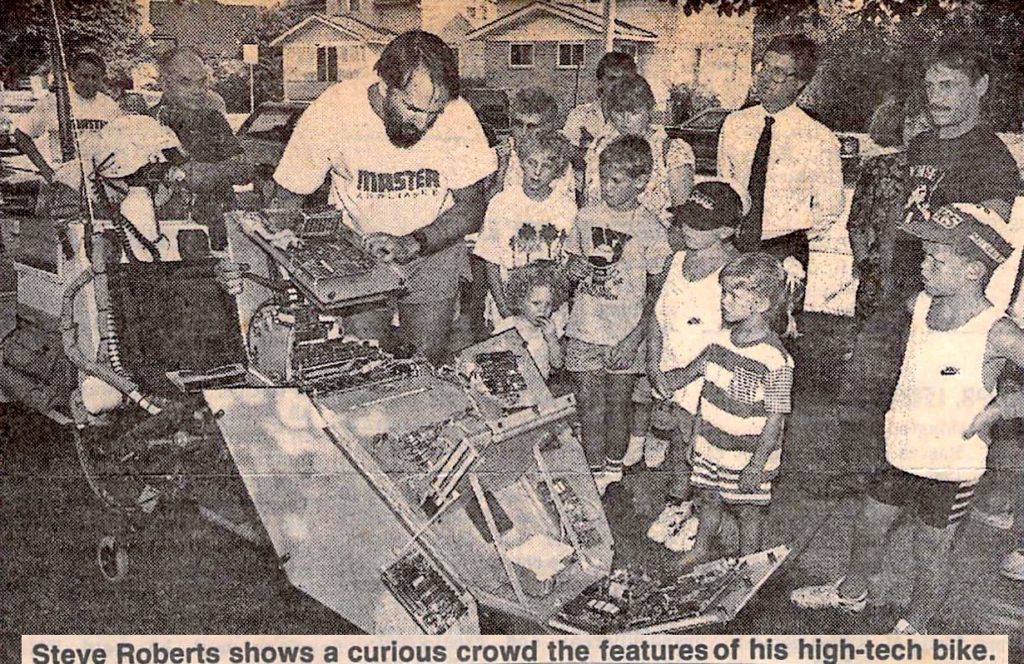 This took place during the intense BEHEMOTH tour – just after doing RAGBRAI, and before heading up and around Lake Michigan. I was visiting at the behest of Master Appliance, sponsor of my wonderful little butane soldering irons. The visit was announced a few days earlier in the same paper.
by Michael Burke
photo above by Mark T. Ostler
Racine Journal Times
August 13, 1991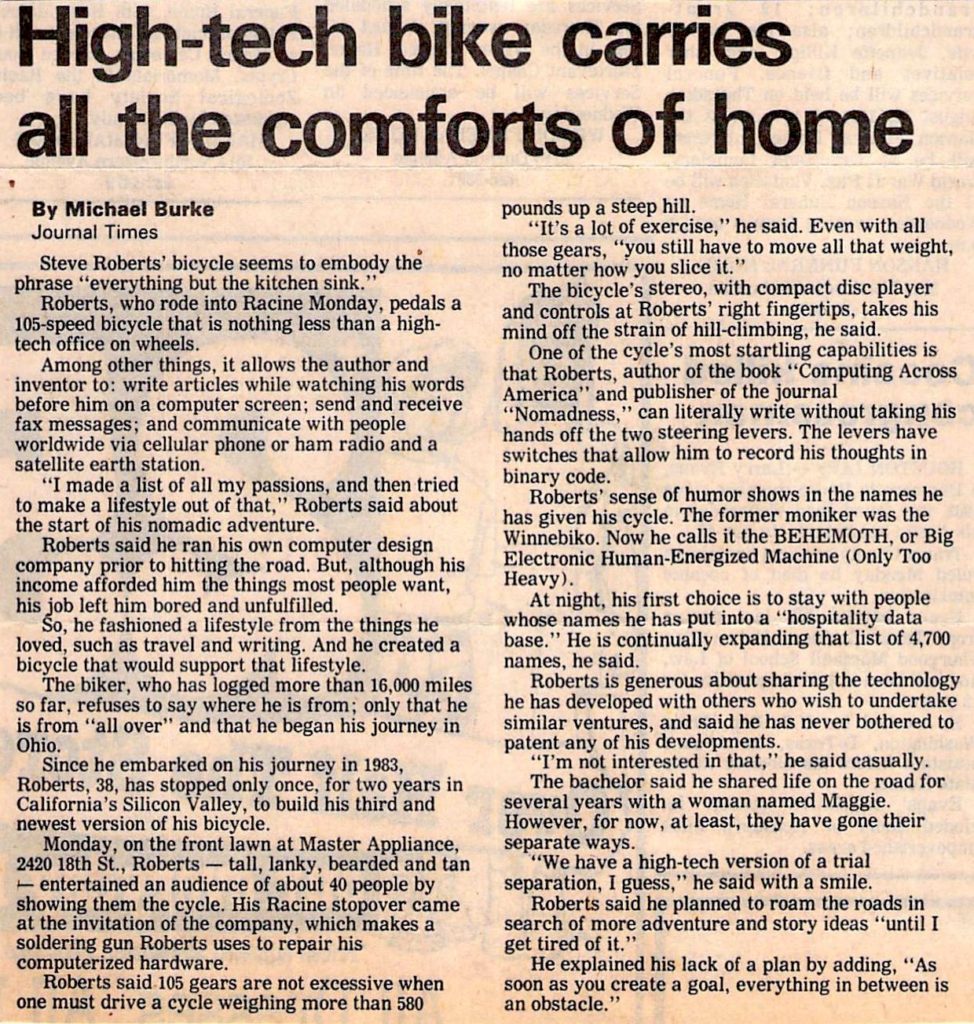 Steve Roberts' bicycle seems to embody the phrase "everything but the kitchen sink."
Roberts, who rode into Racine Monday, pedals a 105-speed bicycle that is nothing less than a high-tech office on wheels.
Among other things, it allows the author and inventor to: write articles while watching his words before him on a computer screen; send and receive fax messages; and communicate with people worldwide via cellular phone or ham radio and a satellite earth station.
"I made a list of all my passions, and then tried to make a lifestyle out of that," Roberts said about the start of his nomadic adventure.
Roberts said he ran his own computer design company prior to hitting the road. But, although his income afforded him the things most people want, his job left him bored and unfulfilled.
So, he fashioned a lifestyle from the things he loved, such as travel and writing. And he created a bicycle that would support that lifestyle.
The biker, who has logged more than 16,000 miles so far, refuses to say where he is from; only that he is from "all over" and that he began his journey in Ohio.
Since he embarked on his journey in 1983, Roberts, 38, has stopped only once, for two years in California's Silicon Valley, to build his third and newest version of his bicycle.
Monday, on the front lawn at Master Appliance, 2420 18th St., Roberts — tall, lanky, bearded and tan — entertained an audience of about 40 people by showing them the cycle. His Racine stopover came at the invitation of the company, which makes a soldering gun Roberts uses to repair his computerized hardware.
Roberts said 105 gears are not excessive when one must drive a cycle weighing more than 580 pounds up a steep hill.
"It's a lot of exercise," he said. Even with all those gears, "you still have to move all that weight, no matter how you slice it."
The bicycle's stereo, with compact disc player and controls at Roberts' right fingertips, takes his mind off the strain of hill-climbing, he said.
One of the cycle's most startling capabilities is that Roberts, author of the book Computing Across America and publisher of the journal Nomadness, can literally write without taking his hands off the two steering levers. The levers have switches that allow him to record his thoughts in binary code.
Roberts' sense of humor shows in the names he has given his cycle. The former moniker was the Winnebiko. Now he calls it the BEHEMOTH, or Big Electronic Human-Energized Machine (Only Too Heavy).
At night, his first choice is to stay with people whose names he has put into a "hospitality database." He is continually expanding that list of 4,700 names, he said.
Roberts is generous about sharing the technology he has developed with others who wish to undertake similar ventures, and said he has never bothered to patent any of his developments.
"I'm not interested in that," he said casually.
The bachelor said he shared life on the road for several years with a woman named Maggie. However, for now, at least, they have gone their separate ways.
"We have a high-tech version of a trial separation, I guess," he said with a smile. Roberts said he planned to roam the roads in search of more adventure and story ideas "until I get tired of it."
He explained his lack of a plan by adding, "As soon as you create a goal, everything in between is an obstacle."