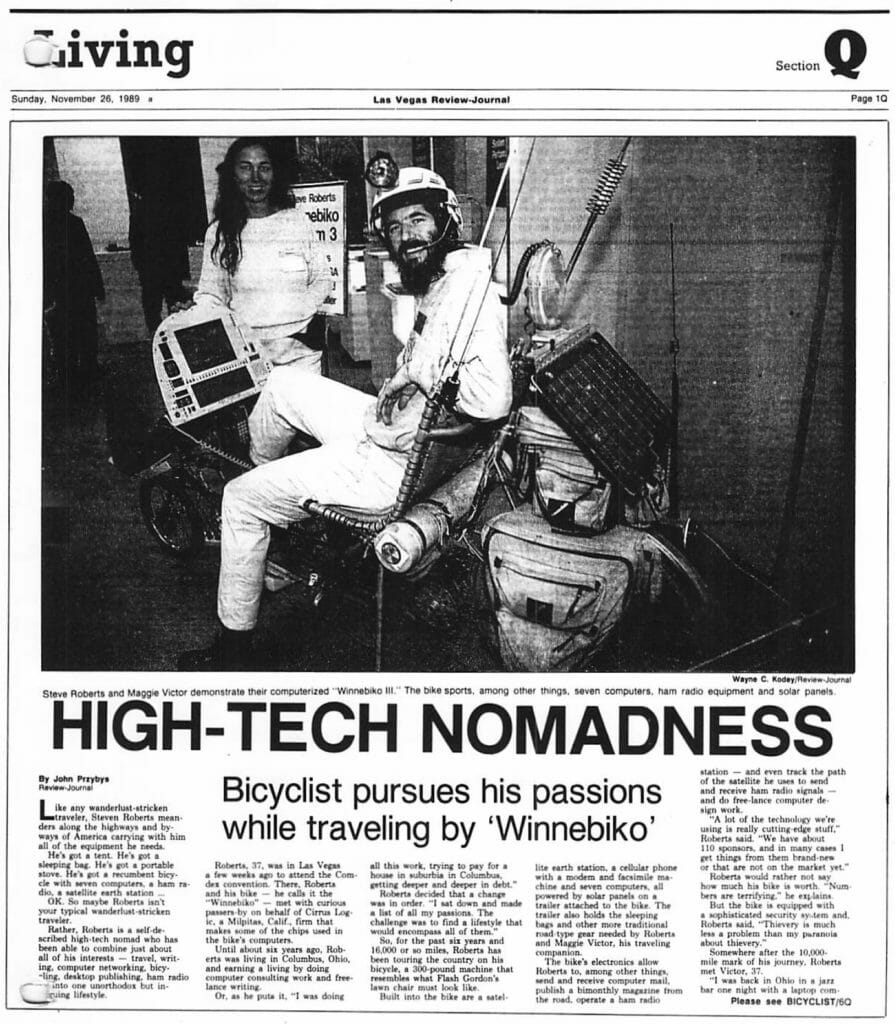 High-Tech Nomadness – Las Vegas Review-Journal
by John Przybys
Las Vegas Review-Journal
November 26, 1989
Like any wanderlust-stricken traveler, Steven Roberts meanders along the highways and byways of America carrying with him all of the equipment he needs.
He's got a tent. He's got a sleeping bag. He's got a portable stove. He's got a recumbent bicycle with seven computers, a ham radio, a satellite earth station…
OK. So maybe Roberts isn't your typical wanderlust-stricken traveler.
Rather, Roberts is a self-described high-tech nomad who has been able to combine just about all of his interests — travel, writing, computer networking, bicycling, desktop publishing, ham radio… into one unorthodox but intriguing lifestyle.
Roberts, 37, was in Las Vegas a few weeks ago to attend the COMDEX convention. There, Roberts and his bike — he calls it the "Winnebiko" — met with curious passersby on behalf of Cirrus Logic, a Milpitas, Calif., firm that makes some of the chips used in the bike's computers.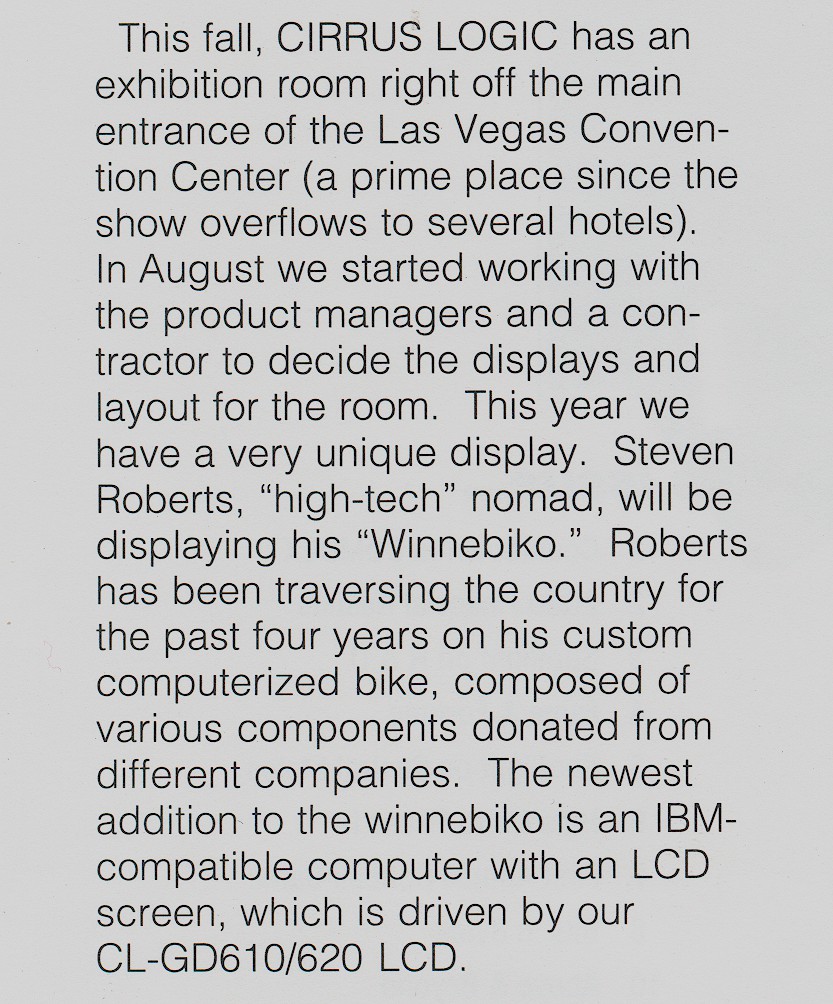 Until about six years ago, Roberts was living in Columbus, Ohio, and earning a living by doing computer consulting work and freelance writing.
Or, as he puts it, "I was doing all this work, trying to pay for a house in suburbia in Columbus, getting deeper and deeper in debt."
Roberts decided that a change was in order. "I sat down and made a list of all my passions. The challenge was to find a lifestyle that would encompass all of them."
So, for the past six years and 10,000 or so miles, Roberts has been touring the country on his bicycle, a 300-pound machine that resembles what Flash Gordon's lawn chair must look like. Built into the bike are a satellite earth station, a cellular phone with a modem and facsimile machine and seven computers, all powered by solar panels on a trailer attached to the bike. The trailer also holds the sleeping bag and other more traditional road type gear needed by Roberts and Maggie Victor, his traveling companion.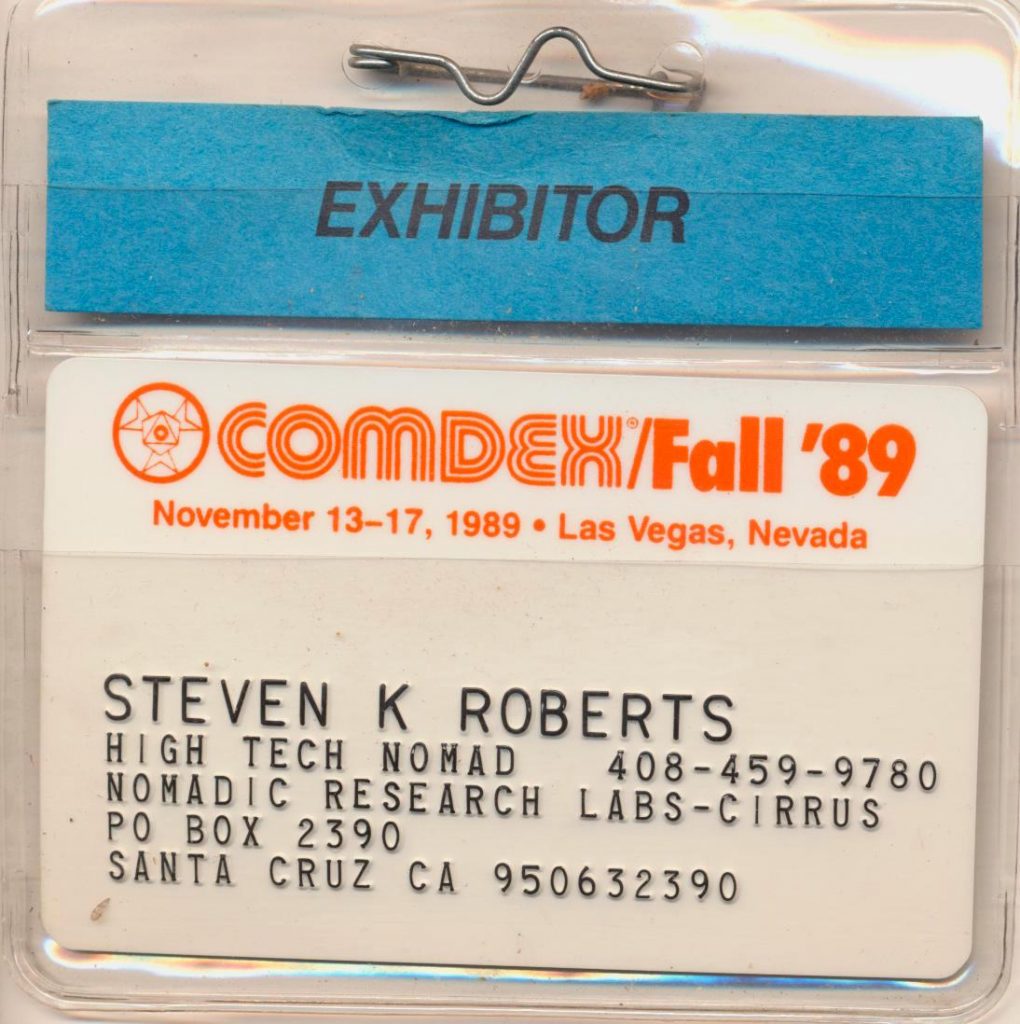 The bike's electronics allow Roberts to, among other things, send and receive computer mail, publish a bimonthly magazine from the road, operate a ham radio station — and even track the path of the satellite he uses to tend and receive ham radio signals — and do free-lance computer design work.
"A lot of the technology we're using is really cutting-edge stuff." Roberts said. "We have about 110 sponsors, and in many cases I get things from them brand-new or that are not on the market yet."
Roberts would rather not say how much his bike is worth. "Numbers are terrifying," he explains
But the bike is equipped with a sophisticated security system and, Roberts said, "Thievery is much less a problem than my paranoia about thievery."
Somewhere after the 10,000-mile mark of his journey, Roberts met Victor, 37.
"I was back in Ohio in a jazz bar one night with a laptop computer, answering some E-mail (electronic mail) and drinking some beer, and she was two tables away," Roberts recalls.
"One thing led to another, and about three weeks later I said, 'Hey, Maggie, want to go for a bike ride? She said, 'OK.' I said, 'fine, quit your job, sell your car, trash your lifestyle, get a recumbent and a ham license. We're leaving in six months.'"
Victor thought it was a reasonable request.
"Steve is one of the most interesting people I'd met in a long time, so I was pretty much taken with him," said Victor, who had been working with low-income families and doing job counseling in Ohio. "I was ready for some changes."
These days, Roberts and Victor support their travels by writing. Roberts' free-lance pieces have appeared in USA Today and a variety of ham radio, computer, bicycling, and general interest magazines.
Roberts also has written a book, Computing Across America, chronicling his trip's first 10,000 miles, and he and Victor publish their own bimonthly magazine, The Journal of High-tech Nomadness.
The magazine illustrates the fact that, for all his love of technology, Roberts is, at heart, a true wanderer. He waxes poetic when talking about the pleasure he receives from traveling and the restlessness he feels when he's in one place for too long.
"You get addicted to movement," Roberts explains. "You get addicted to the energy, the beginnings, all those things that happen in your travels. In fact, when I'm in one place for a long time, I start getting serious tire itch."
So Roberts and Victor spend as much time as they can on the road, stopping only for occasional layovers in various parts of the country. Currently, they're in Santa Cruz, Calif., and preparing to hit the road again in the Spring.
During that trip, they even plan to head overseas. "Europe and Russia are certainly ahead," Roberts said. "But it's hard to predict. Every time I try to predict where I'm going, I'm wrong."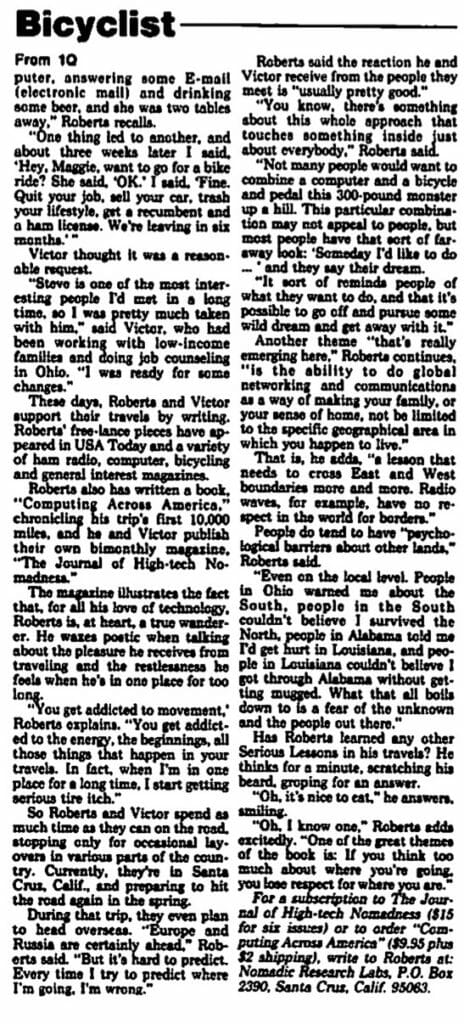 Roberts said the reaction he and Victor receive from the people they meet is "usually pretty good."
"You know, there's something about this whole approach that touches something inside just about everybody," Roberts said.
"Not many people would want to combine a computer and a bicycle and pedal this 300-pound monster up a hill. This particular combination may not appeal to people, but most people have that sort of far-away look: 'Someday I'd like to do…' and they say their dream.
"It sort of reminds people of what they want to do, and that it's possible to go off and pursue some wild dream and get away with it."
"Another theme that's really emerging here," Roberts continues, "is the ability to do global networking and communications as a way of making your family, or your sense of home, not be limited to the specific geographical area in which you happen to live."
That is, he adds, "a lesson that needs to cross East and West boundaries more and more. Radio waves, for example, have no respect in the world for borders."
People do tend to have "psychological barriers about other lands," Roberts said.
"Even on the local level. People in Ohio warned me about the South, people in the South couldn't believe I survived the North, people in Alabama told me I'd get hurt in Louisiana, and people in Louisiana couldn't believe I got through Alabama without getting mugged. What that all boils down to is a fear of the unknown and the people out there."
Has Roberts learned any other Serious Lessons in his travels? He thinks for a minute, scratching his beard, groping for an answer.
"Oh, it's nice to eat," he answers, smiling.
"Oh, I know one," Roberts adds excitedly. "One of the great themes of the book is: If you think too much about where you're going, you lose respect for where you are."