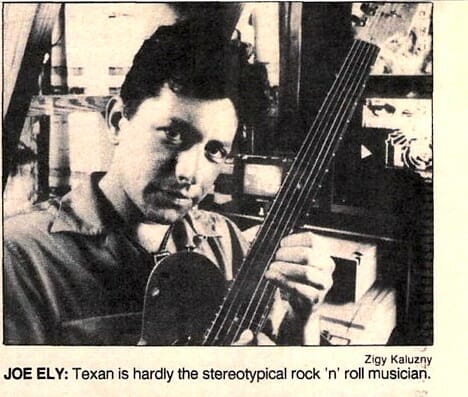 Computers Reprogram Production of Album – Joe Ely – USA Today
One of the very best things about wandering around on a gizmological marvel with lots of media coverage is that the machine becomes a key that opens doors of all descriptions. I briefly shared orbits with people I would never have otherwise met, and some such encounters spawned journalistic spin-offs… like this one. Joe Ely was a delightful character, and we took a ride on the bikeways of Austin on contrasting machines: his folding bicycle and my Winnebiko. And in 1984, the use of computers in the music business was still rather unusual…

by Steven K. Roberts
USA Today
August 16, 1984
I'm no longer surprised at the diversity of human pursuits influenced by microcomputer technology. If micros can be applied effectively to long-distance bicycle touring, there probably are few activities that remain untouched.
During a recent stay in Austin, Texas, I crossed paths with rock star Joe Ely. It started when I was exploring the electronic bulletin board community — like a message center — and was directed to a system called Campfire Nightmares.
I signed on, poked around for a moment and suddenly found scrolling across the screen of my portable computer a humorous report on recent developments in the Austin music scene, a schedule of Ely's gigs, a collection of electronic graffiti called The Bathroom Wall and something Ely later called "the world's largest database of band names."
There also was a message system through which high-tech fans could communicate with the band.
Intrigued by this new twist in the rock scene, I contacted Ely and found a warm, personable and decidedly energetic musician. He walked into our lunch meeting clad in white shirt, string tie and dark glasses, with a folding bicycle under his arm.
Within a few minutes, I had abandoned all the stereotypical notions of rock musicians and was deep in technical conversation with this computer-age performer.
"So what, exactly, did the computer have to do with production?" I asked, referring to his latest album — HI-RES.
"Well, the inner sleeve images were all done with the Apple and a Koala Pad (a touch tablet that can give commands to the computer), and the titles and text were run off on the Epson printer. For the front cover, I made a videotape off the screen and sent it to National Image Makers in New York. They made a 4-by-5 photo from the monitor."
"What about the music?"
"Used to be you had to sit down with the band. I just composed and arranged this project with the Alpha Syntauri synthesizer and then got together with the group. Saved a lot of time."
The album, kicked off by What's Shakin' Tonight, is doing well — and Ely's following is growing as he expands his touring schedule to cover territory outside Texas.
In the old days, a band received feedback via album sales and media. But Joe Ely has a whole new angle on that, too — his computer bulletin board system. If your computer calls his computer at XXX-XXX-XXXX, you will be in electronic contact with "Campfire Nightmares." Log on as "ELY," and you will have a direct conduit to the band.
"Mustanotta gotta lotta sleep last night," the system will comment, referring to an Ely song. Then Larry the Talking Dog will offer you the choices: browse the collection of humorous band names (or contribute some of yor own), read the news, leave a message or just poke around.
"We've come a long way since the days of acoustic guitar and ballpoint," observed Joe as he unfolded his briefcase bicycle and I packed up my briefcase computer.
The waitress handed me the change and asserted that she had now seen everything. We set off — on two very different computer-aided tours.
Joe Ely's website is here and his albums are on Amazon.