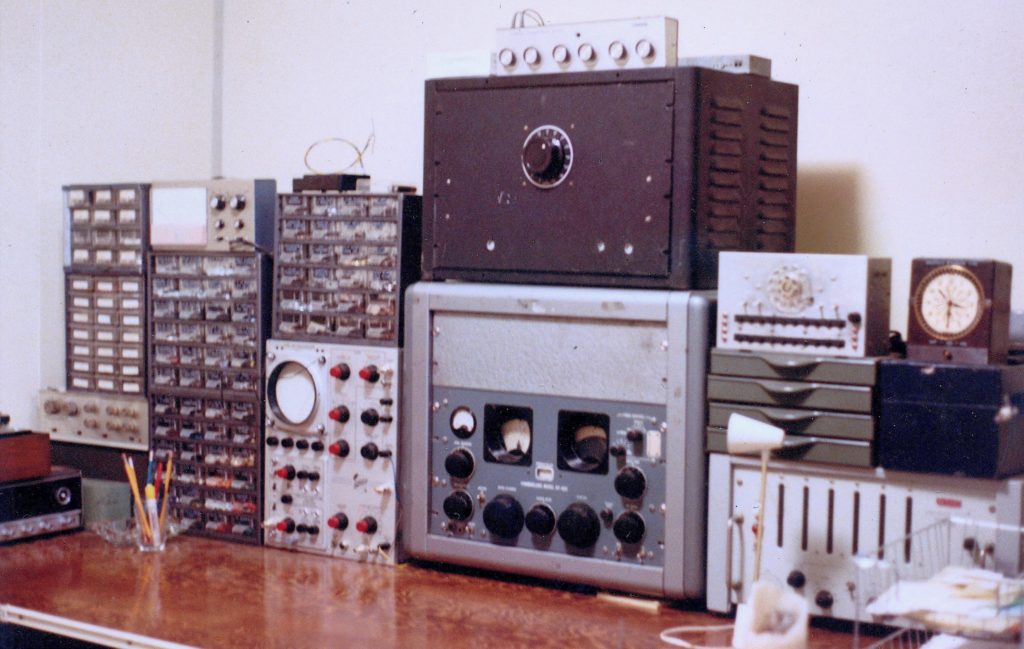 by Steven K. Roberts
June 1971 – February 1972
In one of the stranger epochs of my life, I arrived very sick on the bus from Lackland AFB in the summer of 1971. I was immediately admitted to the hospital, where I stayed for 3 weeks with severe mononucleosis and anemia. The doctors were aghast that I had run the dreaded "25th day evaluation" at Basic Training with a high fever, but the alternative was unthinkable: getting set back and having to do it again.
"They're going to kill somebody one day," I overheard from the hallway.
But I survived, missed 3 weeks of grueling chores, and was plunged into USAF tech school for avionics maintenance… things like terrain-following radar and comm/nav systems for the supersonic F-111 combat jet. Sadly, while I hoped to be immersed into electronic theory and circuit design, it was much more pragmatic: follow the procedure in the manual, and if this goes wrong, then swap that black box. Still, the detailed walkthroughs of systems were interesting, even if my constant probing for tech details annoyed the instructors.
"I don't know how it do's it!" said one, stamping her foot in the classroom trailer when I kept asking about drum memory timing. "It just do's it!"
And so, 7 months passed while my passions found focus in my 3rd-floor dorm room… which started out boring: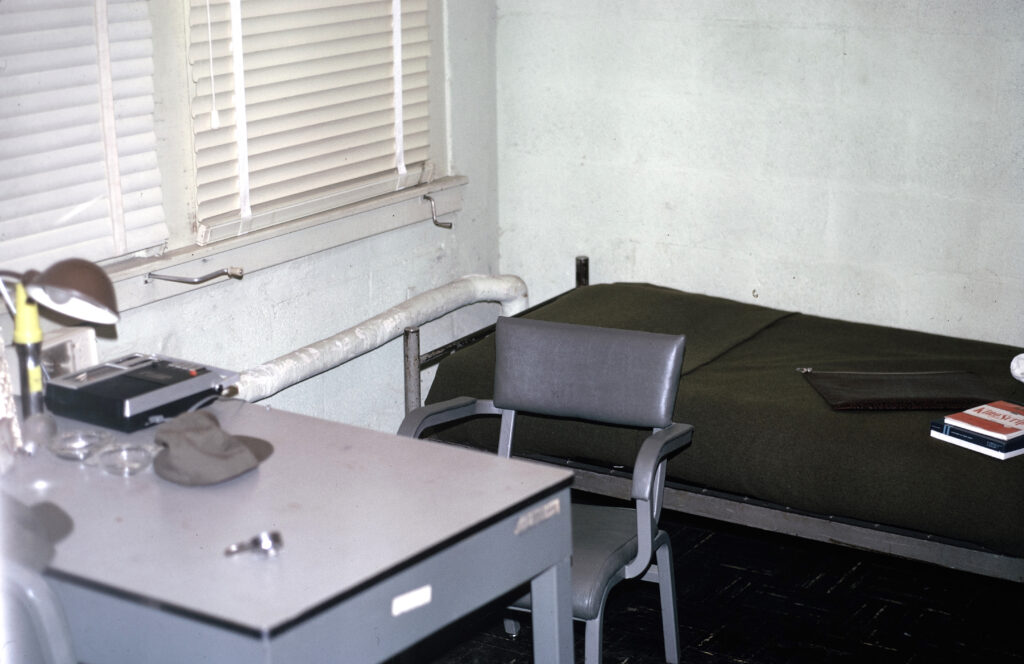 Before long, this turned into a lab, to the dismay of my tolerant and interesting roommate. In Computing Across America, I wrote: "I traveled much in my mind back then: cloistered in a stark third-floor room, catching glimpses of infinity through tiny windowpanes, hopping around the globe via shortwave radio, and disappearing into the works of Huxley, Stockhausen, and Signetics."
I quickly built a workbench, set up my tools, and started gathering inventory… here's another photo from the deep archives…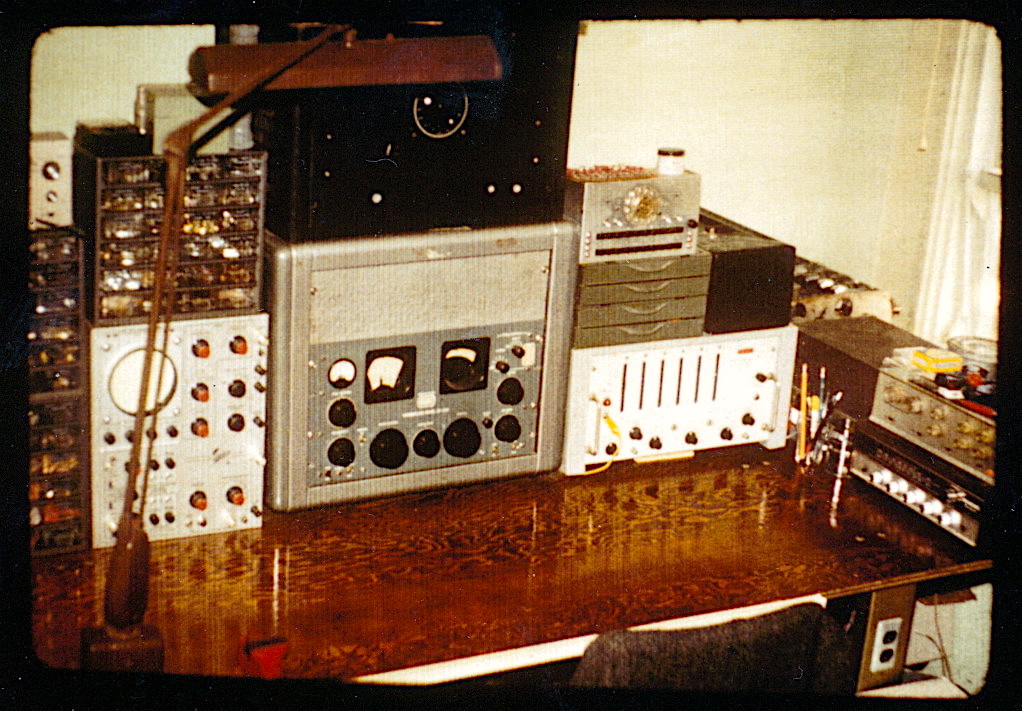 The two centerpieces besides the essential stereo were my beloved Hammarlund SP-600 shortwave receiver and the Tektronix 531 oscilloscope, but there were other toys as well. I naturally had to try a motorcycle, and bought a Honda CB-450 street bike. I was a little unclear on the distinction between this and "dirt bike," and one day went riding somewhere north of Biloxi with off-roading friends. I rumbled conservatively about as they zipped up dirt hillsides with high-pitched 2-cycle engines, but finally I saw a challenge that looked realistic: a long trail across a field with a big puddle in the middle. This I can do!
With a roar I set off, anticipating the epic splash… but the "puddle" turned out to be so deep that the bike dropped out from under me as I maintained a full-throttle death grip on the handlebars. Before gravity could land me in the water, the bike emerged from the other side, slewing insanely, and slammed me in the butt. Still clenching the grips, I did some semblance of a brief handstand, legs splayed, expecting to die… but somehow, unrelated to my meager riding skills, I landed back on the seat and continued down the trail. All this took perhaps 3-4 seconds.
I looped shakily back to my friends, much more careful. "Whooo! Do it again!" But I politely demurred, and have since heard that I did something known as a Flying W.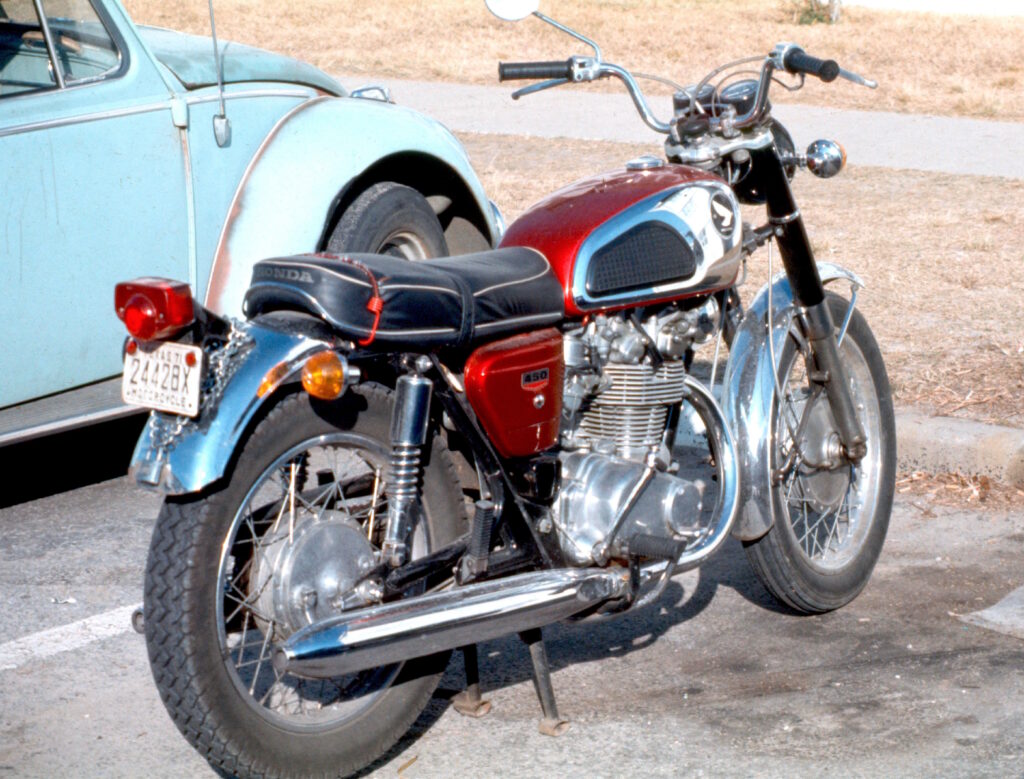 I did manage to hurt myself on the thing, however, breaking a leg on US 90. A truck changed lanes into me, with a square curb making escape impossible. I went down, the leg trapped under the bike… but the scary part was later finding a smeared tire track on my Bell helmet where it had been squirted out from under the left rear wheel of the semi. Sobered, I sold the scratched-up Honda a few days later, hobbling around with cast and crutches, happy with whatever it was somebody paid me.
A half-century down the road, my memory of those 7 months is dreamy and abstract. Marching pre-dawn across the flightline to go to class, projecting 16mm films on buildings, hopping the odd freight on those gleaming tracks that always represented passage to somewhere else. Visiting a surplus place in New Orleans, recording my sleep-talking to hear "are there sand fleas on this beach?", climbing a railroad bridge across the Back Bay as a train passed. Listening to ELP and Black Sabbath, keeping two kittens in the room, swimming in Hurricane Heidi, shaken by witnessing a fatal railroad crossing accident right in front of me, fumbling at a brief relationship, stretching the brain, and seeking geeky weirdos with whom I could find common ground… at that age, everything was new even if I was in an alien environment.
(One of those led to a useful metaphor decades later. I met a guy who claimed to be building a brain interface, and was of course intrigued. Whenever I would drop by to see how he was doing, he was refining the fiberglass dome that would one day hold all of the electrodes. I never saw any electronics, but it sure was a shiny hemisphere! While working on the BEHEMOTH bicycle with David Berkstresser in 1990, we would catch ourselves whenever real progress gave way to "sanding fiberglass domes.")
---
Going to class was the hardest part. I had become a night-owl, and the required wake-up time was unconscionable. With this in mind, I bought a surplus call-to-battle-stations klaxon from a Navy destroyer, mounted it in the top rack cabinet for maximum resonance, and hooked it up to the hotel desk clock at the far right in the photo at the top of this page. I fell asleep, forgetting to mention this to Ken, my roommate, who had been out. (Never ascribe to malice that which can adequately be explained by altered states.)
Morning came, apparently, and the thing went off. I woke much more quickly than I ever had with the junk GE clock, and quickly stepped across the room to silence the thing. I looked over at Ken's bed, expecting a scowl… but he was gone. "Huh, that's strange," I thought, then noted that his mattress was still warm. Guess he went to the bathroom.
Then I looked outside. Down in the courtyard in the pale dawn stood Ken, alone, wrapped in a blanket, blinking around as nobody else responded to the fire alarm. Oops.
I decided that the klaxon was a bad idea and disconnected it.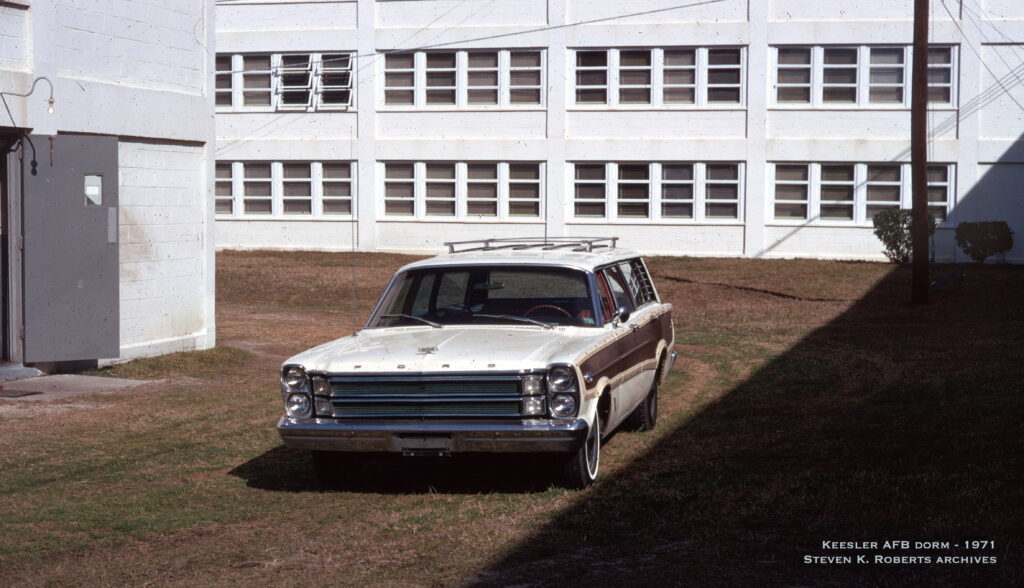 My Air Force tech school internment drew to a close sometime around January 1972, and I was readying a hulking Ford station wagon for my next adventure. Idaho, they told me one afternoon. Mountain Home, Idaho.
Onward!