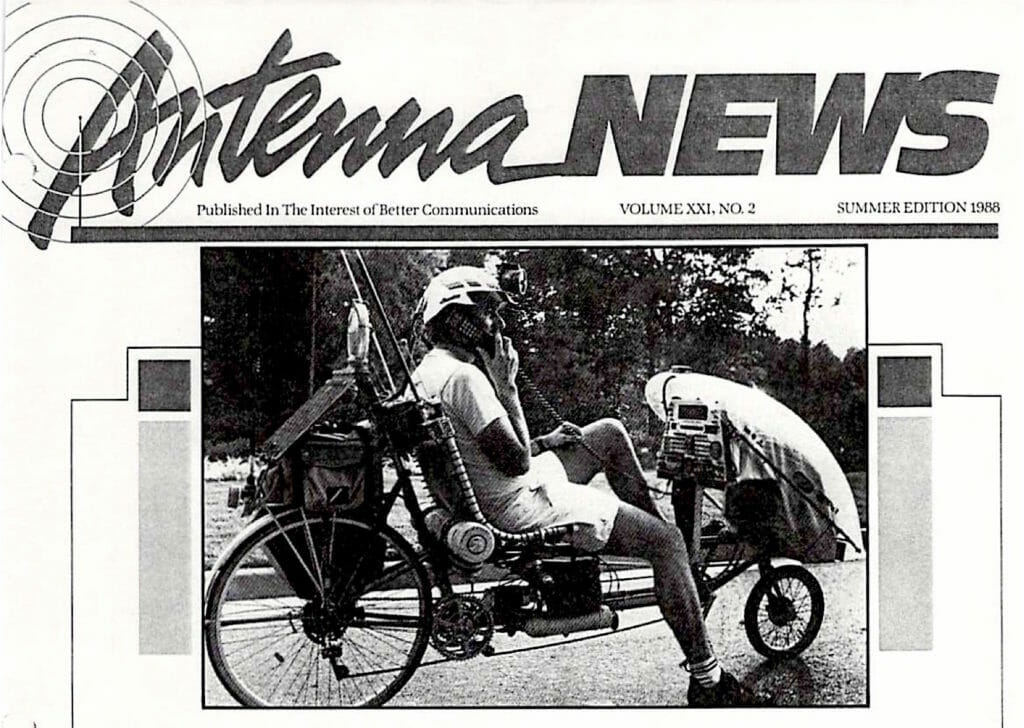 Larsen Outfits Unusual Office on Wheels
Larsen was my favorite antenna vendor, and I was in regular contact with my connection at the Vancouver Washington company throughout the Winnebiko II and BEHEMOTH projects. I even dropped by for a visit, giving a presentation for employees and interviewing with the local paper. This piece is in a Larsen house organ, and was published during the tour around the US just before I landed in Silicon Valley and dove into the third and final version of the bike.
---
Steve Roberts, a free-wheeling writer and electronics aficionado, has concocted a unique computerized bicycle he uses as an office while traveling around the country covering stories. Roberts' Winnebiko is the amazing fulfillment of his boyhood dreams as a WN4 and irrepressible cyclist… and he has pedaled over 16,000 miles.
Roberts' high tech office rests securely on a custom designed, 275 pound recumbent bicycle with a special 54 speed transmission. The bike is driven by dual high output (but very hairy, low tech) legs.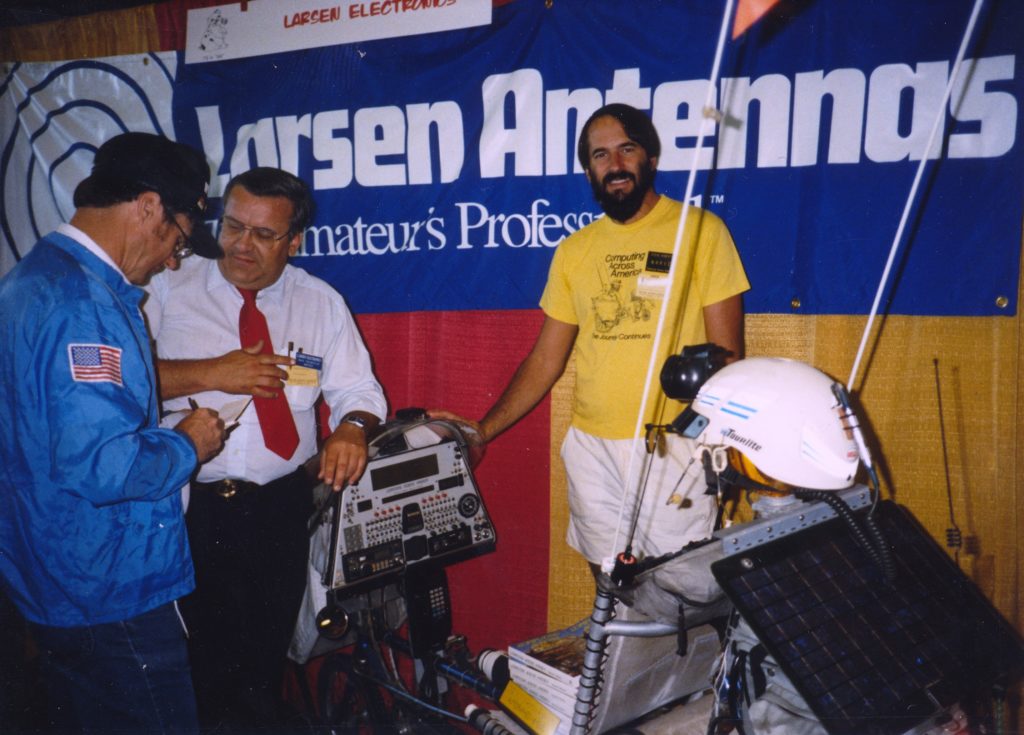 Power for the impressive array of electronic equipment is supplied by a pair of solar panels which produce twenty watts in full sun and charge seventeen amp hours of batteries.
The electronic gear is extensive and innovatively employed. Roberts' word processing and computing needs are met by an HP portable computer and three megabytes of memory aided by a handlebar keyboard and four other processors. Mounted in easy view up front is a station console which includes an FT 290R Yaesu two meter radio and a Pac-Comm Micropower-2 TNC. Related devices include a digital shortwave receiver, an Oki cellular phone, a Sony Watchman micro-TV, a complete HF ham station, a VHF weather radio, and an FM stereo for mental relief when puffing up steep grades.
Of course, Roberts selected Larsen antennas for maximum performance. The MHW 150 half-wave ensures best gain without an available ground plane, and during his recent visit to the Larsen plant in Vancouver, Washington, he added an EF-825 cellular phone whip and a YA5-806, 6-element 850 MHz beam for the boonies. Larsen is one of 90 equipment sponsors who make this unique vehicle possible.
Roberts, who describes himself as "a high-tech nomad, dedicated networker, and information junkie," writes a regular column for 73 Magazine and is the author of a new book, Computing Across America: The Bicycle Odyssey of a High-Tech Nomad.