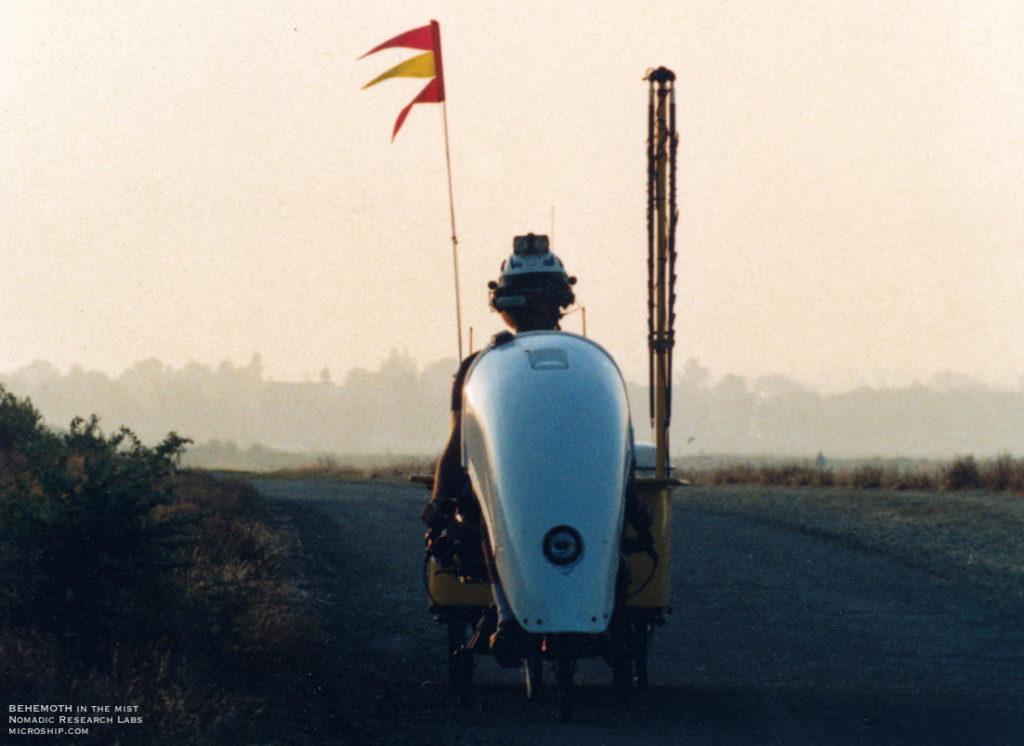 This delightful article in MikroBitti, the Finnish computer magazine, appeared during the BEHEMOTH bicycle epoch… and is an interesting departure from the mainstream US media perspective of the time. I am grateful to my friend Suvi for the translation. The article is in the "Information technology applications" department (Tietotekniikan sovellukset).
Steven tietokonepyörä

(Steven's computer-bicycle)


Mikrobitti (Finland)
March, 1992

Micro-Cowboy is orienteering in the asphalt roads of the USA while music is kicking more speed to the high tech bike.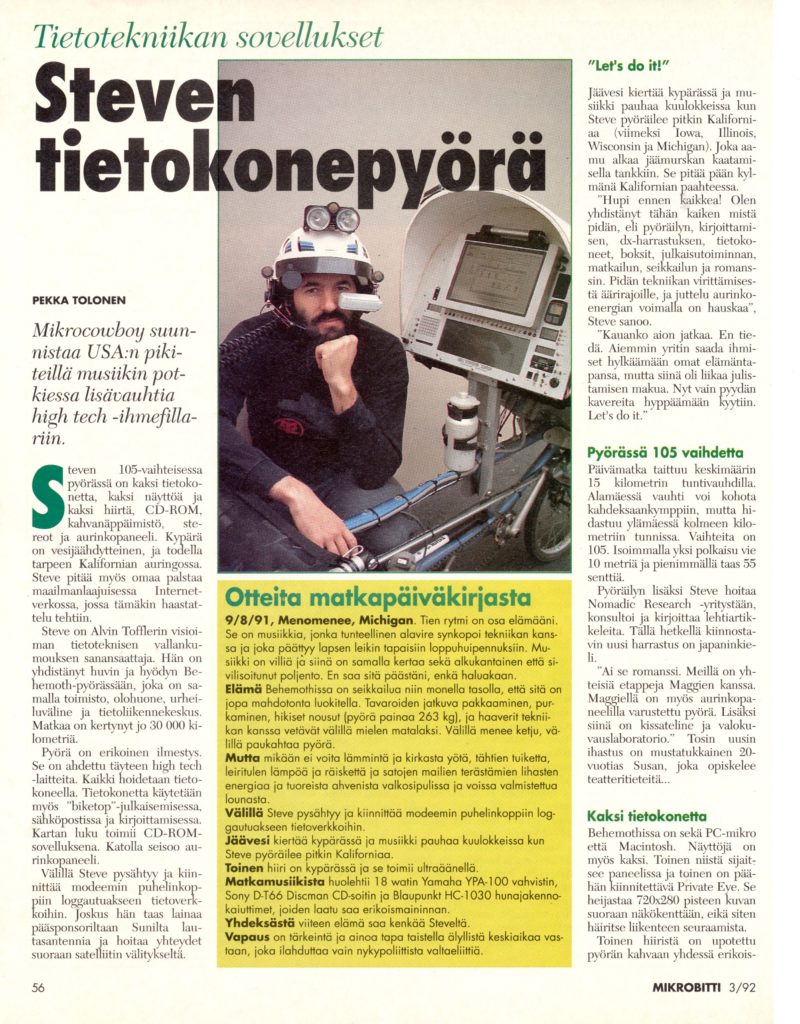 Steven's bicycle has 105 gears and two computers, two screens and mice, CD-ROM, keyboard, stereos and solar panel. The helmet is cooled with water and really needed in the Californian sun. Steve is also having his own blog in the global Internet network, where this interview was also made.
Steve is messenger of the information technology vision by Alvin Toffler. He has combined pleasure and benefit in this Behemoth-bike, that is simultaneously office, living room, sports gear and communications center. Over 30,000 km of journey has already been made.
The bike is unusual revelation. It has been crammed full of high tech equipment. Everything is taken care by computers. Computer is also used in "biketop" publishing, e-mailing and writing. Reading a map is working through CD-ROM application. The solar panel is standing in the roof.
Every now and then Steve stops and attaches modem to the phone booth in order to log in to the network. Sometimes he borrows his main sponsor, Sun, the satellite dish and takes care of the connection directly through the satellite.
"Let's do it!"
Ice water is circulating in the helmet and music is pealing from the headphones when Steve is biking through California (after Iowa, Illinois, Wisconsin and Michigan). Every morning starts with pouring crushed ice into the tank. That keeps head cool in the heat of California.
"Fun over all! I have combined here everything I like, that is biking, writing, dx-hobby, computers, boxes, publishing, traveling, adventures and romances. I like tuning technology to its limits, and chatting using solar energy is fun," Steve says.
"How long do I plan to continue. I do not know. Earlier I tried to make people to abandon their life style, but that felt too much of like preaching. Now I just ask friends to join the ride. Let's do it."
105 gears in the bike
The daily journey is passing about 15 kilometers per hour speed. In down hill, the speed and increase to eighty, but is decreased in the uphill down to three kilometers per hour. There is 105 gears. With largest gear, one pedaling will take 10 meters and lowest gear 55 centimeters.
Additionally to biking, Steve is taking care of his Nomadic Research –enterprise, is consulting and writing articles to journals. Currently the most interesting new hobby is Japanese language.
"Oh the romance. We have common stages with Maggie. Maggie also has a bike with solar panel. Additionally, it has cat rack and photograph laboratory." Although, the new Valentine is 20-years old Susan with black hair, who is studying theatre…
Two computers
Behemoth has both PC-micro and Macintosh. Also there is two screens. One is located in the panel and the other one is Private Eye attached to the head. It reflects an image with 720×280 pixels directly to the field of vision, and is thus not compromising following the traffic.
One of the mice is sank in to the handle of the bike together with special made 8-bit coder, which can be used for writing even during full speed. Another mouse is in the helmet and it works with ultra-sonic. Menu-selection in the Mac can be done using that and movement of head. It is not always possible to read files from the screen. Then help is found from the Audapter speak synthesizer.
Other electronics include Sony Watchman TV and stereos. Journey music is taken care by 18 Watt Yamaha YPA-100 amplifier, Sony D-T66 Discman CD-player and Blaupunkt HC-1030-honeycomb speakers with excellent quality.
The power of solar panel is 82 watts. It charges battery of 45 ampere hours, which is used for computers, radios and stereos, as well as for lights. Full camping and travel kitchen are also always traveling along.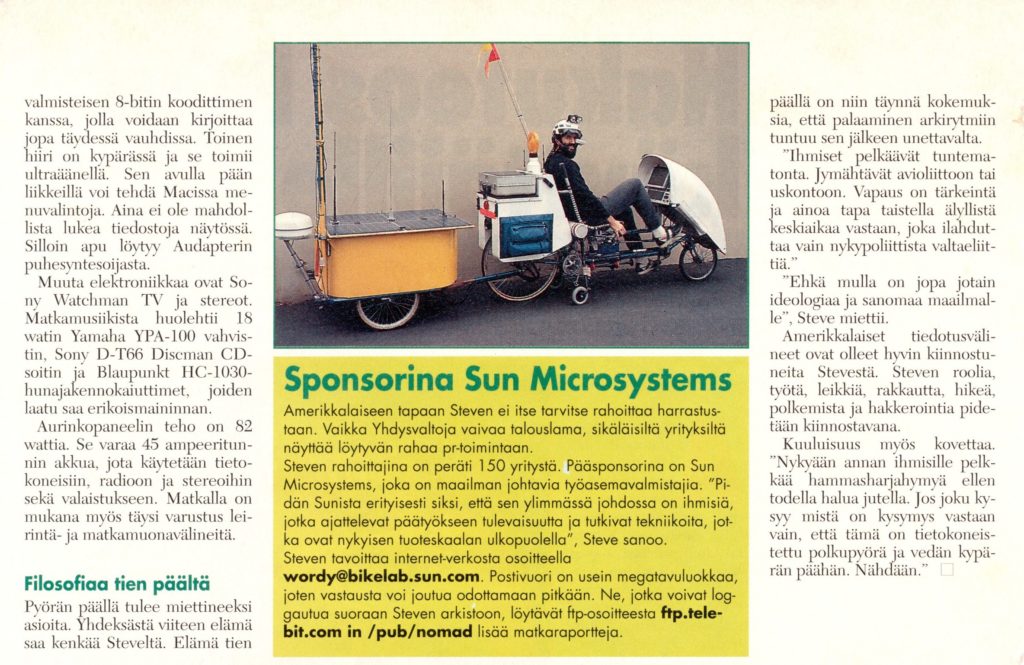 Philosophy on the road
When sitting on a bike one has time to think things. Life with nine to five rhythm was sacked by Steve. Life on road is so full of experiences that returning to the everyday rhythm felt drowsy afterwards.
"People are afraid of unknown. They strand into the marriage or religion. Freedom is most important and only way to fight against the intelligent Middle Ages, that is only bringing joy to the today's political elite."
"Maybe I even have some ideology and message to the world," Steve wonders.
American media has been very interested about Steve. Steve's role, work, play, love, sweat, pedaling and hacker life has been considered very interesting.
Being famous also makes one tuff. "Nowadays I only give people a Pepsodent smile if I really do not wanna talk. If someone asks what is this all about, I only answer that this is a bicycle with computer and put my helmet on. See you."
Sponsored by Sun Microsystems
In a typical American way, Steven does not need to fund his hobby himself. Even though United States is in the economic depression, local enterprises seem to find money for PR-functions.
Steven is sponsored no less than 150 companies. The main sponsor is Sun Microsystems that is the world's leading manufacturer of workstations. "I like Sun especially because its upper management has people thinking future as their main job and who are investigating technologies that are outside of the current product scale," Steve says.
Steven can be reached with internet-network with address [redacted]. Mail mountain is often megabytes in size, so one might need to wait for an answer for a long time. Those, who can log in directly to the archive by Steven will find more travel reports from the ftp-address ftp.telebit.com in /pub/nomad.
Excerpt from the travel diary
9/8/91, Menomenee, Michigan. Rhythm of the road is part of my life. It is music that has emotional undertone synchronized with technology and that is ending to the epic finals similar to play of child. Music is wild and it has simultaneously both primitive and civilized rhythm. I cannot get it out of my head, and neither I want to.
Life There is adventures in Behemoth in so many different levels, that is almost impossible to classify. Constant packing of equipment, unpacking, sweaty uphills (bike weights 263 kg), and accidents with technology sometimes pull my mind down. Sometimes the chains break, sometimes tire flattens.
But nothing compares to warm and bright night, twinkling stars, warmth and splattering of the camp fire, and energy of the muscles hardened by hundreds of miles, and lunch prepared from fresh pike perch fried in the garlic and butter.
Sometimes Steve stops and attaches modem to the phone booth in order to log in to the network.
Ice water is circulating in the helmet and music is ranting from the headphones while Steve is bicycling around California.
Another mouse is in the helmet and it operates with ultrasound.
Travel music is taken case by 16 watt Yamaha YPA-100 amplifier, Sony D-T66 Discman CD –player and Blaupunkt HC-1030 honeycomb speakers, with excellent quality.
From nine to five life got sacked by Steve.
Freedom is the most import thing and the only way to fight against the intelligent Middle Age only bringing joy to the current political elite in power.