Microship project arrives on campus – UCSD Times
Once I was committed to the Microship project, the big challenge was finding lab space. After much exploration, I landed at the San Diego campus of the University of California… with an "adjunct faculty" gig to teach a projects class in exchange for lab space and student help. This little article in the faculty/staff newspaper was part of the flurry of local media coverage that took place over the next six months or so after my arrival.
Nomad cyclist with computer settles for ocean-going kayak
UCSD Times
Jan 31, 1994
La Jolla, California
Steve Roberts, the high-tech nomad who has gained national attention in recent years by touring the nation on a bicycle equipped with a computerized "office," has joined UCSD as a visiting lecturer.
Roberts has grown tired of life on the road and is now heading a team that will build a seagoing workstation called the Sea Moss Microship.
The design and construction team includes faculty and students from Scripps Institution of Oceanography and the School of Engineering.
The craft will consist of a 30-foot, 1.5-ton hull sandwiched between two detachable, double-seat kayaks that can be either paddled or pedaled using recumbent bike frames built into the boats' frames.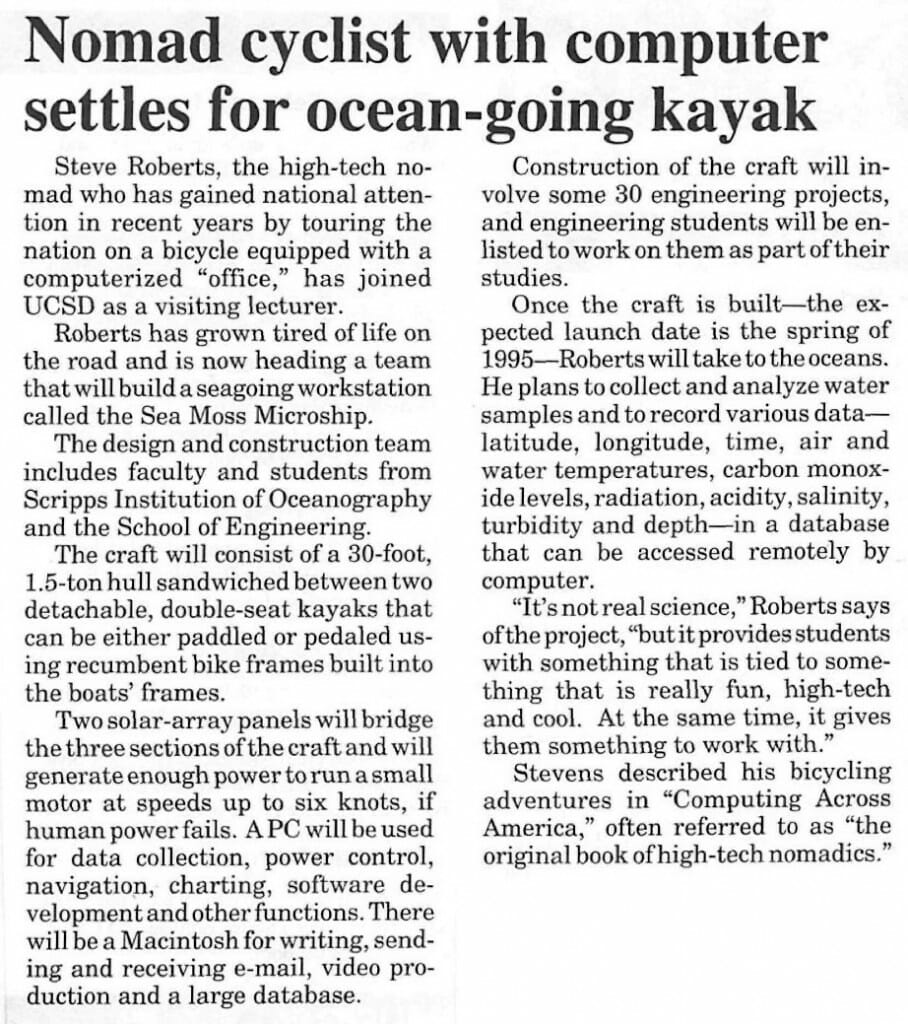 Two solar-array panels will bridge the three sections of the craft and will generate enough power to run a small motor at speeds up to six knots, if human power fails. A PC will be used for data collection, power control, navigation, charting, software development and other functions. There will be a Macintosh for writing, sending and receiving e-mail, video production and a large database.
Construction of the craft will involve some 30 engineering projects, and engineering students will be enlisted to work on them as part of their studies.
Once the craft is built — the expected launch date is the spring of 1995 — Roberts will take to the oceans. He plans to collect and analyze water samples and to record various data — latitude, longitude, time, air and water temperatures, carbon monoxide levels, radiation, acidity, salinity, turbidity and depth — in a database that can be accessed remotely by computer.
"It's not real science," Roberts says of the project, "but it provides students with something that is tied to something that is really fun, high-tech and cool. At the same time, it gives them something to work with."
Steven described his bicycling adventures in Computing Across America, often referred to as "the original book of high-tech nomadics."
---
Over the next two years, there were lots of Microship-related student projects: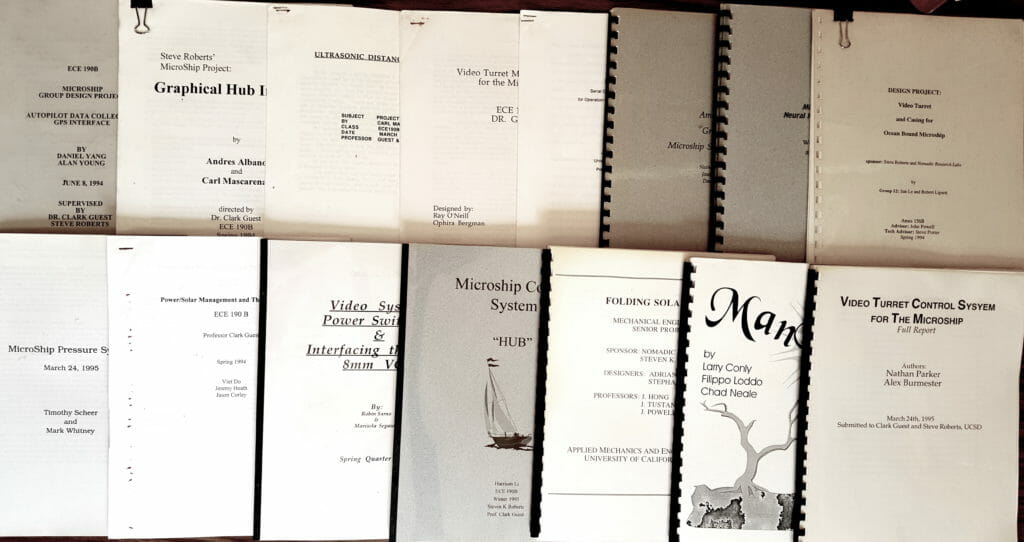 You must log in to post a comment.