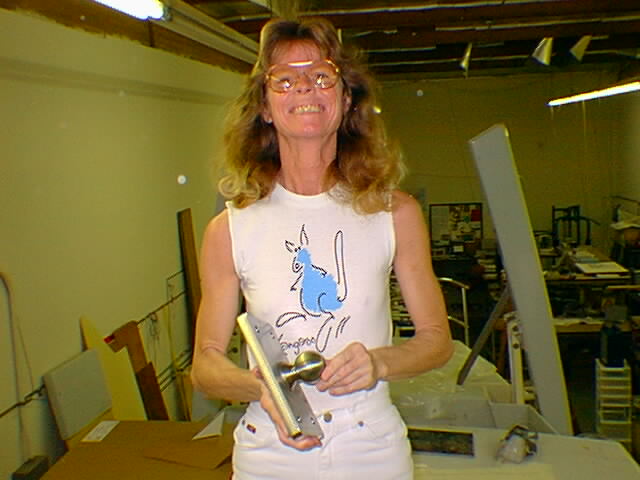 Microship Status 118 – Changes
by Steven K. Roberts
Nomadic Research Labs
Santa Clara, California
March 14, 1997
Arggggh! You called it a SINK! You have sealed your doom.

David Berkstresser, referring to my foolish error in Issue #117 in describing the place where I'll wash the dishes. One must never refer to a "sink" in a boat. We have heat dissipators, not heat sinks; loads, not current sinks. And that stainless thing with a drain is a WASH BASIN.
Changes In The Air…
OK, it's time. With due thanks to the freelance deadline-enforcement agents out there who have been nudging me with inquiries about our continued existence ("are you still alive?"), I am pleased to offer, after a 7-week hiatus, a Microship update. I have just returned from a 5-day visit to Jeffersontown, Kentucky, for my dad's 84th birthday… and the break from Silicon Valley overload gave me the perspective to create this special issue.
But before I get into that: this has a been a strange time, with the distractions of relationship change slowing progress even as activity accelerated in other areas. I'll spare you the personal details, but basically, the big news is that Faun is gone. This is an event rife with ironies which will doubtless appear amusing one day as I gaze back with the subjective editing of reminiscence; at the moment, it's the blend of relief and agony one would expect to find at the end of an intense 2.7-year association. Our friendship continues, however, and Faun not only plans to maintain the Microship web site but also participate in the 10-person nanoship flotilla project. She's cranking up her Decktop Publishing business, living on a rented monohull in a Redwood City marina, taking off for Antigua Race Week, and still working at West Marine although I've lost access to that lovely employee discount (parse that however you like)… the final days of the Epoch of Faun were marked by, among other things, a major shopping marathon.
I would be going quite mad were it not for a contemporaneous twist in my own life. The Internet contains the Answers to All Questions, as you know, and one Saturday in early February I was sipping latte and musing about the tattered remnants of romance, naturally concluding that a bit of research was in order. I found my way to one of the online crew-list web pages (San Diego), and immediately noted an intriguing ad from one Suzy O'Keefe:
Yachtswoman with over 20,000 ocean miles Mexico, South Pacific, Australia. Ham Radio General License, Scuba, Navigation, Sail Handling, Cooking, Varnishing, Canvas Work, Spanish Spoken, Mechanical. Trim 106 lbs 5'5″ with long strawberry blond hair. Interested in a new SAILMATE???
Hm, sounds familiar… seen her pix in Latitude 38. I sent email, and within about 15 minutes there began a spirited correspondence that segued into telephone calls… JPEG attachments… hastily snail-mailed show 'n tell packets… changes of plans… and a one-way plane ticket. 12 days and a half-megabyte of email later she was here!
I've had many a blind date in my time, and even a few blind affairs… but this is my first blind relationship.
In the 3 exploratory weeks since her arrival, Suzy has completed an actual-size cardboard mockup of the entire cabin interior including a very detailed galley model , participated in specifying the suite of Ronstan deck hardware, survived 4 days of grueling booth duty at the ACM97 conference where we exhibited BEHEMOTH, reorganized the office, caught up with NRL accounting, done heroic battle against Accumulated Lab Entropy, and begun arranging sailing adventures through her extensive database of nautical contacts including the other 150 men who responded to her ad. I think she's motivated to get on the water!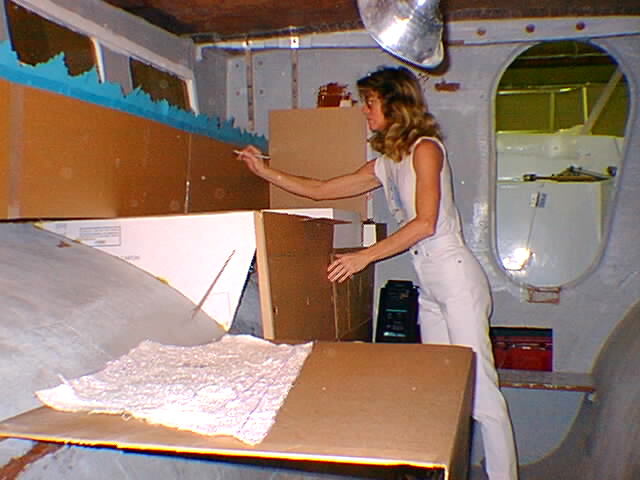 About all this, Suzy writes, in part:
Who is this strange person who has come into Steve's life and lab??? Someone as hooked on the adventures of life as is he. Someone who found sailing and couldn't envision doing anything else. Someone whose passions drove the mechanism when all reason said it was crazy to continue, but here I am…

I bring to Microship my own addiction to ham radio (KE6ZNX), my knowledge of living aboard a cruising sailboat, my network of extended family cruising friends, my motivation, and a longing to share my sunsets. This is a labor of love for me in so many ways…I hope that my contributions are worthy of a project such as this.
Where to from here… who knows? Welcome, Suzy!
THE NEXT 50 YEARS
The Association of Computing Machinery held a remarkable event last week, a conference exploring the next 50 years of computing. I was initially skeptical of this theme when asked to exhibit, but "the future" wasn't a superficial trade show motif at all; conference speakers were luminaries from across the whole spectrum of computing, and the exhibition was more a grown-up science fair than a rectilinear array of garishly competing booths. There were haptic input systems, 3D displays, new CAD tools, awesome graphics, and lots of things hastily cobbled into demos from deep within research labs… giving the whole affair an exploratory flavor enhanced by overall design representing an archeological dig with low lights, massive rocks, ancient computers, and organic layout. My compliments to ACM and the show organizers, as well as to those whose comments were collected in the book, Beyond Calculation. And I want to welcome the 162 new subscribers I met at the show!
Updates Various
First, we have 2 new sponsors to thank. Dantz has donated a copy of Retrospect Remote, a robust backup system for a network of Macintosh computers. We'll be using this in the lab and onboard ship, and I further thank Vinnie Moscaritolo of Apple for making the connection.
I'm also delighted to welcome Marinco to our sponsor roster — they not only provided our 50-foot, 30-amp shore power cord and related fixtures but also three solar vents from the recently-acquired Nicro ventilation line. Great stuff indeed! Their web site is in development; I'll give you a pointer when it's online.
The mast step mentioned in #117 has been completed by Mon-Tek… a beautiful piece of stainless steel machining and welding, far too pretty to embed in the deck. But that's what we're going to do…
Mixed news from Apple: we now have more computers, I'm delighted to say, but we've also lost some of our lab funding as a result of restructuring. This is causing a mild panic, as you might imagine… stay tuned for updates. I'm still one of the hard-core Macintosh faithful, however, and just bought more Apple stock.
Finally, I was going to do a whole section about this, but maybe next time: I mounted the LP tank in the starboard lazarette and glassed in a foam-core compartment bulkhead. This is typical of the minor items on the massive TO-DO list that translate into dozens of hours of work… but it's done.
New Microship Teams
OK, it has become very clear that we need a lot of help to roll this baby cruise-ready into the water, and more still to get her communicating and blinking merrily (and even meaningfully) inside that pressurized console. I've been pretty bad at "managing" the help that has been so kindly offered over the past years, though some projects have progressed well regardless. Upon reflection, I realized that the key is a project TEAM approach, rather than various volunteers whom I never think to call despite enticing offers of essential skills. The Newton team has been an excellent example of this effectiveness, as were some of the student teams at UCSD.
So here's the deal. This is a formal, urgent call for participation in all aspects of the project, detailed below. About 50 of you responded to a general volunteer call last year, but many have not heard from me since. If you're interested in helping create this technomadic machine, please reply with a pointer to the team(s) that interest you, and remind me if I already have an earlier letter from you on file.
What are the perks? Lots! Microship Development Team T-shirts and personalized mugs, of course, as well as food, espresso, and other essential beverages that go well with mugs. We still offer our "geek's vacation" package, with free spartan room and board to anyone who wants to move in for a while and get a lot accomplished (as did Bill Vodall, Ken Glaeser, and Steve Prior). All volunteers will be on a rotation list for test-sail guest crew slots. Your name will be in lights via these postings, the web site, hardcopy publications, and the anticipated laser graphics display. You can play with cool toys and network with a lot of interesting people, pick up occasional lab hand-me-downs for free or cheap, participate in joint-venture spinoff projects as appropriate, and basically have a lot of fun while being creatively involved in an exciting project. And, of course, there will be a handsome certificate or other token of recognition when this is all over and we finally throw the Big Party.
Team membership is subject to selection based on skills, location, personal style, persuasiveness, our current needs, whim, and chance. Sex, race, age, and educational background are obviously not a factor; local folks are preferred in general, but some projects can work fine via the Net, so ask even if you are far away. Also, of course, if you'd like to help us but have more money than time… well, no problem… we gratefully accept donations as well! 😉
The remainder of this report is a list of the project teams that are either forming now or will crystallize from our current loose association of 30 or so volunteers. Space doesn't permit much detail here… so if something catches your eye and you want to know more before committing to spend time, just ask! As groups get established, we'll have meetings and establish a rhythm; there will also be a small listserv for each group to simplify communication…
Microship Development Teams
Ship Fabrication Crew Fiberglassing, building workstand, structural projects, deck hardware mounting, rigging, painting, cockpit, test sails, radar arch, centerboard, and so on. Nautical and boatbuilding experienced folks needed, as well as interested apprentices and every level in between. Quality workmanship is essential.
Nanoship Team Only 10 slots due to contractual limit on number of copies from the molds, and most are already claimed. Help is welcome on our pair, however; these are vacuum-bagged 3-meter pedal/sail micro-trimarans that will be our likely "dinghies" instead of the kayaks.
Model Builders From Microship to Nanoship to Picoship… we need people to finish the 1/5-scale model with full interior, folding crossbeams, and full 8′ rig. This is for visualization, speaking gigs, and museum display.
Habitat Team Internal accommodations. Folding desk, seat, berth and conversion modes, galley, stowage. Foam-core panel layups, cabinetry, beauty work.
Solar Array Team Fabricate and cable the folding 1,080-watt Solarex PV array, build deployment fixtures, work with power management group to test. Select core panels, design hinging and closeouts, build stowage system, etc.
Thruster Group Build mounting system for deployable Minn-Kota thrusters, cable and package PWM controller box, integrate with power systems, control and feedback for 360-degree steering motors, test on water.
Power Managers Build and code 18-channel Peak Power Tracker, power conversion system between 12V & 24V worlds, breakers and distribution panel, battery monitors, testing, safety, wind generator integration, chargers, inverter, shore power, and more.
Newton Team There's room for a few experienced graphic tool-builders; we estimate about 90 views overall, with about 6-10 done. Crossbars are in progress; we also need comm front ends, power manager tools, video, diagnostics, security, NetHopper integration, music browser, documentation server, and much much more. Hardware people needed here too for final Newton waterproof packaging.
Macintosh Team Here we have the networking tools, terminal server, ADB I/O integration, FORTH watchdog monitoring, navigation systems, Microship local HTTP intranet server, PowerBook repackaging, human-interface, remote power control, and lots more.
Embedded Tool Builders More FORTH and PIC controllers lie ahead, and we need embedded controls experience, sensor interfacing, data collection, drivers, and various hardware projects.
Nav/Instrumentation Team Sailboat instrumentation network, NMEA devices, meteorological sensors, interface with shipnet, radar and remote display, phased array sonar, speed, differential GPS, charting system…
Neuropilot Team Finish neural net autopilot begun by Panjvani & Chiu, interface with tiller, angle sensor, 3-axis gyro/accelerometer inputs, compass and GPS interface, user interface.
Communications Group Ham radio systems, APRS, antenna design and installation, RF grounding, PACTOR, marine SSB, cellular phone, satcom, weather satellite receiver, and others.
EMI/RFI SWAT Team Work with all electronics and comm teams to nip noise in the bud. This is a pervasive and non-trivial problem that requires disciplined solutions. Also minimize ground loops and resulting audio noise.
Console Team Physical fabrication of console, implementing Picot's pressurization system design, console fixture in boat, rack structures, folding modules, cable routing, shock isolation, console monitor FORTH node.
Music and Audio Group Work on the music library (on hard disk), Newton browser interface, dedicated PC and sound card, download tools, audio system, FM transmitter, manpack audio.
Manpack Team Fabrication of wearable remote systems, antenna packaging, weatherproofing, integrated power systems, charging stations in console bay 2, human interface, security, GPS and APRS tracker, Tarpon access.
Video Team Camera installations, nonlinear edit suite, monitors, frame grabber, Vixbar application, transmitter, underwater cam, webcam software, post production help, archivist.
Plumbing Crew Head installation, bilge pumps, thru-hulls, Y-valves, saltwater system, freshwater tankage and pumps, monitoring sensors and alarms.
Hydroponic Gardeners Build linear garden modules, implement Fynn's transpiration model with Shiva sensor data, circulation pump and tank, nutrient selection, lighting, testing.
Fabrics Crew Canvaswork on dodger, covers, tramps, soft stowage, sail covers, and other enclosures.
Laser Display Team Build laser scanner around Coherent diode, design wireframe sponsor logo models, scrolling volunteer display, rear projection screen.
Trailer Crew Full fabrication of stowable trailer and boat-interface fixtures (working with Berkstresser & Haas)
Lighting Systems Group Fab the LED nav and trailer lights; spreader, interior, anchor, deck, safety, and chart lights.
Lab Management Crew Cleanup, parts sorting, errands, general pool of help. If you don't fit an engineering or fabrication team but want to participate, sign here!
Documentation and Publication Staff Manage all groups' documentation, generate monographs and design packages, photo and video compilations of all work. Help with marketing and dealer placement. Royalties or joint venture available on publications.
Web site team Maintain microship.com, build virtual console updated by live data collection piped via PACTOR or satcom, lab and ship webcams, Newton emulator tool for remote hackage, secure form access, etc. This is a key part of our project, and needs to grow with the times.
Educational liaison Develop curricula, student projects, factoring subsystems into accessible student modules, coordinate with funding agencies.
Technology Transfer Office Seek and develop spinoff partnerships. I've always been REALLY bad at "business," but there are a number of profitable opportunities if someone can keep up with the legwork and pursue opportunity.
Technomadic Connection Develop Nomadic Research Labs home base, then scale it to accommodate other clients. Share in the cash flow. Market speaking engagements, which keep the project alive.
Ad Hoc Teams as Needed To be announced in these postings….
I'm looking forward to working with you!