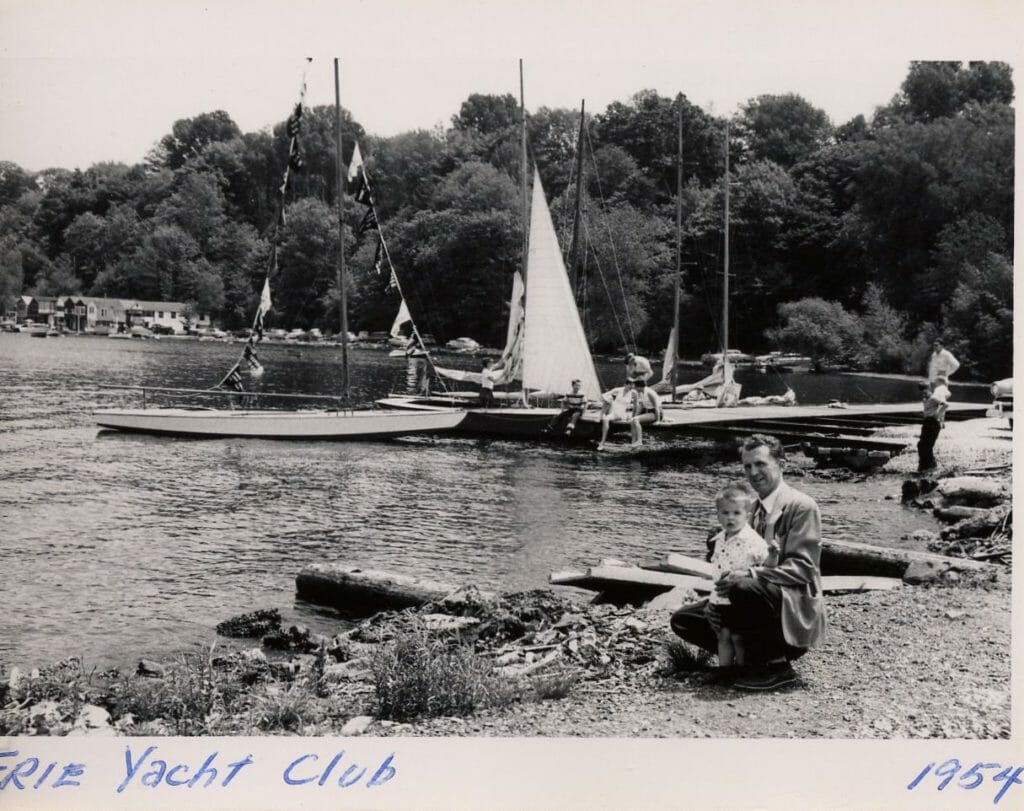 This update is a bit of a divergence from my usual breed of randomness, which typically has something to do with S/V Nomadness, development facilities, technomadic gizmology, or random noodlings triggered by any of the foregoing.
I'd like to dedicate this posting to my father, Ed Roberts, who passed away in 2005. The trip to Kentucky to shut down the old family homestead was a huge 6-month project, and left me with a Wells-Cargo trailer full of artifacts along with unexpected glimpses into my dad's life, making me wonder why we didn't have far more conversations about his complex and passionate past.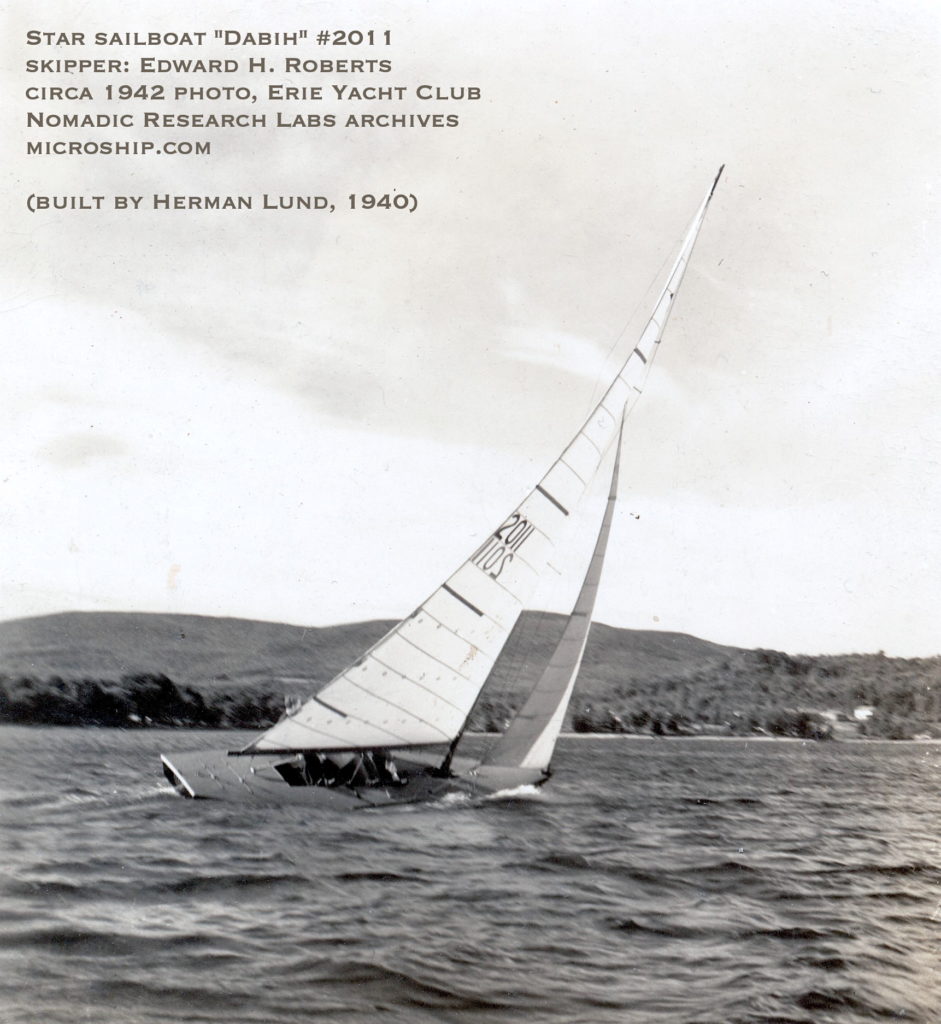 I've always known that he had a sailboat before I was born, for example, but I didn't realize that it was a central fixture in his life for over a decade… beginning with the initial construction of Star #2011 (named Dabih, after the beta star in Capricornus – a rare visual double with all sorts of strange chemistry). The boat was built by Herman Lund in 1940:
This was 12 years before I came along to irrevocably shift family economic priorities, and my dad became heavily involved in the Star yacht racing scene while ramping up his engineering career at General Electric (including distinguished service to the Navy during WW2, designing rocket launchers and nose cones using the newfangled Bakelite material… as well as being the inventor of the lever-operated alumimum ice cube tray).That link will take you to more photos of those, as well as the original patents. He was also very active in the Society of Plastics Engineers.
Back to sailing… he often wore his old ISCYRA pin, the International Star Class Yacht Racing Association:
I have been digitizing his library of 8mm home movies, and the years in Pittsfield in Erie often saw him out on the water with friends, or competing in regattas. This still frame gives some rare color from 1943, showing Dabih on the trailer behind his convertible: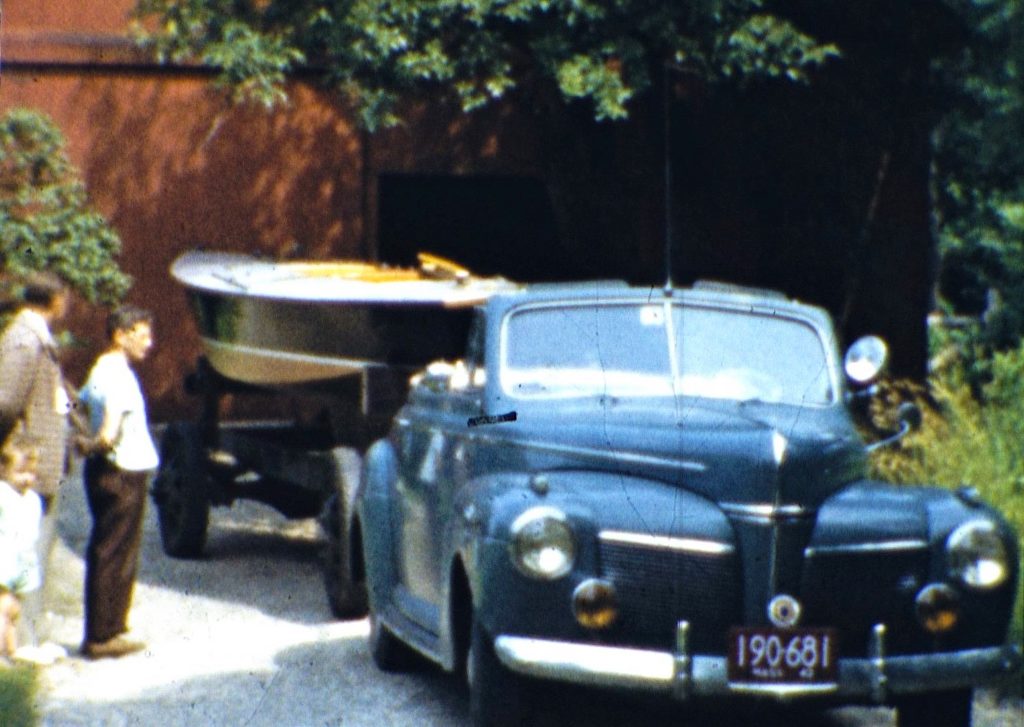 Here are some glimpses of Ed, Dabih, and the other Stars in the Lake Erie fleet back in the forties…
A few years passed. I popped into the world in 1952, was put up for adoption, then arrived in the young Roberts family in early 1953. I think the picture of us above is kind of poignant, since he sold the boat shortly thereafter.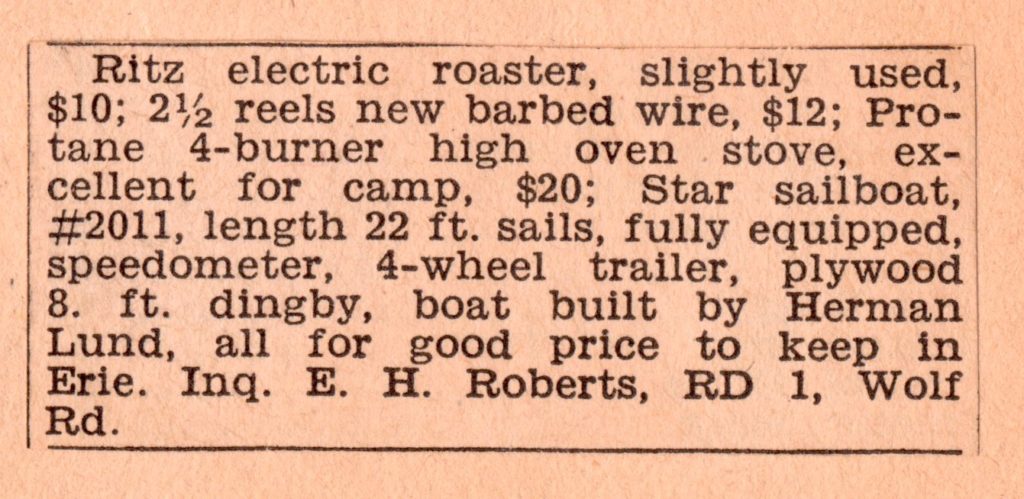 In 1955, he relocated to Louisville to design refrigerators at the new Appliance Park: — here he was in his GE office sometime in 1970: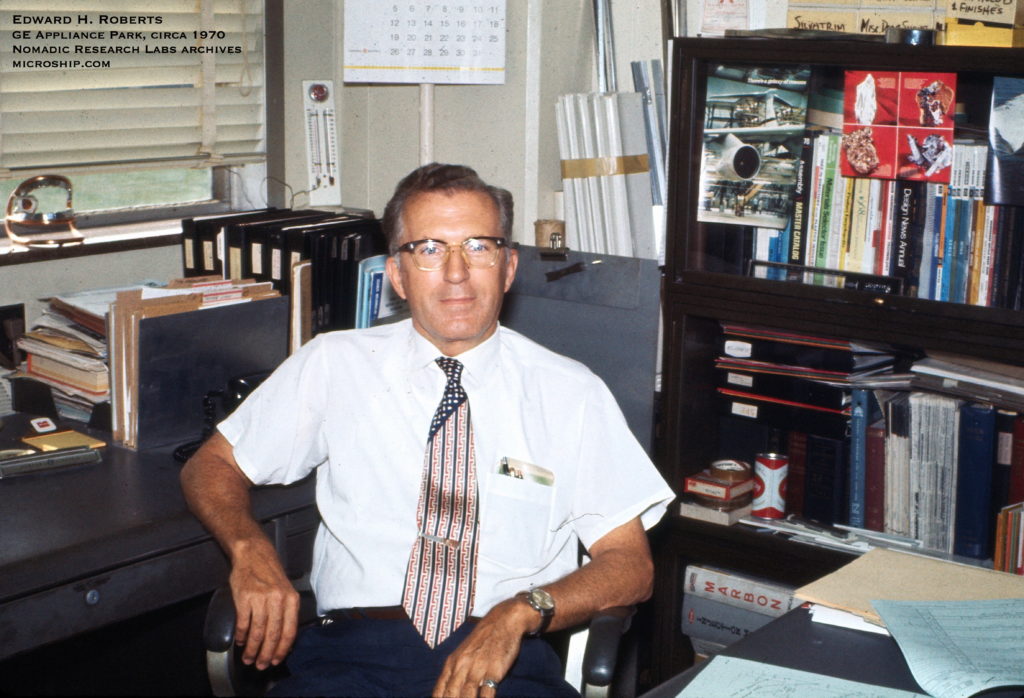 Through my childhood, my dad often raced Thistles and Penguins on the Ohio River, and a love of boats and engineering permeated my early conditioning. Yet I never saw these photos until just recently.

From the perspective of a child, parents are just part of the environment… always there, somehow absolute. It never occurred to me to probe for stories, as I would now with any random friend. This central relationship was almost taken for granted.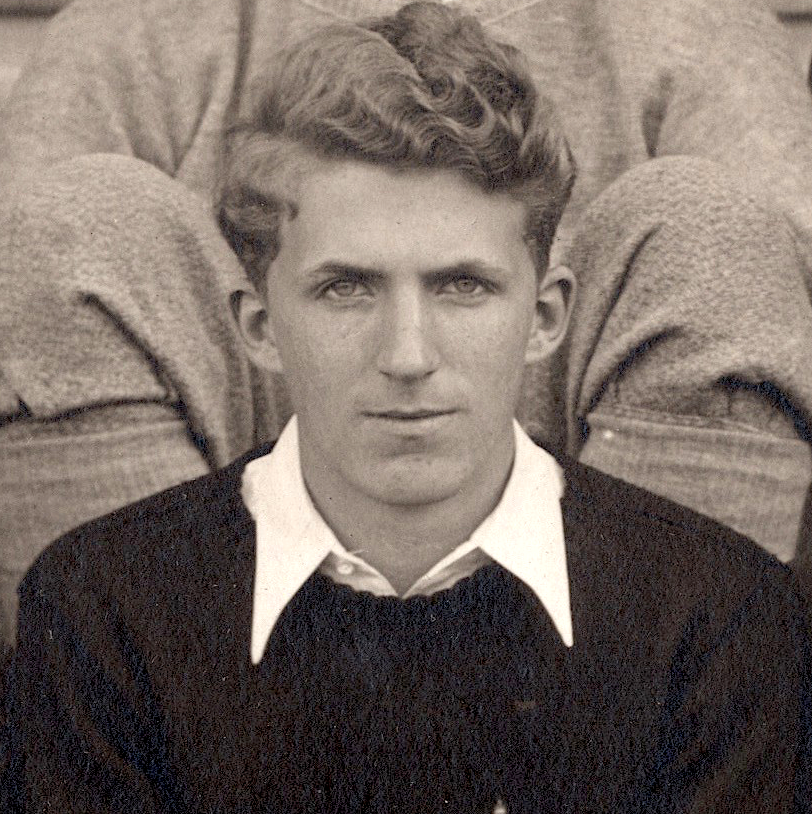 Only after my parents were gone, when ancient correspondence emerged from Deep Archives and bizarre historical artifacts peeked out from under decades of accumulated clutter, did I suddenly get a sense of the complexity of these lives that shaped my own.
Just a reminder, my friends. Get to know your parents while you still can.
Fair winds, Dad… and thank you.
Steve
You must log in to post a comment.