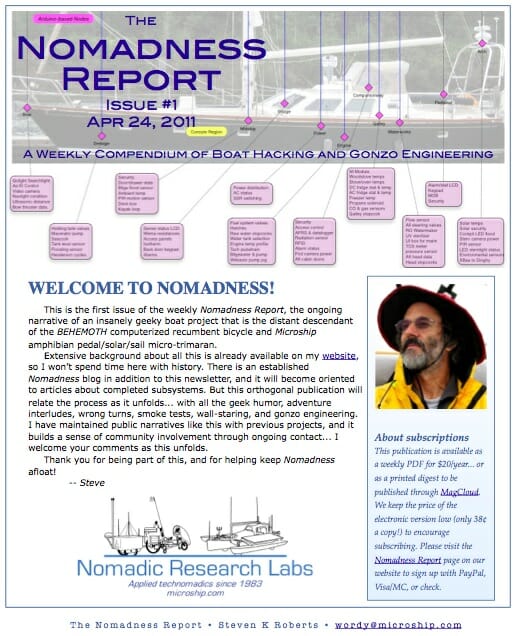 Nomadness Report – Issue 1
This is the first in a series of 22 "magazine-style" pieces about the Nomadness boat project that I published between April 2011 and January 2013. These went into much more detail than blog posts, and were available by subscription. As is my custom, I began with an ambitious weekly publishing schedule, then monthly, then… whenever I felt guilty.
After this ran its course, I did about ten emailed newsletters for existing subscribers, compiled the whole collection into an eBook, and returned to casual blogging. I am incorporating all of them into this archive, blended with the blogs and other posts, to create a consistent timeline of the project.
by Steven K. Roberts
April 24, 2011
An Impractical Commute
The Nomadness project has been hobbled for over 3 years by an absurd lack of workspace convenience. This may sound a little like whining, coming from a guy with a 3000 square-foot building in the woods, but when said woods are on an island with no moorage, we have a problem.
I bought the boat in October 2007 and managed to make reasonable progress on the initial, most-urgent items… both at the dock and underway during a 621-mile shakedown cruise in 2008. But then I was ready to turn my attention to the big project, and secured moorage in Oak Harbor with the intent of getting to work. It was close to home as the crow flies, but when the crow had to drive a diesel pickup truck 2 hours each way between boat and lab, progress slowed dramatically. "Damn, I forgot the bifurcated widgetframus! Oh well, next week…"
Things continued in this vein for another year, the to-do list growing. expensive gizmology depreciating in boxes, a sense of futility creeping in. Was I being realistic? As another winter settled over Puget Sound, the boat mostly just sat.
I began to realize that the only way out of this would be to find a way to bring living/working space into mutual proximity with boat parking. How hard could that be in Puget Sound? But a few months of house-hunting proved it to be VERY hard, and again very little sailing (or boat work) got done.
It became clear that I needed to decouple myself from the Microship lab in the forest, and that led to the Polaris project that began in the Spring of 2009…
Conjuring a Mobile Lab
There's a thorough article that first appeared as a four-part series in Make:Online about this rolling workspace, as well as a few posts in the Nomadness blog… so I won't go into detail here. But basically, this 24-foot Wells-Cargo trailer is a distillation of the big lab into a very tight and efficient portable workspace that I can tow behind my truck… and this is a hugely liberating toolset for decoupling project from lifestyle.
By early 2010, the problem changed: if I could find a place to live aboard with Polaris parked nearby, I could get on with the project. I tried relocating to Olympia, but the marina was intolerable and the logistics never added up (though I did manage a substantial haulout and bottom-job while there). On the cusp of looming relationship change, I moved Nomadness north to Everett… about as inconvenient as Oak Harbor, but twice the cost and less congenial. OK, this is getting ridiculous. What to do? Go broke with all the expenses and then sell the boat, dreams unfulfilled? No.
Enter La Conner
When Everett started waffling on the promised space for the mobile lab, I went on an urgent quest… and a Craigslist post yielded the answer. A dock on the Swinomish Channel, a retail/office space, and inside parking for the mobile lab… all in a friendly town with considerable boat traffic and a deluge of visitors drawn by tulips, art, and the upcoming Paddle to Swinomish at the reservation across the Channel at the end of July.
But the best part? Mobile lab, public staging area, and boat… all are within about 2 city blocks. Messy work happens in Polaris, systems get integrated and brought online in the "gallery," then everything all gets installed into the boat when ready.
Geek Performance Art?
It's a little bizarre, but I have a long history of this sort of thing (though usually in a more tech-culture setting like Silicon Valley). It will be an interesting experiment to see how I can handle project immersion behind a glass storefront between a winery and scone shop. "Look, honey! The traveling circuits is in town!"
Nomadness Lifestyle Updates
Water Heater
When I bought the boat, it came with a Bosch demand propane water heater with standing pilot… something that is illegal according to ABYC standards and definitely not insurable. Besides, it had been installed badly and didn't draft well; taking a shower resulted in combustion products (CO and water vapor) all over the cabin. I pulled it out and sold it on eBay to a fellow in Reno (fine for land use).
When dealing with the Plumber-from-Hell on the 2008 holding tank installation, I bought an Isotemp Slim Square 4.2 gallon unit, which (like so many other things during the facilities ordeal) sat idle for over 2 years. I finally installed it last week, in a little cabinet behind the wall of the shower compartment.
The unit is interesting in that it has a 115 volt AC heating element in addition to a heat exchanger that's intended to be inserted in the boat's engine cooling loop. The former scales well to Nomadness, but the latter scares me… a failure there would be catastrophic. So my plan is to build a solar collector atop the dodger (once it's redone in stainless), and run a tiny gear pump to push the working fluid down into the boat and through this coil. I haven't seen anyone try this, but there's no reason why it wouldn't work.
Installation involved the usual fixturing, as well as more-than-the-usual confusion with plumbing fittings. The manufacturer uses BSP (British) threads on the mixing valve, and NPT (US) threads on the rest… at least, I think so. Their documentation is annoyingly vague, and since the fittings appear to interoperate but won't hold pressure if mixed, it's not easy to figure out. But after much head-banging, it seems to work… and I've now had 2 delightful hot showers aboard (about $350 each, if I recall the purchase price correctly). Now I can proceed to amortize this investment, and be less frustrated by the biological components of staying aboard for 3-4 days at a time!
Boat Curtains
This is one of those things that doesn't sound like a big deal… but remember my comments about the tourists? Nomadness feels like a fishbowl in any marina, given all the pilothouse windows, but I feel even more naked when the general public is walking around and taking pictures of the pretty sailboats from shore.
Years ago, my fabrics-guru friend Karen made curtains for the three steeply angled forward windows. A rich blue Jacquard fabric faces inside, and UV-resistant Solarplex faces out. Because of the sag problem that would normally require complex tracks or annoying Velcro, we used high-power N52 neodymium magnets — one at each attachment point bonded to the window frame with adhesive foam tape, the other sewn into the curtain.
This has worked well, so now the four side windows have received similar treatment. Kirsten has done a beautiful job sewing them, with the magnets tightly hand-stitched just inside the outer seam of the fabric sandwich. Now I don't have to "suck it in" when galumphing through the cabin at night…
Adjustable Bed
All this "lifestyle stuff" sounds boring compared to a distributed network of Arduino-based nodes talking to an always-on Linux server, but a boat is a complete life-support system. Keeping bodies working is just as important as the gizmology.
This is going to be no ordinary berth. I have some nasty back problems and sleep is painful if I'm stuck on even the cushiest of flat beds. At the home base, I use a pair of remote-control S-Cape adjustable beds from Leggett & Platt, with latex mattresses (that's a lot o' bunk!). But what to do on the boat?
This is a work in progress, but basically I reverse-engineered the home bed to find the hinge points, factored in mattress thickness, and cut plywood panels shaped to fit the VEE berth in the forward cabin. (I've moved from the king-size oppressive cave at the stern to the bright but compact PENFA suite… so named because the Pointy End's Not Far Away.)
Anyway, these are articulated with polyolefin hinges from McMaster-Carr, much cheaper than stainless (about $3.50) and fine for the application. Since there's no room for fancy motors, I considered hydraulics but settled on something more in the sailing context: standard blocks and cleats. I'll have two control lines on the bulkhead, one for the top half o' me, and the other for the knee segment.
A Froli sleep system might be added below the existing mattresses, but that can be decided later. My only concern is the cat, Isabelle, who may decide the magic cave is a perfect place to sleep… then be crushed in the middle of the night when I decide to roll over.
Extra Cabin Seating
The conversion of the saloon to a lab is eliminating the traditional dinette, so adding places to perch was a priority. I drilled blind holes in the companionway rails, and mounted a pair of stainless spring latches on a piece of plywood. With a little upholstery work (using a pneumatic stapler and left-over fabrics), I ended up with a convenient step-seat that can be quickly attached at any of four locations… from kid-level to catbird. Those latches are the key, and the price is right since they're not called "marine spring latches"!
Coming Up
Infrastructure Projects
There are quite a few ship systems that are about to receive serious attention:
A new AC and DC power console, including a bottom-hinged panel to replace the one that currently makes service painful. This includes about 50 circuit breakers, power monitoring displays, generator controls, and the user interface for the

Outback

inverter/charger and solar charge controller.

Waterworks, which will pretty well fill the forward wall of the aft head compartment and bring all fresh-water processing into one region. This includes a

Katadyn 40E

desalinator, ultraviolet & carbon filter system, and all the valves for routing among shore water, port and starboard tanks, and distribution. This gets a node, which uses a flowmeter and valve-position sensors to track usage, tank levels, filter media life, TDS, and so on.

Sewage upgrades, including elimination of the crufty old Lectrasan that came with the boat and additional repairs to the problems introduced by the Plumber from Hell (a botched Spinweld, sheet-metal screws instead of bolts bulging the access panel in poly holding tank, and hose leaks).


Solar array integrated with the arch, including support for enclosed cockpit fabric.

Redneck Bow Thruster, which is essential. Cap Sante Marine quoted me $13K for installation of a Lewmar tunnel thruster, but I think I can meet its performance with a more flexible system for about $3K. The boat needs something, as there is about 11 feet between the 3-blade Max-Prop at the trailing edge of the modified fin keel and the leading edge of the skeg-hung rudder. No prop-walk translates into tricky close-in maneuvering, and I don't want docking to involve insurance companies.
Console System
Of course, the part of this that most pushes my geek buttons is the lab… which will occupy an 8-foot segment of the boat just forward of the raised-salon pilothouse. A desk will fill the original dinette region, with a wrap-around sloping console of four panels. These are loosely grouped into computer systems, communications, audio-visual production, and lab.
Folding table wings at the ends will allow this to be a pretty immersive environment wrapped around a swivel chair, and a hinged panel on the desktop will open to reveal a full-size digital piano (my existing Roland RD-700SX). The console includes a mixer and tools for podcasting and annotating videos.
Until the La Conner situation materialized, I figured I would do all this in place, with the components assembled piecemeal in the mobile lab. But this would have been physically awkward, rendering life aboard intolerable for months.
The immediate project this week, then, is to build a laminated 4×8 work table in the public space, which will serve as a development facility for at least the next year. I'll build the console systems here, then carry the whole mess aboard when it's time to cable it up.
Stay tuned!