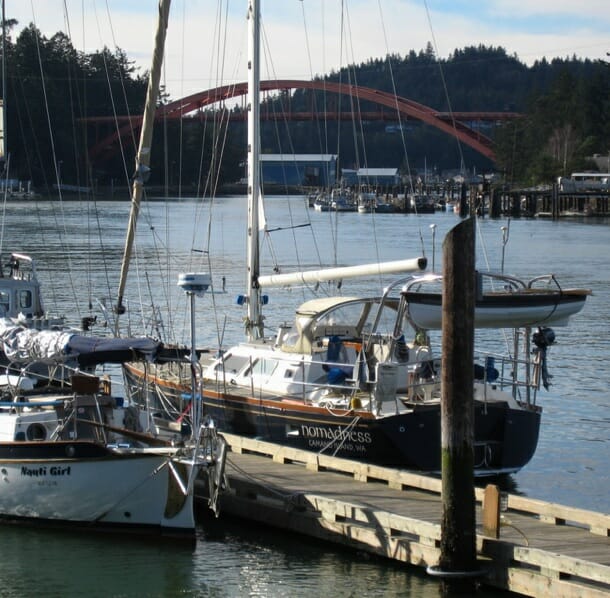 New Places, Products, Publications, Partners, & Pussycats
It's astounding how much can change between one blog post and the next. The more time passes, the more I find myself in that catch-up mode that tempts me to blast through a huge range of subjects, addressing none of them well. Topics like relationship change, for example, can keep a blogger procrastinating for months.
The nutshell summary, at least in the domain that is the primary subject of this blog, is that the brief Everett epoch is over; Nomadness is now in La Conner, with moorage on the channel and two rental spaces a short walk away. One, where I'm writing this, is a cute little retail storefront, passed daily by the rising tide of tourists drawn by tulip season. The other is a sort of garage, stealthy tucked away and perfect for the Polaris mobile lab.
I have not looked back toward Everett for a moment. The physical marina facilities were excellent and expensive, but getting anything done (like parking the trailer or receiving mail) was nearly impossible, and the rather rough town was a long way off… even getting a bite to eat was a project. I put some brainstorm energy into starting a cruiser support operation to reduce the well-known annoyances, but that would have been a crazy wrong turn in life. Better to move on… and the photo above is the new home of my little ship.
It's quite wonderful. There's a sense of congeniality about the whole town, my dock neighbors are friendly, and the physical facilities are all I need to get on with the project. So, onward!
Nickel Generators and a New Publishing Model
One of the factors that has reduced my blogging output is easy access to microblogging on Facebook, and although that does keep me in touch with lots of people I care about, it's pretty much a black hole where archives are concerned. A blog is eternally Googlable, with time spent on the well-turned phrase paying off for years. Facebook posts trigger entertaining real-time chat and are quickly forgotten. It has its place, but is starting to annoy me.
I've been thinking about all this, as well as the precarious state of my finances (thanks to Peter Schiff's organization, which talked me out of buying AAPL a few years ago since it "will crash the moment Steve gets sick again"). For a while after shutting down the old family home, I enjoyed the illusion of passive income and being "set," but that turned out to be a fantasy. So, just like in the old BEHEMOTH and Microship days, I need to leverage my projects into something that provides break-even cash flow.
There are both fun and hard ways to do this. The hard ways include consulting and tech writing, leveraging my tools and learning curves, and I am in fact doing a little of this. It also includes book-writing (huge time investment but emotionally rewarding), magazine freelancing (iffy but fun), and developing products spawned by my projects (complex to start, but lucrative if done well and kept simple).
The most recent of these is a line of Expedition Medical Chests that my partner and I are producing. She's a nurse, and with her experience patching up bodies and my years of adventure, we think we've found a sweet spot with ER-grade supplies, gasketed Lexan packaging, and a self-published book keyed to the contents. We'll see… initial feedback is very positive.
That's all fun stuff, but really, my home territory is expressed very simply: build machines that scratch the persistent itch of technopassion, sharing the process publicly. I never outgrew Science Fairs…
When I took off from Ohio in 1983 on the Winnebiko, I became the proto-blogger… posting tales of adventure on CompuServe, uploaded from my Radio Shack Model 100 via payphones. As the bike evolved though various upgrade projects into the Winnebiko II and then BEHEMOTH, this ongoing narrative veered into gizmology, and soon that became the core publishing activity. The Bikelab Notes and the 8-year series of Microship Status Reports ended up with thousands of subscribers… and benefited me hugely in terms of general PR, sponsor relations, media coverage, and even a primitive "Dear Lazyweb" crowdsourced research department. I don't think I ever asked a question without getting at least some well-meaning advice (and usually the answers I needed).
It also built a community around the projects, making them part of a shared geek culture. Still, 20 years later, I occasionally get email from someone that begins, "I used to subscribe to your Bikelab Reports…" and then goes on to ask what's up, share a thought upon stumbling across my current projects, or just say hello.
Speaking of BEHEMOTH, it has been in the Computer History Museum for many years and is now in their permanent Revolution exhibit. Those of you who remember the bike from yesteryear might get a kick out of this:
So thinking about all this, and recognizing the central role that ongoing narrative has played in my technomadics, I've decided to dust off the old publishing model and cast it in a new role as part of the Nomadness project.
This blog will not go away; in fact, it will improve by becoming a succession of articles about specific topics. Since it is eternally Googlable, it does its job best if posts are focused on one subject at a time… not rambling narratives about thinking about whether or not to plan a new way to manage a project that might be a better alternative to the current design… and oh, by the way, I put up some curtains. The blog should be clear and useful to people in the future who want solutions, not updates on the intermediate states of an ancient project.
A larger version of this same concept is the set of planned Boat Hacking monographs… hardcopy design packages with, in some cases, associated kits. But those don't exist yet, so let's not talk about them.
All that is good stuff, but it leaves out the personal narrative that made the Microship Status Reports so much fun. Those, being subscription-based, are the perfect vehicle for a nickel generator.
So here's the announcement: I have just begun producing weekly newsletters about the Nomadness project, with lots of personal geeky rambling fun (here is Issue #1). I've pondered the best way to deliver these, since the old method of plain-text email with links to pictures was messy and prone to link rot. To keep it client-agnostic and allow inline images, I'll do them as PDF documents, which will be emailed to subscribers. For those who really prefer paper, they will be compiled into quarterly digests printed by MagCloud.
I'm looking forward to getting back to the fun, nearly real-time writing!
Life Changes
It seems odd, for someone who has lived a life of geek exhibitionism, to be all shy and private when it comes to matters of the heart. Readers of Computing Across America might be snickering, but that was more a retrospective… not real-time. Yes, changes have occurred, and Sky now owns and lives aboard Dervish, with which she will sail the Salish Sea this summer. Differences of direction from two strong-willed characters moved us to the two-boat solution, then beyond.
I'm now aboard Nomadness most of the time, with renewed project focus after the angst of Big Change… something that gets harder as we age. My new partner has taken over the house, and I return weekly to spend quality time, work on our Medical Chest business venture, recover from back pain episodes, shed tonnage, putter with chickens and kittens, play the piano, and get geared up for my next assault on the boat project. Kirsten is a wonderful friend and dorkelgånger… and I'm also relieved that I didn't have to rent my house to strangers while still depending on the facilities there.
Oh, did I mention kittens? My dearly beloved Java disappeared around Thanksgiving, after being with me for 13 years. I'm assuming it was predation, but for months was haunted by not knowing, calling her every time I walked from house to lab, checking her usual hangouts inside and out for evidence of recent activity.
After a respectful interval we agreed that feline company is essential, so finally adopted a goofy pair and named them after two sailors on the 1994 BOC Challenge (round-the-world single-handed sailing race): Isabelle Autissier and The Ghost of Harry Mitchell. Izzy accompanies me to the boat where she never leaves my side; Harry has bonded with Kirsten; when together they switch modes and become bestest of kitty pals with our role relegated to support staff.
So those are the headlines, as they say. The boat projects are coming back to life with the reluctant return of warmth to the Pacific Northwest; already I've installed the new water heater, Fusion stereo with embedded iPod, removable padded step seat, and one of the final four pilothouse curtains. Next up is an adjustable bed in the forward cabin (back problems), new power system panel, and then the lab desk that will carry all the geeky bits.
If you want weekly ongoing updates, please consider the new subscription newsletter… future blog posts will be more focused on single projects as they are completed.
Cheers from Nomadness,
Steve