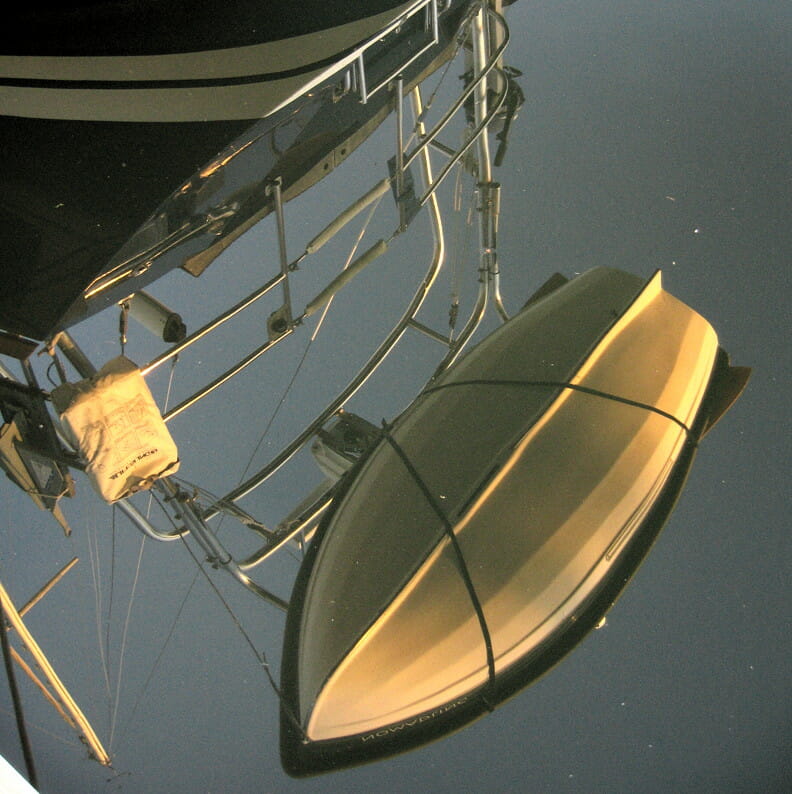 It's not easy to move aboard after over a decade in a familiar home and cluttered lab. Not only are there changes of expectation about what constitutes "comfort," but everything important to daily life must somehow be incorporated into a space that is, in my case, less than 5% of the square footage that I have somehow expanded to fill over the years.
Many of the decisions are trivial, of course; ancient computers, long-dormant parts inventory, and piles of accumulated cruft are not hard to eliminate. Tools are a little harder, but I've already distilled an efficient subset of the redundancy of my unkempt shop (and I have the luxury of an intermediate workspace in the form of a mobile lab). Key systems are being built in to the ship's console, treasures are being sold or stored, and I'm selecting the best of the kitchen stuff for my seagoing galley and donating the rest. So far, so good. It's mostly just tonnage, replaceable down the road if need be.
But what about all the paper?
This is huge, and the more I stared at the problem, the more I realized that it has become a real obstacle: 35 years or more of correspondence, financial records, manufacturer literature, notebooks, saved articles, product documentation, maps, books, publication masters, magazine back issues, business cards, random scraps… along with dozens of binders packed with my own magazine articles and expedition media coverage. It adds up to an absurd quantity of paper, some of which is actually important (or might be someday) and all of which feels like undifferentiated, overwhelming clutter. Three 5-drawer file cabinets, multiple other drawers, overflowing bookcases and shelves, musty bankers' boxes of sagging file folders… every document is a tiny anchor holding me down.
Clearly, the first step is to eliminate most of it; I've hauled many a load to the recycling center and destroyed old financials that carry personal information. But still… there is a lot left. This posting is about two tools that I've recently added to my life that are specifically intended to deal with this problem.
The Kindle
I've dabbled in e-books over the years, most actively when I was carrying around a Tapwave Zodiac PDA back in 2005. I've since been aware of various offerings in that product space, but figured I'd eventually move to an iPad.
Well. The Kindle popped up on my radar recently when I read about the combined WiFi and 3G communications with no recurring fees, battery life (wireless offf) on the order of a month, spectacular screen, PDF support, and other interesting features. Could it really be that good? I spent many hours reading reviews and MobileRead forums, thought it through, and went for it… along with the leather cover with built-in light.  It's been about a month now, and I haven't regretted it for a moment.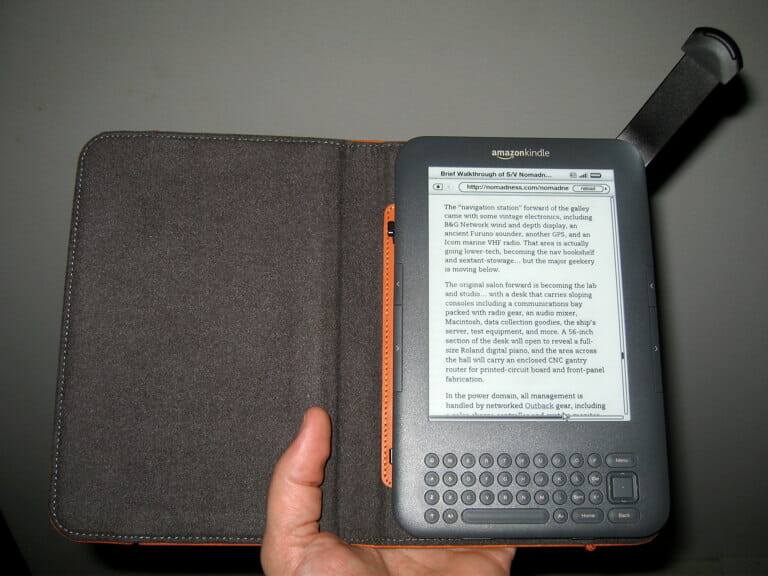 Frankly, I'm rather blown away by this thing. Not only has it improved the reading experience over books (which I never thought I'd say), but the communications are so sweetly integrated that I think of it as my little knowledge gadget. The browser does not replace a full-featured environment like Firefox/Safari/Chrome, of course… there's no color, only one window can exist at a time, cursor control is fiddly compared to a mouse, the print is tiny if you display a busy web page fit-to-screen instead of zoomed, and navigation is slow… but it's free and secondary to the primary function of the device. It integrates "sharing" very well, and allows a painless post to Facebook and Twitter without going through the browser at all.
Searching is well-integrated, making it feel more like a research tool than just an e-book reader. I can be reading along and decide I want to know more about something, type the term, then choose the scope of the search: the current book, all the books stored in the device (fully indexed, so it's instant), the Amazon store, Google, or Wikipedia. If a browser page is "busy" with sidebars like Wikipedia, I click "Article Mode" to strip all that and display the text just like a book.
In other words, it's really well thought out… better than I expected by far. The fact that it can hold about 3,500 books in addition to all this is just crazy to contemplate, and a single keystroke starts a surprisingly good text-to-speech reading of the current page. (It also plays audiobooks, which I have not tried, and includes a minimal MP3 player.)
The environment is not as rich as an iPad or netbook, of course, but I like it better for reading since the screen is passive, happy in direct sunlight, power-miserly, visible over a very wide angle, and even useful in bed at night (by pulling out the light integrated into the case). It's also much cheaper, and the lack of monthly fees makes it painless to own. Of course, Amazon does that in the hope that readers will shop regularly in their store… something I have already done a few times. Here's a page of my own Reaching Escape Velocity Kindle book: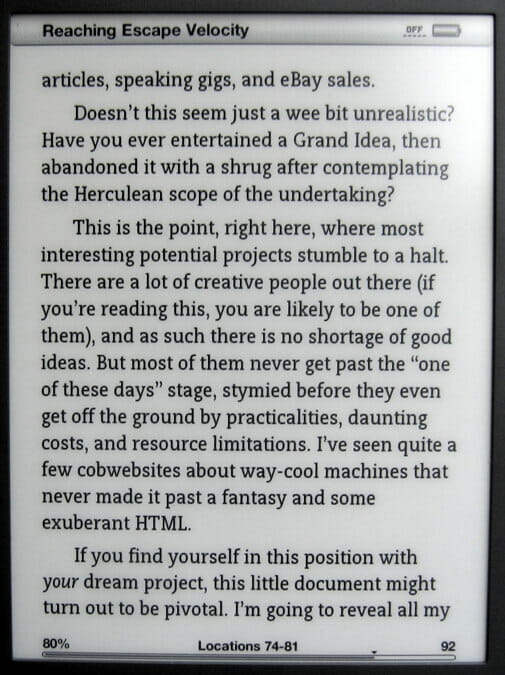 The device also supports PDF, and I've been installing a library of manuals and system documentation to provide a portable documentation resource on the boat, functional in awkward corners or when there has been a system failure with the Big Iron or related network tools. Transferring files is easy – plug in the USB cable and drag them across, or send them to your Kindle's unique email address at no charge (unless you use 3G, in which case Amazon charges 15 cents a megabyte for the transfer). That service can even do format conversions on the fly, but there is a free tool called Calibre that makes locally managing the Kindle library easy, including conversion of other e-book formats to MOBI (which is what underlies Amazon's copy-protected AZW).
If your primary need is complex technical PDF viewing, the larger Kindle DX is probably the better choice… it has a 9.7″ display instead of the 6″ one that's on mine, and the difference is reportedly huge when in PDF-land. I was tempted, but when I considered the wide range of uses and the premium I place on portable convenience, the smaller (and cheaper) one made more sense. Some graphics-intensive files are better viewed by rotating the image, and it's possible to zoom and scroll in discrete steps…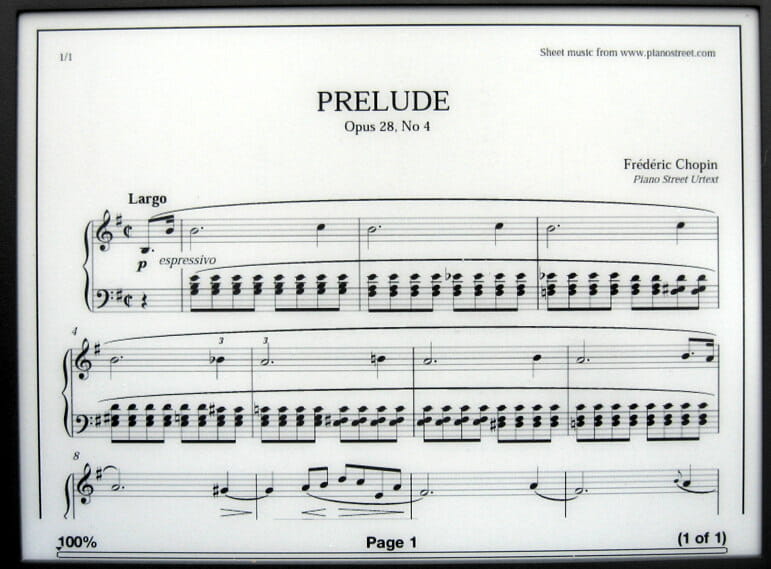 So how will all this map onto life aboard Nomadness? The bookshelf over the pilothouse nav station is 42 inches wide, and there are a few little nooks here and there where other volumes will doubtless be tucked (berth-side shelves and nacelles in the lab area). Almost all of that premium library space is going to be given over to reference material like cruising guides, books about ship systems, software manuals, and so on. General fiction and nonfiction titles will live in the Kindle… and I've already found that for linear reading I prefer this over paper.
In addition to books, the portable PDF library, and general online research, the Kindle will serve as a repository of reference material like checklists and procedures. There is obvious overlap between this and the local server that can be accessed by any wireless browser on the boat (iPhone Touch, Droid, iPad, laptop, or whatever), but the single-point failure potential of a complex and power-hungry system is significant enough to justify a backup that takes almost no power and works in bright sunlight. Calibre will be used to manage this, keeping version control from being an issue in the more dynamic documents… including a running backup of the logbook and PDF copies of all ship's papers.
Document Conversion via ScanSnap
I keep mentioning PDF versions of my own documents, but until recently that was a difficult thing to accomplish. For years, the Mac has been able to "print to PDF," which is fine… but what about all the paper I complained about at the beginning of this article?
The traditional method of getting documents into a computer, of course, is a scanner… and I have a nice Canon 8800F flatbed that I quite adore for photos and taking crisp eBay images of philatelic or numismatic artifacts. It will probably even travel with me, unless I break down and get a Brother all-in-one compromise machine to handle the 11×17 printouts that are the technical drawing standard on the boat.
The problem, however, is that a flatbed scanner is a real pain for text: it turns papers into beautiful images, not text files that can be indexed by your computer. You can feed scans to OCR software, of course, but there are a lot of fiddly steps (which translate into it never getting done, if you're like me). What we really want is to convert paper documents into Searchable PDF files, which invisibly overlay machine readable text over an image of the physical document and are thus the best of both worlds. These are automatically indexed by your computer (via Spotlight on the Mac), and you can copy and paste from them.
Fortunately, someone has been building devices optimized for this over the past few years: the Fujitsu ScanSnap series. Current models are the S1500 desktop machine, and the svelte little S1300 portable version. Inspired by an excellent e-book (Take Control of your Paperless Office, by Joe Kissell), I ordered the portable version from Amazon and spent an evening fine-tuning the various options.
And, I gotta tellya, I'm impressed. A little "ScanSnap manager" window pops up, letting you select whether you're aiming the next scan at the standard default process (which for me is a Searchable PDF with multiple pages and auto-detection of double-sided documents), or to various alternatives: image, business-card interpreter tied to the address book, email, Word document, Excel, print, raw image to a folder, or iPhoto. Then you just drop the stack of paper in the machine and it does the rest.
Naturally, there are lots of knobs to twiddle regarding image quality and other options, and since my interest is archival, I'm making the magazine articles pretty but settling for average on the receipts and business documents. They all get sorted into a growing file hierarchy in a folder called "PDF Library," though many people use enhanced database tools (like Devon Think) to manage it all. It's pretty cool to type "ScanSnap" into Spotlight and get a PDF of the Amazon invoice that arrived when I bought it… maybe I'll be less sloppy when the next tax time rolls around.
An interesting side-project that's falling out of this is my attempt to publish the full collection of my media coverage and magazine articles over the years… probably in some content-management system like WordPress so I don't get buried in site-design and navigation details. This led me into an exploration of how PDFs get indexed by Google, and it turns out that some fine-tuning is a good idea. Title and author metadata, in particular, should be deliberately set so that the search results don't plug in some arbitrary string from the beginning of the document.
The canonical way to do this is the powerful Adobe Acrobat Pro, of course, but I found a couple of free tools. My favorite, which just does the job without requiring me to think very much, is the free PDFInfo from Sybrex; there is also a very flexible PDF Toolkit licensed under the GPL and available on all platforms. Since the "ABBYY FineReader for ScanSnap" doesn't let you set this metadata, adding one of these tools to the workflow will give you more control over the indexing of the resulting file.
The other issue is how, exactly, to display these on a web page. It's user-hostile to just put in a PDF-download link, which drops a file in the user's computer that is then opened by a reader app. It turns out that there are various ways to embed them on a page, and I'm still experimenting with various platforms and browsers to be sure they don't require non-universal plug-ins.
What I noticed while doing this is that the process is very fiddly in WordPress, with it adding a Shockwave wrapper and making the editing and sizing process a royal pain. In practice,I prefer doing a jpeg thumbnail of the article, the full extracted text as plain HTML, and a link to download the Searchable PDF. (All with Automator!)
Anyway, the main point of all this is to convert mountains of paper into bits on a disk, and at that, the ScanSnap excels. Every time I scan something and throw it into the recycling bin, I feel incrementally lighter… and a little closer to sailing away.
Down with Paper
All in all, tonnage-reduction is a painful process, especially when it comes to those irreplaceable things like documents that carry much more meaning than the physical paper itself. Integrating a paperless toolset into the boat is thus a critical part of disconnecting from a land-based existence, and although it is daunting at first, the net effect is hugely liberating.
Among other things, it becomes possible to do proper backups… including off-site or cloud storage of the complete archive. Where a fire would have meant catastrophic loss of a lifetime's personal archives, now it just means the loss of stuff. Individual items can be found instantly, as if a "personal Google" has suddenly materialized with access to all that stuff from the dark ages before our current computers. Hard copy can still be conjured when needed for tax or legal purposes, and sharing is easy. This is all consistent with the agility needed for a true technomadic lifestyle.
My next post here will probably be about the larger aspects of that, in fact. I coined the term technomad back in 1984, and over the years have evangelized the set of concepts that enabled me to travel full time. The world has changed considerably, and there a number of people now doing this with an agility that I could barely have imagined back then. My friends Chris and Cherie, for example, have been wandering freely for many years and documenting the process so clearly that they, in turn, have become an inspiration to others through their Tales from Techomadia blog.
Cheers from the Nomadhouse, which will not be home for much longer!
Steve