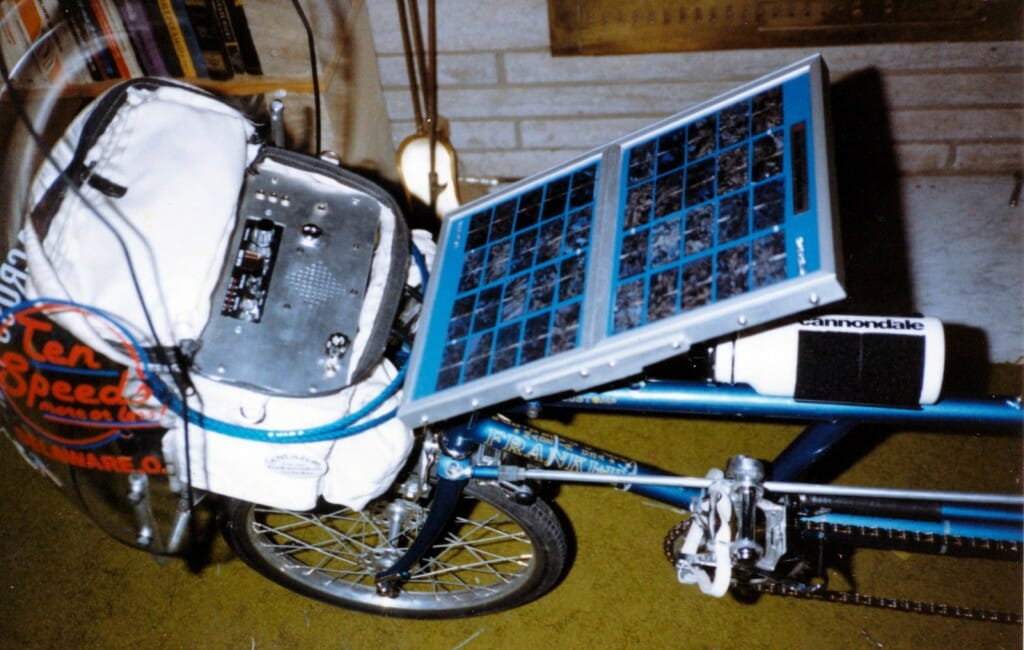 SAFT Batteries Make 9,760 Mile Bike Journey
SAFT was one of my first equipment sponsors, providing the NiCAD battery for the original Winnebiko, charged by a Solarex 5-watt panel as well as "shore power" when available (1983 schematic). During the Winnebiko 2 epoch, the company ran this article about my use of their products.
SAFT Accumulator
Second Quarter, 1987
CAPTION: Roberts on his "Wondrous Winnebiko" travelled almost 10,000 miles across the U.S. in an 18-month adventure. He was still able to maintain his freelance writing business using state of the art portable computer equipment.
At SAFT, we all know the endless applications of our batteries. They've powered everything from the most basic consumer radios to the most complex missile defense systems. Ever heard of a Wondrous Winnebiko? Yes, a SAFT Nicad® battery pack even helped to power this contraption.
A Winnebiko is a 200-pound, high-tech bicycle outfitted with solar panels and a computer. The man on the seat of that bike is Steven K. Roberts of Columbus, Ohio, a self-proclaimed high-tech, pedal-pushing nomad, who rode the Winnebiko on a 9,760 mile journey across the United States and plans a second expedition.
Before embarking on his nomadic journey, Roberts had maintained a freelance writing business in Columbus for several years. Although freelancing did allow a certain degree of freedom, he still felt he was "chained to his desk in a 9 to 5 job." Not wanting to wait until retirement to travel, Roberts decided to take his business on the road.
In September, 1983, Roberts sold his three-bedroom ranch home and found a new home in an eight-foot recumbent-seat (reclining) bicycle with just about every high-tech feature imaginable. He quickly discovered this was not going to be an ordinary bike tour. Using his portable computer, he maintained a full-time freelancing business throughout the 18-month adventure.
"I lived for the moment — and it had many," says Roberts. "During the 18-month adventure, I fell in love both on- and off-line, encountered a band of convicts in the Maryland woods, sailed through the Gulf of Mexico, tempted fate more than once, and learned more than I could have ever imagined."
Roberts says he "overheated in West Texas, nearly froze to death in Utah, discovered Key West hedonism, and explored the mystique of California." He ate everything from crawfish to oysters.
Along the way, his legs ground out some 2.5 million pedal cranks and he slept in over 200 different beds.
For his second trip, Roberts plans to install the Winnebiko with a more exotic system than ever. Not including dedicated controllers and "smart logic," there will be four on-board computers — along with a satellite data link, ham radio station and navigation equipment.
Of course, all of this takes power, and the original five-watt solar panel has been replaced with a pair of 10-watt solar units — along with a 12V, 7 amp-hour SAFT Modpack. The Nicad power pack on the Winnebiko powers much more than a radio; it generates power for a veritable stereo store on wheels, including a CB radio, complete stereo system, cassette deck, digital shortwave receiver, and the usual speed-distance-time-cadence instrumentation. Other electrical loads powered by the Nicads include twin air horns, lights, flashers, an electronic compass and a paging-type security system. The end result is something much, much more than your standard 10-speed bicycle.
Roberts has received varied reactions from the people he met on his expeditions. One of the most memorable, however, was a midwestern farmer who observed Roberts typing cross-legged on the pavement beneath the town's only pay phone. He peered at the bike, spat tobacco juice, and in all seriousness asked, "Are you from NASA?"
No, Roberts is not from NASA. He's just a high-tech nomad.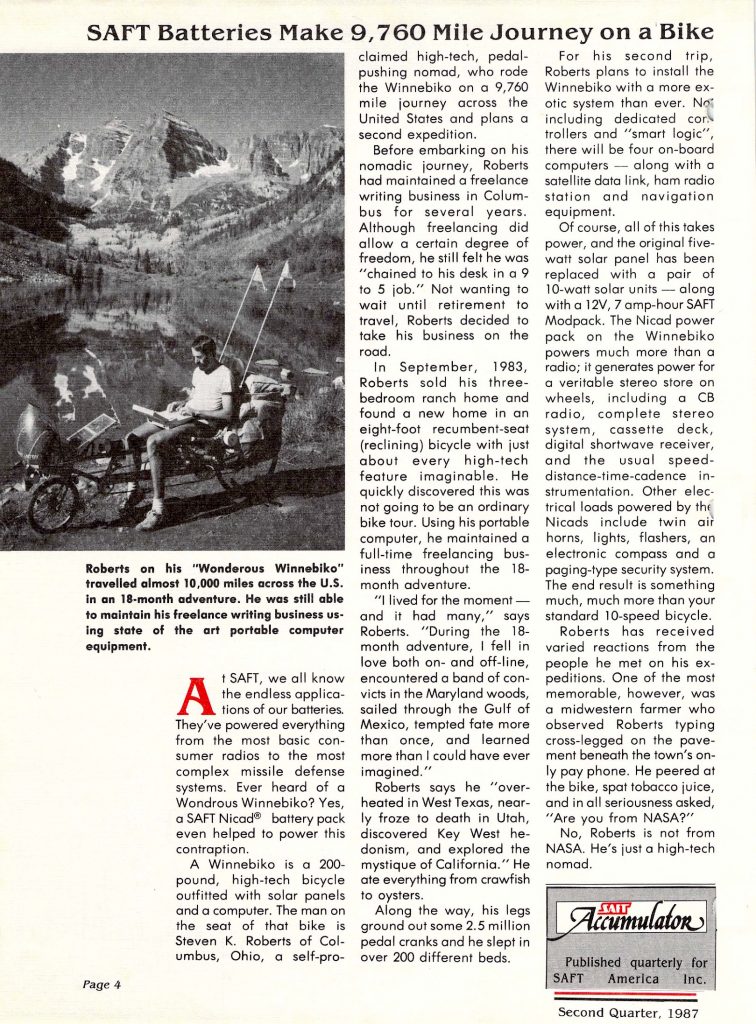 You must log in to post a comment.