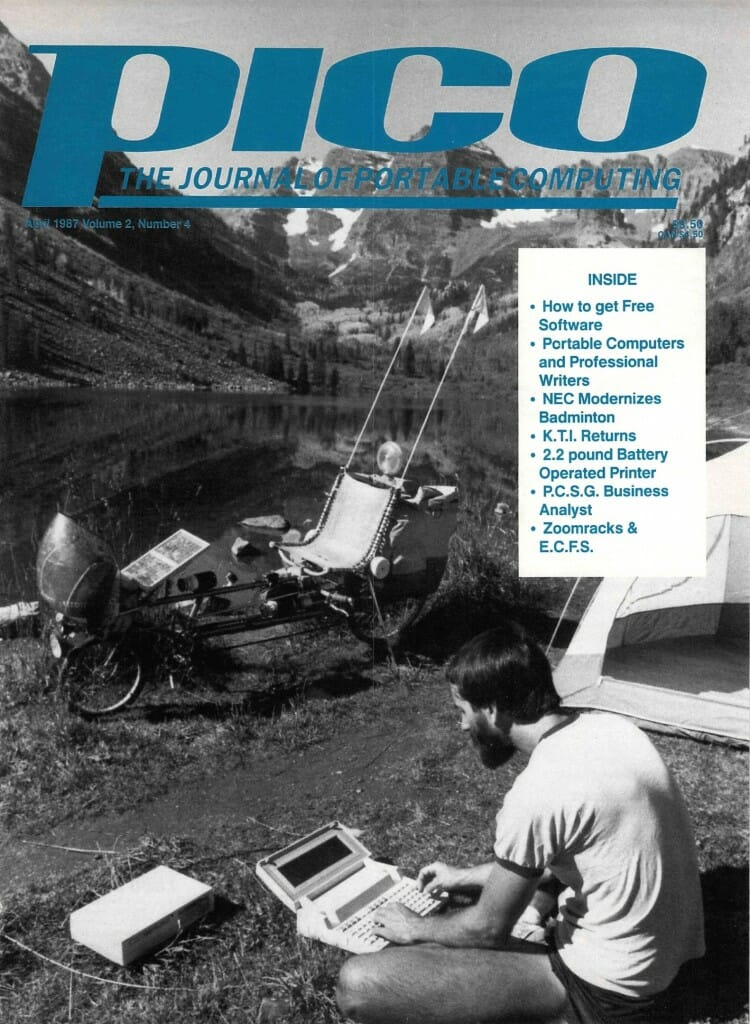 The Write Stuff – Pico cover story
During the early years of laptops, before they were universal commodities, a number of publications arose to focus on this new technology. Pico was not hugely well-known in this space, but I loved the name… they made a real effort to get the "picocomputer" term into common use, though like my own "Dataspace," it didn't prevail.
In this cover story, the author discusses the ways writers are using these newfangled portable computing tools. The full text is in the scans, but I have only copied the text of the opening paragraph and the closing section about my technomadic system. This cover photo above is by Jeffrey Aaronson of Aspen, and was taken on September 15, 1984. The photo on the first page is from Bainbridge Island in the summer of 1986.
As of 2019, the author, Sharon Fisher, writes for the Idaho Business Review.
by Sharon Fisher
Pico
The Journal of Portable Computing
April, 1987
Just how are writers using portable computers?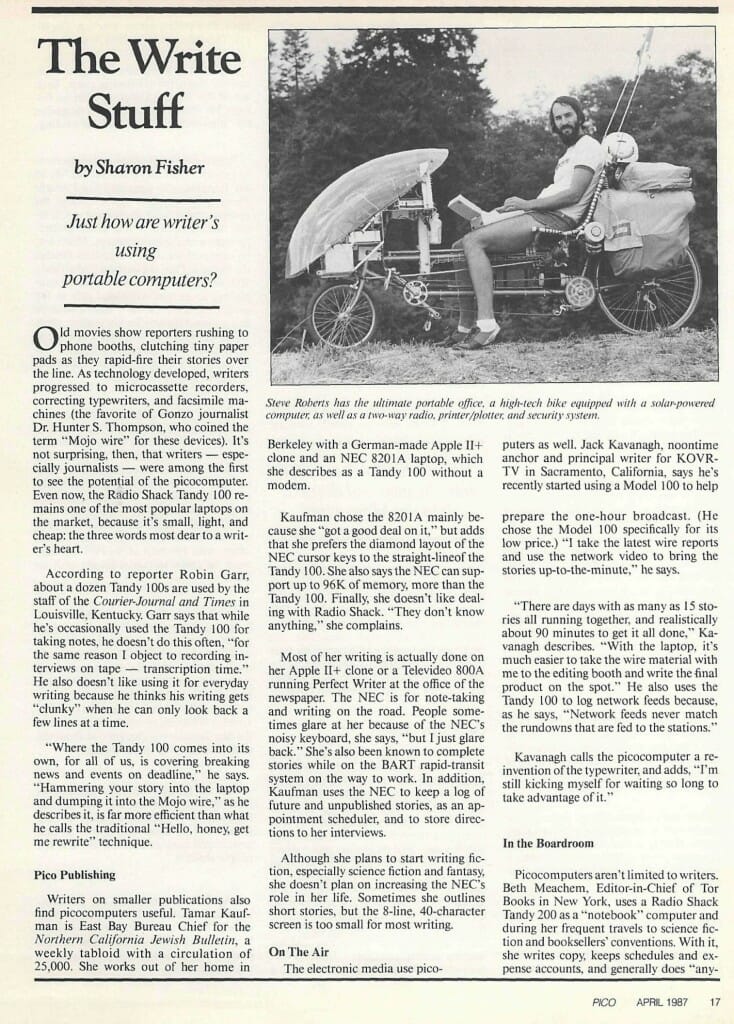 Old movies show reporters rushing to phone booths, clutching tiny paper pads as they rapid-fire their stories over the line. As technology developed, writers progressed to microcassette recorders, correcting typewriters, and facsimile machines (the favorite of Gonzo journalist Dr. Hunter S. Thompson, who coined the term "Mojo wire" for these devices). It's not surprising, then, that writers — especially journalists — were among the first to see the potential of the picocomputer. Even now, the Radio Shack Tandy 100 remains one of the most popular laptops on the market, because it's small, light, and cheap: the three words most dear to a writer's heart.
[intervening text not shown here, but readable in the scans]
On the Road (Again)
Probably the most famous pico-toting writer is Steve Roberts, who carried a Tandy 100, then a Hewlett-Packard Portable, across the country with him on a recumbent bicycle. He writes stories about the people he meets along the way and transmits them electronically to various publications. (For magazines that haven't entered the computer age. Roberts has an office and a full-time secretary, whom he calls his "universe interface." This person spends the day downloading articles from an electronic bulletin board and mailing hard copies, as well as making publishing deals, answering the telephone, and arranging public relations.) Roberts has since collected many of these stories into a book, Computing Across America: The Bicycle Odyssey of a High-Tech Nomad.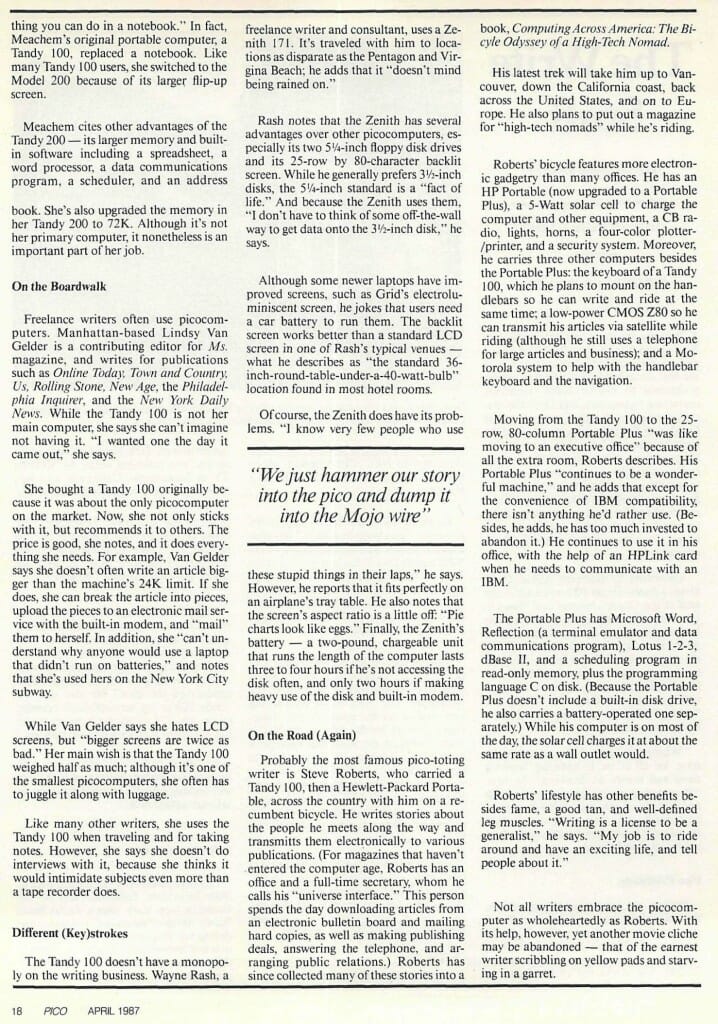 His latest trek will take him up to Vancouver, down the California coast, back across the United States, and on to Europe. He also plans to put out a magazine for "high-tech nomads" while he's riding.
Roberts' bicycle features more electronic gadgetry than many offices. He has an HP Portable (now upgraded to a Portable Plus), a 5-Watt solar cell to charge the computer and other equipment, a CB radio, lights, horns, a four-color plotter/printer, and a security system. Moreover, he carries three other computers besides the Portable Plus: the keyboard of a Tandy 100, which he plans to mount on the handlebars so he can write and ride at the same time; a low-power CMOS Z80 so he can transmit his articles via satellite while riding (although he still uses a telephone for large articles and business); and a Motorola system to help with the handlebar keyboard and the navigation.
Moving from the Tandy 100 to the 25-row, 80-column Portable Plus "was like moving to an executive office" because of all the extra room, Roberts describes. His Portable Plus "continues to be a wonderful machine," and he adds that except for the convenience of IBM compatibility, there isn't anything he'd rather use. (Besides, he adds, he has too much invested to abandon it.) He continues to use it in his office, with the help of an HPLink card when he needs to communicate with an IBM.
The Portable Plus has Microsoft Word, Reflection (a terminal emulator and data communications program), Lotus 1-2-3, dBase II, and a scheduling program in read-only memory, plus the programming language C on disk. (Because the Portable Plus doesn't include a built-in disk drive, he also carries a battery-operated one separately.) While his computer is on most of the day. the solar cell charges it at about the same rate as a wall outlet would.
Roberts' lifestyle has other benefits besides fame, a good tan, and well-defined leg muscles. "Writing is a license to be a generalist." he says. "My job is to ride around and have an exciting life, and tell people about it."
Not all writers embrace the picocomputer as wholeheartedly as Roberts. With its help, however, yet another movie cliche may be abandoned — that of the earnest writer scribbling on yellow pads and starving in a garret.
You must log in to post a comment.