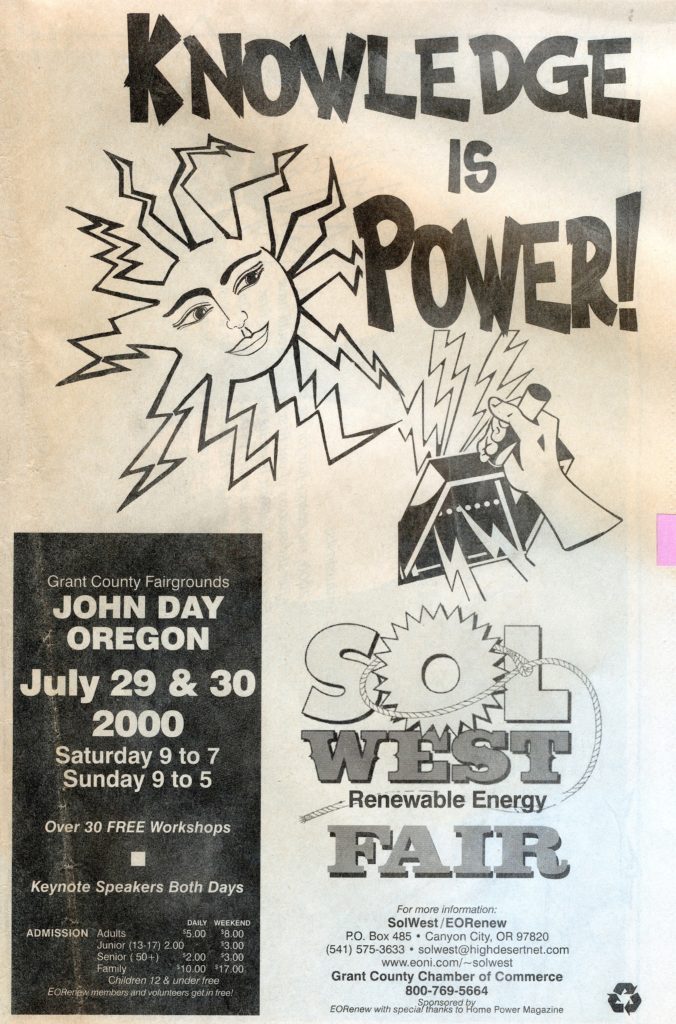 SolWest Fair – BEHEMOTH and Microship
I remember this well… speaking to a crowd obsessed with renewables, bike and embryonic Microship on display for 2 days, brutal heat, lying in the creek to cool off, and an evening party with Java the Cat visiting all the campsites and then returning home to the mobile lab. The first piece below is a page from the December, 2000 issue of Home Power magazine, in an article about SolWest by Richard Perez: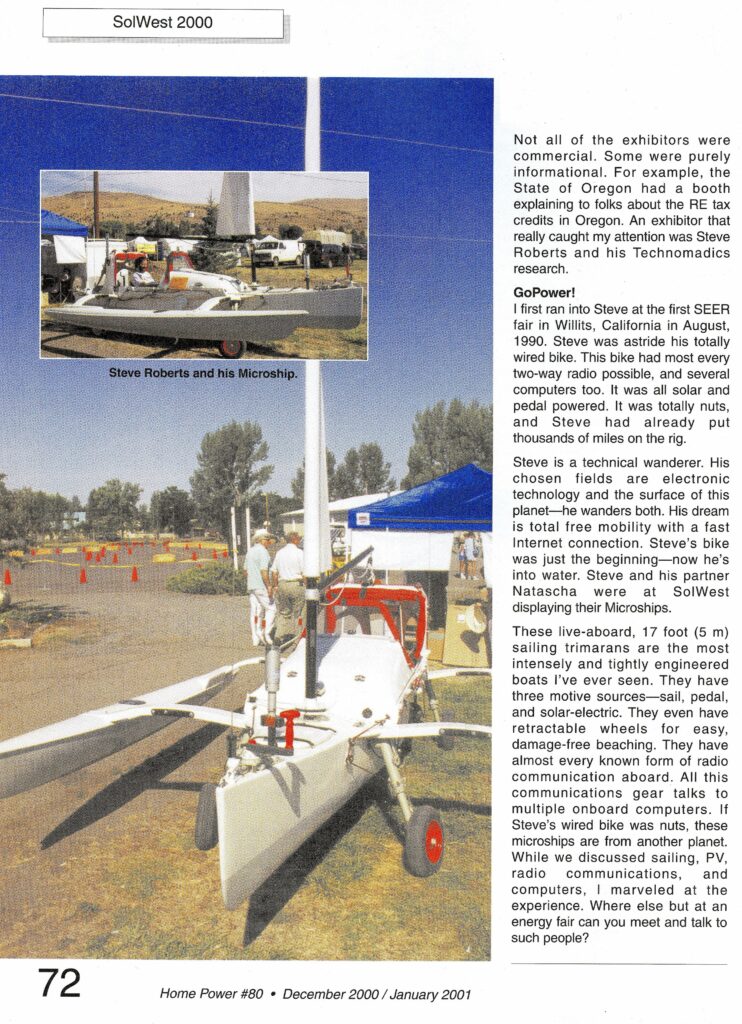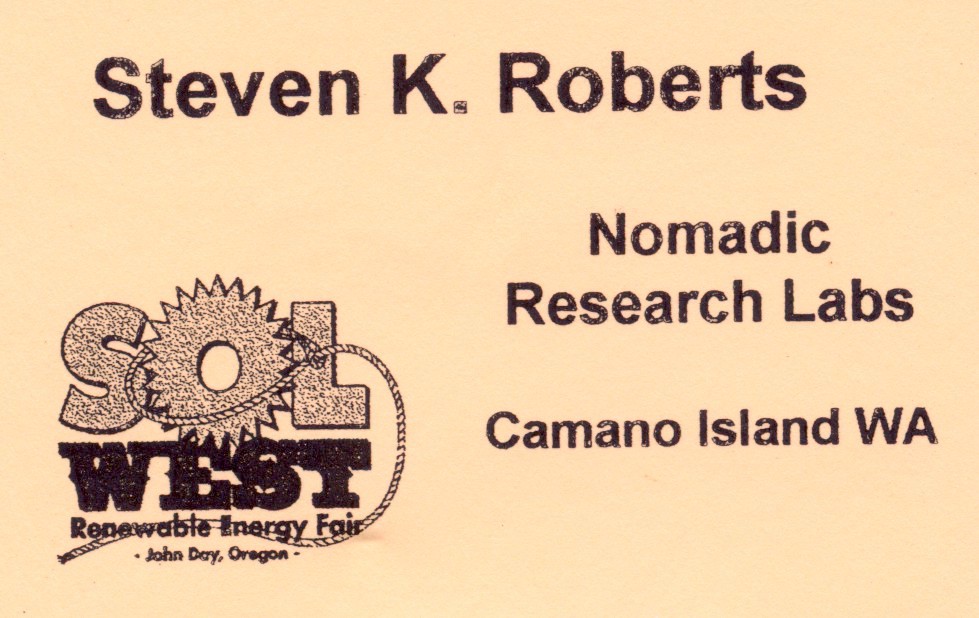 STEVEN K. ROBERTS
Microship and BEHEMOTH
Solar-Powered Technomadic Adventure Machines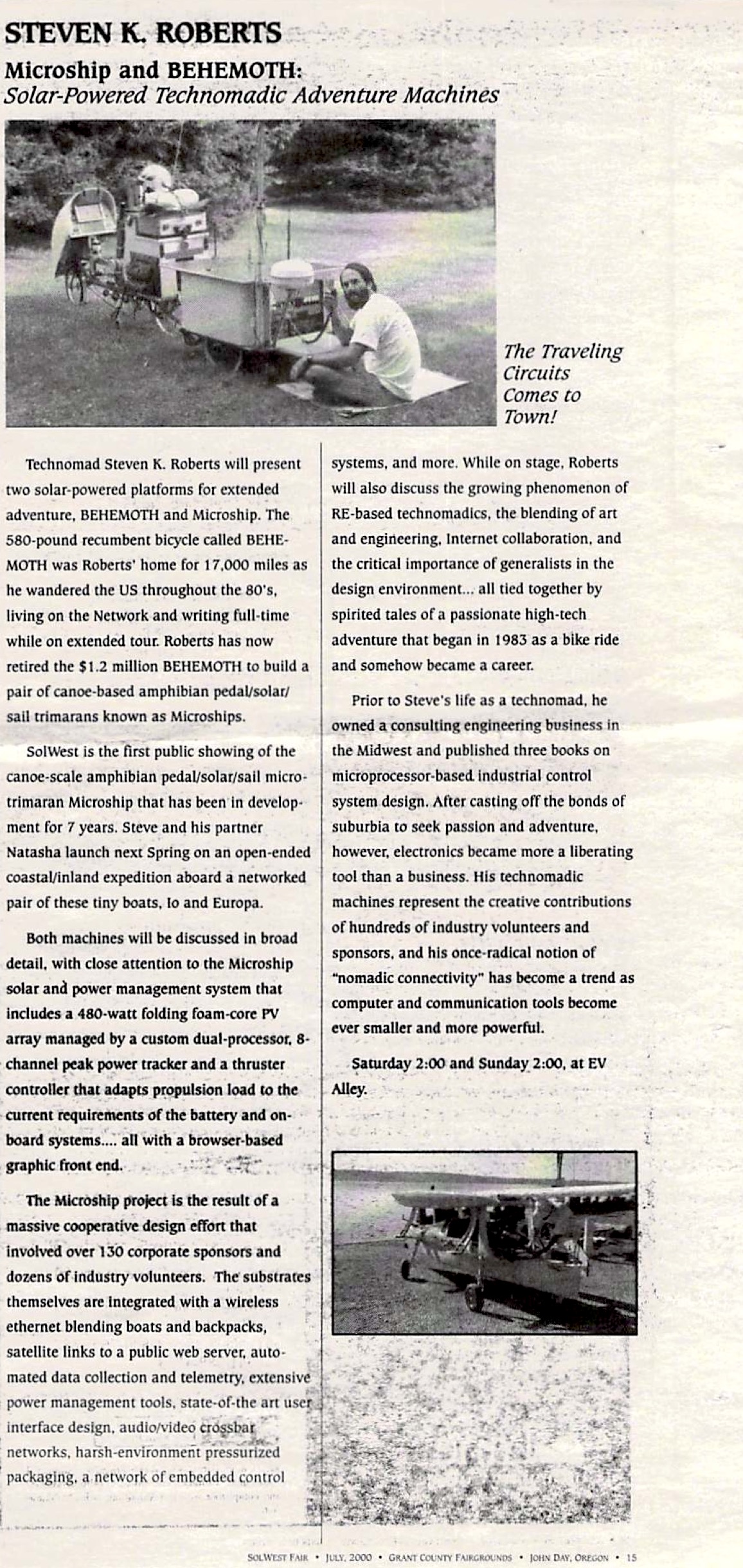 Technomad Steven K. Roberts will present two solar-powered platforms for extended adventure, BEHEMOTH and Microship. The 580-pound recumbent bicycle called BEHEMOTH was Roberts' home for 17,000 miles as he wandered the US throughout the 80's, living on the Network and writing full-time while on extended tour. Roberts has now retired the $1.2 million BEHEMOTH to build a pair of canoe-based amphibian pedal/solar/ sail trimarans known as Microships.
SolWest is the first public showing of the canoe-scale amphibian pedal/solar/sail micro-trimaran Microship that has been in development for 7 years. Steve and his partner Natasha launch next Spring on an open-ended coastal/inland expedition aboard a networked pair of these tiny boats, Io and Europa.
Both machines will be discussed in broad detail, with close attention to the Microship solar and power management system that includes a 480-watt folding foam-core PV array managed by a custom dual-processor, 8-channel peak power tracker and a thruster controller that adapts propulsion load to the current requirements of the battery and on board systems…. all with a browser-based graphic front end.
The Microship project is the result of a massive cooperative design effort that involved over 130 corporate sponsors and dozens of industry volunteers. The substrates themselves are integrated with a wireless network blending boats and backpacks, satellite links to a public web server, automated data collection and telemetry, extensive power management tools, state-of-the art user interface design, audio/video crossbar networks, harsh-environment pressurized packaging, a network of embedded control systems, and more. While on stage, Roberts will also discuss the growing phenomenon of RE-based technomadics, the blending of art and engineering, Internet collaboration, and the critical importance of generalists in the design environment… all tied together by spirited tales of a passionate high-tech adventure that began in 1983 as a bike ride and somehow became a career.
Prior to Steve's life as a technomad, he owned a consulting engineering business in the Midwest and published three books on microprocessor-based industrial control system design. After casting off the bonds of suburbia to seek passion and adventure, however, electronics became more a liberating tool than a business. His technomadic machines represent the creative contributions of hundreds of industry volunteers and sponsors, and his once-radical notion of "nomadic connectivity" has become a trend as computer and communication tools become ever smaller and more powerful.
Saturday 2:00 and Sunday 2:00, at EV Alley.