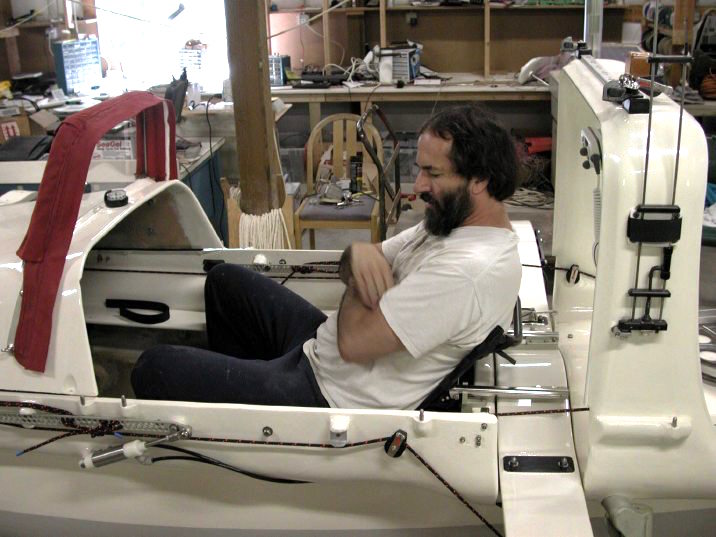 Notical Interlude and Speaking Tour
by Steven K. Roberts
Microship Status Report #136
July 19, 2000
"Glue is something that can wet two surfaces and then harden. Adhesive is something that can wet two surfaces and then harden more. Synthetic Resin Adhesive is something that can wet two surfaces, harden, and sell for over $5/oz."
— Albert Einstein
Notical Interlude
OK, this is bizarre.
I'm sitting in a lounge aboard the cruise ship Volendam, docked in Ketchikan, Alaska. All week we've been cruising the Inside Passage while engaging in something so completely out of context that it couldn't be more perfect — the Perl Whirl.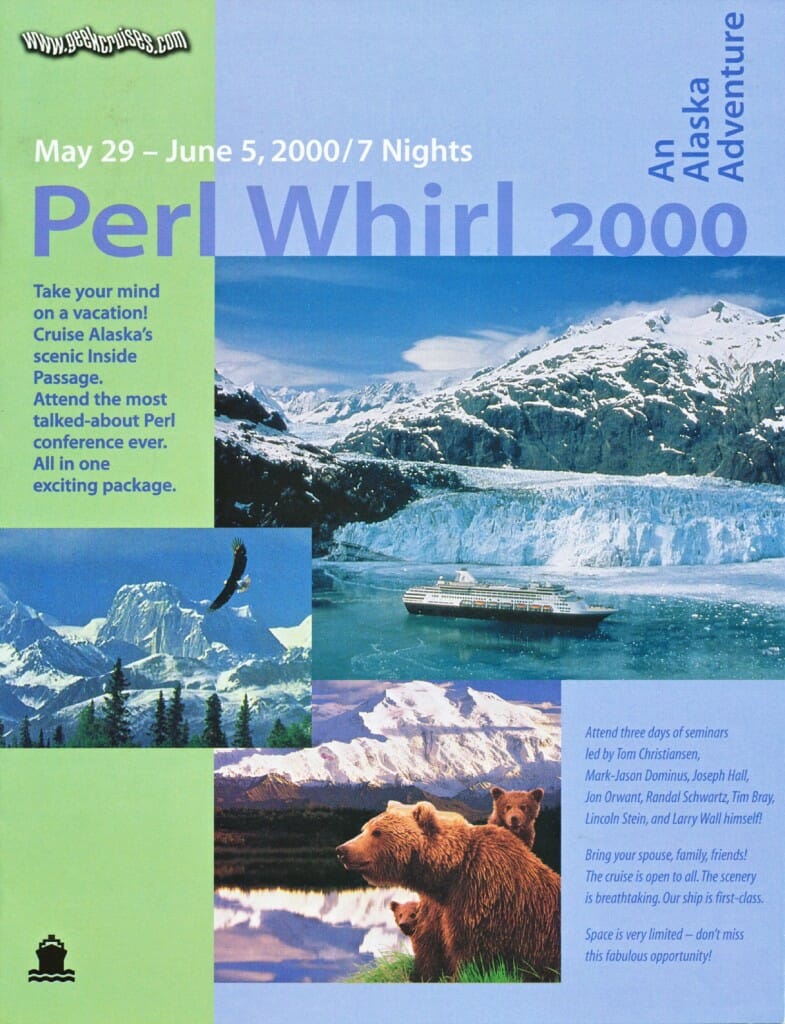 On day one, as I was loading up my tray with the first of many deliciously excessive monuments to gustatory bliss, an elderly woman beside me asked, "is this your first cruise on a Holland America ship?"
"Oh yes," I answered. "It's my first time on ANY cruise ship."
"Ooooh!" she replied, shocked by my innocence, yet delighted to be the one to reveal the Terrible Truth. "By the end of this week you won't want to travel any other way!"
I fell back in mock horror and held up my hands to ward off danger. "Noooo! You're talking about my career!" She looked a bit alarmed, gave me a half-smile, and quickly turned her attention back to the seared ahi, exotic salads, and killer tortes.
Unfamiliar luxuries aside, the cruise was an amazing week of hanging out with the leading gurus of Perl, writers whose work I have long respected, and a whole population of interesting attendees. This is certainly the most stimulating conference venue I've ever experienced, with unforgettable moments like glancing out the picture window during a deep software discussion and seeing a whale cavorting down the Inside Passage, snow-capped peaks slowly drifting by, sun sparkling off wavelets, and a white sail in the distance…
Of course, there's also the tourist culture. Key West lost some of its languid character when cruise ships began docking at Mallory Pier, and it was a little strange being on the other side of that relationship with communities. We quickly learned to hurry a dozen blocks from the ship before slowing down and looking around (better treats away from the tourist areas anyway!). This strategy worked particularly well in Skagway, where we joined our friends for a day of strenuous wilderness exploration far beyond the range of all but the most vigorous cruise ship passengers.
I would definitely do it again. In fact, if you're into Java, the next Geek Cruise (the Java Jam) is in the Caribbean this coming November… we're thinking about it…
Maiden Voyage of Mothership 2.0
Yikes! It will arrive Saturday, five days before we take off on another 8000-mile loop around the US: a new 44-foot Wells Cargo gooseneck trailer. This is insane, and the running joke is that we'll need to buy more land since 11 acres won't give us enough room to turn around.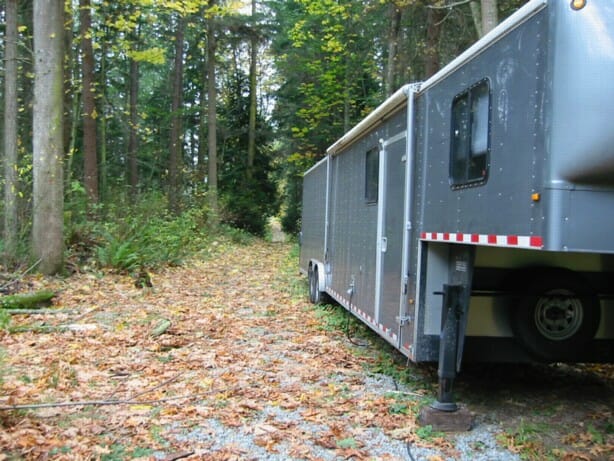 The idea here is to accommodate both Microships in launchable form, along with the bike, workspace, and adequate camping facilities for long speaking tours. It's fully insulated, has AC and DC power systems, windows and ventilation, an 18′ awning, and a fold-down rear door that becomes a loading ramp. Rick Wesley of Wesweld in Stanwood installed a retractable hitch in the middle of my truck bed (the 7.3 liter diesel and 1-ton chassis now more justified than ever), and I bought a waterproof video camera and 12V monitor from Supercircuits along with a microwave link to make backing less terrifying. A new Alinco dual-band mobile ham rig is about to be installed in the truck along with the requisite CB, APRS tracker, and satellite phone… and we're pushing hard to have Io and Europa ready for the trip. In my case, this means completion of everything except the console; in Natasha's, it implies basic test-sail capability and landing gear.
This tour has shaped up into an intense schedule. This will be the first public showing of the Microship, and we're pondering the logistics of rolling a 20-foot folding trimaran around corporate and conference environments… this may be "micro," but it's way bigger than BEHEMOTH.
There are still a few openings in the schedule, and the more speaking gigs we line up the better…
July 27: Departure
July 29-30: SolWest Renewable Energy Fair, John Day, OR
August 4: Corporate appearance, Minneapolis, MN
August 5: Wenonah Visit, Winona, MN
August 6-9: visiting Tim Nolan & lake sailing, Madison, WI
August 10: Corporate appearance, Chicago, IL
August 11: visiting Sailrite (IN) and Clippard (OH)
August 12-14: visiting my father, Louisville, KY
August 16: Keynote, Usability Professionals Assoc, Asheville, NC
August 19-20: Hamfest, Huntsville, AL
August 21-24: Tennessee River adventure
August 25-27: IEEE Computer Fair, Huntsville, AL
Sept 3-11: Silicon Valley tour with Computer Museum, CA
Sept 15-17: Sea Kayak Symposium, Port Townsend, WA
If you're somewhere on a rough line between Alabama and California, we might be able to visit enroute west. The Silicon Valley week also has some openings; basically, I'm doing a succession of on-site corporate gigs and then parking the bike at the Computer Museum History Center at NASA's Moffett Field. Hope to see ya!
Microship Final Assembly – Moving on to Systems!
Painting now tops the list of things I never want to do for a living (right up there with drywall and writing device drivers). After far too many hours of research, I settled on Interlux Brightside one-part polyurethane (Hatteras off-white), although there was a Sterling 2-part "lemon mist" I coveted. Even simple systems such this and the similar Pettit Easypoxy (the name suggests epoxy, but that's marketing) involve a nightmarish range of preparation steps that differ as a function of the substrate. Where one surface involves multiple chemical and textural environments, such as previously painted epoxy adjacent to primer next to epoxies of varying ages from multiple vendors, things get interesting. The project involved three different solvents, primer, a range of sandpaper grits, gloves, masks, sore arms, and a massive grid on the blackboard that tracked the preparation stages of all 20 or so parts… yet STILL there were areas of sag, excessive dust (um, homemade nonskid), sloppy masking, and coating removal to fix chemical incompatibility.
Still, Io's right purty if you stand back a little… John Marples allegedly refers to paint jobs as 10-foot finish, 20-foot finish, and so on, depending on how far away you need to be to think it's perfect. Without my glasses and with the lights romantically dimmed (and if I don't look at that bad spot on the cowling), she's a 10-footer, oh yes.
After all that, it's no surprise that I was stunned by a classic "from the mouths of babes" moment. The other day, welding wizard Rick Wesley was here to work on Natasha's landing gear, and he brought his kids. One engaging, bright-eyed 10-year-old creature named Stephanie stood by the boat, asking intelligent questions and drawing me into her trap. Not missing a beat, she asked, "are you going to paint it?"
Ooof.
The three months since our last update have been packed… getting ready for paint forced me to perform all the evil mounting jobs that I'd been putting off due to laziness, indecision, or lack of parts. The annoying thing about foam-core decking is that every little screw involves a goo job — either casting threads in a blind hole with a syringe or hogging out an annulus and injecting fiber-filled epoxy, drilled out later to yield a structure with column strength that won't dimple when you tighten a nut. When you throw in shaped mounting pads, wiring channels, avoidance of antenna interactions, general usability and aesthetics, "just screwing on a part" becomes a multi-day project.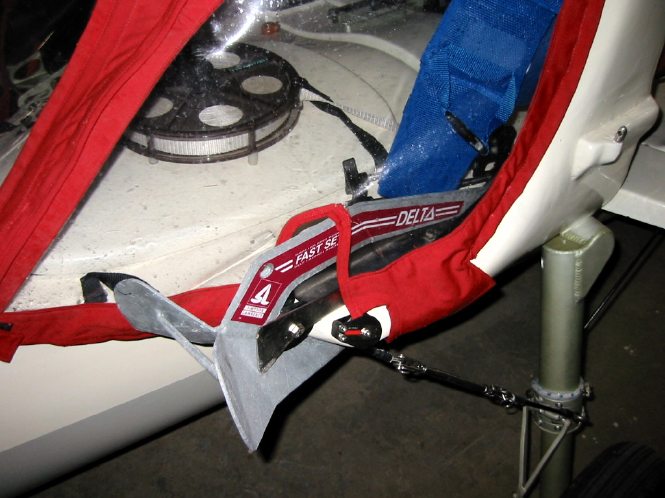 The anchor was a big one: I had always assumed, conventionally, that I'd launch the 9-pound Delta off the bow… but I worried about clambering over hot, slippery solar panels to deal with the interactions between anchor handling and helm control. It finally occurred to me that a canoe is symmetrical and I should be able to ride off the stern just as well (off-center with a bridle if necessary). So I molded a pad for an anchor launcher at the base of the starboard arch, bolted a chain tensioner and cleat to the aft aka behind my seat, and moved the Ankarolina webbing reel to the aft hatch cover atop 6 shaped spacers. Done, and a big one off the list.
Despite what I said in Issue #135, I mounted the sternlight at the top center of the arch on a bit of sculpted fir left over from cat-door installation, complete with glued-in tubing to route power from a cable harness traversing the entire arch (beginning at the thruster mount, where a hole penetrates into the aft stateroom). Later this Aqua Signal unit will be retrofitted with a cluster of white LEDs, just as the bow units flanking the Handar wind sensor on the bow will get red and green.
The Mobri radar reflector is on the starboard side of the arch, with the mount modified to allow locking in the vertical position with a tethered pin and easy folding to let the akas swing up for road transport. This modality complicated everything… there are two very different operating modes along with the occasional need to slip under low bridges. Some antennas, like the new Shakespeare dual-band cellular, could be attached to standard marine ratchet mounts to allow folding; others, like the Rocky Mountain stainless dual-band J-pole on the port arch and the 102″ HF whip at the stern, had to have custom retraction systems fabricated. The 3db marine VHF whip at the bow had to fold in TWO axes to sneak under the hydraulic steering control arm.
Incidentally, that cellular antenna serves a dual purpose: Natasha inaugurated our new Sailrite Ultrafeed sewing machine by conjuring a long black fabric tube that carries three burgees (at the moment, Northwest Multihull Association, Electric Boat Association, and the rec.boats newsgroup), with an eyelet for bungee retention to the deck. The antenna can then be tilted to a jaunty angle as I arrive in port, flags festively a-flutter. This ruins my radiation angle, but hey…
The sexiest antenna on board is the Globalstar satellite radome, which connects to the cradle that accepts the Qualcomm GSP-1600 tri-mode phone (satellite, 900 MHz analog, and 900 MHz CDMA). This absolutely magical unit, which I've been using lately here in the black hole of communication (the west shore of Camano Island), also sports a serial port for PPP-flavored connections up to about 9600 baud, as well as all the requisite interfaces for crossbar integration. It's expected to become our key voice and data link on the Microships… and I tellya, it is downright SPOOKY to make a call with this handheld phone and realize that there are no terrestrial cell sites involved. The signal is carried by low-earth-orbit birds acting as bent pipes between here and the ground station, then routed into the public telephone network or the Net. Such amazing infrastructure, yet so easy to take for granted…
Speaking of communications, we now have dual-band handhelds for our packs — Alinco DJ-V5T's. An easy mod opens up the receive from 76 to 999 MHz (cellular blocked), and 200 memories with alphanumeric labels make it a surprisingly turnkey little unit with great audio, three power levels, and iMac-flavored packaging. It's Natasha's first HT (and my first in 10 years!). Now if we could only hit a repeater from this massive Faraday cage… I knew we were in trouble when I noticed we only get 2 TV stations and no cellular coverage except for scratchy analog and pricey Nextel! (I'm hoping a friend will buy the 10 acres of woods next door so we can put a broadband passive repeater on the hill…)
Of course, some forms of RF propagation aren't limited to line-of-sight, and I'm all a-quiver with today's news that we'll be adding an Icom IC-706MKIIG to the ship — a tiny all-in-one rig that I've been lusting after for ages. Much more on this after I get a chance to play with it, but I already know it will be a central communication tool…
The end of the 3-year mechanical fabrication phase is having a galvanizing effect — I'm actually starting to think about systems in some context other than how they get bolted down. Tim Nolan has completed an incredibly dense package (with 6 Microchip PIC processors dancing together) that takes care of 8-channel solar peak power tracking, thruster control, battery management, live display of the whole process, and compression of power telemetry into a form palatable to our database server (atop MySQL). It's now waiting for connectors in the solar panels and cabling into the console, and for the installation of "harness-level" connectors under the hood that will at last allow us to start wiring. The mind reels.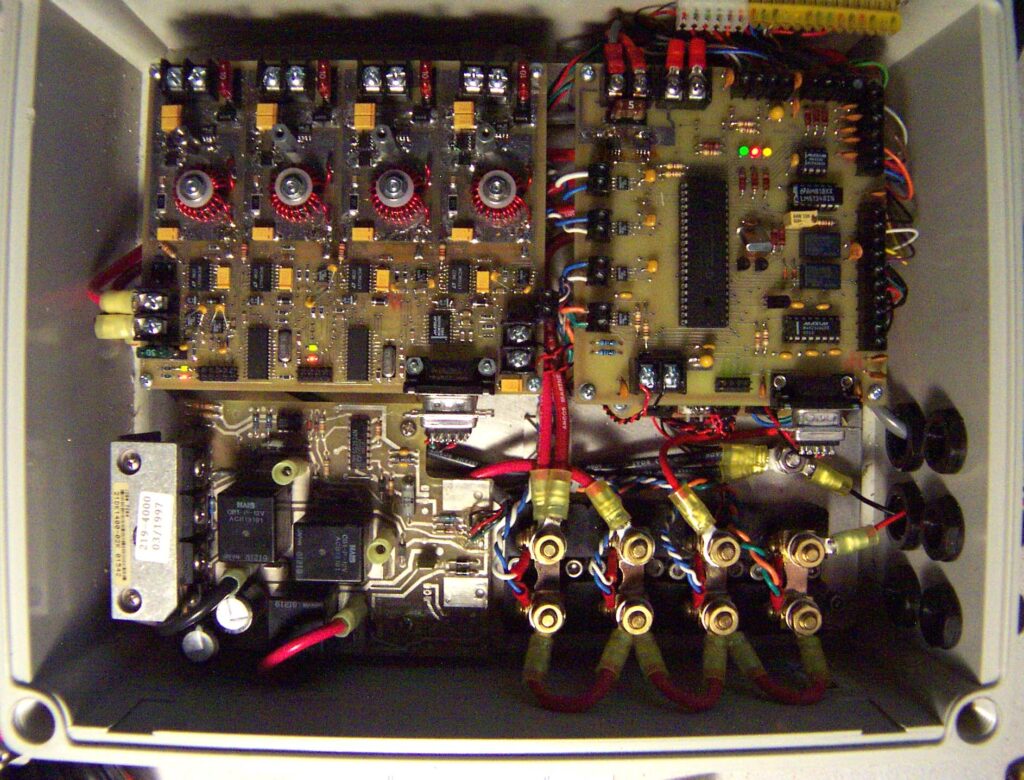 As you know, the console area is protected by a cowling, now hinged and easily removable — a modification that became necessary upon my embarrassed realization that tensioned landing gear deployment lines through cowling fairleads would prevent access to electronics when she's on her wheels. I also rendered the eight nacelles for lockdown screws obsolete by adding a pair of Southco soft draw latches, making "popping the hood" a quick, no-tools operation.
I should mention here that there has been a major change of philosophy regarding the console. As the fabrication of the monstrous articulated pressurized box has loomed nearer, I've become more and more aware that it will take months… and frankly, I'm tired of life in the lab and want to get on with adventure. The original plan was to have ALL systems resident in this enclosure, with two holes in for battery cables and a thicket of waterproof connectors to the rest of the ship. But it occurs to me that what we call the "harness level" (power distribution and low-level switching of the relatively non-geeky devices like navlights) should be simple and readily accessible. Why not put all that stuff into relatively protected but not sealed space under the gasketed cowling, and then fixture simple pressurized boxes containing the goodies? It's a bit more messy as far as cabling is concerned, and certainly less elegant, but it will allow development to proceed incrementally with the intervening stages actually useful and permanent. It also reduces packaging to the use of mostly standard boxes, which sounds good to me.
Speaking of packaging, the solar project finally got done by Bob Stuart — a daunting task involving eight 3-stage vacuum-bagged layups over inch-thick Divinycell (with okoume inside the top layer for impact resistance), each carrying two Solarex 30-watt ultralight modules. The panels are hinged into pairs, of which there are two per side… translating into a total of sixteen 30-watt modules split into eight channels (with a 17th on top of the cowling). The construction was extremely complex, with internal wiring tunnels and sealable service ports, sockets to mate with pins emerging from the gunwales, tubes intersecting those to allow the units to be locked in place with long rods, and tie-down fixtures that interface with inflatable cushions riding on the modified ama decks. All this has to flex with wave motion, handle body weight and other abuse, retract on hinges where necessary to allow access to landing gear controls, and be non-obviously but easily removable for transport. The whole system was done with Bob's characteristic perfection and attention to detail.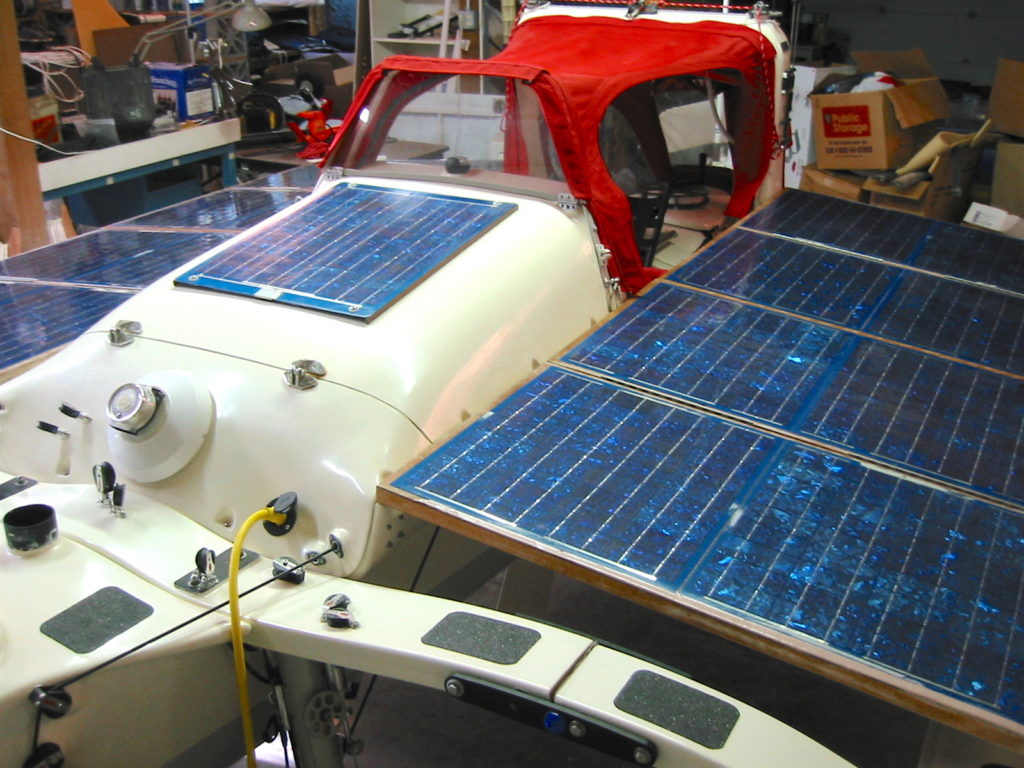 There's only one thing that turned out to be worse than expected: heat.
Closed-cell foam is an excellent insulator, which in many applications is a Good Thing. Here it is not. First tests, on a temperate 70-degree afternoon in the Northwest, showed surface temperatures reaching 160 degrees. It's easy to imagine hitting 180, which is beyond the practical limits of our 3M type 80 spray adhesive. The unsupported Tedlar of the modules then softens and shrinks slightly upon cooling, wrinkling the surface. We're now looking at rework options: hog out the foam core and bottom skin, build up an egg-carton structure of edge-glued ply, and retrofit a new bottom skin with lots of big holes. Or cut out everything and embed aluminum honeycomb into the existing frames. (We don't want to think about re-doing the frames… they would take months to clone, and honeycomb closeouts are difficult.)
There's also active cooling… but that's more enchanting than practical. We'll experiment with 3M type 1300 hi-temp silicone around the edges to constrain shrinkage, but repackaging will probably be necessary .
But in the refreshingly well-behaved world of software, Ned Konz is continuing to make headway on our server design… with new brainstorming partner Randal Schwartz. We're looking at a new possibility: writing the GUI in Squeak (an implementation of Smalltalk), with Perl as the duct tape that holds together the databases and linux-domain widgetry, Java scattered around browser sandboxes and Dallas TINI boards, FORTH running the crossbar controller, and embedded PICs coded in whatever's handy. The Squeak front end would be completely portable across all our platforms since it runs atop a virtual machine. More on this in the next issue; in the meantime, my object-oriented learning curve is steep and amusing.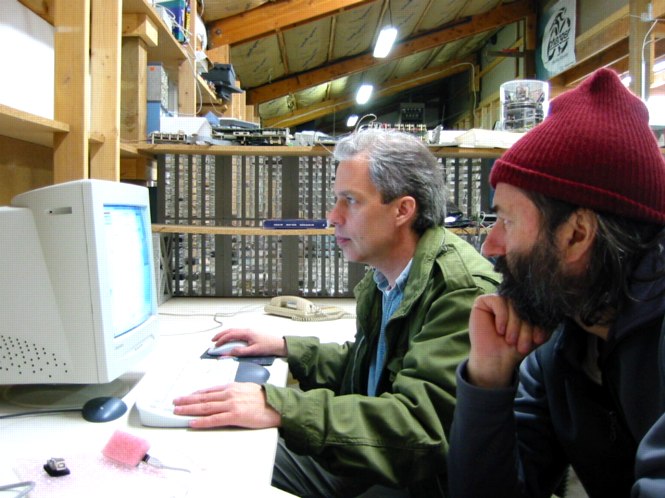 New Website and Publication…
She did it! After three months of work punctuated by daily slaving over Europa and a bit of video production, Natasha has finished and uploaded the completely redesigned microship website — with consistent navigation, a sleek look, and all sorts of new features. She did the whole project in CyberStudio, PhotoShop, and Illustrator, toolsets far from the raw HTML of the Early Years.
Naturally, there are still a few unfinished bits, mostly in the areas that require me to do some writing. But it's getting fun — one of the new toys is a Perl script written by Ned that serves a random sponsor logo from the pool every time the front page is accessed. Real Soon Now there will be the long-awaited virtual console updated by telemetry, return of the Microship labcam, and more goodies to flesh out the archives.
Of course, we also enjoy good old-fashioned paper publishing, and are particularly pleased with our latest book: the fourth edition of From BEHEMOTH to Microship. This has a beautiful new design by Joyce Lukaczer, a cover photo by Randal the Perl guru and his magical Nikon, art direction by Natasha, a completely rewritten Microship technology section… and a full edit by Dave Aton in Atlanta to catch the bugs that escape my scrutiny. We're even getting fancy with production — full-color cover, perfect binding, loads of photos, ISBN (1-929470-00-2), bar code… heck, this looks like a real book!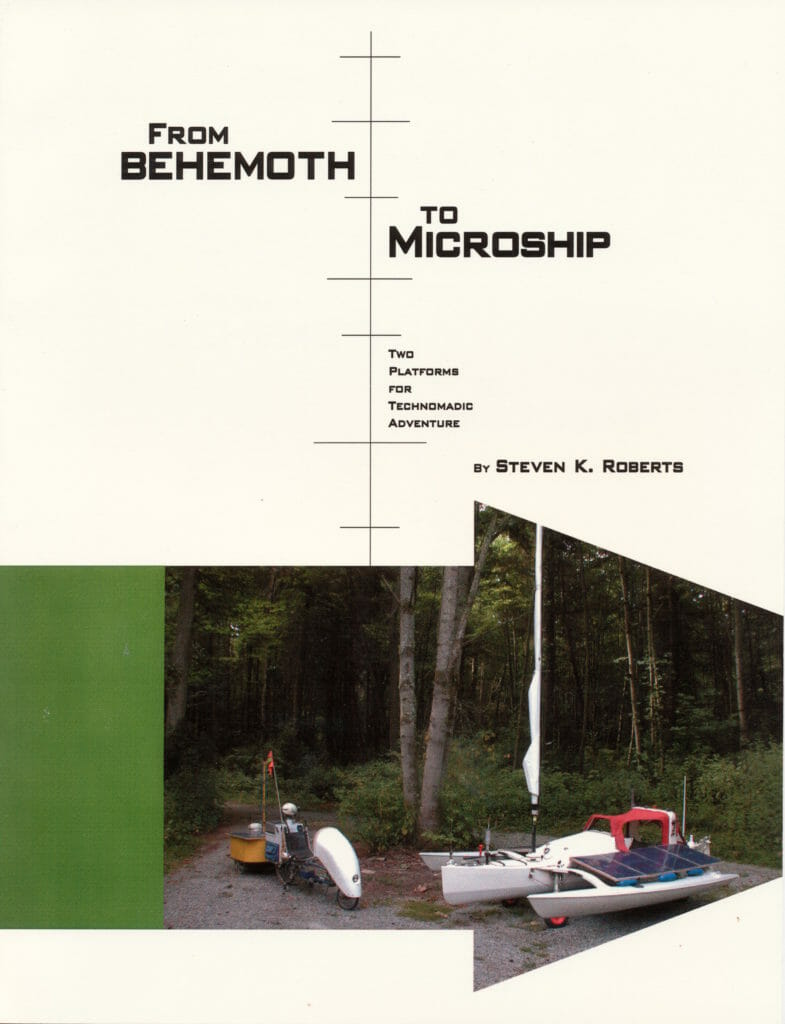 As a veteran of the late lamented non-commercial Internet, I promised not to use these postings for any kind of direct product promotion, so I'll stop there… but do hit REPLY if you're interested and I'll give you the details.
(Sneak-preview: I've decided to do something I should have done with BEHEMOTH… publish a massive, detailed, engineering-level book about the whole system from gooey epoxy to GUI software. The title will be "Inside the Microship," and it will take a long time… but should be worthwhile.)
Media, Sponsors, and Links
Some of the most important news relates to our ongoing industry support, without which this project would be absolutely impossible. We are most grateful to the following for new sponsorships….
Alinco, for the pair of DJ-V5T dual-band handhelds and the DR-605T 50-watt mobile rig… nice stuff! I've never used Alinco radios before, but am very impressed with the feel and functionality of these units. Some Alinco handhelds have an amazing cost-performance ratio (even one under-$100 model).
Icom, who provided the IC-725 HF rig for BEHEMOTH about a decade ago, is back on our active sponsor roster with the eagerly awaited delivery of an IC-706MKIIG, a 100-watt radio that packs an incredible amount of flexibility into a computer-controllable 5.5-pound package. It covers HF from 160-10 meters, as well as 6, 2, and 70cm bands… with more features than I can even begin to relate here. This is the stuff of serious ham-radio technolust (at least for people who love high-density packaging). Keep an eye on their website — we'll be doing a technical article about the integration of this rig into the Microship.
Qualcomm, a long-time supporter of these technomadic projects, has donated the Globalstar satellite phone and related hardware. I'm in love, pure and simple. If you wander outside normal cellular service areas, take a look at this… airtime and hardware prices have just come down considerably.
Draco, maker of the magical Casablanca digital video editor that has given Natasha a major creative outlet and barterable skillset, sent along their FireWire interface as well as upgraded software. Interface installation remains on the to-do list pending acquisition of a suitable camera (hey, is anyone from Canon on this list? 😉
Ronstan has provided most of our rigging components over the past 2 years (blocks, cleats, traveler), and most recently sent eight high-load blocks to replace some of the ones we originally used for landing gear deployment. Bob ran the numbers: hitting a pothole or curb at walking speed can exert crushing loads on the plastic ball-bearing blocks with the most extreme line-reversal angles, so we replaced those with plain bearings and metal sheaves.
Datastick Systems sent us their new MyCorder DAS-1206, a wonderful gadget that plugs into Palm and Handspring PDA's… gathering multichannel data and allowing logging and data reduction. Very sexy and well made — and they now have a thermocouple unit as well as another with 16-bit input, along with even more flexible software. It's a lab in your shirt pocket…
Speaking of Palm, I'm fairly bursting to use my new Palm VII connected organizer, the one with the flip-up antenna and nationwide wireless internet service with a huge developer community. There are PQA's (Palm Query Apps) for all sorts of things, but there's this black hole of communication problem again: I can't see a signal anywhere on our facility . Hope that changes soon — Palm now has a flat-rate unlimited service plan that addresses the pricing issues raised by early reviewers, and the PQA approach is much more flexible than the "wireless web" services I've seen the cellular companies advertising.
Perimeter Industries solved a huge problem for us: these teensy outer hulls do not support normal fenders (I discovered the problem on the Fulmar adventure… fenders would flop around no matter how they were tied, especially when we tried rafting together). Besides, it's a pain to slither across the solar array and fiddle with the silly things. These folks make a product called "Gunnel Guard," a fabric-encased 3/4-round foam extrusion that we'll bond along the outer hull-deck seam on both amas, turning the Microships into nautical bumper cars. Tasha will sew on little tabs to provide lashing points for the inflatable solar panel supports.
Sky Pole, maker of fiberglass kayak paddle shafting, donated four 8-foot lengths when we were planning to use the material as the outer solar array support. As it turned out, the flexy boat requires a mushy solution, but the tubing turned out to be perfect for transverse line-handling in Natasha's aft landing gear deployment system, and is now bonded to her aft bulkhead. No web site, but if you've used Werner and other fine kayak paddles, you've doubtless familiar with Sky Pole's lightweight blue tubing.
OK, time to wrap up this long (and long-overdue) report with a few quick media hits and links….
We made Wired! There's a half-page article about the Microship, with photo, on page 132 of the June issue.
I haven't had much time for freelance writing lately, but I did write a piece with a technopassion slant for the June issue of 73 Magazine. The article, slightly generalized as a "what's this all about?" intro for our website, may be found here:
And we had a one-page story in Sports Illustrated in the April 24 issue, page 80.
My apologies for the long silence during this mad push to completion, and a warm welcome to over 250 new subscribers who have arrived in the past three months via the sign-up page on the new website. The next update should be in September, hopefully with amusing tales of mini-adventures during our 7-week tour….