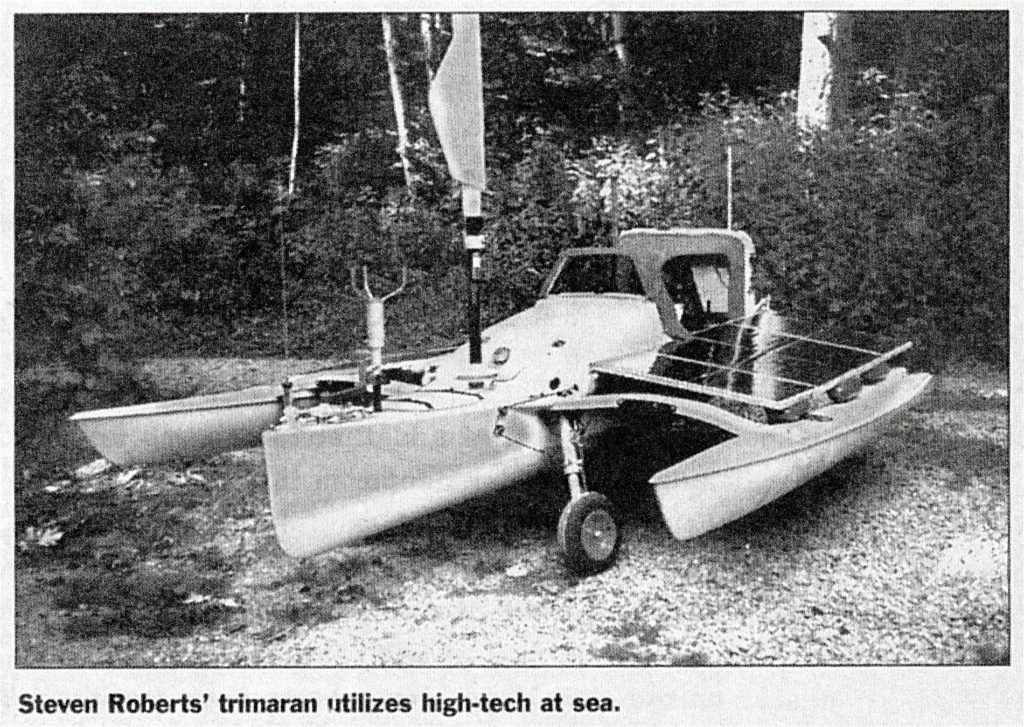 Microship Sailing into Untested Waters
This article hit the spot… it provided an excellent snapshot of the Microship project that was underway in the Camano Island woods. We were slaving away on the landing gear and building the second boat, taking off on occasional speaking tours, wondering when we would actually hit the water.
by Sharon Pian Chan
Seattle Times
Personal Technology
July 30, 2000

You can't throw a rock in Seattle without hitting someone who wants to tell you about their boat. But even the most apathetic would be impressed by Steven Roberts' new toy.
Officially named Io, unofficially, the Microship, Roberts' canoe-turned-amphibious trimaran is equipped with a ham radio, satellite and cellular telephone, speech-enabled computer, PC-680 industrial embedded Pentium board, navigational and environmental sensors, paddle power and a solar-powered thruster that can be operated via remote control. His wife's companion trimaran, Europa, can handle 16 video sources and 8 video sinks — and their cat Java. It's boat meets Borg.
This is not the first feat of engineering Roberts, 47, has accomplished. During the past 17 years, the self-titled technomad of Camano Island has built three computerized recumbent bikes to tool around the country, logging 17,000 miles in all. One is going into the NASA's Computer History Museum Center in Silicon Valley. At the heart of it is pure "geek passion," he says. "It's absolutely magical."
The quest began in 1983, when Roberts was freelancing articles for technical publications and working as a freelance engineer. The problem was, the freelancing started morphing back into an office job.
"It had turned into deadlines and stress. And I was doing it to pay for something I really didn't want, which was a house in suburbia," he says. "So I just decided to hit reset."
He sold his house in Columbus, Ohio, spent six months building the Winnebiko I and then took off with a solar-powered laptop and a CompuServe account, leaving a secretary behind to answer the phone. He rode by day, worked at night on his laptop in a tent.
When the media picked up on his Forrest Gumpian odyssey, corporations started donating equipment. Sun Microsystems and Apple donated lab space. So he spent three years building the ultimate bike — the Behemoth (an acronym for Big Electronic Human-Energized Machine… Only Too Heavy). At 580 pounds fully loaded, the bike integrated a 105-speed transmission, 72 watts of solar panels on the trailer, a PC-display eyepiece, a Mac console in front, ultrasonic sensors on his helmet that pointed the mouse where his head went, a cell-phone mouthpiece and a binary keyboard in the handles. The running joke was, "I'd always wanted to ride a Unixcycle." Ouch.
The anti-theft system included a microwave sensor to detect intruders and speech-synthesized computer warnings. The bike could also call the police and transmit its latitude and longitude. And the last line of defense was a 60,000-volt shock to the seat.
He moved up to Camano Island three years ago, where he works out of a 3,000-square-foot lab with a team of 30 volunteers spread out through Seattle, Wisconsin, Colorado and India who e-mail him code and specs.
Corporations donate equipment. Food and rent are paid for by speaking engagements. He also published three books (two off-line, one on) about his adventures. From Behemoth to Microship came out last week.
Next spring he and his wife, Natasha, plan to take Europa and Io on a tour of the Mississippi and Missouri rivers, around the Gulf of Mexico, up the East Coast and back inland through the Great Lakes. He's also ruminating over a possible tour through the European waterways.
And after that? "People always assume the next thing will be an airplane," Roberts says. But he isn't so sure. "Like a friend of mine says, the laws of aerodynamics are inflexible and the ground is hard."
The author's website: Sharon Pian Chan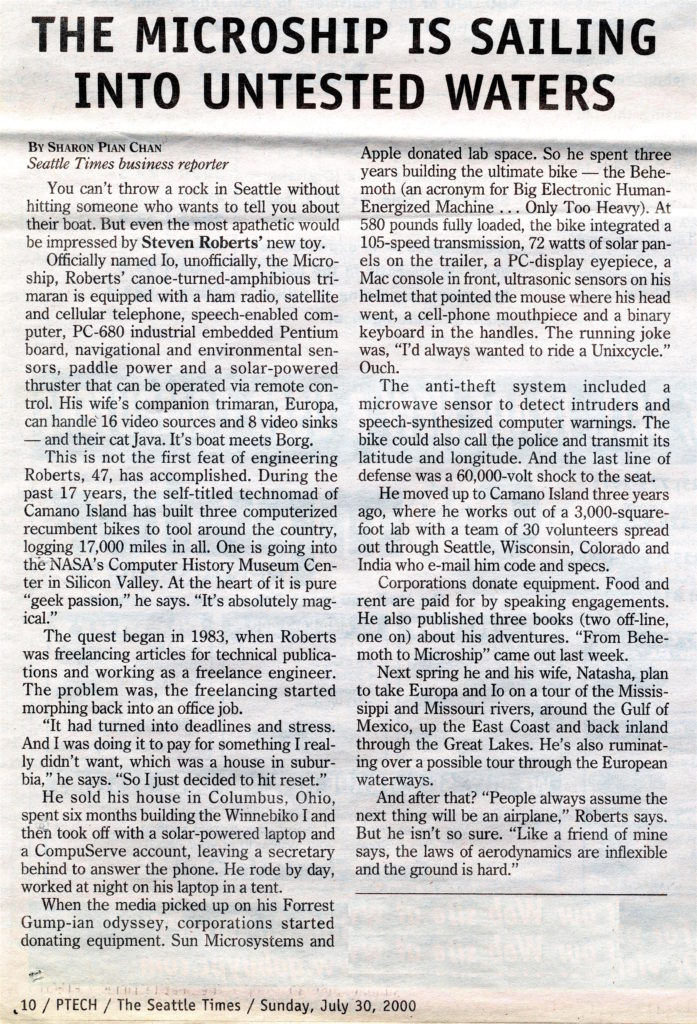 You must log in to post a comment.