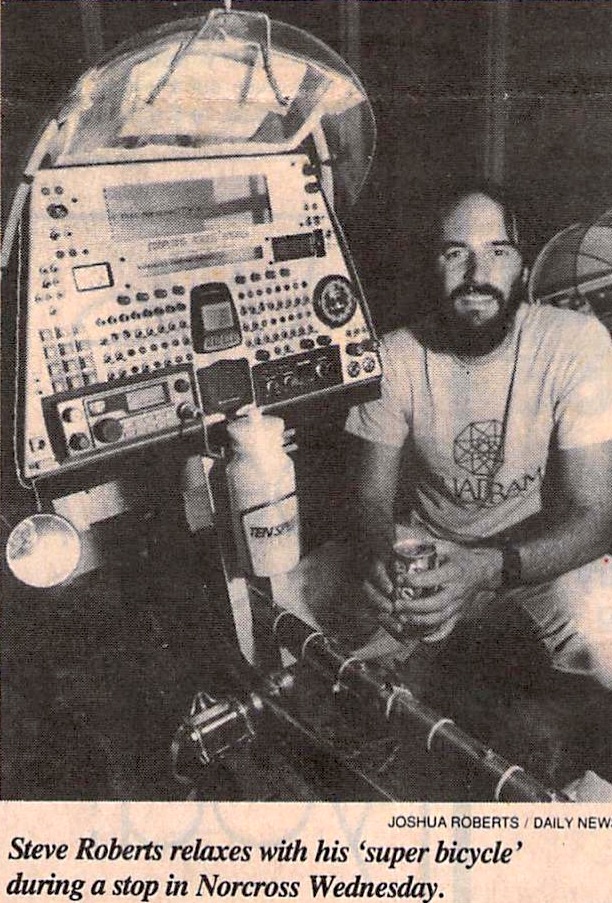 Super bicycle fills childhood fantasy for high-tech maniac
During the school-bus jaunt around the US after completing the East Coast aboard the Winnebiko II, I was on a quest for technological tools to begin what would become BEHEMOTH… and a major component was the Oki 491 cellular phone. This visit to Norcross accomplished that, as well as connections with a few other local companies. The Gwinnett Daily News was acquired and shut down in the 90s by the Atlanta Journal-Constitution (which covered us when we looped back through Atlanta a couple of months later).
by Matt Kempner
Gwinnett Daily News 
May 19, 1988
As he neared 30, Steve Roberts decided he didn't like being a grownup. So he gave it up and decided to devote himself to the things he likes.
Computers, bicycles, traveling, adventure, ham radios, writing — they all entertain Steve Roberts while he rides his bicycle.
Now 35, Roberts has fashioned a "super bicycle" — a computerized wonder with more gadgets then Pee Wee Herman's prized two-wheeler. It's both his ticket to adventure and his meal ticket.
It has 54 gears, disc brakes, a solar-powered, on-board computer with eight typing keys on the handlebars that lie underneath his seat, a ham radio, air horns and an antenna that can link up with earth stations and satellites to send notes to friends in Sweden or Ohio.
When he turns on his computer screen an electronic voice asks "Are you going to ride me now, Steve?"
This, in all likelihood, is the coolest, baddest, neatest bike any kid ever saw.
On Wednesday the bike and Roberts were in Norcross, stocking up on more high-tech gear for the road and hawking the book he wrote as he peddled: "Computing Across America: The Bicycle Odyssey of a High-Tech Nomad."
"I realized I had been working my tail off for something I didn't want: a house in Columbus, Ohio," he said. "I sold my house in 1983 and have been living on the road ever since.
"I've built a lifestyle around the things I like the best."
From his bicycle seat he is everything he wants to be: freelance writer, computer whiz, ham radio operator, explorer and kid.
"It's fun," he said. "I tried growing up. It was worthless. Boring."
Including the two-wheel trailer on the back, Roberts' magnificent mobile machine spans 12 feet and weighs 275 pounds.
On it he has glided, cruised, pumped and enjoyed 16,000 miles, criss-crossing the United States and back again. Bicycle and man have been over the Rockies — at a grinding 2-mile-per-hour pace, and down a slope near the Delaware River — at a more brisk 50.5 miles per hour.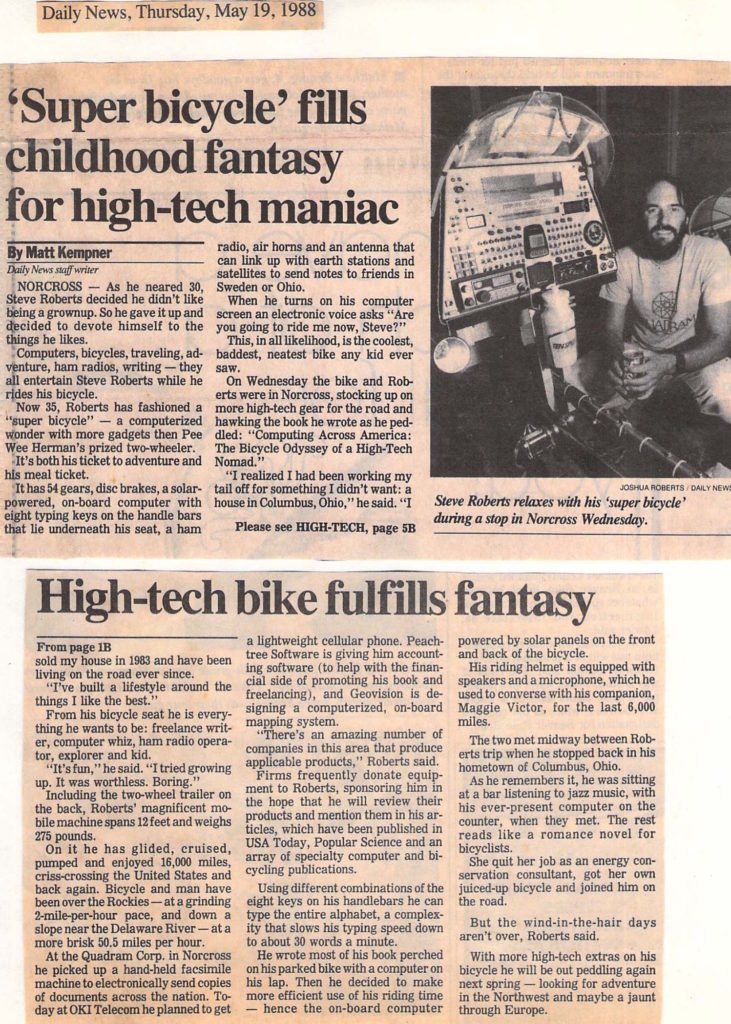 At the Quadram Corp. in Norcross he picked up a hand-held facsimile machine to electronically send copies of documents across the nation. Today at OKI Telecom he planned to get a lightweight cellular phone. Peachtree Software is giving him accounting software (to help with the financial side of promoting his book and freelancing), and Geovision is designing a computerized, on-board mapping system.
"There's an amazing number of companies in this area that produce applicable products," Roberts said.
Firms frequently donate equipment to Roberts, sponsoring him in the hope that he will review their products and mention them in his articles, which have been published in USA Today, Popular Science and an array of specialty computer and bicycling publications.
Using different combinations of the eight keys on his handlebars he can type the entire alphabet, a complexity that slows his typing speed down to about 30 words a minute.
He wrote most of his book perched on his parked bike with a computer on his lap. Then he decided to make more efficient use of his riding time — hence the on-board computer powered by solar panels on the front and back of the bicycle.
His riding helmet is equipped with speakers and a microphone, which he used to converse with his companion, Maggie Victor, for the last 6,000 miles. The two met midway between Roberts trip when he stopped back in his hometown of Columbus, Ohio.
As he remembers it, he was sitting at a bar listening to jazz music, with his ever-present computer on the counter, when they met. The rest reads like a romance novel for bicyclists.
She quit her job as an energy conservation consultant, got her own juiced-up bicycle and joined him on the road.
But the wind-in-the-hair days aren't over, Roberts said.
With more high-tech extras on his bicycle he will be out peddling again next spring — looking for adventure in the Northwest and maybe a jaunt through Europe.