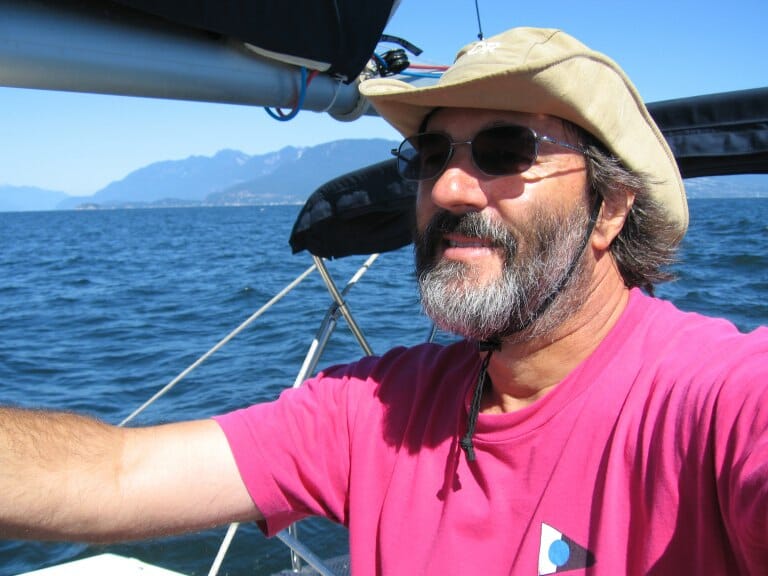 Suspended Inhalation in Ganges
Hello from Salt Spring Island! The inaugural voyage of Nomadness is now nearing the 500-mile mark, and I'm within a day or so of zipping across the Strait to check in at Point Roberts and then find my way to the end tie that awaits in Blaine. It seems utterly surreal.
I'm currently in one of those strategic holding patterns that affect any sailor sane enough to avoid being schedule-driven: Two obstacles lie betwixt here and my next stop. The first is Active Pass, somewhat notorious for reversing currents touching 7 knots and very busy with freighter and ferry traffic… it must be traversed at or near slack. The second is a funneling segment of the Strait of Georgia that can be right feisty in a nor'wester or sou'easter (the only two directions wind comes from up here). Neither of these alone is worth more than a careful check of current tables or weather predictions, but in series they require a bit more care… if I nip through the pass and then find conditions intolerable, there is no turning back. Today a front passed and the prediction for tonight is 20-30 knots of wind out there… so I popped into Ganges for a few essentials and then had dinner with my friends at EcoReality.
The past week has been interesting, and included a scrape with an uncharted rock just south of Hutt Island (northwest side of Bowen). Horrified by the cracking noise, I backed away and limped around the lee rocky shore in a strong southerly inflow, dropping into the ferry channel while still uncertain of my underwater integrity and making my way to the Union Steamship Marina where I hired a diver to take a look. His inspection came up clean, but I'll feel a lot better when it gets proper scrutiny out of the water.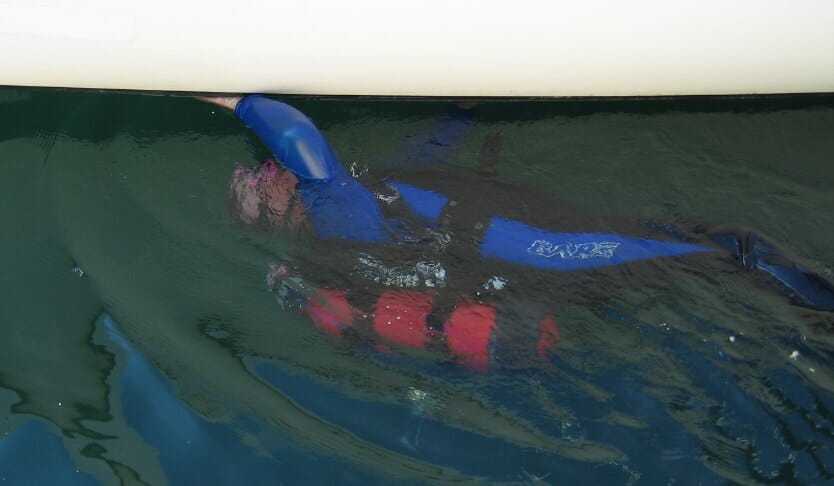 Feeling at once curious and somewhat intimidated by the urban sailing scene, I then ducked into Vancouver (False Creek area)… spending three days moored at the FCYC docks under the Granville Bridge and exploring the town… even taking the bus to UBC for a delightful afternoon at Wreck Beach (no photos, alas!).
After the deep hush of Desolation Sound and even the relatively frenetic pace of Nanaimo, this was Big City writ large… cheap and excellent sushi, instant gratification in terms of Fedex deliveries and other logistics, aquabus ferries zipping back and forth, a horde of tourists gobbling gelato, and a relentless noise level that became so normalized in my brain that the quiet of Silva Bay after a pounding crossing was almost a shock.
The Wooden Boat Festival was afoot this past weekend, and this photo is from the Granville Island side (with Nomadness moored across the creek):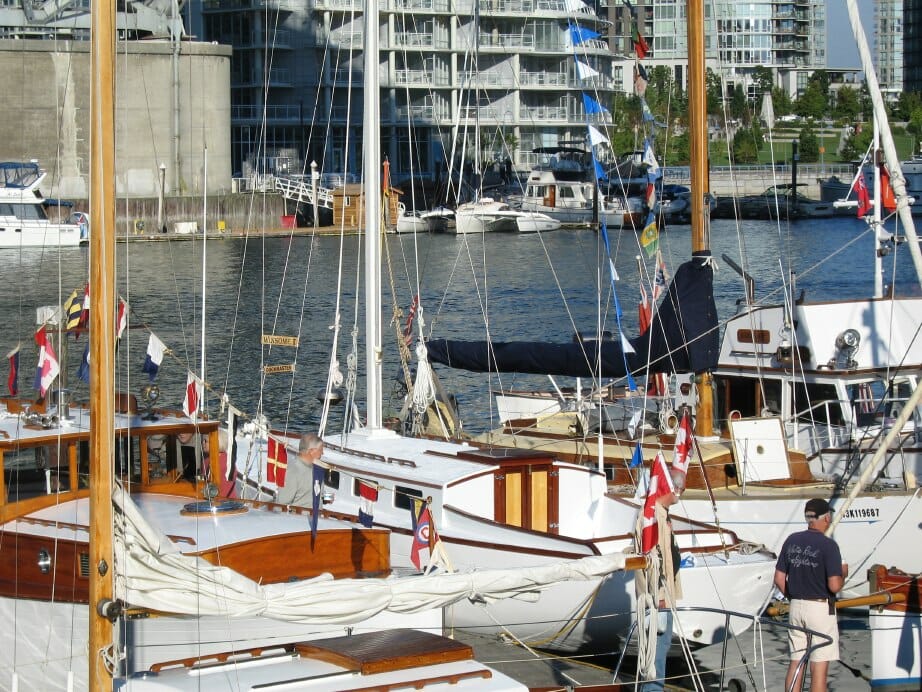 It really is odd to think of this shakedown ending and a new phase beginning… but it's time. This has served its purpose and I'm getting annoyed with some of the things that really need to be fixed or improved; livability will be much better after a few projects are crossed off the list (not the least of which is a level of system integration that will reduce the tangle of clutter and cables that spread across the cabin every night like the bull kelp that fouled my appendages in Trincomali Channel). I'll dock in Blaine, utter a mighty exhalation, then drop in on my old Camano digs to accelerate the shutdown even while using the lab to build boat parts. Should be an interesting few months, this transition… time to shift the eBay activity to box lots!
Fair winds,
Steve
You must log in to post a comment.