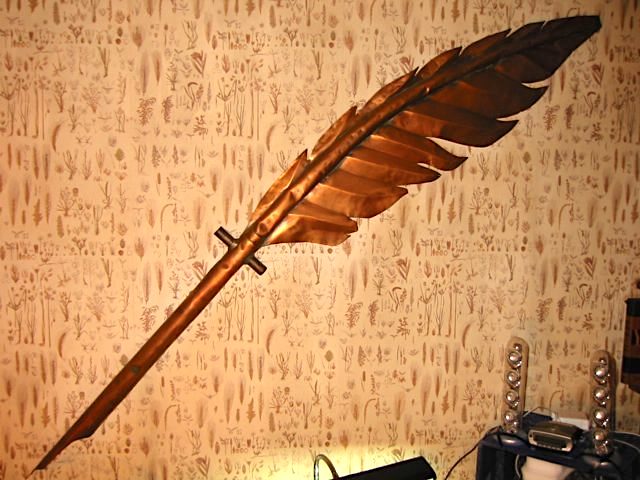 The Quill Weather Vane of Swarthmore College
When I traveled to Louisville in 2005 to shut down the old family home after my father's death, I had no idea of the depth and complexity of the history I was about to inherit. Suddenly I was the lone curator of artifacts spanning centuries… families, Quakers, Swarthmore, GE, the 1930s modeling scene in New York, Star sailing, railroads of the late 1800s, ice cube trays, and tonnage. So much tonnage.
One of the things I loosely classed as "eBayable" was a six-foot copper quill weather vane that had been hanging on the den wall all my life. People collect such things… so I knew it would find a home but be a pain to ship.

One day I noticed an ancient Swarthmore campus photo… with my quill atop Parrish Hall! I started digging, and discovered that this was a precious piece of campus history, thought lost since the 1930s. Apparently my dad had rescued it from the scrap heap during renovation in 1936, unable to resist. Hey, it might come in handy someday…
Ever since my infancy, this copper weather vane had hung over the the couch where I read, studied, listened to music, and talked on the phone. It is an iconic image of my childhood.
Knowing how my father would have felt about what to do next, I abandoned plans to eBay the quill and contacted the college. They were ecstatic, and we agreed on a token price as well as plans for an alumnus to come pick it up. This article in the Swarthmore College Bulletin came out at the end of 2005, and tells the story. (A PDF of the full issue is here.)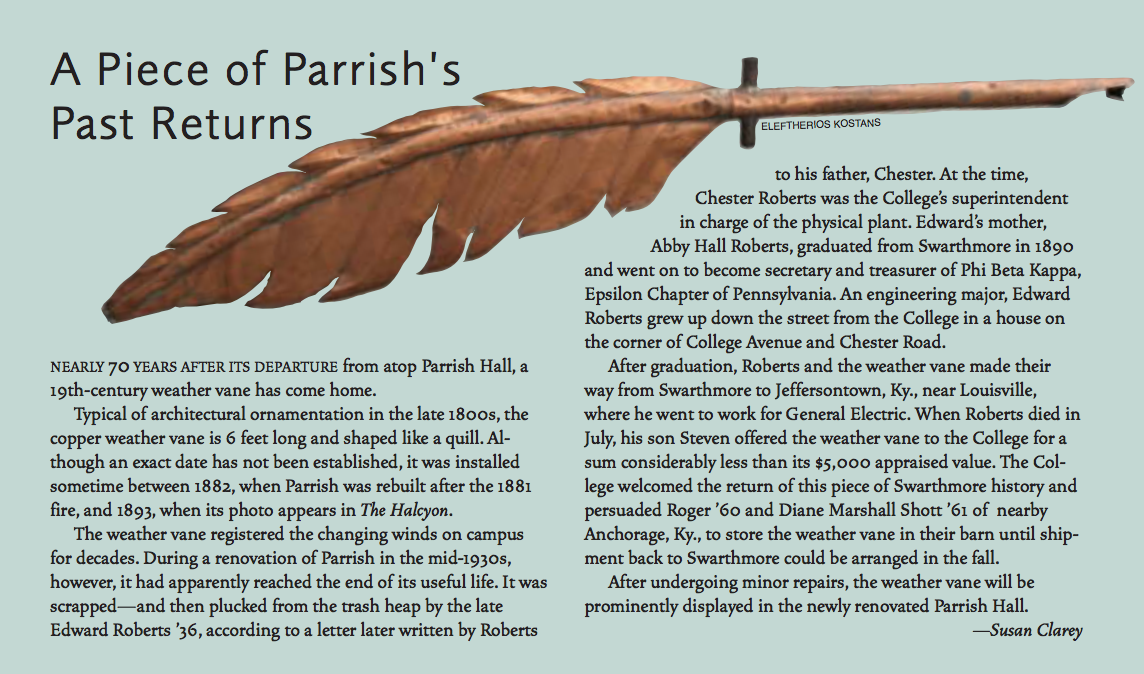 A Piece of Parrish's Past Returns
by Susan Clarey
Swarthmore College Bulletin
December, 2005
NEARLY 70 YEARS AFTER ITS DEPARTURE from atop Parrish Hall, a 19th-century weather vane has come home.
Typical of architectural ornamentation in the late 1800s, the copper weather vane is 6 feet long and shaped like a quill. Although an exact date has not been established, it was installed sometime between 1882, when Parrish was rebuilt after the 1881 fire, and 1893, when its photo appears in The Halcyon.
The weather vane registered the changing winds on campus for decades. During a renovation of Parrish in the mid-1930s, however, it had apparently reached the end of its useful life. It was scrapped—and then plucked from the trash heap by the late Edward Roberts '36, according to a letter later written by Roberts to his father, Chester. At the time, Chester Roberts was the College's superintendent in charge of the physical plant. Edward's mother, Abby Hall Roberts, graduated from Swarthmore in 1890 and went on to become secretary and treasurer of Phi Beta Kappa, Epsilon Chapter of Pennsylvania. An engineering major, Edward Roberts grew up down the street from the College in a house on the corner of College Avenue and Chester Road.
After graduation, Roberts and the weather vane made their way from Swarthmore to Jeffersontown, Ky., near Louisville, where he went to work for General Electric. When Roberts died in July, his son Steven offered the weather vane to the College for a sum considerably less than its $5,000 appraised value. The College welcomed the return of this piece of Swarthmore history and persuaded Roger '60 and Diane Marshall Shott '61 of nearby Anchorage, Ky., to store the weather vane in their barn until shipment back to Swarthmore could be arranged in the fall.
After undergoing minor repairs, the weather vane will be prominently displayed in the newly renovated Parrish Hall.