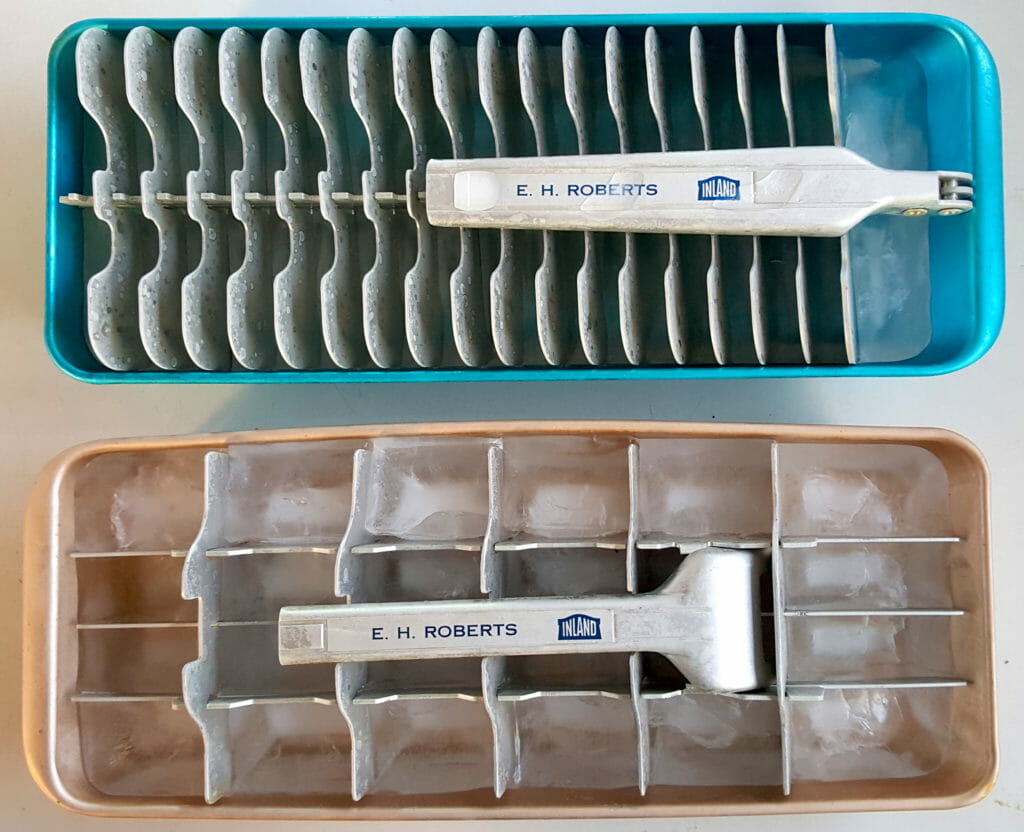 Edward H Roberts invents lever-release aluminum ice cube tray
Ever wonder where the aluminum ice cube tray came from?
When I was a kid in the '50s and '60s, my father, Edward H. Roberts, was a design engineer at General Electric… first at Erie Works, then at Appliance Park in Louisville where we moved when I was about 3. Obviously, ice cube trays weren't much on my mind back then, though I do recall them being kind of celebrated in the family.
Well, it turned out that he was the inventor of the ubiquitous lever-operated contraption that was later replaced by the simpler and cheaper plastic models, and the small collection of them that gathered dust in a corner of his basement shop suddenly made sense. Two of his ice cube tray patents turned up in a musty old file, along with GE marketing photos from the early 1950s. I decided that this bit of history needed to be immortalized on the web, which I'm sure he would have found amusing!
These trays from the old family home in Kentucky include a couple produced as mementos with his name, as well as an early test unit with no moving parts.
At the bottom of this page is an early ad from GE, explaining the various features. The full text of patent 2,622,410 is available as a PDF on the US Patent & Trademark office website (and there is another, with diamond-shaped spaces, that was granted patent 2,763,997 four years later). He ended up with quite a portfolio of these, most related to refrigerator cabinetry… though his later claim to fame was the wood-grain tapered door handle that came to define the look of GE fridges through the '60s and '70s. Of course, all these were assigned to General Electric, so we never got rich on the proceeds of ice cube tray production, but it is wonderful to document some of his legacy.
(There is a brisk market for these now… you can find classic aluminum ice cube trays on eBay. I use the pair shown at the top of this page on my boat, and much prefer them to the plastic ones that I have since dropped off at a local thrift shop. Guests are delighted, with old timers reminiscing and young pups fascinated by the retro kitchen-tech tools.)
My father was an interesting character, and quietly imbued me from early childhood with a sense of quality workmanship and project-oriented design… which was expressed in my obsession with science fairs all through school, and later in the crazy technomadic machines that became a career. He was a sailor, too, and you can see that side of him here.
I found this tattered and delicate paper buried under a mountain of stuff… too fragile to straighten well, but it's readable:
You must log in to post a comment.