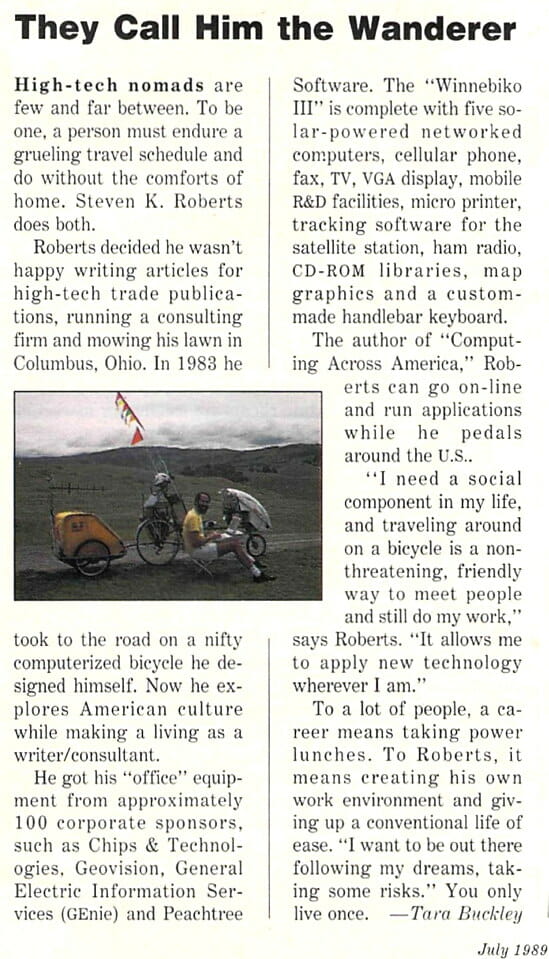 They Call Him the Wanderer – Marketing Computers
Another little trade-journal snippet from early in the BEHEMOTH project (I was still calling it the Winnebiko III).

by Tara Buckley
Marketing Computers
July, 1989
High-tech nomads are few and far between. To be one, a person must endure a grueling travel schedule and do without the comforts of home. Steven K. Roberts does both.
Roberts decided he wasn't happy writing articles for high-tech trade publications, running a consulting firm and mowing his lawn in Columbus, Ohio. In 1983 he took to the road on a nifty computerized bicycle he designed himself. Now he explores American culture while making a living as a writer/consultant.
He got his "office" equipment from approximately 100 corporate sponsors, such as Chips & Technologies, Geovision, General Electric Information Services (GEnie) and Peachtree Software. The Winnebiko III is complete with five solar-powered networked computers, cellular phone, fax, TV, VGA display, mobile R&D facilities, micro printer, tracking software for the satellite station, ham radio, CD-ROM libraries, map graphics and a custom-made handlebar keyboard. The author of Computing Across America, Roberts can go on-line and run applications while he pedals around the U.S..
"I need a social component in my life, and traveling around on a bicycle is a non-threatening, friendly way to meet people and still do my work," says Roberts. "It allows me to apply new technology wherever I am."
To a lot of people, a career means taking power lunches. To Roberts, it means creating his own work environment and giving up a conventional life of ease. "I want to be out there following my dreams, taking some risks." You only live once.