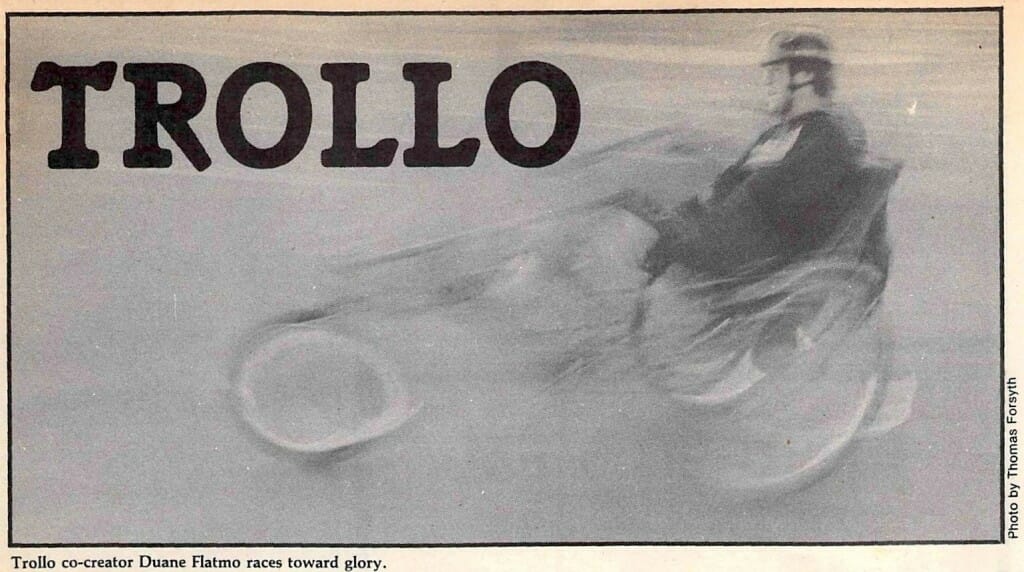 Trollo – Kinetic Sculpture Artists Invent Tricycle Polo
One of my fondest memories from the Winnebiko II epoch, traveling both US coasts with Maggie, was our time spent in Humboldt County… hanging out with a group of loony artists obsessed with the Kinetic Sculpture Race. In this little article for Northcoast View (published from 1982-1989), I report on their invention of tricycle polo, which was insanely, dangerously, obsessively fun… be sure to check out the photo album. The links in the text to the artists' websites are worth following… all three are amazing, and have produced some stunning work in the decades since this was written. This article also appeared in the January/February 1988 issue of HPV News.
Humboldt Spun Sport Combines
Tricycle Rugby & Road Warriors
by Steven K. Roberts
Northcoast View
February, 1987
In this land of Kinetic Sculpture, no pedal-powered pursuit should ever come as a complete surprise. That mad and glorious Arcata-to-Ferndale race is not just a weekend escape for a few hard-bitten bicycle fanatics, it's the annual climax of their very lifestyle. But… do you ever wonder what they do the REST of the year?
It's a Wednesday afternoon in Eureka, and I am witnessing my first Trollo game. I'm not sure what to think just yet, for something odd has happened to my friends. Helmeted and macho, garbed in protective clothing, the trio is transformed — no longer the quietly loony artists I knew a moment before. As they growl aboard their ragged homebuilt tricycles, I soon forget their subtle paintings, their complex murals, the polished works hanging in Old Town studios. Trollo is the sport of human-powered road warriors… new-age three-wheeled rugby.
In the parking lot under the Samoa bridge they go at it: nearly half a ton of roiling manflesh and steel in hot pursuit of a crushed, taped Budweiser can — urging it this way and that with flailing implements of rubber and wood. Trikes tip, spokes bend, derailleurs break, blood flows. A makeshift bandage of cardboard and electrical tape, a fast swallow of beer… and the game goes on. I watch wide-eyed from the sidelines, slowly nursing the next puck and jumping back in real alarm when they boil over the border in a cacophony of shouts and crunching metal. A flat tire, another quick fix. Still the game continues, into the dark, the players obsessed — crazed warriors of steel.
Trollo, a sort of anarchist polo conducted from grown-up tricycle seats, was born simply: Duane Flatmo, Ken Beidleman, and Stock Schlueter were pedaling their experimental 3-wheelers around one afternoon when someone had the idea of whacking a stray beer can with a stick. One thing led to another, as it quickly does in this crowd, and within minutes the first game was played. It didn't take long: a week later they clashed in earnest, with "official" sticks and beefed-up machines; now, six months later, the American Trollo Federation (ATF) has been formed to guide the sport's development.
How have three adrenalin-soaked artists-on-wheels and one stray beer can managed to kick off what may become America's newest fad sport? I found out when Ken offered me his machine one afternoon.
"Uh, me?" I asked, self-consciously stepping back from the sweaty apparition rolling to a stop. Its right arm was protected with heavy elastic pads, its wheels seemed chronically out-of-round from months of heavy impact. It separated into two parts, man and machine, and the former thrust a hot and dripping helmet into my hands.
"You!"
I clambered awkwardly into the homebuilt tricycle, automatically slipping my feet into the toe clips and fingering the shifters. The fathers of Trollo fired instructions at me: "It works like cutthroat — if the puck lands on your goal and stops, you become the catbird. There are three goals, one for each of us… you can do anything you want to defend yours except park on top of it or hit another player." They went on, explaining blocking and strategy and puck design and fine points of machine handling — until Flatmo shouted, "let's just… play."
I pushed off and rolled easily, a bit too easily, bumping Schlueter's machine with my front wheel. With a mock growl he glared at me and moved into position near his goal. "Go!"
The action was fast, absolutely unlike the lazy pace of my usual bicycle touring lifestyle. I skidded through tight turns, engaged in fierce battle, exulted in the joy of making shots, winced at the frustration of missing them, ran over the can, crashed a time or two, and worked up one of the most joyful sweats I can remember. Scoring seemed irrelevant; it was the action that counted — and as daylight faded, the game became a timeless blur of sweet violence, aggressive yet cooperative, the enemy at one moment turning ally the next. By game's end we were as brothers, whacking sticks overhead in the traditional Trollo salute and vowing to play again.
It is that instant appeal that gives the game a future. It's fun even if you don't know what you're doing; it's fast; it offers the racquetball-like satisfaction of delivering a hard — yet skillful — slam. Trollo is a high-tech amalgam of man and machine, yet deliciously primal in spirit.
The machines are the key — this would be fatal with traditional two-wheelers. The prototypes are brazed agglomerations of conduit and old bicycle parts, but even these are so agile that certain disaster turns into near miss time and time again. The recumbent riding position allows fast acceleration; the steering ratio allows quick turns; the overall geometry keeps the chances of flipping over to a minimum. And now, with 360 man-hours of game research under their wheels, the group is engineering a lightweight and responsive 3-speed machine for commercial development.
Where to from here? Will Trollo someday be an Olympic sport? It's too early to tell, but the ATF is doing what it can to loose this new cycling mania upon an unsuspecting world. Among other things, the group is developing a prototype Trollo court for national franchising, and is planning to offer a line of trikes and accessories. A pamphlet of rules, game guidelines and strategies is available for $2.00 from the American Trollo Federation, and an exhibition game will be held at the Eureka Mall on Saturday, February 28th from 2:00 to 5:00 (weather permitting).
Humboldt County is a fitting birthplace for a sport that marries man and machine, carrying the legacy of kinetic sculpture far beyond the race itself. Human-powered road warriors… there's something perversely elegant about it. I have a feeling I'll see this game again… down the road.
Steven K. Roberts is a traveling freelance writer who lives on a computerized 8-foot recumbent bicycle.
Resources
Googling while posting this, I found this photo album of a Trollo game.
You must log in to post a comment.