Winnebiko at Hamcation – Orlando Sentinel
This was the local news coverage when I had the Winnebiko II at the Orlando Hamcation in 1988. The delightful poster above was behind the bike in my booth, and was a relic of the Huffy Radiobike produced in 1955-56.
Writer at home on "Winnebiko"
by Janita Poe
Orlando Sentinel 
March 20, 1988
Nomadic executive wanders byways, highways on computerized bicycle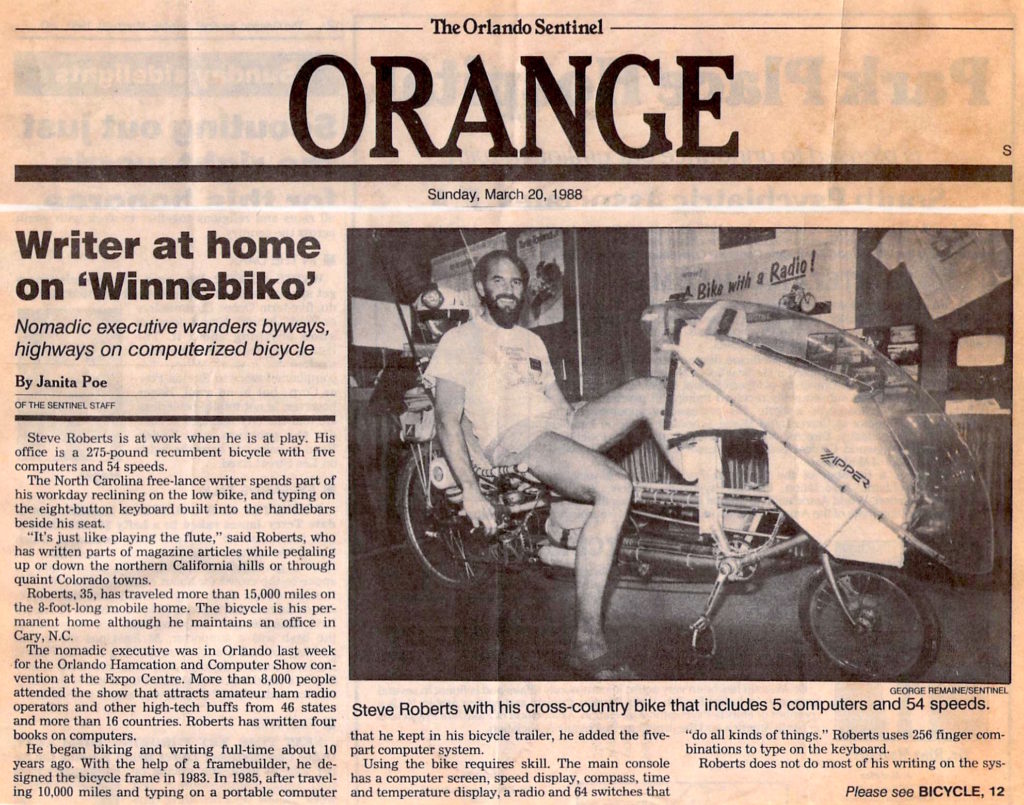 Steve Roberts is at work when he is at play. His office is a 275-pound recumbent bicycle with five computers and 54 speeds.
The North Carolina free-lance writer spends part of his workday reclining on the low bike, and typing on the eight-button keyboard built into the handlebars beside his seat.
"It's just like playing the flute," said Roberts, who has written parts of magazine articles while pedaling up or down the northern California hills or through quaint Colorado towns.
Roberts, 35, has traveled more than 15,000 miles on the 8-foot-long mobile home. The bicycle is his permanent home although he maintains an office in Cary, N.C.
The nomadic executive was in Orlando last week for the Orlando Hamcation and Computer Show convention at the Expo Centre. More than 8,000 people attended the show that attracts amateur ham radio operators and other high-tech buffs from 46 states and more than 16 countries. Roberts has written four books on computers.
He began biking and writing full-time about 10 years ago. With the help of a framebuilder, he designed the bicycle frame in 1983. In 1985, after traveling 10,000 miles and typing on a portable computer that he kept in his bicycle trailer, he added the five-part computer system.
Using the bike requires skill. The main console has a computer screen, speed display, compass, time and temperature display, a radio and 64 switches that "do all kinds of things." Roberts uses 256 finger combinations to type on the keyboard. Roberts does not do most of his writing on the system. He typically jots down ideas while cycling and develops them later on his word processor when he stops.
"Some of my best ideas come when I'm in the middle of nowhere," Roberts said.
The bike has a security system that will respond to motion. It can deliver a warning message through a speech synthesizer, set off a siren or page Roberts up to three miles away. From a remote-control pad, he can make the bike respond to curious onlookers and other strangers.
Roberts, who has traveled his past 5,000 miles with companion and fellow "Winnebiko" owner Maggie Victor, said he is finally doing what he wants.
"I like what I'm doing. I've combined all my [passions] into a new lifestyle," he said.