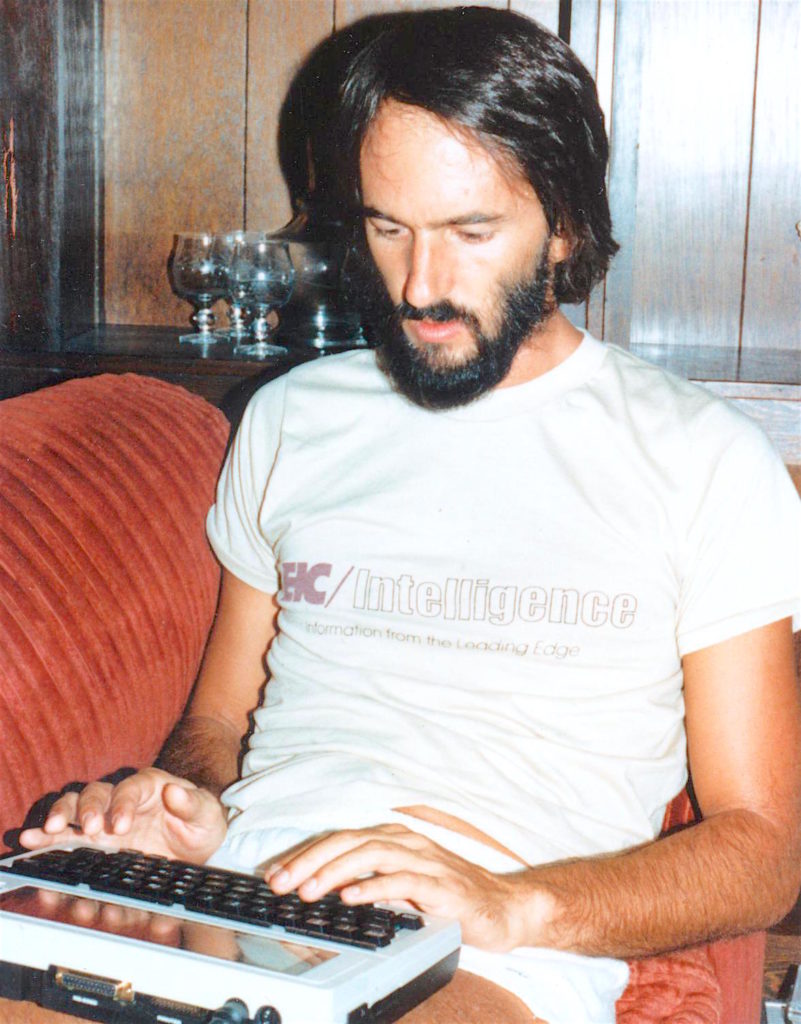 Words'worth 1983 press release
It is strange, building this archive 35 years later, to see that this press release was put out just as I was also getting the wild idea to sell my house and move to a computerized bicycle. Clearly I was covering all bases, or was at least unwilling to burn bridges with a crazy technomadic idea! This was an attempt to formalize my ad-hoc business with a partner, offering "user-friendly technical writing services" to local industry. The text below is followed by a few hits in local media that made it into the binder.
The photo above is from a couple of months later, as I bought the Model 100 to be the portable computer that would become my mobile office on the bike, linked to the base office via CompuServe. I include this bit of history just to help establish the context for the radical change that was about to occur…
FOR IMMEDIATE RELEASE
March 21, 1983
CONTACT: Steven K. Roberts or Vester Scott
NEW WRITING FIRM SPECIALIZES IN HIGH TECHNOLOGY
Dublin, Ohio — WORDS'WORTH, INC., a new high-technology business communications firm, has opened its doors here to offer "user-friendly technical writing services." Focusing primarily on computer and electronic technologies, WORDS'WORTH addresses industry's long-standing need for clear technical copy.
Specific writing services offered by WORDS'WORTH include technical manuals, handbooks, magazine articles, ad copy, application notes, brochures, and press releases — as well as a wide range of other business communication tools.
WORDS'WORTH capability reflects the 25+ years of concentrated high-technology experience shared by its officers, Steven K. Roberts and Vester Scott. This background includes industrial process and machine control systems, artificial intelligence, online information retrieval, microprocessor system design, digital and analog electronics, and RF communications from VLF through microwaves.
Roberts is the author of four books, including Industrial Design with Microcomputers (Prentice-Hall, 1982). He has also published over 50 articles in trade journals and consumer magazines, traveled extensively as a speaker and researcher, and performed technical writing services for Atlantic Richfield, Corning Glass, Dresser Industries, and other companies. Prior to his technical communications career, Roberts spent 6 years as the president and chief engineer of Cybertronics, Inc., an R&D and consulting firm specializing in microprocessor-based industrial control systems.
Scott, who has ghost-written over 60 trade journal articles, was formerly an advertising and technical publications manager in the avionics industry. For 7 years prior to that, he operated an advertising and public relations agency specializing in high-technology accounts. He has also worked as a writer for several commercial and military electronic manufacturers, including Sanders Associates, Teledyne, and Analogic Corporation.
WORDS'WORTH, INC. offices are located at [obsolete address redacted].
You must log in to post a comment.