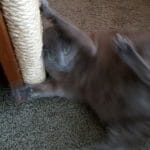 Latest News (May 8, 2016):  One of the challenges of sharing a boat with a cat is the need for a stable scratching post that doesn't gobble floor space or shed debris. This little article details the two simple ones I built for Nomadness and Datawake. Both have been enthusiastically approved by Isabelle. 
---
Since 1983, I have devoted all available resources to adventure, geek expressionism, and gonzo engineering. This has fueled a playful life of building and traveling with technomadic contraptions, writing about everything from the underlying tech to the romance of the road.
After a decade and 17,000 miles aboard a computerized recumbent bicycle, I turned my attention to building an amphibian pedal/solar/sail micro-trimaran… while 580-pound BEHEMOTH, the final incarnation of the bike, became a permanent exhibit at the Computer History Museum.
The Microship project took a decade, and then it was time for a new phase… creating a starship of sorts, large enough for full-time adventure with an on-board lab and a suite of tools for data collection, underwater exploration, circuit design, 3D printing, milling, music and video production, communications, and more.
This site is the collection of all documents related to this entire series of projects (along with earlier and unrelated work, some historical tidbits, product reviews, and how-to material). The current article count is 410.
Recent Additions to the Library
Thousands of items are slated to be included to this archive, automatically timelined and given dated blog pages that match their actual publication or event dates. As such, "latest update" is relevant only to new postings (with an RSS feed), so here are some highlights:
Gonzo Engineering slide show from talk at Google in May, 2015 (37 images)
CQ VHF – Ship of Dreams: The NEW Adventures of a Technomad – April, 1998
Big Byte (Australia) – Technomad & the Internet video (5:30) – May 30, 1994
Winnebiko on CBS Morning News – Wanderlust video (5:05) – July 26, 1984
Whole Earth Review – Electronic Cottage on Wheels – Spring, 1987
Edward H. Roberts (my father) and his lever-release ice-cube tray – 1949
Build structures with cardboard-core fiberglass.
Prehistory of a Technomad – a bit of personal background that led up to the adventure… and Chapter 0 of the High-Tech Nomad book
My gizmological contraptions in reverse chronological order: