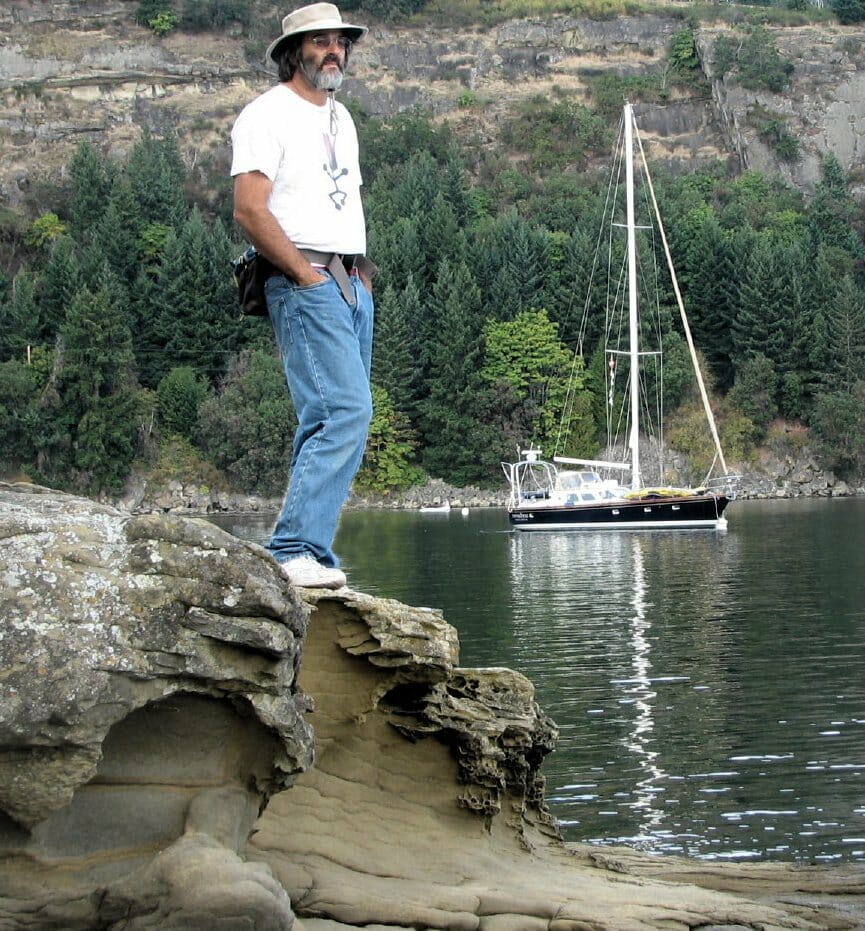 We are now in Deer Harbor on Orcas Island, back in the US after 2 convoluted weeks in the Gulf Islands of Canada. This photo is from Montague Harbour on Galiano Island… we were hiking among the glacier-worn rocks, shell middens, and ancient madrona trees of Gray Peninsula, and Sky snapped this candid moment with Nomadness in the background.
That idyllic scene already seems impossibly far away; tomorrow will see the cutting of a large hole in my steel deck for the Little Cod wood stove, along with the corresponding substantial change in the ship's interior. Among other things, we'll need to modify the engine access panels and add grab rails to minimize the potential for stumbling into a hot stovepipe. This is a critical life-support component… being able to scrounge heat without being dependent on diesel fuel is as essential as the solar panels and watermaker. A wood stove is cozy, too.
Canada was relaxed and almost dreamlike, though perhaps that feeling is partly a by-product of my own current perception of initiating a mode-shift into facilities-dependent complexity in a time of massive economic and political absurdity. Frankly, I'd prefer to just keep meandering around in my favorite traveling style of avoiding straight lines, as revealed in this GPS track of the past couple weeks:
As to the upcoming geek overload, all is not lost! My old friend Tim Nolan, who built the Microship's peak power tracker as well as a number of other interesting devices, is planning to come visit to take on a project or two. I welcome other techies to participate, and I keep a public project list (now inactive) here on the site as a sort of menu of gonzo engineering and gizmological goodness. I love company, as well as the stimulating synergy of building toys with kindred spirits.
It's quiet at anchor tonight, but tomorrow the steel chips will fly!
(PS: Sky just did an excellent blog posting about self-sufficiency, with another take on the projects that are getting underway.)
You must log in to post a comment.