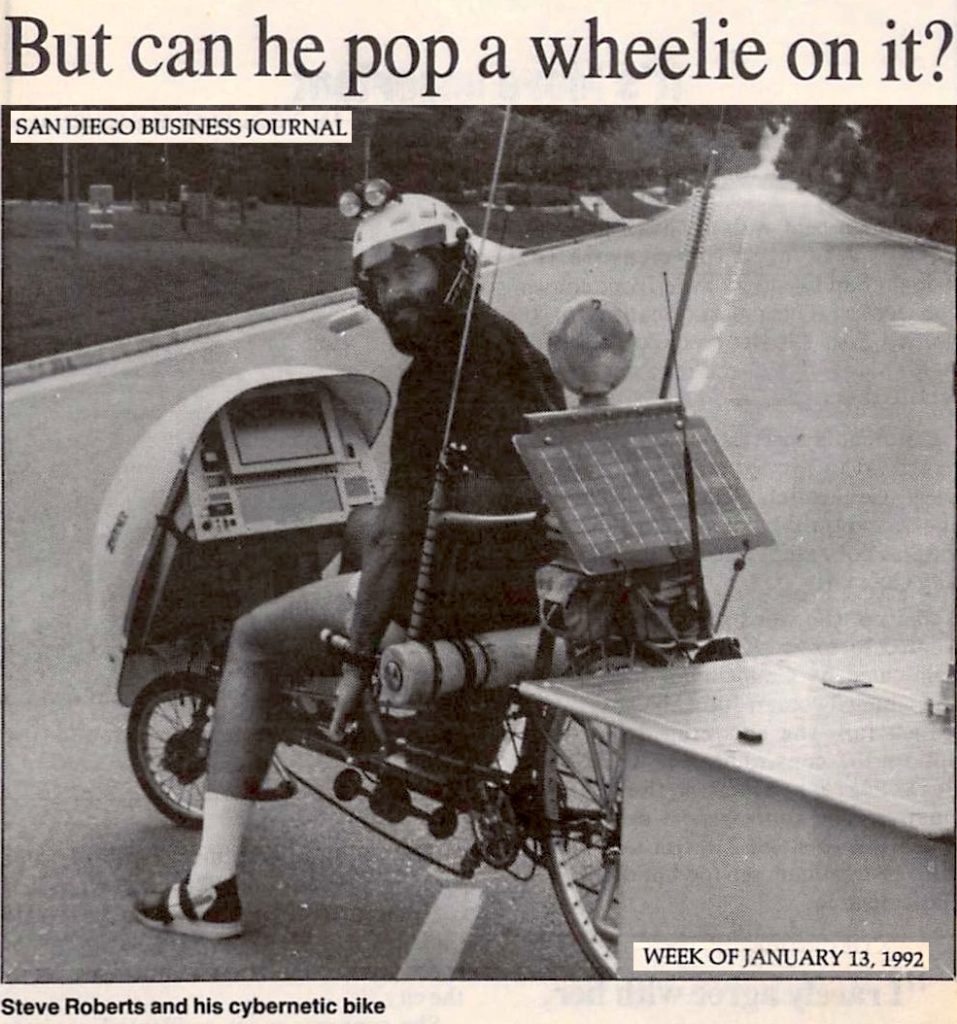 BEHEMOTH in San Diego Business Journal
I brought BEHEMOTH to the San Diego Electronics show, where there was a wave of local media coverage (including this TV footage), and existing local connection with one of my favorite companies, Qualcomm. Here is a bit in the weekly business newspaper.
But can he pop a wheelie on it?
by Bob Mazzeo
San Diego Business Journal
Week of January 13, 1992
For more than 16,000 miles, traveling author Steve Roberts has been filing stories and sending letters from his bicycle by satellite. From where? By what?
Using the latest technological wizardry — some produced in San Diego — Roberts has made the entire United States his office.
He is rolling into San Diego this week to help promote the San Diego Electronics Show.
Roberts has pedaled from Key West, Fla., to the Colorado Rockies to Silicon Valley on his $1.3 million, 580-pound, 105-speed bike, the BEHEMOTH (Big Electronic Human-Energized Machine . . . Only Too Heavy).
Included in Roberts' rolling, hi-tech "desk" is the advanced mobile satellite communications system — OmniTRACS — made by Qualcomm Inc.
With OmniTRACS, Roberts can determine within 1,000 feet where he is in the continental United States. OmniTRACS does much more, though.
Roberts can send and receive information through OmniTRACS to GTE's GSTAR satellite located 22,300 miles above the equator. In fact, he exchanges electronic mail regularly with various people including a friend in Siberia, he said. Using OmniTRACS, Roberts can send or receive a message internationally in about three minutes, he said.
Roberts started his trek in Columbus, Ohio, and said he travels because it's fun and allows him to enjoy his many passions, which include travel, learning, writing, inventing, cycling and romance.
Before beginning his travels, Roberts wrote some textbooks on microprocessing, one of which was called, Creative Design With Micro-Computers. Although he has an engineering background, Roberts said he believes that neither art nor engineering can exist alone.
"Art without engineering is dreaming, but engineering without art is just calculating," Roberts said.
Back in Silicon Valley last week, while preparing for his trip to San Diego, Roberts said that during his travels, he learned how to experience life more slowly and fully. "If you get too obsessed with where you are going, you lose respect for where you are," Roberts said.
In addition to Qualcomm's satellite system, Robert's bike contains a SUN Microsystems computer with 207-megabyte hard drive, a 72-watt solar panel and a microwave motion sensor that can signal Roberts if someone gets within 10 feet of his unattended bike. Other equipment includes a fax machine, a modem, an AM/FM/CD/cassette stereo system, a cellular phone and Macintosh and IBM-PC computers.
A Brain Interface Unit, which is built into a fluid-cooled helmet, contains ultrasonic sensors for a head "mouse," which allows Roberts to move a screen cursor simply by moving his head.
While traveling, Roberts files stories for his quarterly newsletter, Nomadness.
You must log in to post a comment.