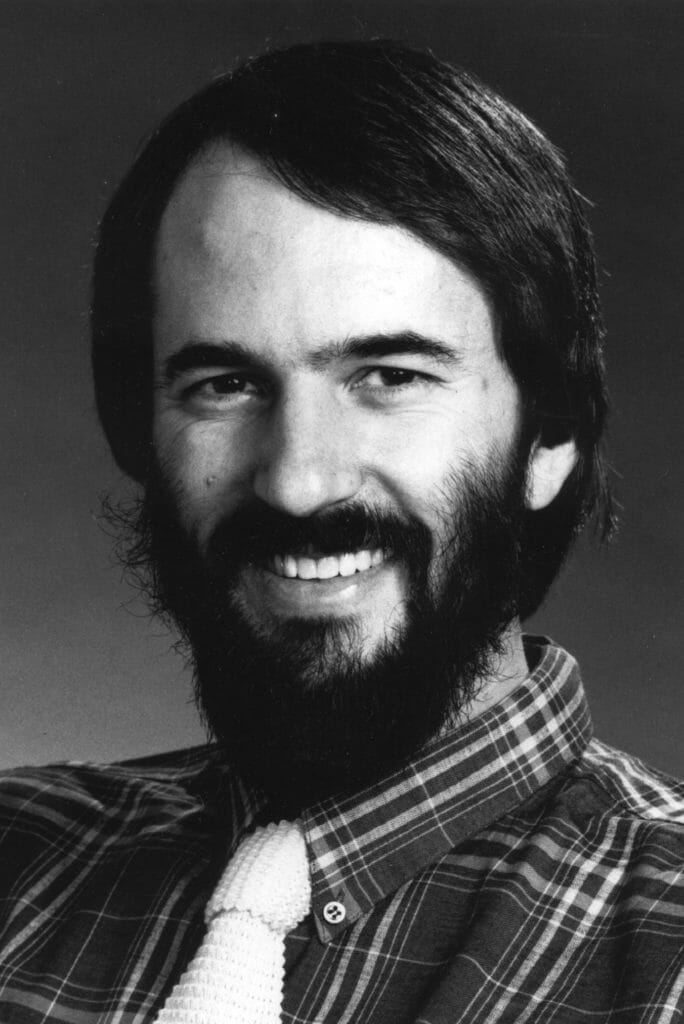 My Brief Employment at Discovery Systems
After the Computing Across America phase (10,000 miles with the Winnebiko), I returned to Columbus to finish the book, deal with publishing hell, and resume freelancing. I rented an apartment, and really had no idea what would come next… but quickly found myself back in hand-to-mouth freelancing mode.
An optical disc startup was just flickering to life not far away, so I got an assignment to write about the founder for Information Today… after all, he had been the president of CompuServe, the network link that was one of the key components of my bicycle adventures. We hit it off during the interview, and, somewhat unconventionally, I was hired on the spot (and sent to buy some nice clothes).
I worked at Discovery Systems for a few months, sporting a tie, but despite interesting technology and good people, it was just not the kind of life I wanted. From the epilogue of my book:
Ohio winters have a way of touching everything with gray misery, and as I sat at the corporate desk pondering the implications of my newfound yuppiedom one afternoon in 1986, I knew what had to be done. Fingering my yellow tie and squirming my toes uncomfortably in new leather shoes, I remembered the freedom, the country roads mottled with sun and shade, the smiling eyes of new friends, the energy of endless beginnings, the taste of beer after a hundred miles, the views from mountaintops, the sand under my feet… the road.
I looked down at the interactive videodisc PROLOG software I had been writing and found a rough sketch of a recumbent bicycle.
In a rush, purpose came flooding back. Energized, crazy, I spent the next eight months building the new system—motivated by the realization that I needed a way to write while riding, to capture thoughts in an electronic web and save them for later processing.
I quit the next day, and dove full-time into the creation of the Winnebiko II.
But while at Discovery, I was their "writer in residence," and created an internal magazine called Videomatic Expressions, wrote a couple of employment ads, worked on documentation and magazine articles, wrote a bit of code, and so on. Here is my original article about Jeff, along with those ads that were unconventional enough (for Ohio in the mid-1980s) to attract strong interest from candidates.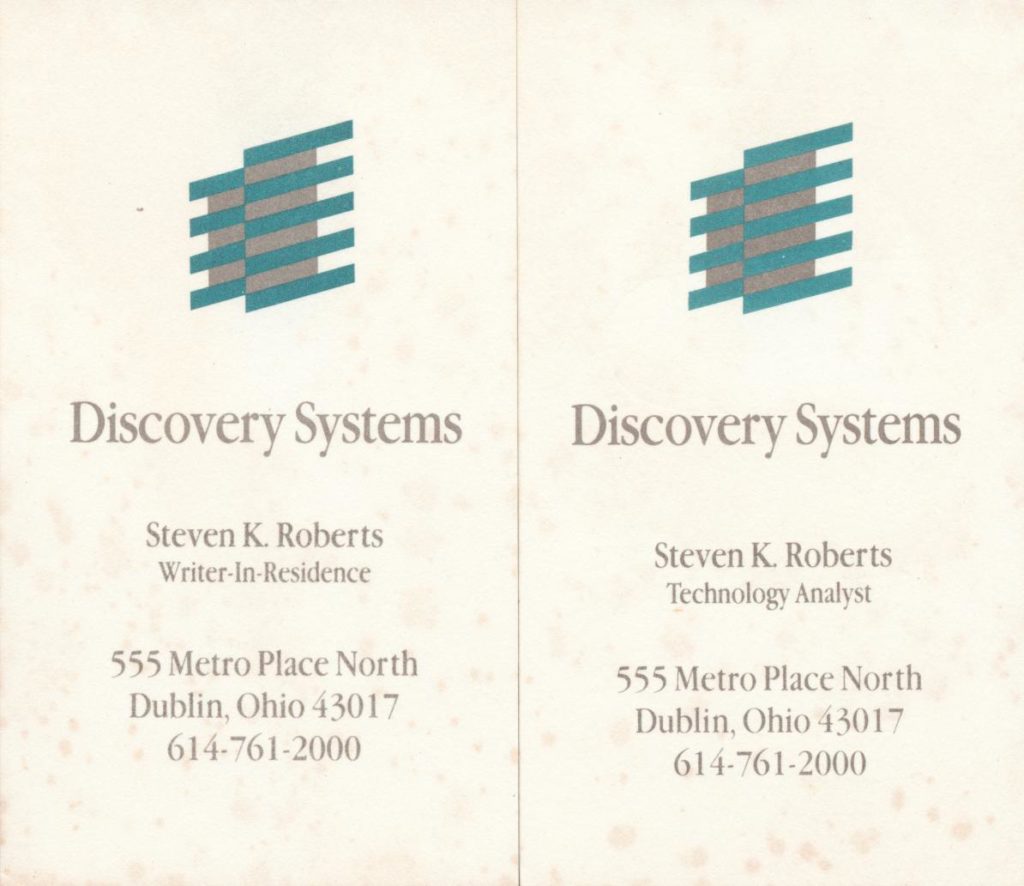 Former CompuServe CEO Turns to Optical Discs
by Steven K. Roberts
Information Today — January, 1986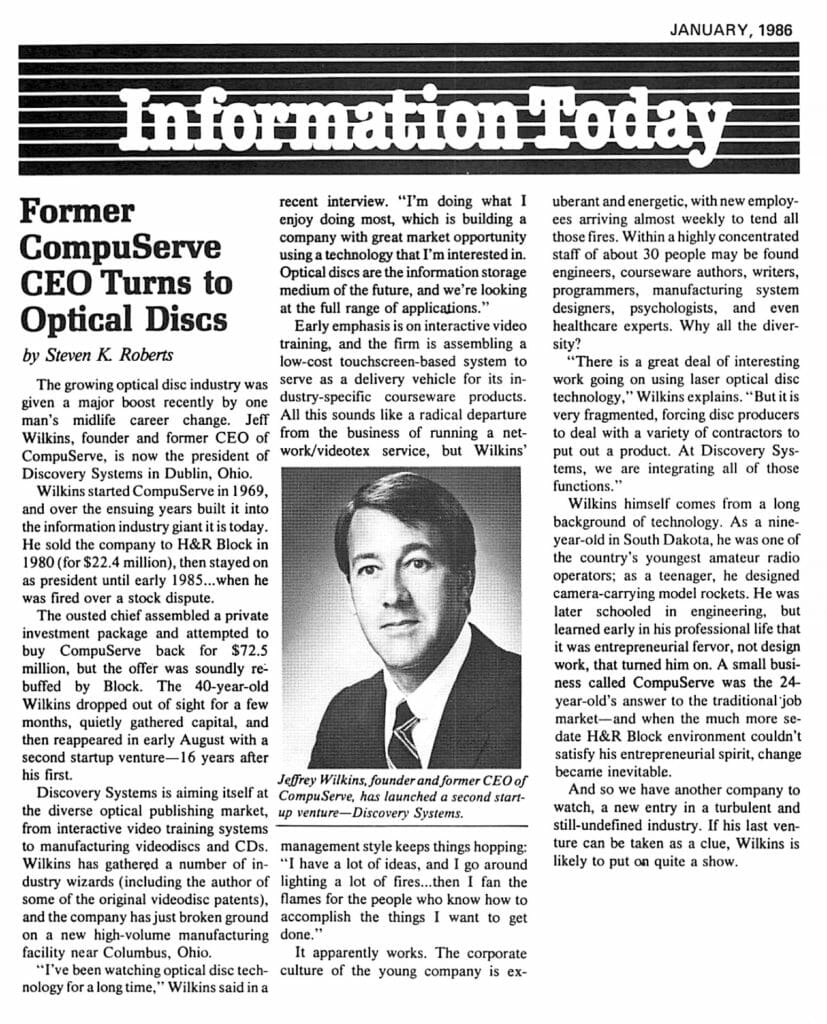 The growing optical disc industry was given a major boost recently by one man's midlife career change. Jeff Wilkins, founder and former CEO of CompuServe, is now the president of Discovery Systems in Dublin, Ohio.
Wilkins started CompuServe in 1969, and over the ensuing years built it into the information industry giant it is today. He sold the company to H&R Block in 1980 (for $22.4 million), then stayed on as president until early 1985… when he was fired over a stock dispute.
The ousted chief assembled a private investment package and attempted to buy CompuServe back for $72.5 million, but the offer was soundly rebuffed by Block. The 40-year-old Wilkins dropped out of sight for a few months, quietly gathered capital, and then reappeared in early August with a second startup venture—16 years after his first.
Discovery Systems is aiming itself at the diverse optical publishing market, from interactive video training systems to manufacturing videodiscs and CDs. Wilkins has gathered a number of industry wizards (including the author of some of the original videodisc patents), and the company has just broken ground on a new high-volume manufacturing facility near Columbus, Ohio.
"I've been watching optical disc technology for a long time," Wilkins said in a recent interview. "I'm doing what I enjoy doing most, which is building a company with great market opportunity using a technology that I'm interested in. Optical discs are the information storage medium of the future, and we're looking at the full range of applications."
Early emphasis is on interactive video training, and the firm is assembling a low-cost touchscreen-based system to serve as a delivery vehicle for its industry=specific courseware products. All this sounds like a radical departure from the business of running a net work/videotex service, but Wilkins' management style keeps things hopping: "I have a lot of ideas, and I go around lighting a lot of fires…then I fan the flames for the people who know how to accomplish the things I want to get done."
It apparently works. The corporate culture of the young company is exuberant and energetic, with new employees arriving almost weekly to tend all those fires. Within a highly concentrated staff of about 30 people may be found engineers, courseware authors, writers, programmers, manufacturing system designers, psychologists, and even healthcare experts. Why all the diversity?
"There is a great deal of interesting work going on using laser optical disc technology," Wilkins explains. "But it is very fragmented, forcing disc producers to deal with a variety of contractors to put out a product. At Discovery Systems, we are integrating all of those functions."
Wilkins himself comes from a long background of technology. As a nine-year-old in South Dakota, he was one of the country's youngest amateur radio operators; as a teenager, he designed camera-carrying model rockets. He was later schooled in engineering, but learned early in his professional life that it was entrepreneurial fervor, not design work, that turned him on. A small business called CompuServe was the 24-year-old's answer to the traditional job market—and when the much more sedate H&R Block environment couldn't satisfy his entrepreneurial spirit, change became inevitable.
And so we have another company to watch, a new entry in a turbulent and still-undefined industry. If his last venture can be taken as a clue, Wilkins is likely to put on quite a show.
Two Discovery Systems employment ads
by Steven K. Roberts
early 1986