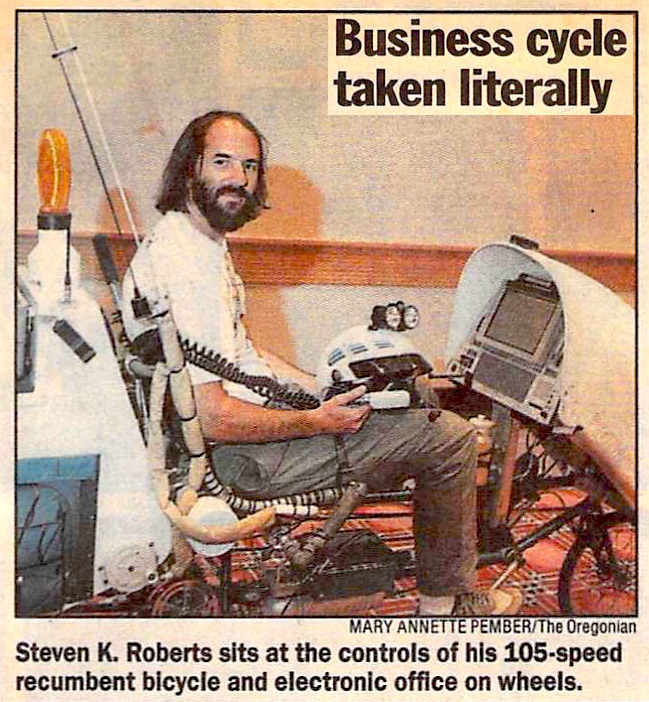 Business cycle – BEHEMOTH at Portland Telecom Conference
1993 was a pivotal year… traveling the US in a mobile lab, doing trade shows and speaking gigs while questing urgently for lab space. At every stop, I schmoozed with local industry and academia, looking for a facility where I could park and build the Microship. This event, the Telecommunications Association conference, was no different… I hung out in Corvallis, hoping to land at OSU, and contacted a few Portland companies with no luck. The story below is the coverage in the Portland Oregonian; shortly thereafter, I landed at University of California, San Diego, where I worked on the project for 2 years while teaching electrical engineering.
by Jim Hill
The Oregonian 
May 12, 1993
Pedaling across the country on a 105-speed recumbent bike that doubles as an electronic office, Steven K. Roberts qualifies easily — and literally — as a computer whiz.
Criss-crossing the nation on three, successive high-tech bicycle creations, the ever-mobile Roberts has covered about 17,000 miles over the past 10 years.
"The point of this is to give me a completely nomadic platform whose physical location is irrelevant," said Roberts, 40. "I don't like being nailed to a desk."
Roberts and his fancy bike, which he said was "now retired," rolled into Portland on a truck. The bike was a popular attraction as he spoke Tuesday to the Oregon Chapter of the Tele-Communications Association.
The purpose of the nonprofit association, meeting Tuesday and Wednesday at the Oregon Convention Center, is the advancement of professional and technical knowledge in the telecommunications field.
Roberts, while on the road, has written books and magazine articles. He also was able to answer his satellite-served voice mail, play his CD stereo and operate a multimode ham radio station. The bike also has a cellular phone and its own security system.
Roberts' sophisticated helmet includes a cooling system, a small, attached computer screen, and an ultrasonic sensor. When he moves his head, the sensor moves the cursor on the screen of the laptop computer on his "dashboard."
There's more, much more, but the details would fill a book, which is Roberts' current project: describing the $1.2 million, 580-pound bike in The BEHEMOTH Technical Manual.
BEHEMOTH stands for Big Electronic Human-Energized Machine… Only Too Heavy.
Roberts maintains a base in El Segundo, Calif., but is rarely there. His business is called Nomadic Research Labs. He has written four other books, including Computing Across America, and also does consulting work and makes speaking appearances.
Roberts said he has 150 sponsors who keep him supplied with ideas, working space and materials for his research.
"I studiously avoid specialization," he remarked, citing interests in electrical, mechanical and all other types of technology.
Roberts, born in Erie, Pa., and reared in Louisville, Ky., says he had "a brief flirtation with engineering school" but never graduated, although he later wrote a graduate-level engineering text. He also said he was once married, briefly, but was not comfortable in that lifestyle.
Roberts' next project, he says, will be a triple-hulled kayak — with full electronics — enabling him to roam the waterways as he has roamed the roadways.
The engineer-inventor says that as he pursues new ideas and adventure he likes to travel at a modest speed: "Fast enough to get through the forest, eventually, but slow enough to see the trees."
You must log in to post a comment.