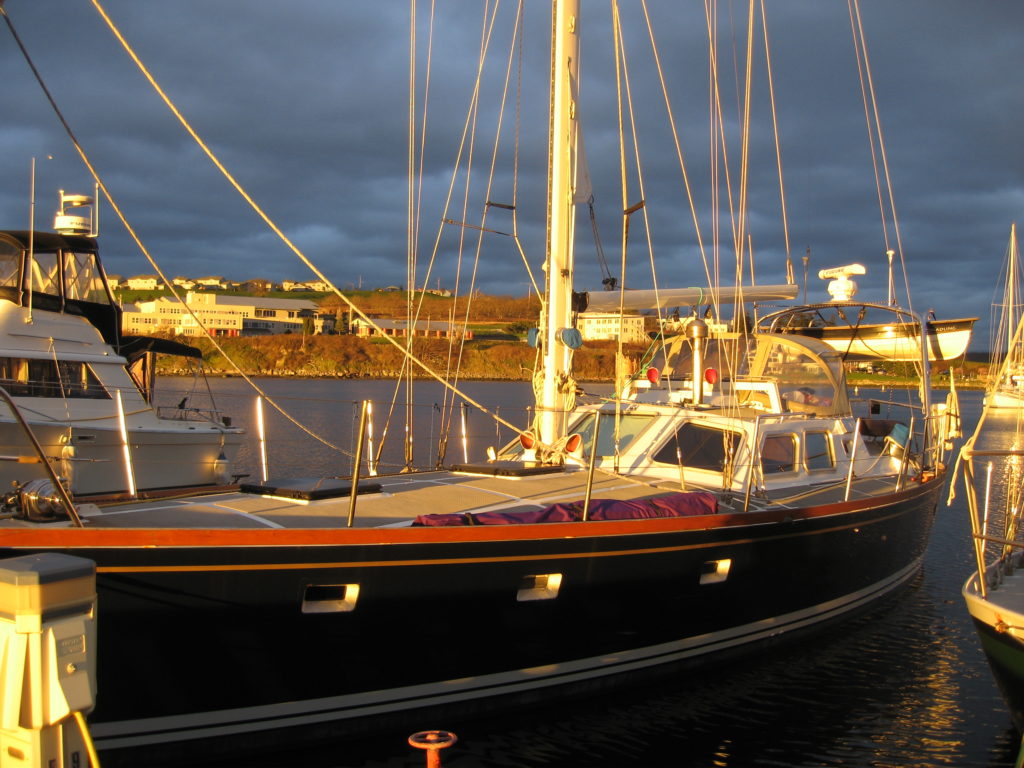 About a half-dozen times in the past 24 hours, the Polaris mobile-lab project has been reinforced. This is going to be wonderful tool, I think… not only to bring R&D; facilities within range of the system I'm trying to focus on, but also to add another nickel generator to the arsenal. A fairly comprehensive electronics, networking, communications, and light fabrication shop in the marina parking lot might occasionally attract a client… a potentially welcome distraction as we find ourselves ever more carefully watching cash flow.
The only news to report on the trailer front since last posting (other than ideas, which, as always, tend to outpace reality) is that the wall insulation is complete and the roof insulation is underway. The latter is nicely modular: strips of 1.5″ rigid foam cut to fit between the ribs, slightly wider luan plywood sheets that meet edge-to-edge with their neighbors, and 3″ wooden retainers that hold the whole mess up with self-drilling screws. Quite a clean look, and easy to install… there will be more details with photos in the eventual article, I'm sure.
Boat Power Issues
But let's talk about Nomadness. I arrived the other day for a work session, and found the Inverter/Charger-from-Hell showing the dreaded "Low Bus Error" message. A couple of days earlier, it seems, there had been a brief shore power glitch. My ProSine 2.0 responds to this by latching into some pathological mode that, instead of resuming battery charging, actively kills the batteries by running itself from them (while other system loads do likewise, to the tune of 6-8 amps total). This has happened a half-dozen times since I bought the boat, but the most recent was the worst… battery bus was at about 9.2 volts and it charged at 50 amps well into the night.
Nice job, Xantrex. This failure mode isn't just a minor inconvenience; it drastically shortens the life of an expensive battery bank.
So the process of extracting that thing has moved way up on the priority list, and I won't miss it for another reason as well: it is the worst source of RFI aboard the boat. It breaks squelch well into VHF and beyond, though fortunately my steel hull minimizes the problem when the antennas are outside. I dread bringing SSB online, though, so the Prosine will move (along with the victimized batteries) into either the mobile lab or humble UPS service at home… where a human can clear the latched error condition whenever necessary by simply turning it off and back on.
In its place, of course, will be the superb Outback FX2012 and related systems including the MX60 solar charge controller. While installing this, I'll also take care of one of the more serious mistakes made by whomever installed the Prosine: a complete lack of ventilation. In normal service, it's not a problem; the unit is in the cavernous space behind the DC power panel and heat migrates out through a huge surface area. But when trying to bring a battery bank back from discharge, it overheats… so I have to prop the access panels open.
The new system will have its own convective loop with a louvered panel down below, fan-assisted when the local node detects temperature rise.
All this has been on my list for a while now, but it has been hard to come to terms with the sheer magnitude of reverse-engineering all the undocumented power wiring. I guess it's time. (Here is what the Nomadness power console looked like a few years later.)
Speaking of Wires
This brings me to another issue with the boat. Not only was there inadequate documentation of the current state of the systems, but a beautifully done refit in 2002 rendered huge regions inaccessible. I was reminded of this over the weekend, when it took about 5-6 hours to install two cables from the new port and starboard Wema diesel tank sensors to their corresponding Maretron NMEA2000 interfaces. Of course, to some extent that just goes with the territory; everything on a boat is harder than it should be, and I'm not as fast as I used to be.
But there are actually two cavernous areas that are fully closed off, along with a number of instances of limited access to things that were presumably once easy to reach. The latter problem kept me from repurposing my old tank sensor cables… both were under flooring and would have required taking a saw to gorgeous teak/holly furniture. So I've been guilty of committing a sin that I preach against: spawning orphaned cable runs by disconnecting things and leaving them in place. This is bad for lots of reasons, not the least of which is more confusion down the line… it distributes stray potentials, threatens single-point grounding protocol, and makes the nightmare of a lightning strike potentially even worse.
Ah well. The only solutions are to build a boat (been there, done that; got the T-shirt), start from a bare hull (tried that and lost momentum), or rip out everything and start over (no way in hell!). The take-away lesson here, if you happen to be contemplating a nautical project, is to keep serviceability in mind at every step in the process. Seriously. Trust me, you'll be glad thousands of times.
All the muttering notwithstanding, I did finally manage to get those tank sensors wired… then conjured a trio of gauges on the Maretron DSM250 display. These are arranged logically: the top two are port and starboard 75-gallon tanks; the bottom is the aft 90-gallon tank…
At last, on to other things! That one had been awaiting completion for weeks, along with something much less fun: dealing with an intermittent stench.
You may recall my blog-moaning before winter set in, complaining about the random nose-wrinkling effect of a leak somewhere in the new holding tank system installed by First Mate Marine. This would lie in wait for weeks, working just fine, then suddenly… during a weather shift, hard sail, or winsome companions coming aboard for a day in the sun… the whole boat would reek like the inside of a porta-potty in need of service. I finally traced it to a sloppily done Spinweld, and although the plumber had offered to take care of any issues (before getting paid), he had only commiseration and apology when the you-know-what hit the fan.
I had a chat with Ronco, the tank maker, and they settled the question about how to go about sealing it. My suspicion was correct; no adhesive will reliably stick. It had to be done with heat.
This turned out not to be at all difficult, once I got motivated enough to deal with it. I took my heat gun and a butter knife, rendered the Spinweld flange saggy and wet, confirmed that the tank was softening, then mushed it all together. 5-minute job, not worth all the agonizing.
If it turns out I was wrong about the source (despite visible gaposis with dark stains) and the odeur manifests again, the diagnostic will be to close the vent stopcock, gently pressurize with the Lavac's Henderson pump, and slather all fittings and hoses with soapy water until I see smelly bubbles.
In More Fun News
I really shouldn't complain, though. Despite a yet-unacceptable cost-to-pleasure ratio, this boat offers delightful moments… sometimes without even leaving the dock. Just the other night, in fact, I was contemplating some bit of gizmology when I noticed an unusual yellow mast drift by astern. I prairie-dogged and saw the sweetest little Bristol Channel Cutter making a recon loop of the guest dock, and was delighted to see them aim themselves at an adjacent slip.
Thus began a thoroughly invigorating evening of conversation with Tycho and Kathy of Penguin, emigrés of Silicon Valley, experienced cruisers, and live-aboards. There were small-world moments galore, and I found myself savoring their relaxed demeanor and nautical wisdom while the geek banter progressed on many simultaneous levels. It's easy to forget, in the middle of to-do lists so complex that they need powerful software tools, that the essence of all this really is something quite simple (and already here, when I let myself appreciate it).
It was kinda sad watching them head out the next morning, as I contemplated a day of contortionism:
Nomadness should be stretching her wings pretty soon; now that networked microprocessors can collaborate to emulate analog fuel gauges, it's time to fill the tanks, putter out of the harbor, and shake out the winter-stiffened sails.
I think this year will have a somewhat different character from the last. Key projects are happening, but instead of letting the boat sit idle during the finest weather in one of the world's great cruising destinations, we'll alternate between boat geekery and adventure. The testing program should be fun, and the new systems will be a hoot to bring online.
Stay tuned! (That's easy to do these days, as I tweet occasionally and microblog on Facebook. This blogging contraption even has RSS.)
Cheers from the lab,
Steve
You must log in to post a comment.