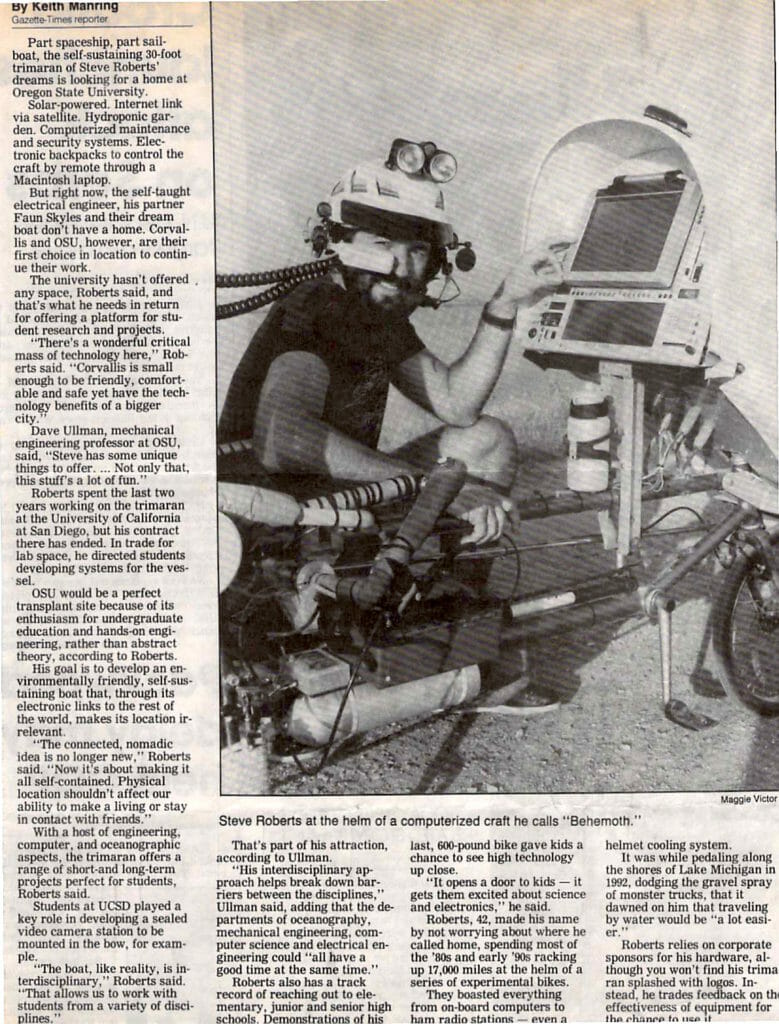 Computer vessel seeks a port – Corvallis
by Keith Manring
Corvallis Gazette-Times 
August 5, 1995
Part spaceship, part sail boat, the self-sustaining 30-foot trimaran of Steve Roberts' dreams is looking for a home at Oregon State University.
Solar-powered. Internet link via satellite. Hydroponic garden. Computerized maintenance and security systems. Electronic backpacks to control the craft by remote through a Macintosh laptop.
But right now, the self-taught electrical engineer, his partner Faun Skyles and their dream boat don't have a home. Corvallis and OSU, however, are their first choice in location to continue their work.
The university hasn't offered any space, Roberts said, and that's what he needs in return for offering a platform for student research and projects. "There's a wonderful critical mass of technology here," Roberts said. "Corvallis is small enough to be friendly, comfortable and safe yet have the technology benefits of a bigger city."
Dave Ullman, mechanical engineering professor at OSU, said, "Steve has some unique things to offer… Not only that, this stuff's a lot of fun."
Roberts spent the last two years working on the trimaran at the University of California at San Diego, but his contract there has ended. In trade for lab space, he directed students developing systems for the vessel.
OSU would be a perfect transplant site because of its enthusiasm for undergraduate education and hands-on engineering, rather than abstract theory, according to Roberts.
His goal is to develop an environmentally friendly, self-sustaining boat that, through its electronic links to the rest of the world, makes its location irrelevant.
"The connected, nomadic idea is no longer new," Roberts said. "Now it's about making it all self-contained. Physical location shouldn't affect our ability to make a living or stay in contact with friends."
With a host of engineering, computer, and oceanographic aspects, the trimaran offers a range of short-and long-term projects perfect for students, Roberts said.
Students at UCSD played a key role in developing a sealed video camera station to be mounted in the bow, for example.
"The boat, like reality, is interdisciplinary," Roberts said. "That allows us to work with students from a variety of disciplines,"
That's part of his attraction, according to Ullman.
"His interdisciplinary approach helps break down barriers between the disciplines," Ullman said, adding that the departments of oceanography, mechanical engineering, computer science and electrical engineering could "all have a good time at the same time."
Roberts also has a track record of reaching out to elementary, junior and senior high schools. Demonstrations of his last, 600-pound bike gave kids a chance to see high technology up close.
"It opens a door to kids — it gets them excited about science and electronics," he said.
Roberts, 42, made his name by not worrying about where he called home, spending most of the '80s and early '90s racking up 17,000 miles at the helm of a series of experimental bikes.
They boasted everything from on-board computers to ham radio stations — even a helmet cooling system.
It was while pedaling along the shores of Lake Michigan in 1992, dodging the gravel spray of monster trucks, that it dawned on him that traveling by water would be "a lot easier."
Roberts relies on corporate sponsors for his hardware, although you won't find his trimaran splashed with logos. Instead, he trades feedback on the effectiveness of equipment for the chance to use it.

(Other coverage of my bike and boat projects in the Corvallis Gazette-Times)