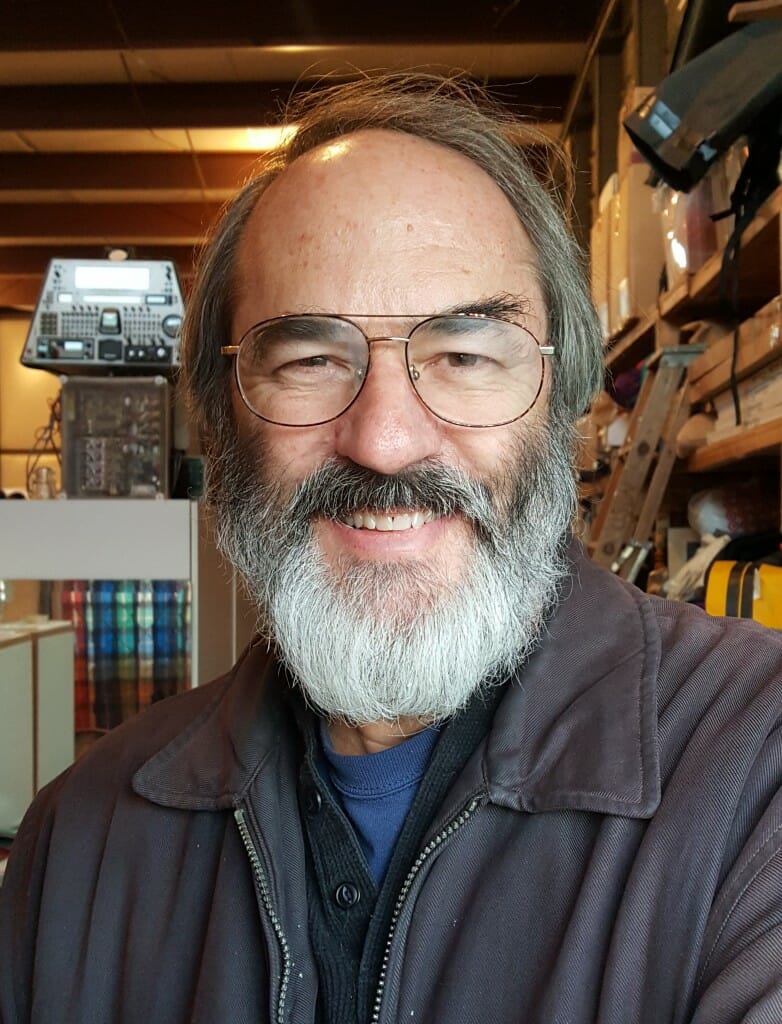 Transition to the Dark Side
This post marks a major transition in my life. Not only am I making the move from sail to the dark side, largely due to my back and other age-related realities, but I am also broadening the scope of this archive. Until now, I have thought of this as a museum of media coverage and historical documents, but the boundaries between that and current work are fleeting. I have many collections of adventure tales, project narratives, and system documentation… some in their own domains, some in long-idle folders, others couched as blogs or archives that went only to subscribers and are now languishing on ancient backup drives.
As I begin this new project, starting another isolated series makes no sense. So all new material will land here as I continue importing from my other repositories, pinning things to their actual dates in the timeline. Ultimately, it will be one long thread of gizmological delights, interspersed with passionate interludes and other distractions.
In that spirit, I'd like to introduce the next epoch…
From Nomadness to Datawake

by Steven K. Roberts
January 6, 2016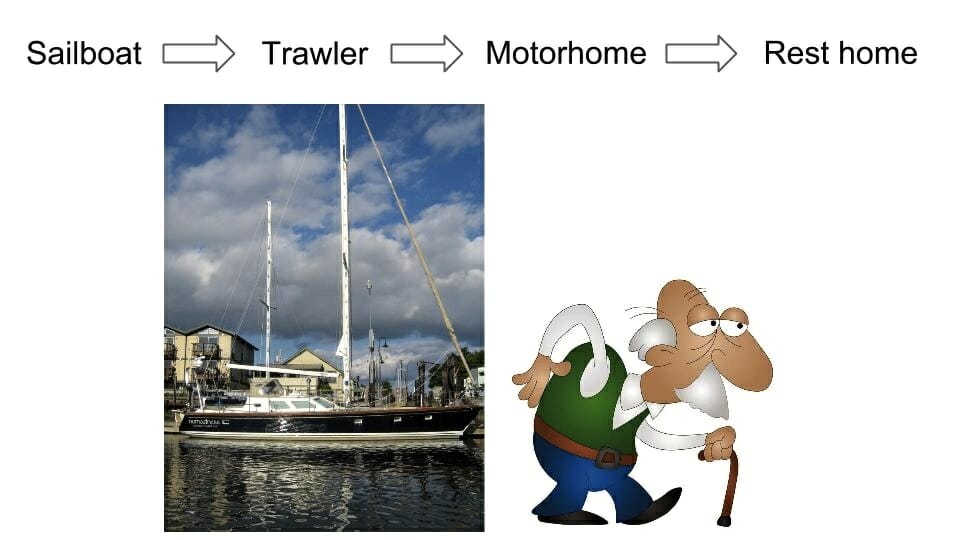 It began vaguely. I would joke about epoxying my dock lines, then realize that it wasn't funny. For a year or more, in the gaps between mini-epochs like the Microship Swan Song of 2013 or Nomadness projects like the new power console, I would go for daily walks… noodling over what next, getting used to the idea of selling the boat.
That's not an easy thing to do while living aboard, surrounded by geek clutter, and my initial investigations were depressing: brokers I didn't like, tire-kickers, potential buyers who would fly/sail/drive up for a visit but then say no. Twice I got very close… but there was a lot of deferred maintenance that had to be done, and I wasn't doing it. All this became exhausting as the years passed… and I just about snapped one evening when a couple from Edmonds called to tell me they were in the harbor, had seen my Nomadness for-sale page, and oh gosh they sure would like a tour of my lovely boat. I dropped everything, did a whirlwind clean-up, welcomed them aboard, gave them a demo… then heard them say, "well, our budget is only about $35K, but hey, thanks… this has really been interesting! Honey, it's almost 8, our table should be ready." I had just been their pre-dinner entertainment. Sure would be a shame if you fell in.
More time. As projects ground to a halt, I threw myself into fantasies of what next, staying amused for a while with the idea of a Ranger 27 geeked to the max although not live-aboard, requiring support facilities and a trailer. This idea morphed into the exquisite little Boojum tuglet, but same problem… I needed a home on the water, not an extravaganza of geek expressionism that would lay idle while I continued dreaming of open-ended full-time wandering. Meanwhile, I hobbled occasionally with a cane, had a medical scare (OK now), moved ashore with a dear friend, set up a little piano/writing studio, and immediately missed the stability of a marine power system. This led to another of my gizmological contraptions — a machine named Shacktopus.
The objective was simple enough. Quoting from my post on the Nomadness blog about this project:  So, I have all this nifty technology for independence and communications, including an insanely dense pack of gizmology that I haul around on my bad back… yet I am ultimately dependent on the power grid. If that fails, I have about two days worth of charged Lithium Ion batteries for personal electronics, but if I want more, then I have to trundle down to the boat and plug in. I miss owning a floating utility company.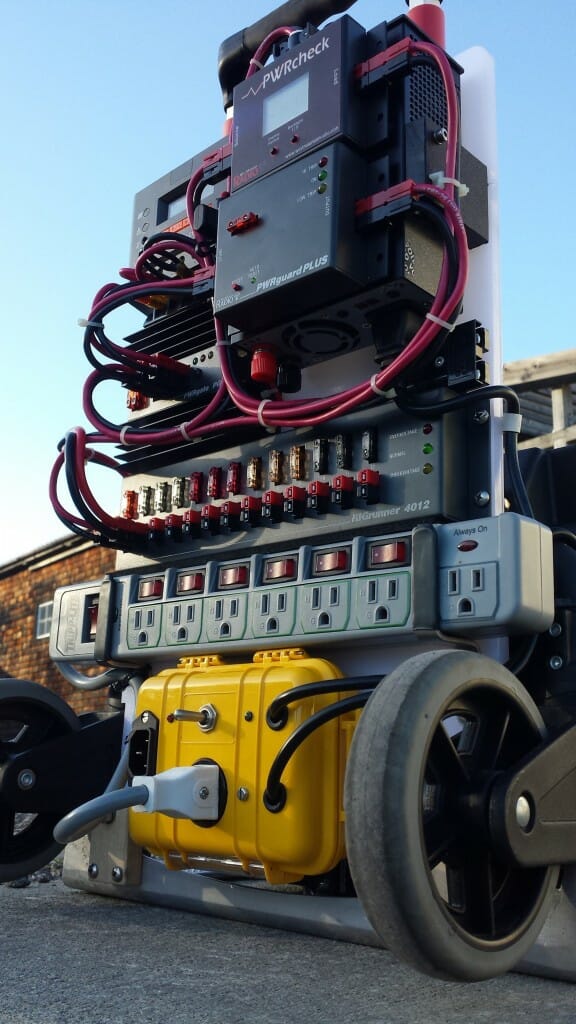 OK, so I needed a portable power system for my toys. I trundled off to Amazon to see what gadget I could buy, but nothing even came close. What I really wanted was the hub of my electrical life, satisfying all AC and DC needs along with battery management… and since it would be the one thing in my personal space that is always on, it might as well also be a development system for data collection.
Shacktopus ended up being built into a collapsible hand truck from January-March of 2015 (with a little break to recover from surgery). The system includes a deep-cycle battery charged by power line or solar panels, instant change-over in a blackout, high and low voltage disconnect, a sine-wave inverter as an alternative to the AC line, voltage-current-frequency monitoring, independently switched outlets, DC and battery monitoring, clear indication of all system states, 12-volt distribution, multiple USB charging ports, a smart charger for small batteries, and an LED work light.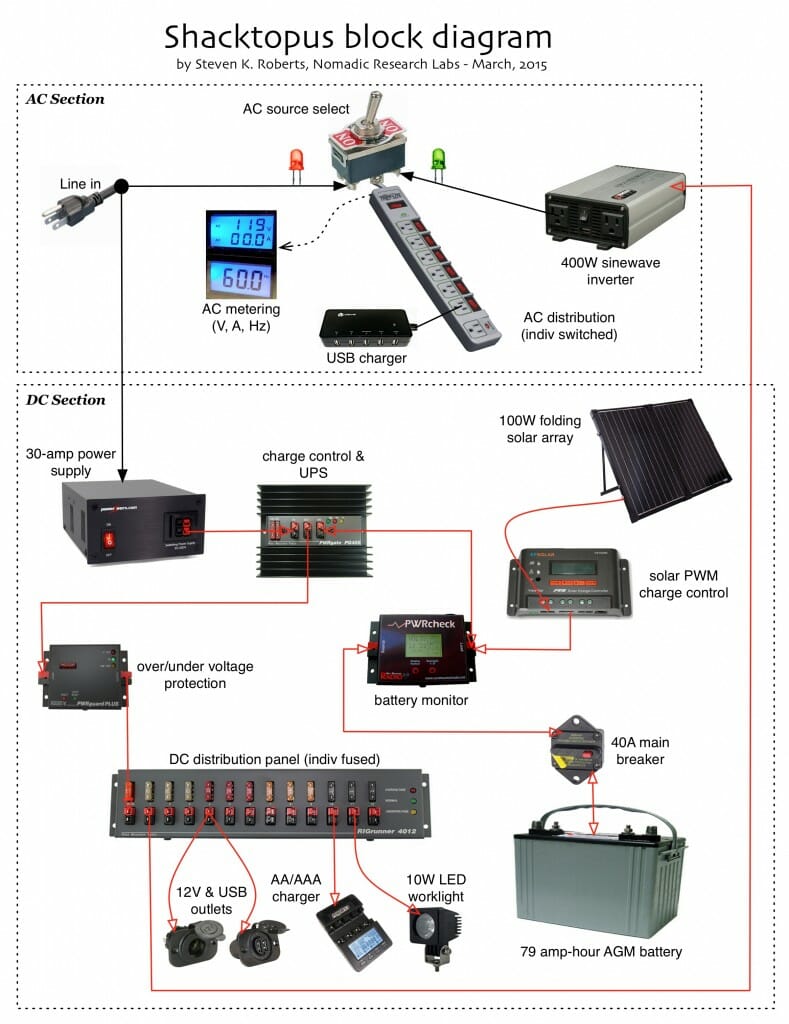 Although that might seem excessive, it has been a useful tool… not just as a central fixture in the day-to-day power domain, but essential life support during outages. I think of it as a bridge between my previous boat and the next, and that's where the story takes an unexpected turn. I had based the DC circuitry of the system on a product family from West Mountain Radio, well-known in the amateur radio community for modules that make it easy to construct an uninterruptible power supply or 12-volt system for home stations and repeaters. After I wrote a little article about the Shacktopus Power Beast, the company asked if they could feature it in their quarterly newsletter. "Sure, just link to my site…"
A month or so later, while immersed in a succession of boat projects, I got a call from an interesting geek on the East Coast. He had read the article, chased the link, recognized me from the biking days, then looked further and found the Nomadness for-sale page. That was the boat he wanted, and before long we had the essence of a deal.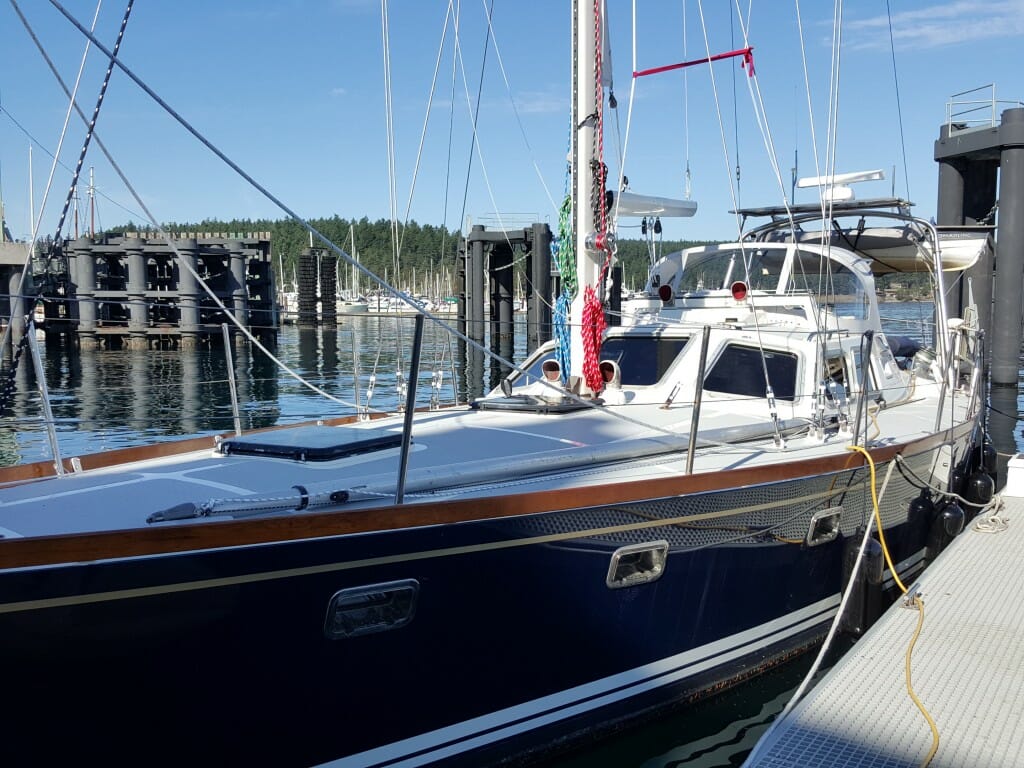 I'd like to say it was a quick turn-key transaction, but there was the matter of that deferred maintenance I mentioned above. This translated into months of work, extensive boatyard jobs, new standing and running rigging, dodger replacement, catching up with documentation projects, completion of unfinished systems, and much more. It was exhausting, and is not over yet… even though the deal is closed, I still have a to-do list. But she is absolutely beautiful. Through the winter of 2015-16, I am her caretaker, slowly wrapping up the last of the jobs to get her ready for some proper adventure.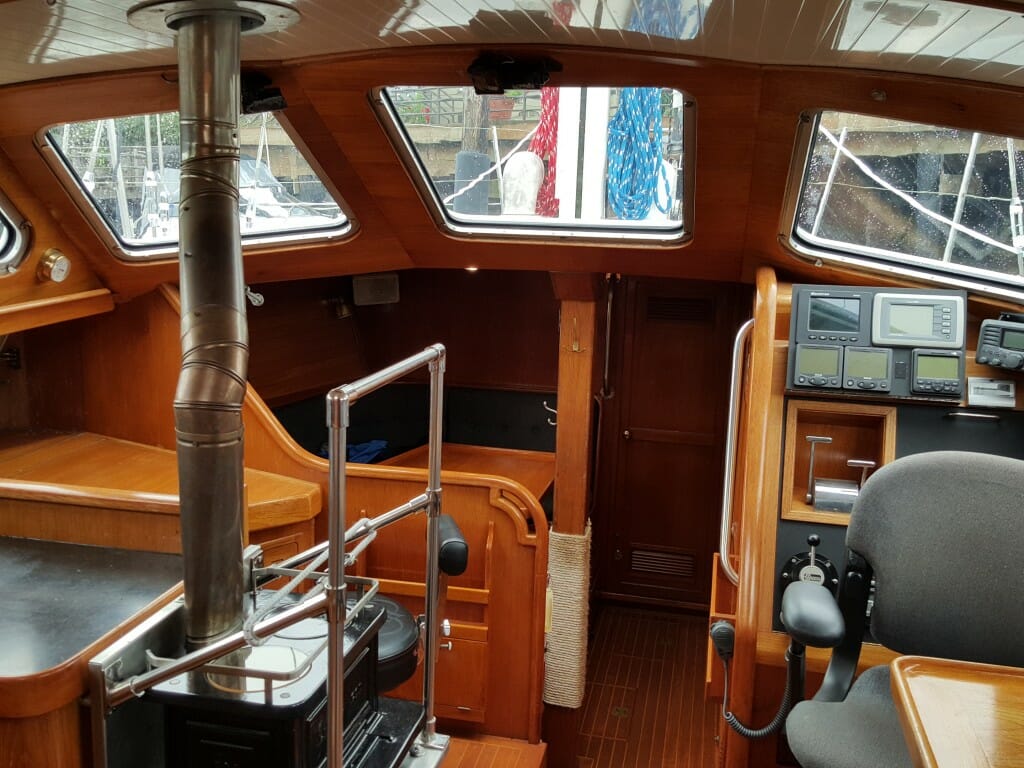 The new owner will be arriving in the Spring to outfit the boat for a voyage, and will head down the Pacific Coast and through the Panama Canal to her new home port. This will be exciting to watch…
The Epoch of Datawake
So, what's next? I have learned over the years not to publish details of deals that have not yet happened, so specifics will have to wait for a future post (soon). But suffice it to say that I have been spending lots of time aboard what I hope will be my future ship, assuming we can resolve some significant issues that were revealed by survey and engine analysis.
Never one to avoid jumping the gun when blinky things are involved, however, I have already started building the lab console system that will go in the salon of this (or some other) boat, a roughly 12×12-foot space bounded aft by the stern platform and forward by galley and passage up to pilothouse. For months, I had been planning to use this as piano studio and computer room, with a rack of communications gear at the helm and the test equipment suite in the forward cabin along with a 3D printer and CNC router… but I've grown fond of the idea of having a place for guests to sleep. I know, crazy talk.
I also like the thought of putting all my gizmology into one console: five 12U (21 inches tall) equipment racks mounted on an 8-foot desktop affixed to an electric drafting table base to allow standing-workstation mode, with room below for Shacktopus, file cabinets, and a subwoofer. A 6-foot wing desktop carries tool cabinet, 27″ iMac on swing-arm, and circuit board workstation… and a hop over to port reveals a small desk with pull-out Kawai MP7 piano and a couple of KRK Rokit 6 monitors on stainless stanchions. Central to the "salon" is a tool cabinet to keep clutter under control, and the rest is a proper galley with domestic-scale appliances.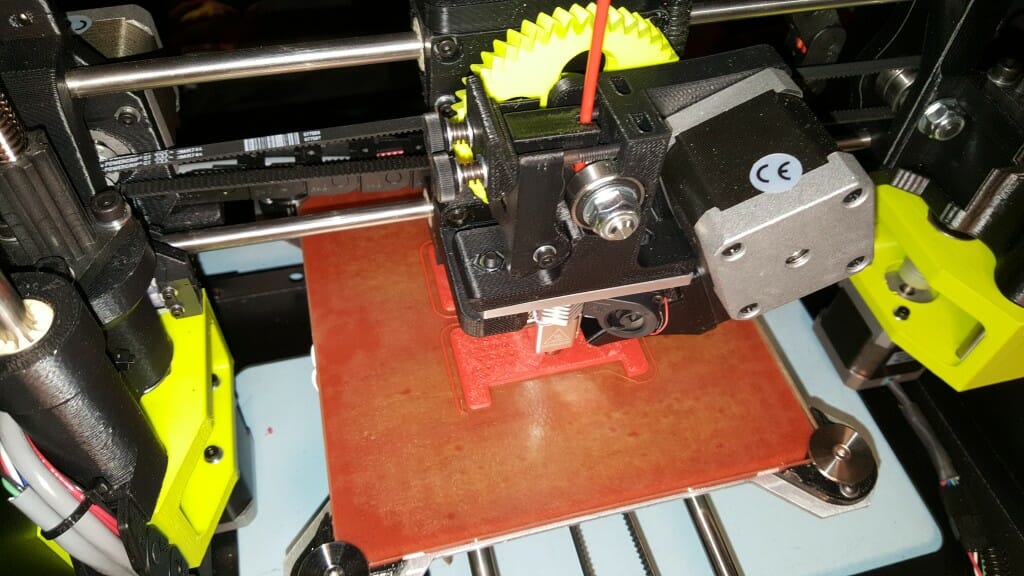 I mentioned 3D printing… down in the machine shop (the anteroom to the engine room) will be a desktop mill as well as the LulzBot Mini. I've had this for a few weeks and am loving the ability to conjure objects (22 as of this writing). I quickly tired of having my laptop tied up during print runs, so used a stray Raspberry Pi to run OctoPi, which has made life with the machine easy. I'm barely outta the gate as far as the learning curve is concerned… still using HIPS filament anddiscovering its shortcomings, with reels of PLA and ABS filament in stock that will be loaded as I begin to care more about material characteristics. The LulzBot is astounding, with automatic bed-leveling and a PEI build surface that makes retrieving finished parts easy. This photo (made from a file downloaded from Thingiverse, not my own design) is a charging stand for my Pebble Time Steel watch… it is so civilized to print parts when you need them! What a perfect boat tool.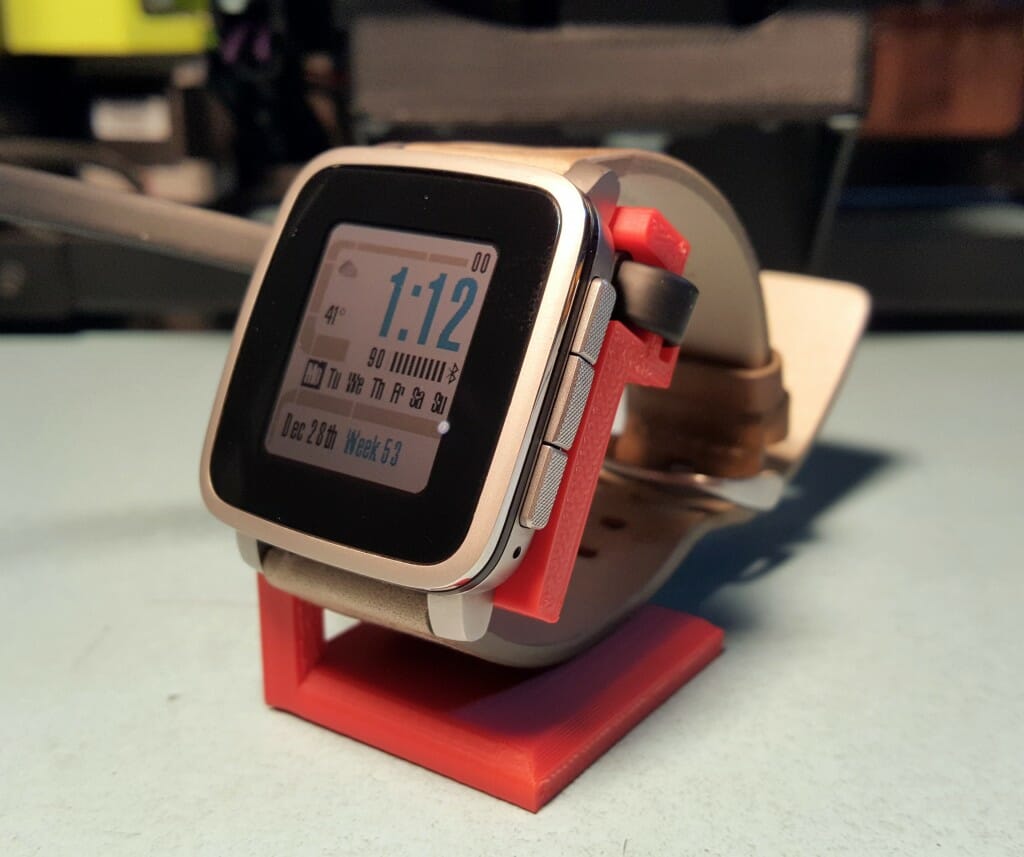 Speaking of tools aboard, the whole mission here is to integrate my life into a ship that's big enough to provide adequate lab/shop/writing space, yet small enough to actually manage. I ran into a problem on the sailboat, with my back objecting strongly to anything involving a 60-foot rig; it's my hope that by going to the Dark Side (with twin engines) I'll be more likely to get off the dock. A kilowatt of solar panels for a Lithium-Ion house bank should take some of the sting out of this shift to an orthogonal nautical culture.
So, about that workspace… I want to while away the hours of dotage at anchor by playing the piano, building gizmological toys, writing books, messing around with radios, making boat parts, spending quality time with friends, poking around with the ROV, and otherwise getting back to the creative fun of tinkering. A key chunk of this is electronic, of course, so about a third of the console space is devoted to lab equipment:


These are about to be rack-mounted, and will be augmented by some additional power-related stuff in addition to connectors that allow hacking live ship systems. These live next to a workstation that takes care of soldering, hot-air rework, microscope, magnetic fixturing, fume extraction, and so on. The units in the photo, from left-to-right, are:
This suite was the result of months of research, and I'm looking forward to putting it to use. Once rack-mounted, the various rear-panel connectors will be brought out to the front… and there will be a nearby rack drawer for probes and the Fluke hand-held instruments.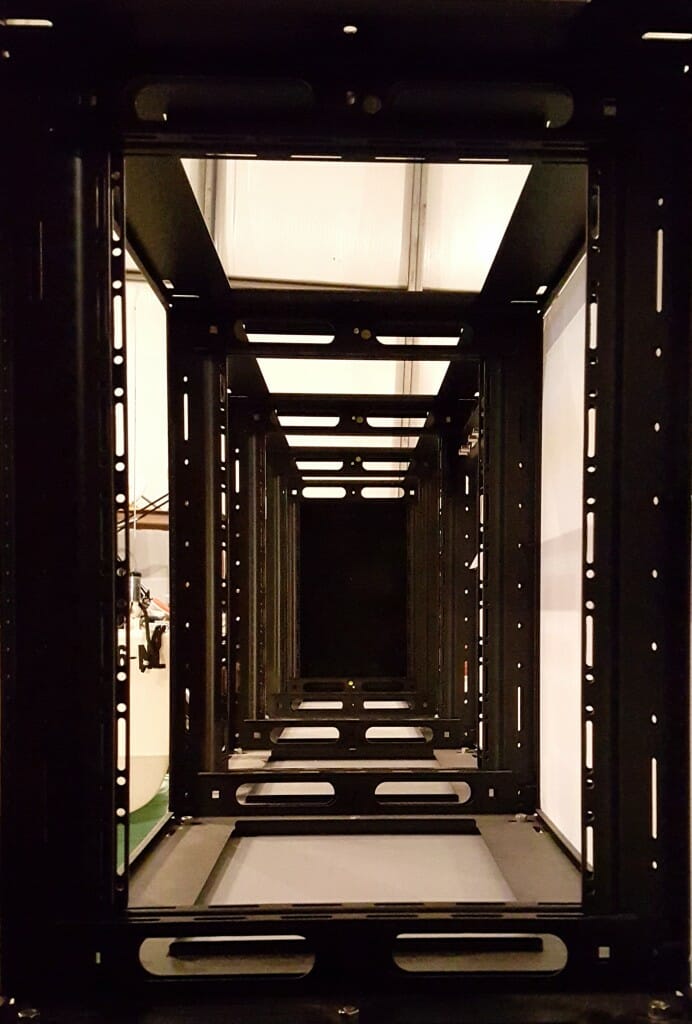 Finally, since we're in a left-to-right mood, I should step back a few feet (which is all we have!) and mention the overall layout. All the goodies are going into CFR-12-16 rack cabinets from Middle Atlantic. I love these, and bought the first three a few years ago for Nomadness… they have the lowest overhead of any 19-inch rack enclosure, and are built solidly. Five just fit on the 8-foot desktop, and in a future post I'll describe the system for cable management and keeping them locked in place. I have them sitting on plastic runners that keep them from gradually chewing through the desktop as they are dragged in and out over the years. The enclosures are assigned Greek letters since they are arbitrary assemblies:
α (alpha) – Video switching and monitors, Datawake server, security
β (beta) – Audio, mixers, EQ, amp, stereo, recording, Thunderbolt, and related
γ (gamma) – Communications, ham station, SDR, scanner, digital comms
δ (delta) – Internet alcove, big-iron servers, NAS, lab power supply, etc.
ε (epsilon) – Electronics lab, oscilloscope, arbitrary waveforms, multimeter
Coming Soon
I'll write a lot more about this lab topic in future posts; even if the mechanical issues we have discovered turn out to be insurmountable, I've put enough design effort into this that it will migrate unchanged to whatever ends up being the new nautical substrate. As I mentioned in the introduction, this post is a pivotal one for me… the microship site is changing as of this date to an ongoing narrative backed up by the collection of historical documents. At the moment, in January of 2016, I am living with Isabelle in my friend's cabin near Friday Harbor, ready to move ASAP into the new boat.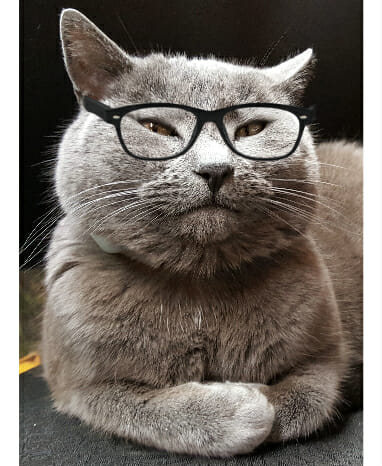 When that happens, I'll complete the migration of office/shipping/archiving space into the Polaris mobile lab trailer… and that will allow decoupling from the huge rental space that has been necessary to accommodate the considerable tonnage left over from the Microship lab and my old family home.
Oh, did somebody mention the Microship? One last little teaser about the new boat: a primary specification is that she must be able to launch the little trimaran via crane from the upper deck! This brings us full-circle, and is why this website is the place for our new project narrative. Yarrh…