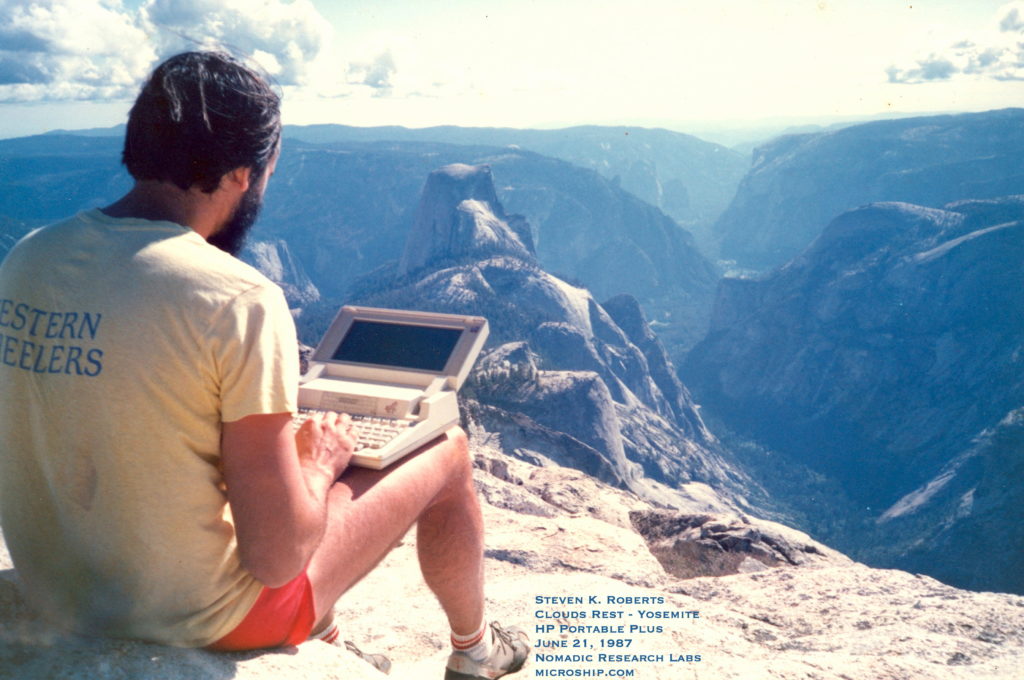 Coronavirus will echo for decades. Everything was normal… then suddenly we were on sabbatical from our own timelines, routines disrupted by intimations of mortality… priorities shifted, values inverted, unspeakable things whispered, stats obsessively reloaded.
We watch the news in horror, contemplate de-facto partnerships, ache at disconnections, and muse about the messes we will leave behind if the virus takes us.
Slowly humans have disappeared from the landscape, towns and marinas silent, skies clear, once-bustling waterways now as still as a century ago. And this gives rise to thoughts of our ephemeral existence.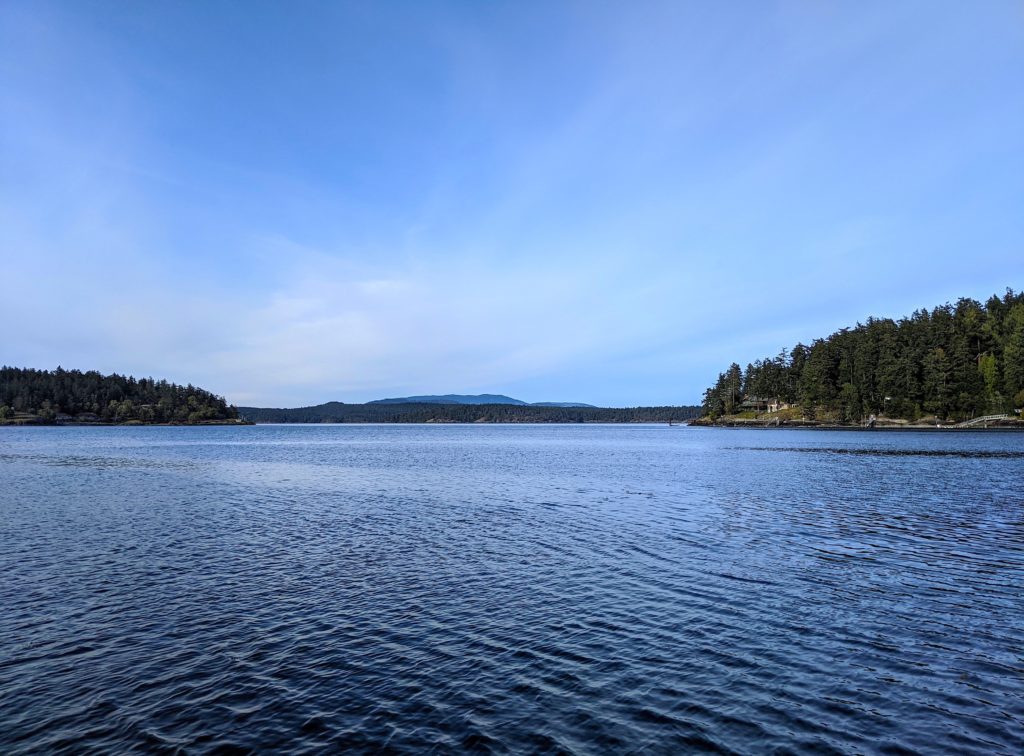 Perhaps this sounds familiar: the highlights of my own legacy are encapsulated in artifacts and treasures willed to friends… yet I am the curator of a huge archive that will likely evaporate upon my demise, lost to those who would cherish links to the past. Echoes of the lives that shaped us will end up as "misc photos and papers" in estate-sale warehouses… or dumpsters. It is easy to find anonymous collections of once-precious home movies on eBay, snapped up by collectors seeking to restore histories decoupled from the families that created them (in some cases, going on to reunite them with descendants).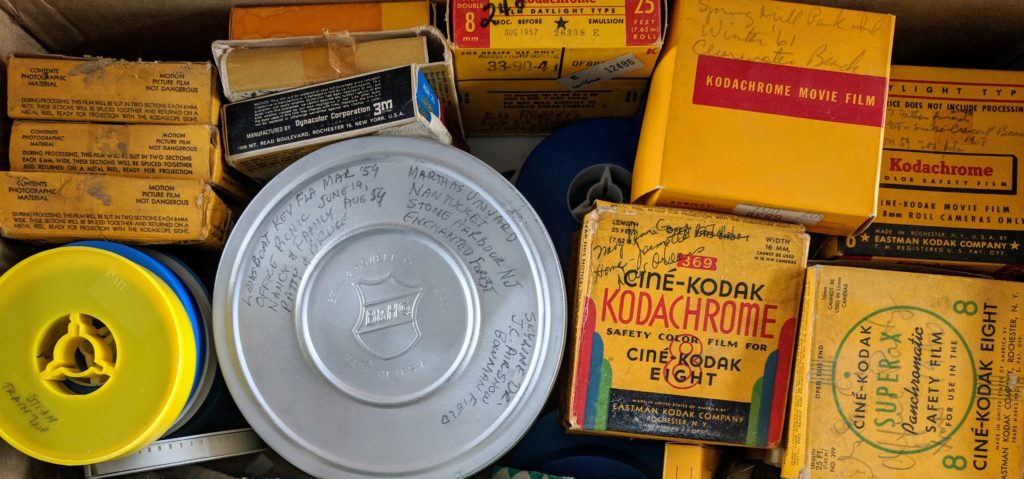 Thoughts like these, after my father's death in 2005, prompted me to acquire the tools for digitizing miles of his 8mm film spanning four decades beginning in the late 1930s. The learning curve was substantial, and it was only natural that I would decide to amortize that investment by doing it for others.
What I didn't expect is that it would become a passion. I've even started a little online museum of film snippets clipped from their reels and stabilized for posterity. A few select bits have made their way to museums and historical societies, others are well-loved in Facebook groups, and some of the best are still in my in-basket.
Rio Grande 5534 in Royal Gorge – 1961 from Steven K Roberts on Vimeo.
Along the way, I've been learning the archival arts and developing protocols for keeping digitized media keyed to still-valuable source material. (Not long ago, people paid to have movies copied to VHS tape, then discarded the originals without recognizing the tragic loss of quality or the inevitability of better tools a few decades hence.)
I'd like to show you the suite of digitizing tools aboard Datawake…
Building a vintage-media lab
When I first contemplated my dad's boxes of ancient film reels 15 years ago, I tried the obvious: project movies on the wall and take a video with my shiny tripod-mounted miniDV camera. This was amusing, but introduced too much quality loss.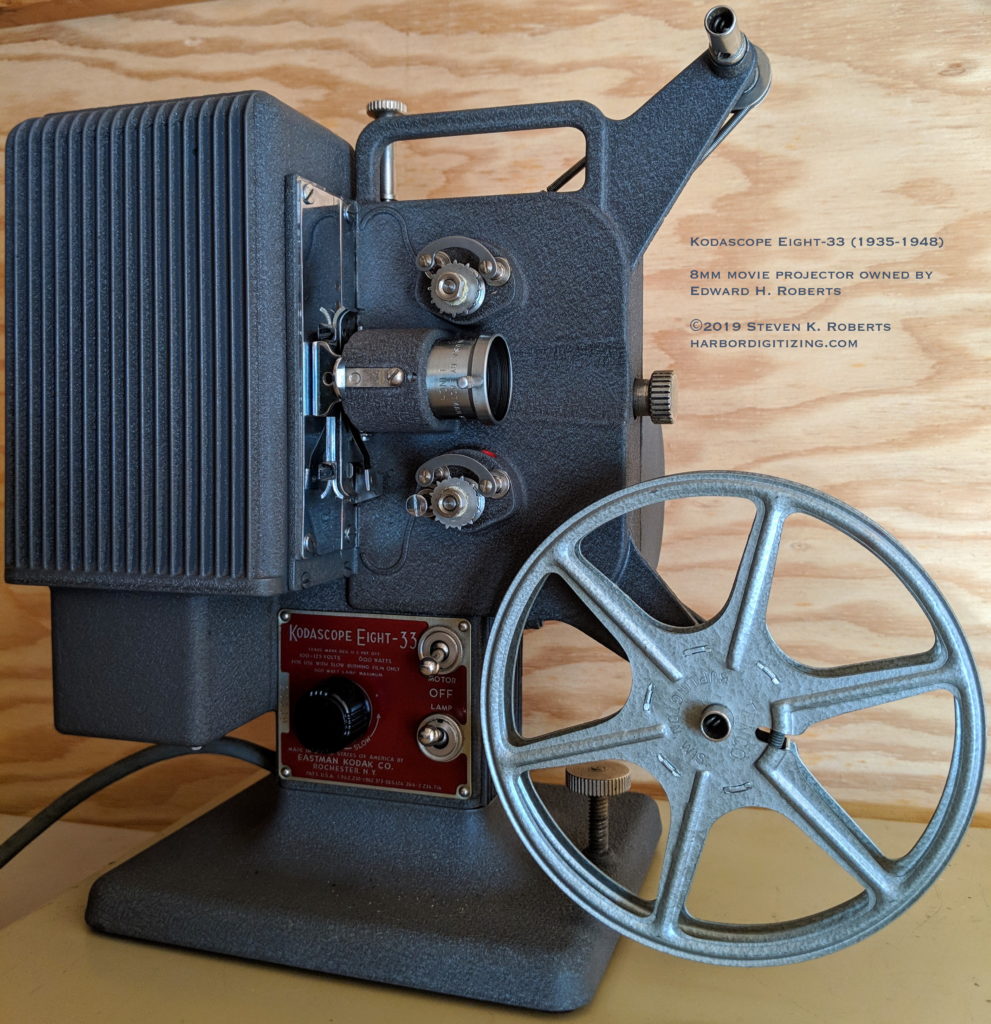 My next thought was to have it done, but I was quickly overwhelmed by the huge range of options, unfamiliar terms, and hints of quality issues in forum threads. Besides, how would I know which ones to send, with only brief notes on those Kodak reels? Is Florida 1956 worth messing with, or is it just little me playing in the waves while mom feeds seagulls? Besides, the Inner Geek could not resist the quest for my own digitizing system, so over the years I followed a few ambitious telecine projects and planned to roll my own.
But life's too short for reinventing the wheel. The sweet spot, without going full-on Hollywood, was a Retroscan Universal with 2K camera, equipped for 8, Super 8, and 16 mm film:

This system cost about $10K including accessories and a dedicated PC with color-calibrated IPS monitor, and shares a desk with microscope and 3D printer on the port side of the Datawake lab. After mounting a reel and setting up the software, I start the scan and carefully ride herd on color and light while every frame is photographed at 2K, right down to the grain… yielding a massive file that can be exported as video or mined for interesting stills. (With a photo every 60 milliseconds, a 3″ reel of Regular 8 has about 4,000 photos, some of which have amazing micro-expressions and frozen moments.)

These have been a joy to do, and my father's collection has raised as many questions as it has answered. I do wish I had started this while he was still alive, though… getting to know this avid sailor and engineer-adventurer in his thirties has been fascinating. Some of the footage is glorious, like the maiden voyage of the Liner America in August 1940, with shore time in Havana and Port au Prince… my parents' Bermuda honeymoon in 1946… Swarthmore College reunions with graduates from the 1870s… Erie Yacht Club regattas… flying over Manhattan in 1939… and more. It is a gold mine of moving images.
That machine, along with a 16-terabyte Synology NAS and editing tools on the nearby Macintosh, has taken care of my film-digitizing needs… but of course I couldn't stop there. My archives include Hi8 videos from the Microship years, VHS dubs of bike media coverage and speaking gigs, crisp miniDV, audio cassettes, moldy microcassettes from the pocket recorders of my turbulent youth, and disjointed epochs of slides… a massive amount of personal history that has been drifting further and further out of reach until now.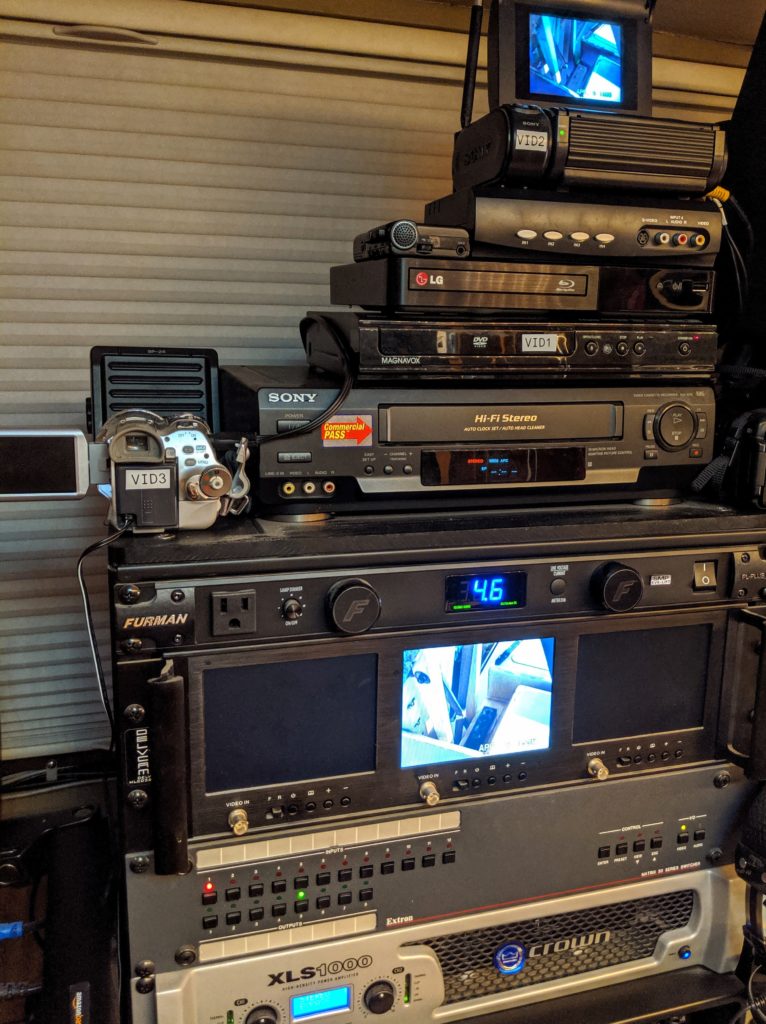 This gave rise to two other regions in the lab. The first is a suite of analog video tools with switchable sources, allowing any retro-media to be aimed at a digitizer integrated with the iMac. Audio is split out and routed through the MOTU edit suite, allowing whines and hums to be filtered.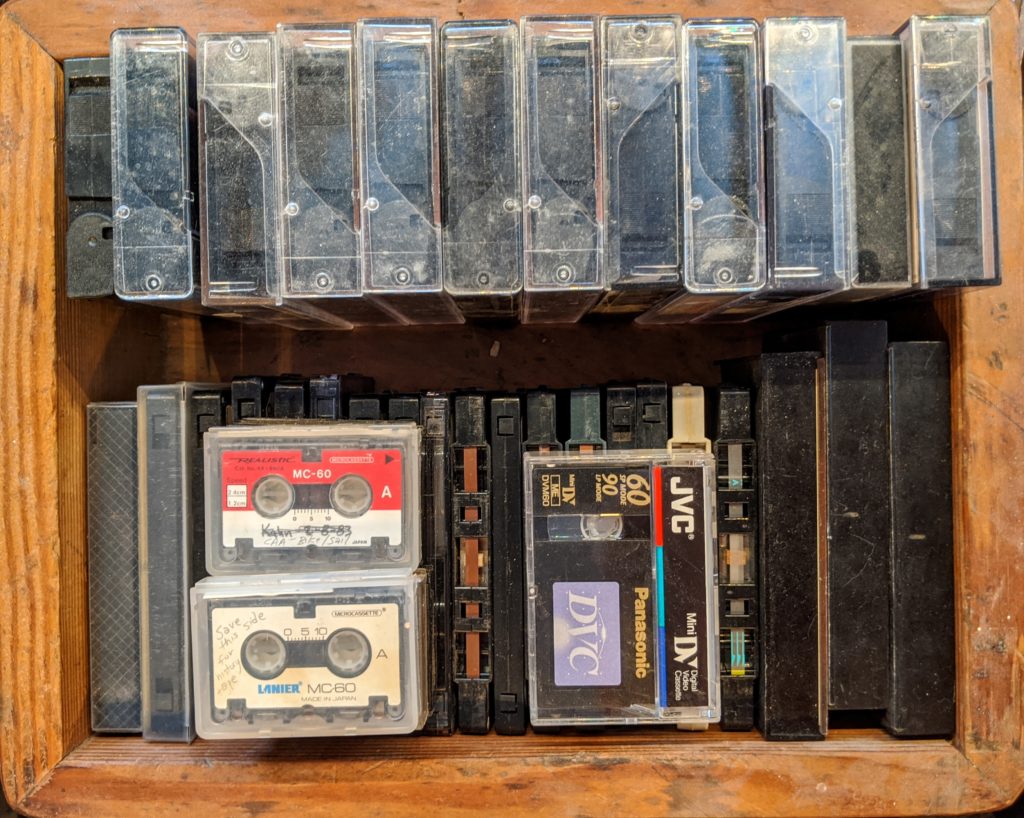 The original plan was to leave it at that, but the old box of audio cassettes kept tempting me (including a few treasures recorded with a helmet microphone while pedaling across the US over 35 years ago). I added a rackmount TASCAM deck and 3D-printed a pair of angled supports to take care of a Panasonic microcassette transcriber. All this is routed through the audio network, so anything can connect to anything. I can transfer ancient sounds from old tapes or CDs straight to MP3 on a thumb drive… into the multi-track or Zoom field recorder… or to fancy pro audio tools in the Mac. It's a sickness, this GAS (Gear Acquisition Syndrome):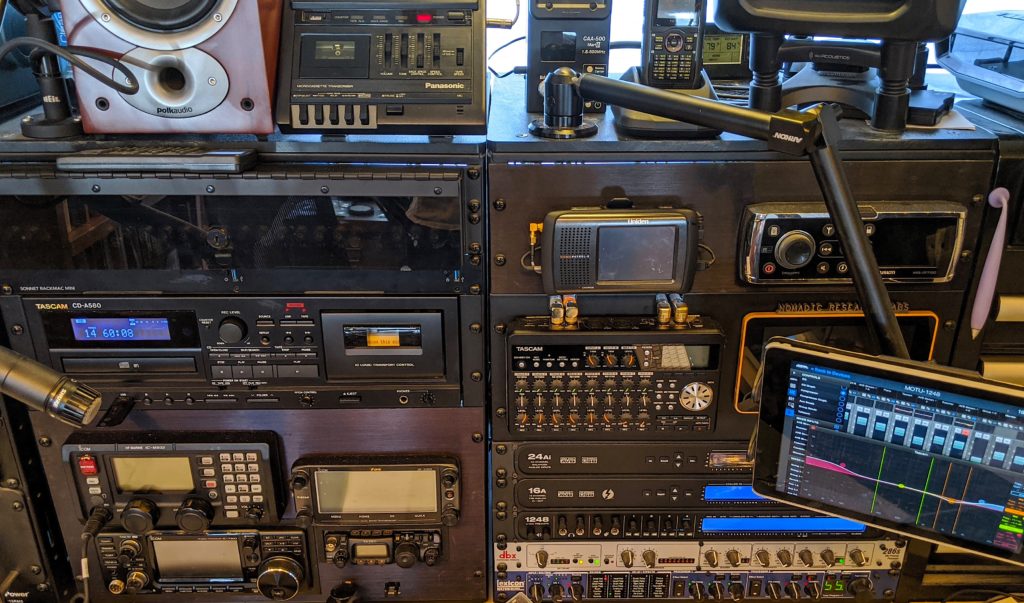 The net result of all this is a way to capture almost any vintage media source (alas, no reel-to-reel or Betamax yet), digitize it, backup the files, park them in the cloud or on local servers, convert to different video formats or containers, edit and stabilize footage, produce compilations with narrative soundtracks, generate thumb drives or the dreaded DVDs, and otherwise rescue analog treasures from dying paleomedia and propel them into the age of posting and sharing.
Erie Yacht Club – 1940 – Enigma from Steven K Roberts on Vimeo.
Clearly, this has gone far beyond my dad's old box of home movies. Last year I started a business called Harbor Digitizing to offer this service to clients, and I've been letting it grow at an unhurried pace while fine-tuning my skills, adding tools, and developing procedures that let me scale it with a bit of help. We've done quite a few projects for other people around the country since early 2019, and I've noticed that during this time of introspection, as we are all thinking about our lives, more folks are having us perform media archeology to get their histories preserved and shared with family. It is deeply satisfying.

The best part is that it suits me perfectly. This is a mix of art and engineering, photography and geekery, human relationships and history. One of the running jokes here is that at some point in the process with every client, there will be tears… and in most businesses that's considered a bad thing. Not here.
Integration with Datawake
This may seem a distraction from the endless process of getting my boat ready to go; that has been moving too slowly, and has had to compete with tonnage-reduction, publishing, and personal matters. Film digitizing sounds like the last thing I need… it consumes lab space, time, and attention.
But the goal is long-term sustainability in the slip or off the dock, and that includes everything from food-water-power-internet to business-publishing-humanity. It's all part of the same project. (Oh, and cat, always the cat. Isabelle is now ten.)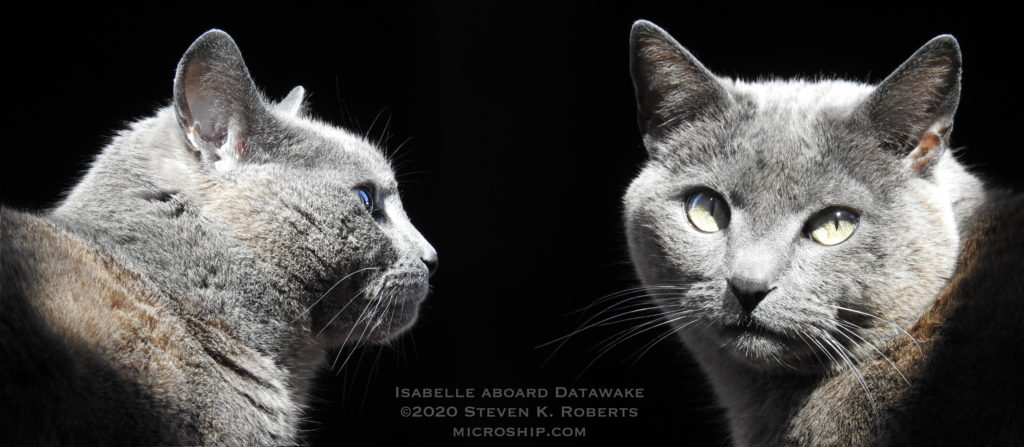 I just started working on the power system… the generator battery had died, so there is now a new one with Victron smart charger, and some parts just arrived for the new house bank with a kilowatt of solar panels. A batch of Unifi network tools are going into the console this week, the marine biology lab has an upgraded stereo microscope with 18 megapixel camera, and I'm dusting off my long-idle Shacktopus to add the venerable Icom 706 "Swiss Army Knife" ham rig in order to make a geeky Go-Kart just… because. This time of isolation is a reminder to put idle tools to use, or get rid of them!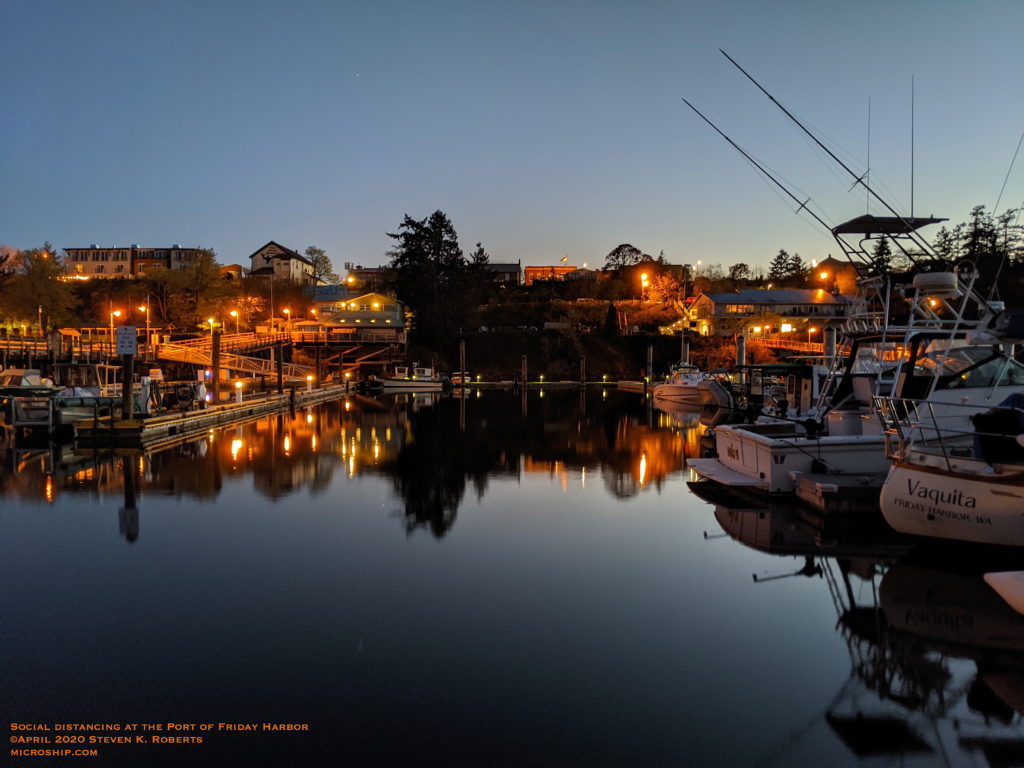 Meanwhile, this picture captures the feeling of life in the Port… normally this time of year, the water would be rippled by wakes, windows a-sparkle with tourism. It is a frozen moment of inhalation that is stretching into months, and after the initial disorientation, we are using the time to build the tools of long-term self-sufficiency aboard Datawake. The glimpse of mortality is a wake-up call.