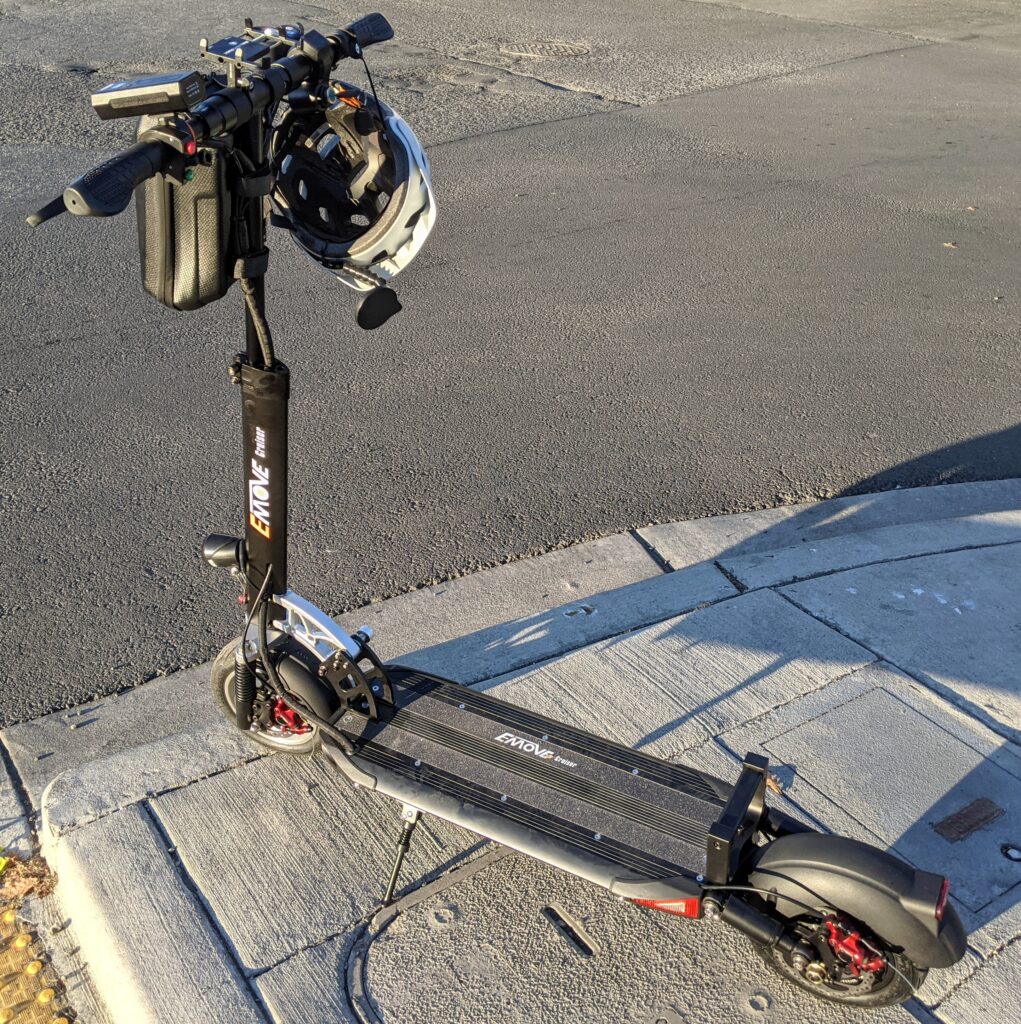 by Steven K. Roberts
Friday Harbor, Washington
As this paleo-technomad pushes seventy (!) there have been a few reminders of mortality… not to mention a noticeable reluctance to go gallivanting up hills every time I need something. This has become more of an issue lately with a little medical distraction, so my first solution, given my history, was of course an electric bicycle.
As delightful as this was (and still is, despite a few hardware issues), it is too heavy to drag into my boat or office. What I really want is a tiny electric propulsion contraption that appears when needed, then tucks out of the way when I'm settled in… with bonus points if I can carry it in my dinghy and take it with me when walking on the ferry.
I looked first at the minimalist Onewheel, but I needed a way to mount a few essentials and had to be able to carry more than a backpack… and besides, the odds of hurting myself were just too great.
So where is the sweet spot, somewhere between that and a bulky bicycle?
After many hours of late-night YouTubery, I began growing enamored with electric scooters… homing in on the eMove Cruiser for its long battery life (~50 miles) and heavy load-carrying capacity (~350 pounds). Coupled with a nice big deck and a few other features, this looked much more likely to meet my practical needs than the svelte rockets favored by young riders. With a folding stem and optional grab handle, it looked like I'd be able to tuck it into tight spaces… like under my pilothouse table. I ordered one.
I've had the Cruiser for a month now, and it has become my daily commuter between boat and lab. Advice from scooter groups on Facebook has kept me from riding in the rain (for both reliability and safety reasons), but I have otherwise used this as an alternative to walking on almost all of my trips ashore. And, I gotta admit… it's not just practical… I love it!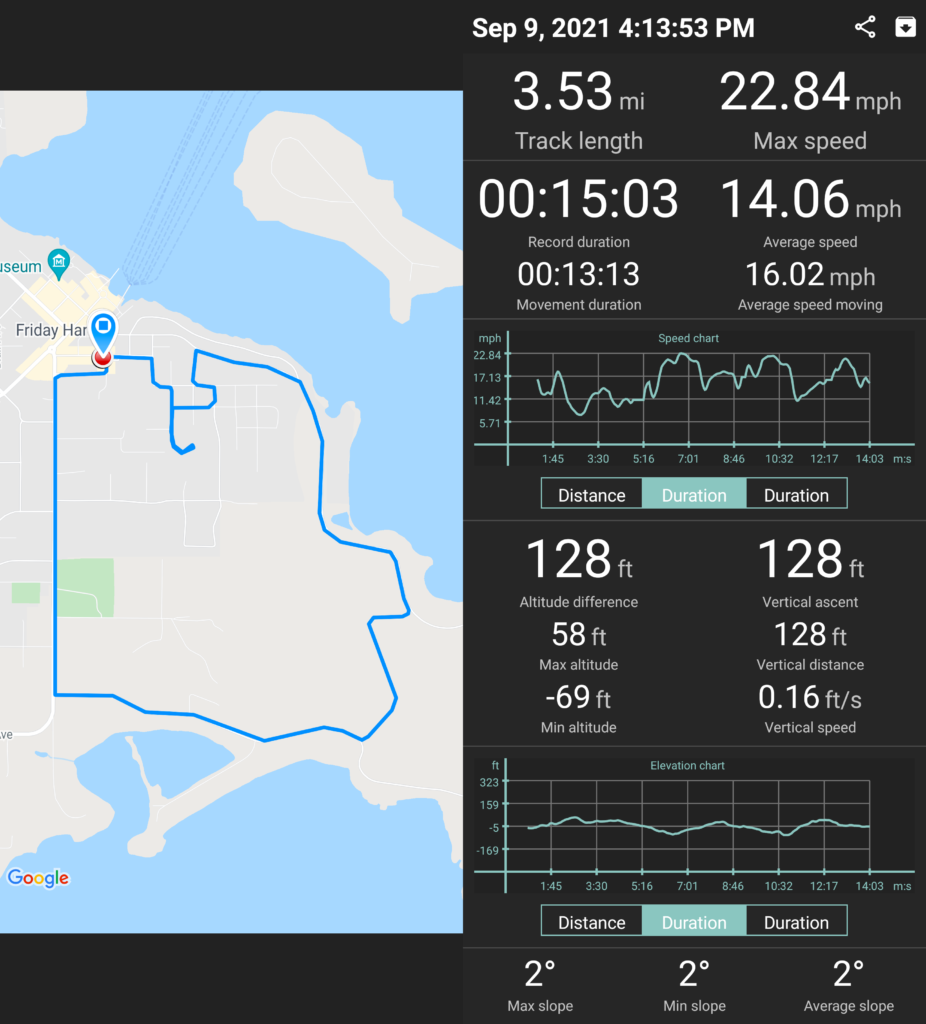 I fully realize the insanity of zipping around in traffic at my age while standing on a little board with a handle, so I tend to be very cautious… falling is not an option. I've been gathering essential safety gear, which goes beyond the usual bicycle helmet (for that, I selected a Bell Super DH MIPS downhill mountain-biking helmet with face protection… scooter falls on concrete are not pretty). A pair of motorcycle gloves with suitably located hard bits should protect the hands, and I'm still trying to choose a decent jacket with shoulder/elbow pads…
I named the scooter Sparky just because, and added a few essential upgrades right away… including a very effective satellite tracker that uses GPS and LTE-M cellular, handlebar phone mount, decent headlight, and a "trunk" mounted astern to carry tools and lock while helping make post-office and grocery runs possible. In the photo, note the handle mounted just forward of this… that gives me something to grab when lifting the scooter in and out of the boat: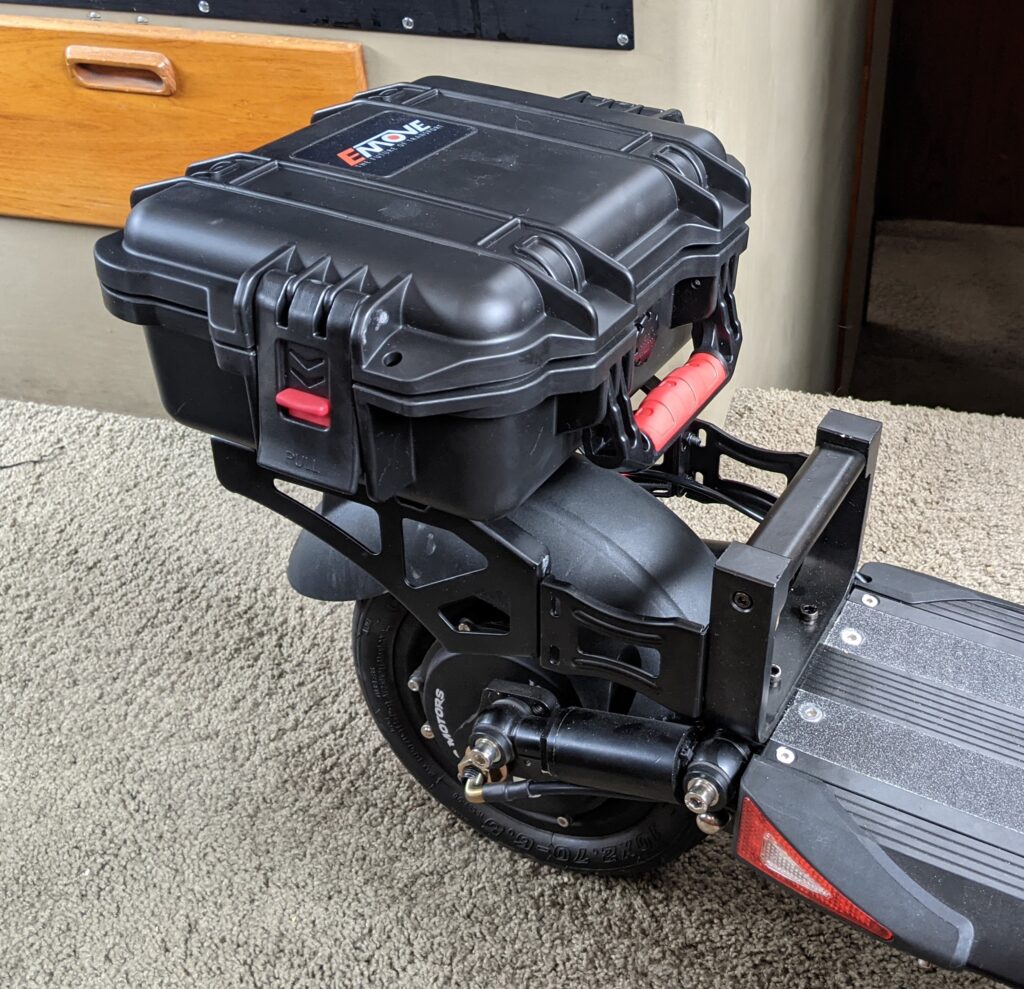 Every day I wrestle the machine down onto the dock, then too quickly find myself zipping up to the front door of Harbor Digitizing with a grin on my face. I'm always looking for excuses to run errands (which I used to hate), and feel like a kid flying around town and along country roads when visiting my shop or dropping in on friends. Battery capacity is huge: on a full-charge with my 225-pound weight and exuberant riding style, I can expect a respectable 40 or more miles of range (60 is quoted under optimum gentle conditions).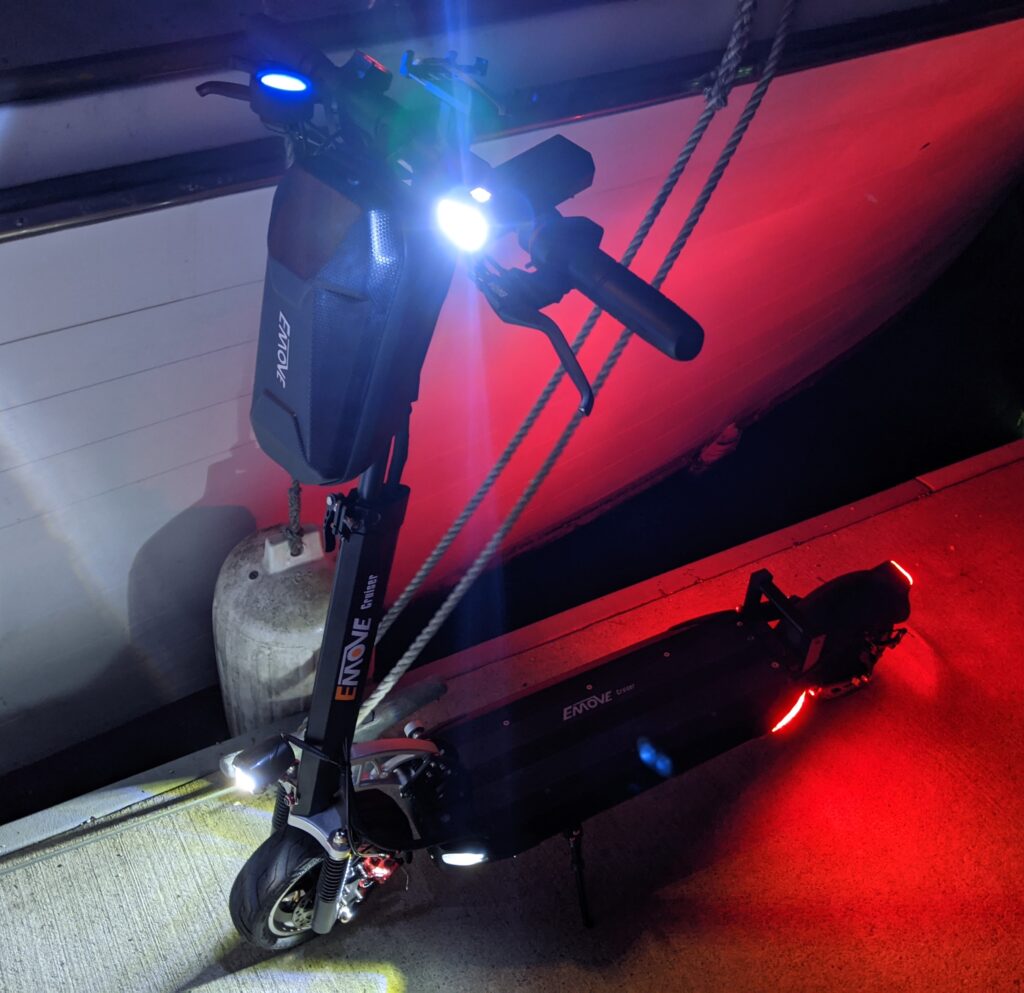 I worried a lot about stability and my own galumphing clumsiness, and quickly came to respect the requirements of small (10-inch) wheels. This is not for off-roading, curb-jumping, or showing off (unless you're an immortal youth, of course), and it is important to remain aware of your center of gravity and lean back when hard braking. It is good to pay attention to fasteners, adjust brakes occasionally, and keep an eye on tire pressure. But overall, as a little sprite for getting around on land while enjoying yourself, it is an absolute delight.
This photo (before the MTB helmet but after mounting the trunk… and stopping at the grocery store) is during a visit to a friend's boat: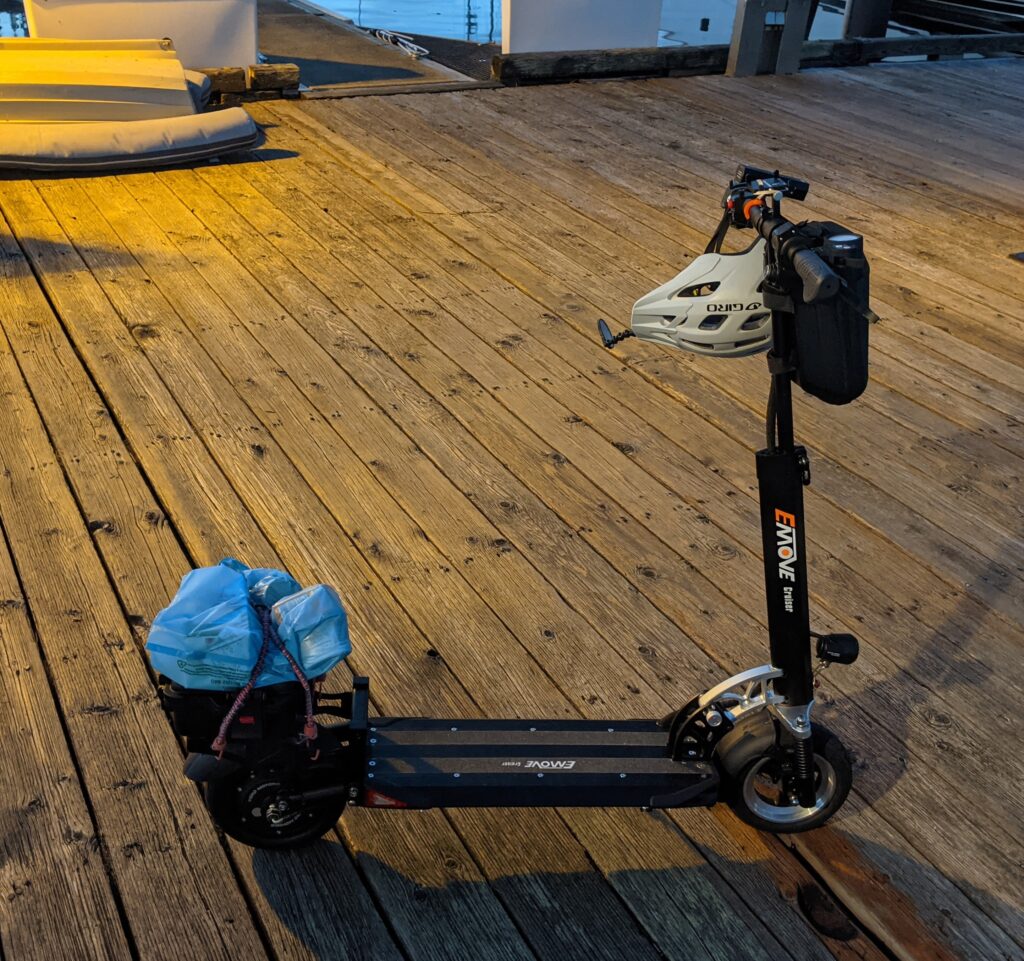 There are lots of reviews and videos that go into more detail about the eMove Cruiser, but I wanted to give you a quick look at the tool I have chosen for getting around on land. My current cruising plans include a small fast boat for trips to the mainland as well as my existing Novurania console RIB, and this scooter fits easily into both. Walking onto the ferry for an inter-island trip or taking a jaunt to America can now have a much greater effective range without involving my clunky diesel truck (requiring reservations), and with speed capability around 30MPH I can get pretty much anywhere on the island if I am comfortable with the road surface and availability of bike lanes.
Recommended.
Use the coupon code STEVENKROBERTS
for 7% off a Cruiser or other
scooter at the Voro Motors site

And use the code welcome-337597
to get 10% off an Invoxia tracker at
their site (cheaper than Amazon… oops…)