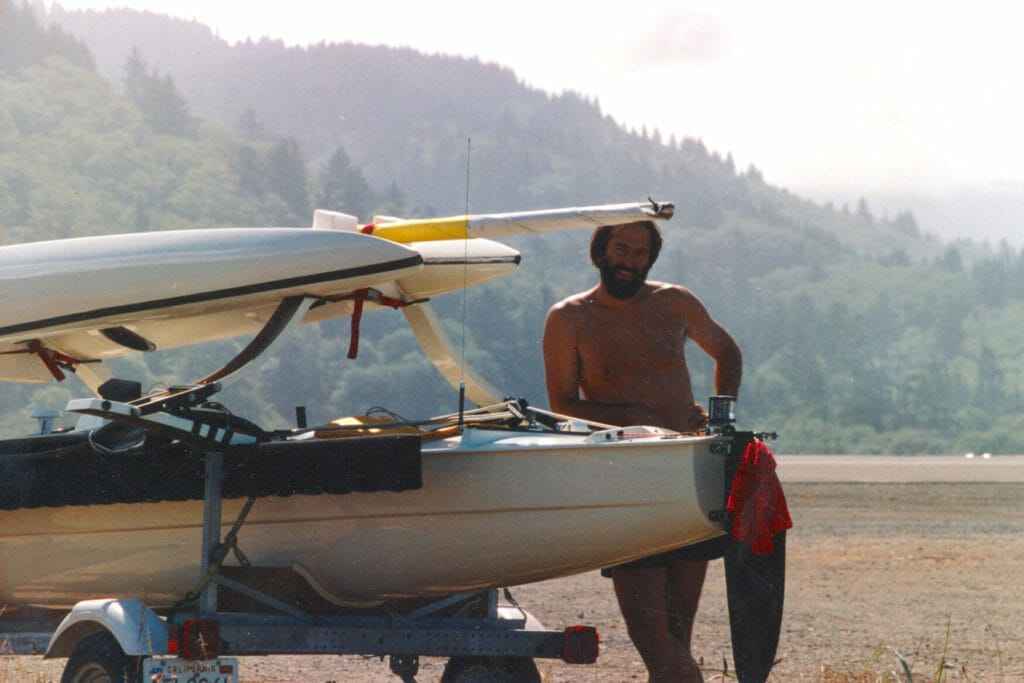 First Pass – Microship Rev 1.0
(Originally published as Microship Status Report #76 on August 9, 1994)
I suppose I should just build a macro for an opening paragraph that apologizes for infrequent updates, and automatically insert it along with the title block on every status report. I've been busy, and a lot is happening. I need an archivist to do all the writing! Anyway…
A Sampler Of Micro-updates
Tons happening on the sponsorship front! Just back today from visiting Hull Electronics, who donated a "Savem" — a voice-synthesized distress device that makes a Mayday call with a vessel's GPS data via HF or VHF.
HP has provided an incredibly sweet little machine — the OmniBook 430, a 3-pound 486 machine with PCMCIA slots, pop-out mouse, 4 Meg RAM, 105 Meg hard disk, Windows, and the nicest keyboard feel of any little DOS machine I've felt. Don't recoil, fellow Mac-lovers — this will be the remote-control console for the control network, linked via the PacComm TNCs and Motorola RNETs from backpack to boat and running the same Turbo C++ code as the Ampro GUI system. It's so light and comfortable that I barely notice it in my pack…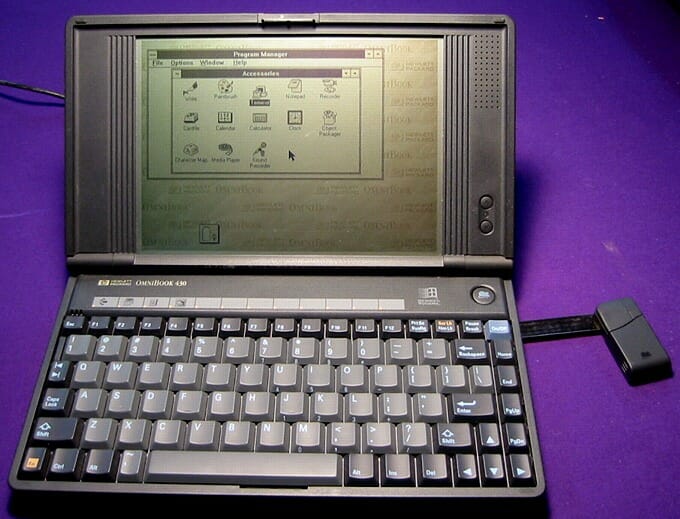 We now have an Amp-Hour+ battery monitor from Cruising Systems, which monitors all activity via a 50mV shunt between the battery negative and true ground. It quite accurately displays voltage, current, and charge status… the only problem is that it doesn't give this to us via a serial link, but instead via LCD. I understand a new version is in the works.
Great news in the network communications domain — Qualcomm is again providing a satellite link, this time even lighter and sleeker. The current plan is to put the radome atop the video turret, and put the main unit in the aft hatch along with a remote-controlled HF transceiver and the power systems.
I buy things too, by the way. Recent agonizing visits to West Marine yielded a Standard Nova marine VHF, antenna for same, the Vion "hockey puck" hand-bearing compass, an Interphase depth sounder with in-hull transducer, navigation lights, and lots of random necessities from Harken and others <$hudder>. And REI has been the site of a few epic shopping adventures — the new Kelty Domolite tent is scheduled for modification this week by a fabrics wiz named Anita. The objective is to erect it over one trampoline and the center hull, then fold back part of the floor to expose cockpit and gear hatch for on-water bivouac mode.
Student projects are limping along over the summer. We don't have the focus of normal activity, but a few people are in here almost every day working on subsystems. The real regulars are Jeremy Heath, who is making excellent progress on power management; Samer Dehaini, working on adding new views to the GUI code; and Aamir Panjvani, hacking away on the neuropilot system. Dan Yang put massive time into our Web server, but he's off in Taiwan now… he's a Taipei personality.
My new partner, Faun Skyles, is also spending every spare moment here… she has become involved in all aspects of the project and is taking sailing lessons, learning ham radio, getting active on the Net, helping with the business, and otherwise merging into my life. She is flying to Seattle to meet me in September for the San Juans tour, and Fulmar is loaning her a boat for the occasion!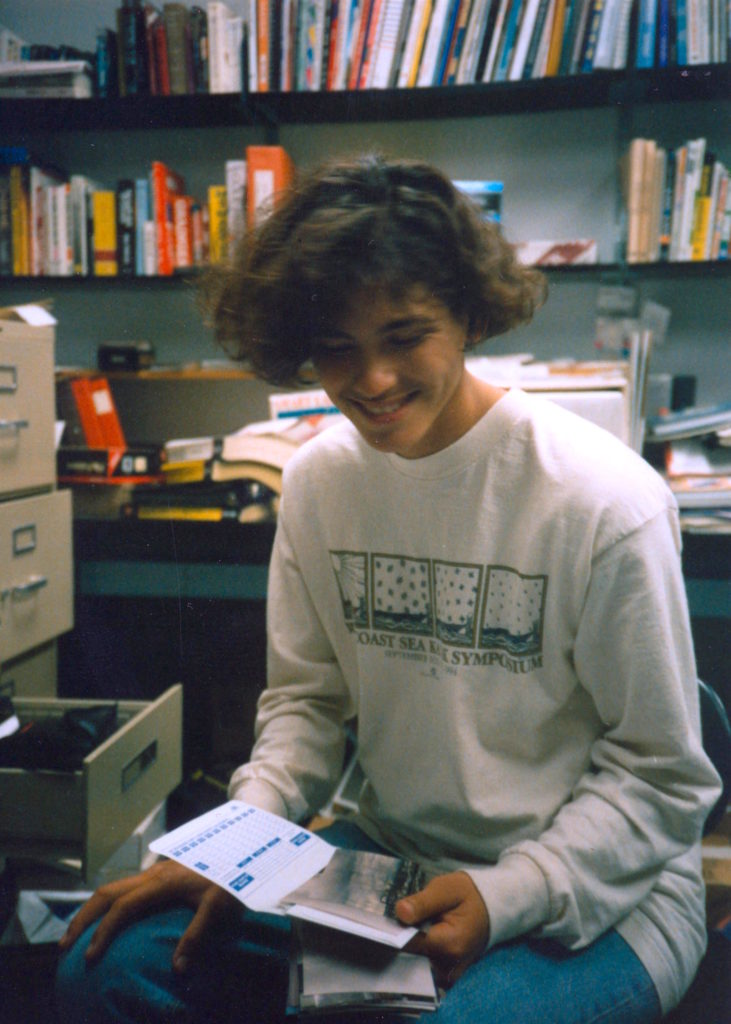 And that leads us to…
First Pass — Microship, Rev 1.0
It occurred to me that with this ship installed in a third-floor lab, a process that involved a number of hard working people for a number of hours, we're not going to be doing a whole lot of day sailing. This is bad… testing is critical.
I'm therefore whipping together Microship Rev 1.0, a very scaled-down version specifically for a 250-300 mile trip next month. Faun and I will sail from Seattle to the Sea Kayak Symposium in Port Townsend, then over to Dungeness or Port Angeles, across the Strait of Juan de Fuca to Victoria, up to Sidney, over to Henry Island, through the San Juans to Anacortes, then back down to Seattle. This will provide some much-needed experience with boat camping, navigation, anchoring, tides and currents, sailing with a partner, and other essentials that must be well-understood before I start distracting myself with gizmology, however magical it may be.
The work that is occupying this month in rising frenzy, therefore, is getting the Microship ready with the basics. It has marine VHF, GPS, depth, and power monitor. There are water bottles in cages, a chart case, and other minor liveability enhancements. A couple of antennas grace the afterdeck, and I've re-routed the mainsheet from its original path along the keel to a tight routing under the port sheer. The battery box will be mounted in the aft hatch, a bicolor nav light goes on the bow, and a white sternlight perches just over the rudder. Awkward but useful items like bilge pump, boathook, and auxiliary paddle are all being mounted with quick-release clips. And the camping gear is being refined to the point that it can support us for a couple of weeks, including a few key changes like switching from down to synthetic sleeping bags.
It is a tad unfortunate that these Rev 1.0 projects involve drilling a few holes that will have to move later, but I'm quite convinced that a significant test cruise well beyond a few afternoons of trailer sailing is a critical prerequisite to doing this right. So on September 4, off I go north again, driving to Seattle with the boat in tow. Hopefully, this time I will not have two trailer flats, an accident, and brake failure — adventures that added unwelcome spice to the return trip a month or so ago…
With that, I'm closing this sketchy and long-overdue update — there's too much to do in the lab for me to sit here typing. Let me know if you're not on the nomadness listserv (you should have seen Nomadness Notes #25 on 7/16).