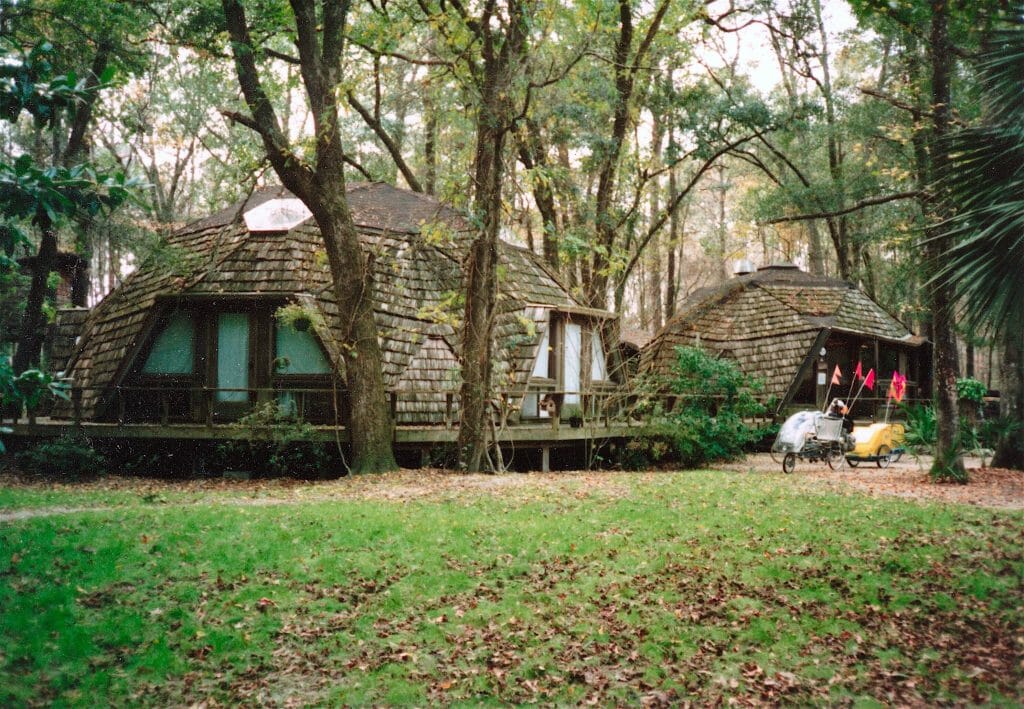 High-Tech Hosteling – Knapsack
This story in the American Youth Hostel's Knapsack magazine caught some of the languid flavor of those first 10,000 miles… before the technology took over as the recurring central theme. I was just discovering the lively community of hostelers, completely orthogonal to the more garish population of tourists that plied me with questions in every resort town. Needless to say, I fell in love with the former and sought it out whenever possible.

by Steven K. Roberts
Knapsack
Summer, 1984
They lie beyond the glitter of the Hiltons, the multicolored neon of the Holiday Inns, and the faded signs of countless rural motels. They appear in odd places, like Red Lodge, Turtle Lake, Ohiopyle, and Jack's Reef. They take many forms, from musty suburban basements to exquisitely fashioned domes nestled in the Georgia woods. They are the hostels, those scattered havens of the true traveler.
As I wander America in search of tailwinds and modular telephone jacks, I occasionally find these places, tucked safely away from airports and interstates. No little strips of paper labeled "Sanitized For Your Protection" will be found here, nor will machine-generated wake-up calls, plastic key fobs that you can drop in any mailbox or tacky postcards with aerial views of a motel. Hostels have character.
Much of the magic is attributable to their clientele—travelers as varied as the far-flung lands of their origins. Here may be found a lone Japanese cyclist, a New York couple hitchhiking to New Orleans, an expatriate female Buckeye exploring the East Coast, and a startling pair of Swedish ladies learning English by plunging headlong into a three-month American adventure. Next week, the faces change but the hostels remain, their character deepened by those who have passed through.
My own journey—a high-tech bicycle odyssey dubbed "Computing Across America"—has been underway since September 1983. Expected to cover some 20,000 miles in the U.S., my travels are distinguished by the fact that I am maintaining a full-time freelance writing business while on the road.
The key to this trip is the computer technology. Accompanying me on my Franklin Recumbent bicycle is a portable computer, through which I check in daily with my assistant in Ohio via the CompuServe network. Articles that I write in hostels or on beaches or wherever I find myself are electronically transferred to publishers via the word processor in the Ohio office, and all business matters are handled remotely through the network as well.
In addition to the computer and related hardware, the bike is also equipped with a solar-powered electrical system. A pair of Solarex photovoltaic panels charge a nickel-cadmium battery that in turn runs the lights, security system, communications gear, horn, and a small fluorescent light for camping. The net effect is a level of self-sufficiency seldom associated with long distance bicycle touring.
And it's working beautifully. The fantasy that I nurtured for months has become a reality: I live on the bike and am, in the traditional view, homeless. I'm also getting more work done than I ever did in my life of suburban bliss—something that can be attributed to a healthy, energetic lifestyle along with an efficient support system and the relative lack of distractions on "work days."
Among the more enjoyable work days were those spent at the Hostel in the Forest, located in Brunswick, Georgia. I arrived with the intent of stopping overnight and pressing on for Jacksonville. But this hostel isn't the kind of place where you can spend just one night. Those who do are either missing something or are in a mighty serious hurry, for the Hostel in the Forest lays a gentle hand on your shoulder and bids you stay and relax.
Perhaps it's the twin domes, one a community building and the other a dormitory; perhaps it's the treehouse, a lofty bedroom that sways slightly in the breeze and treats the early riser to an unparalleled forest sunrise. Or maybe it's the quiet, the clear sky, or the pond. Or Leroy and the other goofy chickens. It's all of this, I think—but it's mostly the people, people on journeys instead of trips.
I sat writing by the fire one night. my feet propped up on a coffee table, the Model 100 portable computer on my lap. Work was getting done slowly and with a refreshing languor. Sean, the Australian manager, spoke:
"Tea, mate?"
"That would be fine, yes," answered one of the three German Thomases, and I nodded as well. Thomas is a classical music buff, a teacher back home. But now he travels the U.S. on the proceeds of an occasional profitable car deal. "In my garage stands a Mercedes," he explained in careful English. "It must change its owner next year." A single import can net $6-7,000— enough to support months of hosteling and touring in this endless land.
Headlights appeared through the trees, winding slowly along the bumpy road that links this small cluster of buildings with the outside world. A few minutes later, a middle-aged couple appeared at the door. "Do you accept late-night drop-ins?" they asked pleasantly.
Before long, they had joined us in the main dome, bringing a plate of cheese and homemade bread to the table. We talked without hesitation—I related the tale of tracking down my biological parents and meeting newfound kin; they spoke of international bloodlines; Thomas the German attorney and Thomas the German teacher swapped tales of their adventures. Sean and George threw darts, and the fire crackled into the night.
The beauty of all this lies not in luxury. At the Whitehall in Chicago, for a mere $130 a night, you can have not one, but two chocolate mints on your pillow—and a nifty little linen cover on the lemon for your morning tea. Here at a hostel, you make your own bed, tolerate whatever temperature the night offers, and help with the morning chores. But a night here is a night in a community; a night there is solitary luxury. The choice is so easy…