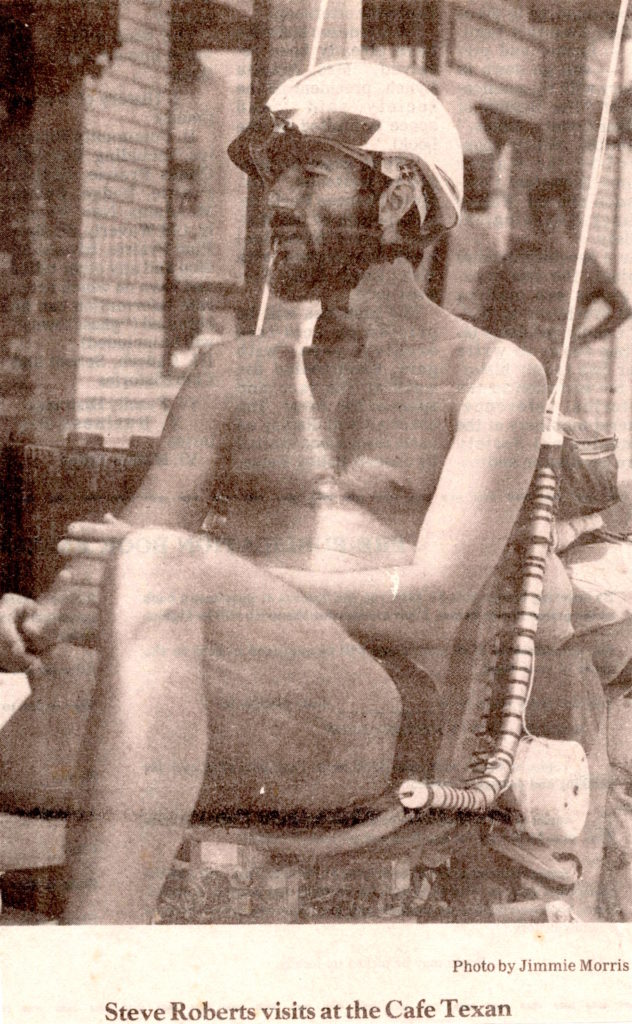 Lunch Break in Huntsville
This article dovetails with the CBS Morning News piece… I pedaled the Winnebiko into Huntsville on May 24, 1984 with a film crew in tow. Sadly, I am missing the continuation of the text, but the photos by Jimmie Morris are excellent. (I especially love the one above, with that enigmatic figure in the background. Very evocative…)
by Tony Pilkington
Huntsville Times
May 25, 1984
Steve Roberts, a freelance writer and novelist who has been traveling cross country on a custom-built bicycle, passed through Huntsville Thursday afternoon and stopped at the Cafe Texan for a meal break.
A camera crew for CBS accompanied Roberts — they have been following him, filming a segment that will air next week on CBS Morning News.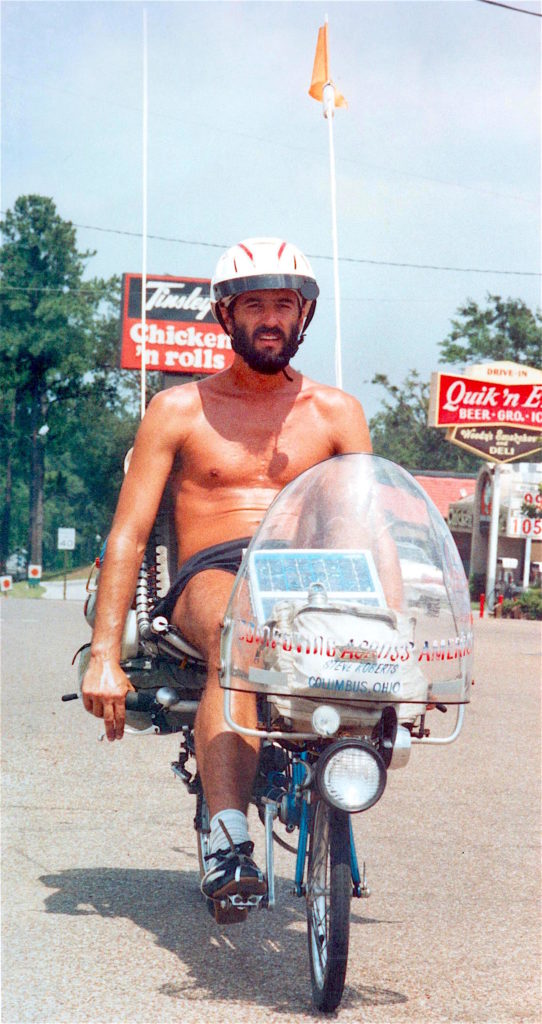 Roberts is riding and writing his way across the United States on a custom-built bicycle equipped with solar-powered computers.
He is trying to prove that a person can make a living as a writer without being confined to an office.
Wednesday night marked the half-way point of his journey as he passed the 5,000-mile mark of a planned 10,000.
"I've been doing it for about eight months. I started on September 28 in Columbus, Ohio," the 31-year-old writer said.
The bicycle is equipped with a small solar panel that powers a tape cassette and Radio Shack Model 100 portable word processor and computer. Besides allow ing him to write while he is "on the road," the computer monitors his speed and distance.
"I ran into a lot of skepticism at first, but more envy than anything else," Roberts said.
He writes by dictating into a cassette recorder as he rides. He then types his recordings into his computer and by use of local pay telephones, he ties his computer into a network of databases and electronically sends his writings to his secretary in Columbus.
"I write about the different kinds of people I meet," he said. "People are friendly everywhere I go. When I was going through Mobile, Alabama, I was stopped by a state trooper. He was a skinny version of Burt Reynolds," he said, laughing. "All he wanted was my autograph. I fell in love with Louisiana and I expected it to be unfriendly."
Since starting his travels, Roberts said he has written around 25 articles and is working on a book about his adventures entitled "Computing Across America."
"A high-tech bicycle odyssey," he added.
One of Roberts' latest achievements was an offer by the newspaper USA Today to write a biweekly column about the tales of the people he meets on the road and about the strange ways these people use computers.
Roberts said he usually travels at around 15 mph. "I got up to 42 miles per hour once when I was coming down a mountain," he said.
His bike is also equipped with…. [alas, the continuation page of this article was lost]