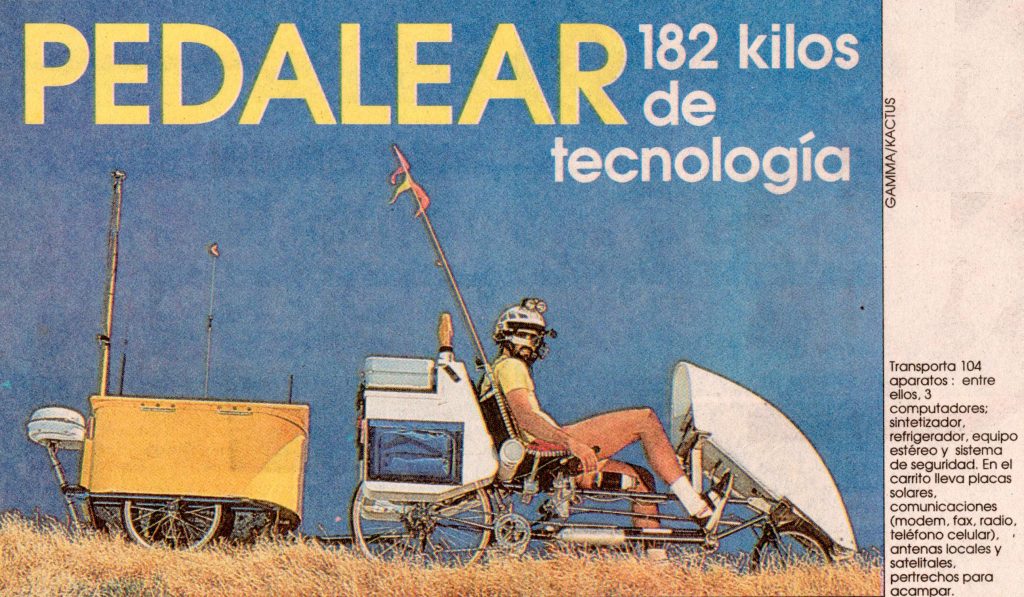 Pedalear in El Mercurio – Chile
This piece in El Mercurio (Santiago, Chile) appeared during the year between BEHEMOTH launch and the start of the Microship project. I am grateful to my friend Barbara Murtaugh for translating the text to English.
Pedaling 182 Kilograms of Technology
by Hernán Valdés
El Mercurio, Santiago edition 
September, 1992

Steve Roberts could participate in La Vuelta Ciclista de Chile, but he would be the only one pedaling a "robot" bicycle.
This American engineer transformed the classic vehicle of two wheels and installed on it three computers, a solar energy panel, and satellite communications. He says its total cost was $1 million. He pedals 182 kilograms of weight, thanks to the 105-gear transmission.
So while he might not have any competitors, Roberts is well-connected when he rides. According to him, in July, he toured the whole state of Iowa and has traveled more than 26,000 kilometers on his BEHEMOTH, which is a clever English acronym for Human-Engineered Electronic Machine That's Just Too Heavy.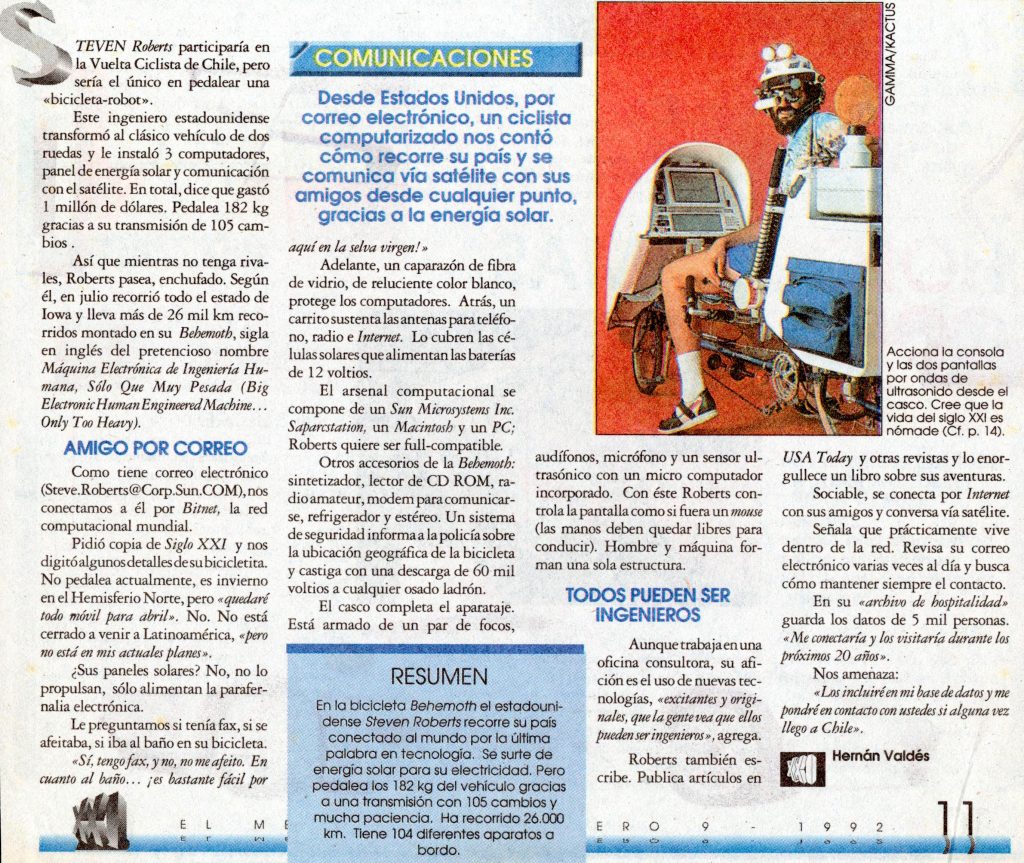 Email Friend
Since he has an email address, we connected with him via Bitnet, the world computer network.
He asked for a copy of 21st Century, and he typed some details about his bicycle for us. He's not riding currently because it's winter in the Northern Hemisphere, but "I will go mobile in April." "I haven't ruled out going to Latin America, but it's not in my current plans."
His solar panels? No, they don't propel, they only supply power to the electronic paraphernalia.
We asked him if he had a fax machine, if he shaved, and if he went to the bathroom on his bicycle.
"Yes, I have a fax machine, and no, I don't shave. As far as going to the bathroom, it's pretty easy here in these woods!"
Up front, a shiny white fiberglass shell protects the computers. In the back, a small cart holds the antennas for telephone, radio, and internet. They are covered by the solar cells that feed that 12-volt batteries.
The arsenal of computers consists of a Sun Micro SPARCstation, a Mac and a PC; Roberts wants to be fully compatible.
Other BEHEMOTH accessories: a synthesizer, a CD-ROM drive, ham radio, a modem for communications, a refrigerator, and a stereo. A security system calls the police with the geographical location of the bike and punishes anyone who tries to steal the bike with a charge of 60,000 volts.
The helmet is equipped with a pair of headlights, headphones, a microphone, and an ultrasonic sensor with a microcomputer. With this, Roberts controls the screen as if it were a mouse (the hands must stay free for riding). Man and machine form a single structure.
Anyone Can Be an Engineer
Although he works as a consultant, his passion is using new technology, "exciting and original, so people see they can be engineers," he adds.
Roberts also writes. He publishes articles in USA Today and other periodicals and is writing a book about his adventures.
A sociable guy, he connects with friends on the internet and talks with them via satellite.
He says he practically lives on the internet. He checks his email several times a day and looks for ways to stay in contact.
In his hospitality file, he has contact info for about 5,000 people. "They could contact me and I could visit them in the next 20 years."
He threatens, "I will put you in my database, and I will contact you if I ever come to Chile."
---
In the bicycle BEHEMOTH, American Steve Roberts tours his country while connected to the world through the last word in technology. He uses solar energy for electricity. But he pedals the 182 kilograms of the vehicle thanks to a 105-gear transmission and lots of patience. He has ridden 26,000 km on the bike. He has 104 different devices on board.
You must log in to post a comment.