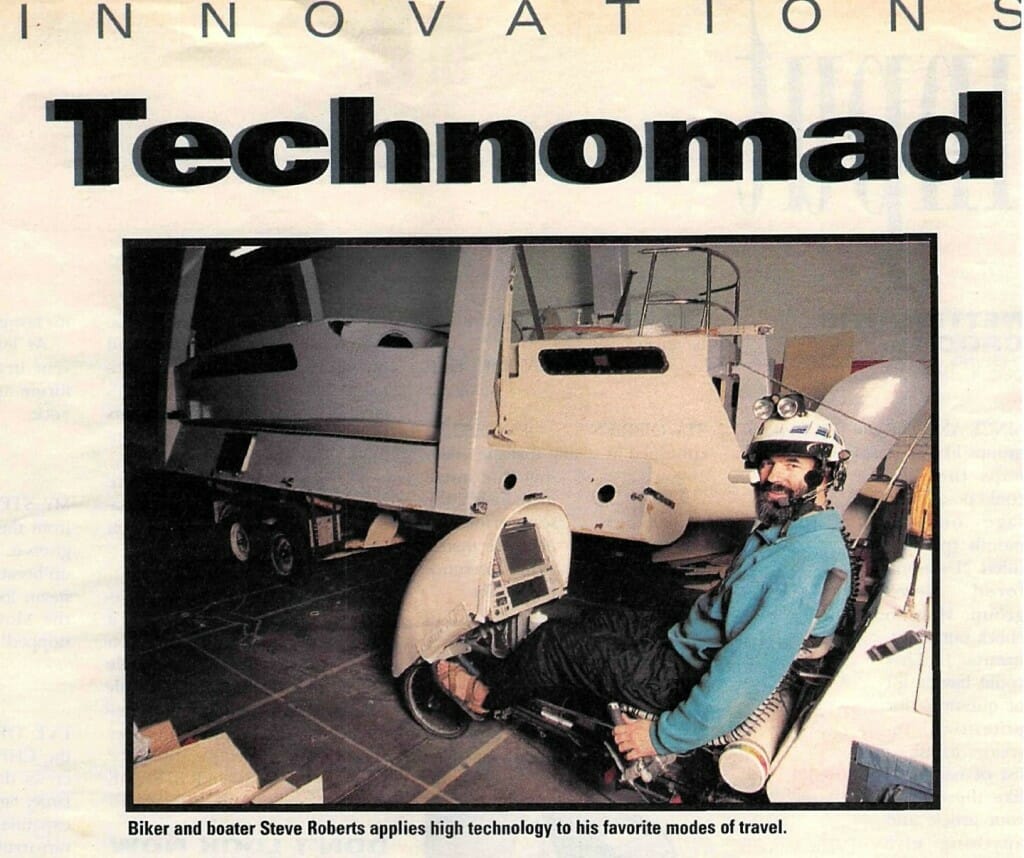 Technomad – San Jose Mercury News West magazine
This is one of very few published photos of Hogfish, the 30-foot folding trimaran that was built before the Corsair F-27 by John Walton (yes, THAT John Walton) and Mike Michie. I bought it for a song in Los Angeles, trailered it to my Apple-sponsored lab in Silicon Valley, and built the Microship project around this new platform… but in May of 1997 decided to return to tiny boatlets. In this photo, you can see some of the taped gridwork on the floor that we used to extract the lines and build a CAD model. Eventually I sold this boat to a sweet couple who renamed her Pelican, finished the rigging, and went sailing. What a concept…
Innovations – Technomad
by Bob Frost
San Jose Mercury News
WEST Magazine
December 29, 1996
Biker and boater Steve Roberts applies
high technology to his favorite modes of travel
STEVE ROBERTS spent almost four years traveling America on his high-tech bicycle, which featured solar panels and built-in computers. Now, in a lab in Santa Clara, he's building a high-tech boat that may become his permanent home on the high seas.
Roberts, 44, and a crew of volunteers are customizing a 30-foot multihull sailboat named "Microship." Their work is sponsored by Apple, Adobe and other companies. When the vessel is finished, perhaps in late 1997, it will be loaded with electronics and technical engineering worth hundreds of thousands of dollars — all to support one man's relentless quest for freedom and meaning.
Roberts grew up in Louisville, Ky., with a passion for science and technology. He won a national science fair at age 16, and in 1973, at age 20, built a home computer. "But about the time I hit 30," he says, "I realized I had lost that love. I was bogged down in house payments and boring work."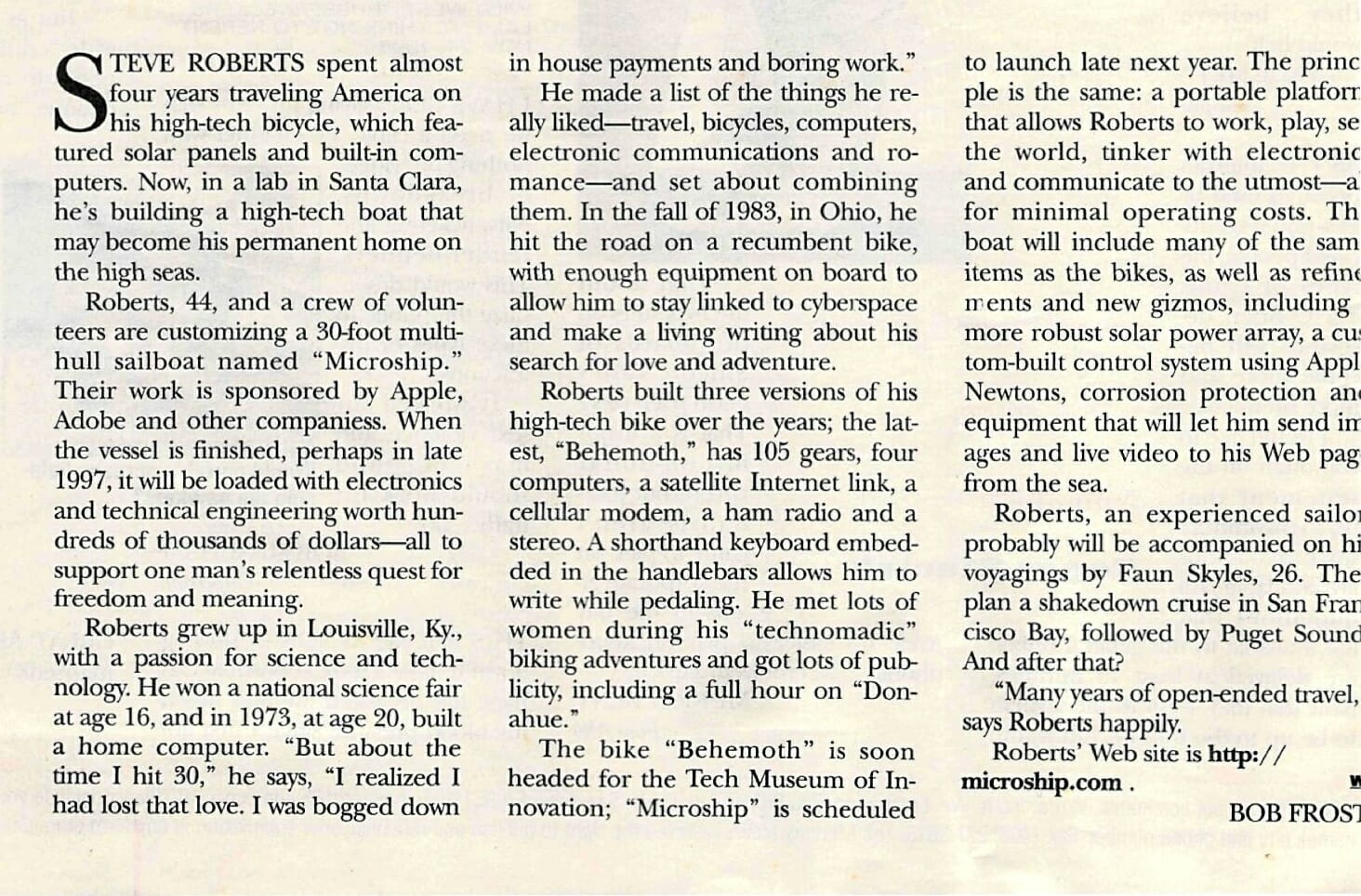 He made a list of the things he really liked — travel, bicycles, computers, electronic communications, and romance — and set about combining them. In the fall of 1983, in Ohio, he hit the road on a recumbent bike, with enough equipment on board to allow him to stay linked to cyberspace and make a living writing about his search for love and adventure.
Roberts built three versions of his high-tech bike over the years; the latest, "Behemoth," has 105 gears, four computers, a satellite Internet link, a cellular modem, a ham radio and a stereo. A shorthand keyboard embedded in the handlebars allows him to write while pedaling. He met lots of women during his "technomadic" biking adventures and got lots of publicity, including a full hour on Donahue.
The bike "Behemoth" is soon headed for the Tech Museum of Innovation (actually it went to the Computer History Museum); "Microship" is scheduled to launch late next year. The principle is the same: a portable platform that allows Roberts to work, play, see the world, tinker with electronics and communicate to the utmost — all for minimal operating costs. The boat will include many of the same items as the bikes, as well as refinements and new gizmos, including more robust solar power array, a custom-built control system using Apple Newtons, corrosion protection and equipment that will let him send images and live video to his Web page from the sea.
Roberts, an experienced sailor, probably will be accompanied on his voyagings by Faun Skyles, 26. They plan a shakedown cruise in San Francisco Bay, followed by Puget Sound. And after that?
"Many years of open-ended travel," says Roberts happily.
Roberts' Web site is https://microship.com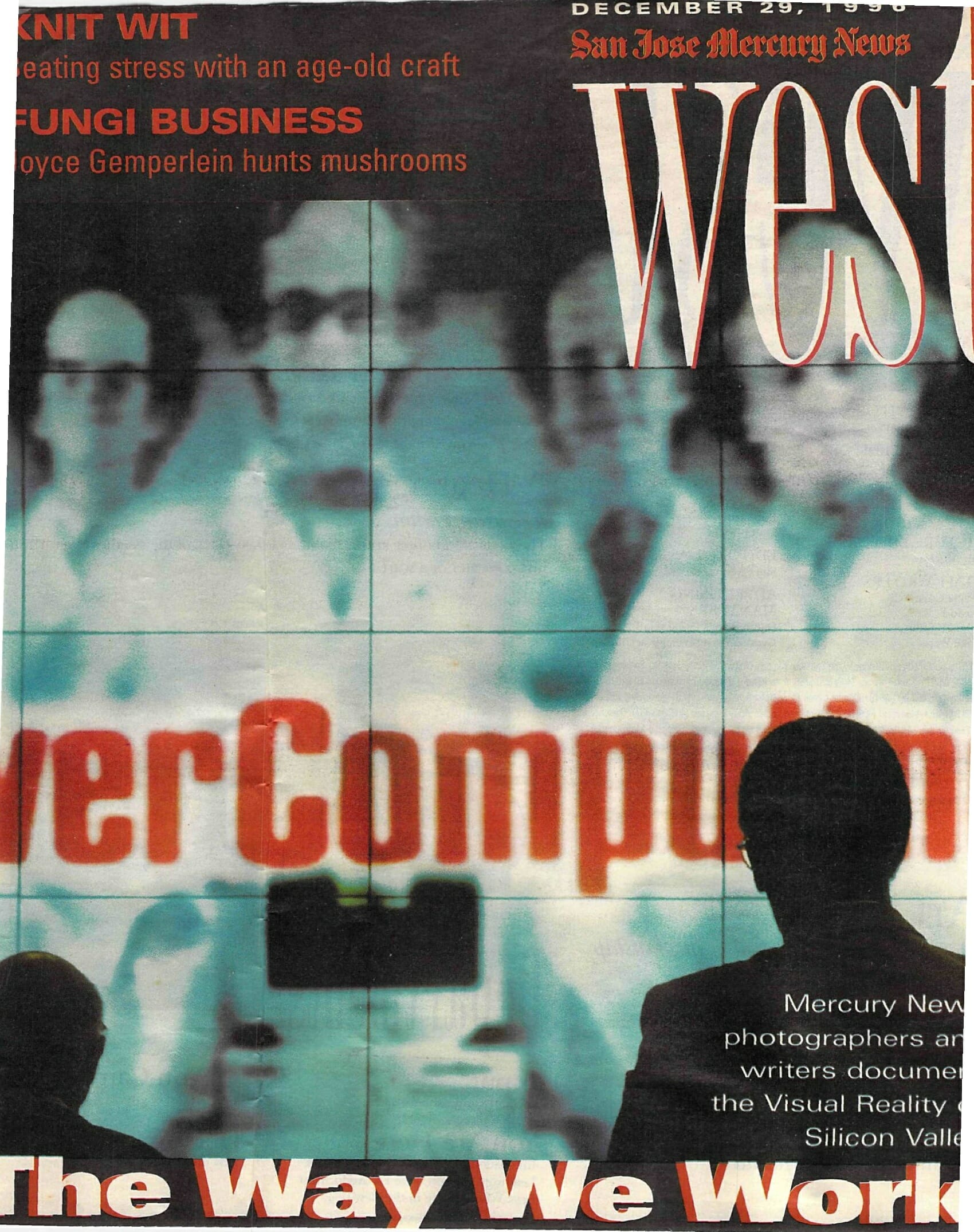 You must log in to post a comment.