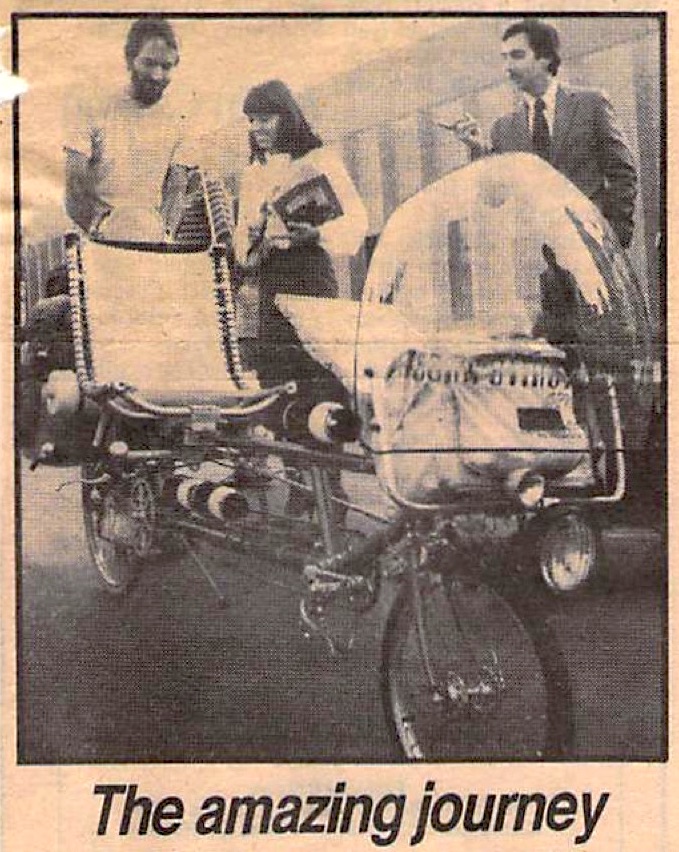 One of the home-town papers in Dublin, Ohio published this little photo-caption just after I pedaled the Winnebiko away from my home of four years. The image was from the send-off on September 28 in the CompuServe parking lot. In the image, I was demonstrating the Radio Shack Model 100 laptop that would become my link with the network.


Free-lance writer Steven Roberts, left, recently boarded his computer-equipped recumbent bicycle and left Columbus on a rather unique Journey. Roberts, a Dublin Road resident, hopes to prove that computers are versatile and light enough that they can be taken — and put to use — just about anywhere. To prove his point, he plans to make a year-long, 14,000-mile loop around the United States on the bike. Along the way, he will write and store articles in his computer which he will send back to his editor/manager in Columbus via the CompuServe network. Roberts plans to complete two books and numerous magazine articles while on the road.
---
This next one was in the scrapbook with no date or publication name, so I'm throwing it here… looks like it ran sometime earlier while I was preparing for the adventure.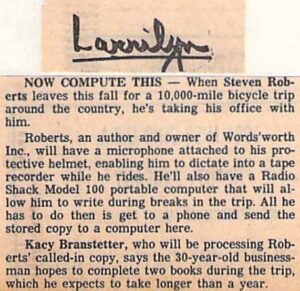 NOW COMPUTE THIS — When Steven Roberts leaves this fall for a 10,000-mile bicycle trip around the country, he's taking his office with him.
Roberts, an author and owner of Words'worth Inc., will have a microphone attached to his protective helmet, enabling him to dictate into a tape recorder while he rides. He'll also have a Radio Shack Model 100 portable computer that will allow him to write during breaks in the trip. All he has to do then is get to a phone and send the stored copy to a computer here.
Kacy Branstetter, who will be processing Roberts' called-in copy, says the 30-year-old businessman hopes to complete two books during the trip, which he expects to take longer than a year.