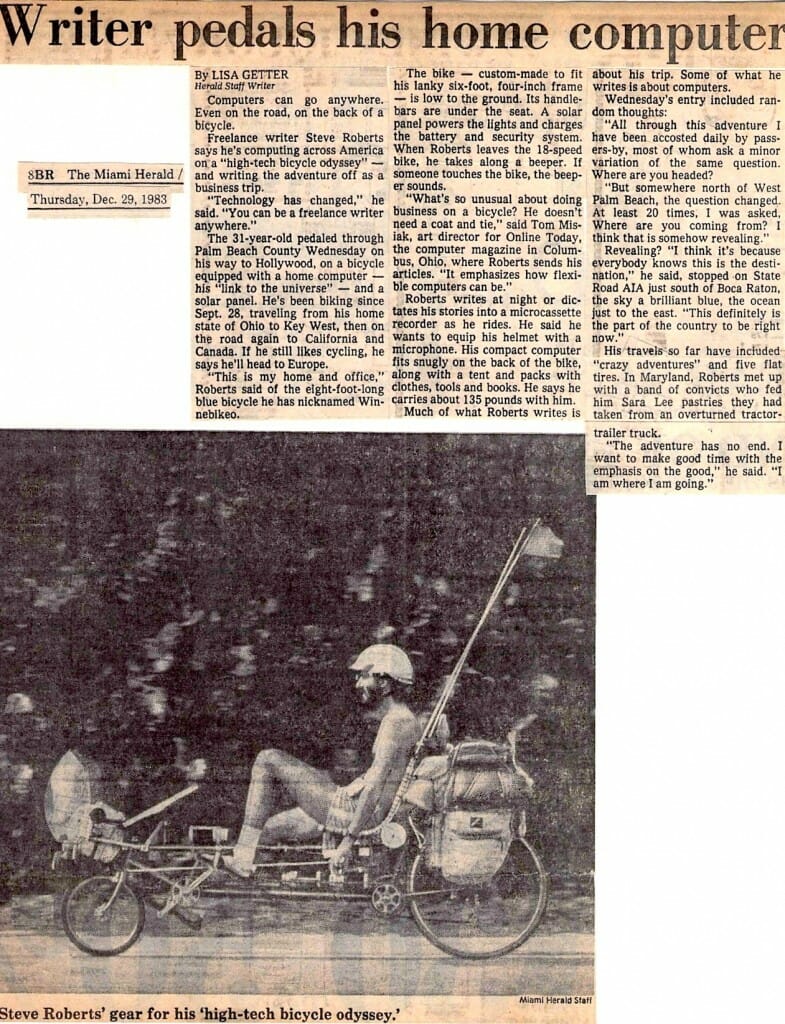 Writer pedals his home computer – Miami Herald
New Year's Day, 1983, saw me making what I described in the book as a death-defying plunge into Miami… I was afraid of the city, but it turned out to be friendly and welcoming, with lots of pleasant on-the-road encounters. One guy stopped me on the road and handed me a copy of this article with a pen clipped to it for my autograph. I was getting in the groove, now 3 months along since making my escape from Suburbia.
by Lisa Getter
The Miami Herald
December 29, 1983
Computers can go anywhere. Even on the road, on the back of a bicycle.
Freelance writer Steve Roberts says he's computing across America on a "high-tech bicycle odyssey" and writing the adventure off as a business trip.
"Technology has changed," he said. "You can be a freelance writer anywhere."
The 31-year-old pedaled through Palm Beach County Wednesday on his way to Hollywood, on a bicycle equipped with a home computer — his "link to the universe" — and a solar panel. He's been biking since Sept. 28, traveling from his home state of Ohio to Key West, then on the road again to California and Canada. If he still likes cycling, he says he'll head to Europe.
"This is my home and office," Roberts said of the eight-foot-long blue bicycle he has nicknamed Winnebiko.
The bike — custom-made to fit his lanky six-foot, four-inch frame — is low to the ground. Its handlebars are under the seat. A solar panel powers the lights and charges the battery and security system. When Roberts leaves the 18-speed bike, he takes along a beeper. If someone touches the bike, the beeper sounds.
"What's so unusual about doing business on a bicycle? He doesn't need a coat and tie," said Tom Misiak, art director for Online Today, the computer magazine in Columbus, Ohio, where Roberts sends his articles. "It emphasizes how flexible computers can be."
Roberts writes at night or dictates his stories into a microcassette recorder as he rides. He said he wants to equip his helmet with a microphone. His compact computer fits snugly on the back of the bike, along with a tent and packs with clothes, tools and books. He says he carries about 135 pounds with him.
Much of what Roberts writes is about his trip. Some of what he writes is about computers. Wednesday's entry included random thoughts:
"All through this adventure I have been accosted daily by passers-by, most of whom ask a minor variation of the same question. Where are you headed?
"But somewhere north of West Palm Beach, the question changed. At least 20 times, I was asked, Where are you coming from? I think that is somehow revealing."
Revealing? "I think it's because everybody knows this is the destination," he said, stopped on State Road A1A just south of Boca Raton, the sky a brilliant blue, the ocean just to the east. "This definitely is the part of the country to be right now."
His travels so far have included "crazy adventures" and five flat tires. In Maryland, Roberts met up with a band of convicts who fed him Sara Lee pastries they had taken from an overturned tractor-trailer truck.
"The adventure has no end. I want to make good time with the emphasis on the good," he said. "I am where I am going."