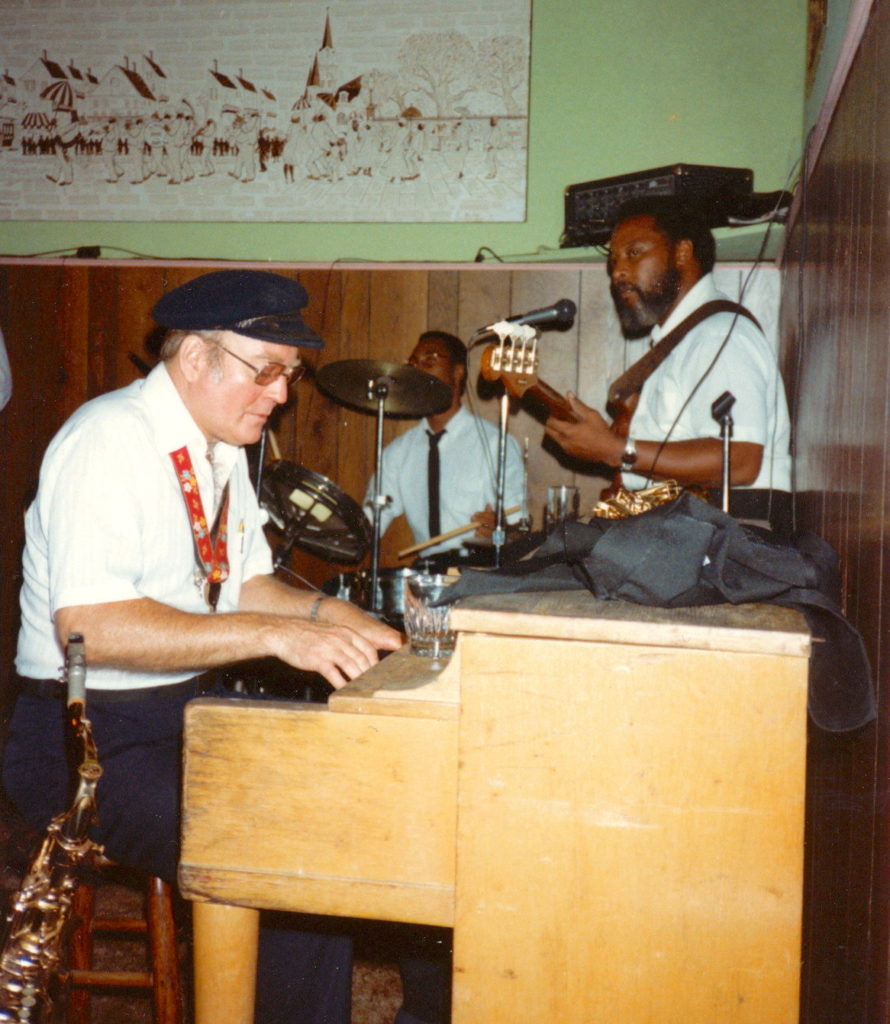 This is a short excerpt from a chapter in Computing Across America called "A Nomad on Sabbatical." My Louisiana trek had brought me to Hammond, and I immediately met some interesting folks and settled in for a while… a much-needed layover to rest, write, and frolic with friends. New Orleans was just down the road, tempting me… so I left the bike with my host, hopped on a Greyhound bus, and landed in the French Quarter for a week-long rendezvous with Monique, a woman I had met on a Key West beach in January. The full book chapter covers a much more complex narrative, but I am fond of this unexpected moment of connection with Bill Kelsey, playing with the Paddock Jazz Band in a small bar on Friday night:
©1984 by Steven K. Roberts
New Orleans
(excerpt from Computing Across America)
April 27, 1984
Seeking food, we strolled a side street and found ourselves drawn irresistibly into an evocative oasis, as a spirited old man with an alto sax wove delicately intertwined syllables of profound musical insight. He glowed with an inner flame and flooded the bar with a wash of searing sound while the other three members of the Paddock Jazz Band tossed the theme among them as only long-established partners can. We stumbled to a table and absently paid seven dollars for two beers as potent notes shook us, soft notes stroked us, and tiny vibrating ones fluttered over our bodies to tease us with their touch.
I was rapt, awed, humbled. The sound wound through the room and echoed down the street, touching certain passers-by and pulling them in while others merely twitched, sensing something, and hurried along. But no one hearing the sound could remain unmoved. A few random denizens of the night, too poor to buy drinks inside, lurked in the doorway — a small pool of ragtag humanity standing silent, eyes respectfully downcast.
The sound. It knifed cleanly and bloodlessly through the crisp style of the cat across the room, stinging his heart and stopping his jive. It snaked through sordid alleys, spooking the real cats and returning vague echoes of exquisite loneliness. It was the sound of a human soul, exposed and pulsing, at once irresistible and embarrassingly intimate.
A lean scatterbreed hound with cocked ears stopped at the door, looked in, and stifled a commiserating bark.
I gazed across the table at my friend: trapped in the spell, breathing rapidly, she stared at the dancing reflections in the bell of the sax. She was captivated, wrapped in the music's arms, aroused by the deep sensuality of Bill Kelsey's expression. Then I turned to study this glowing old man… the spark was in his eyes.
When the last set ended and the glasses were being put away, when people were drifting back into the night and Monique went off to the bathroom, he picked up a clarinet. There was still something he had to say. Our eyes locked, and he launched into a wordless musical explanation of all that can't be said — the inner magic that inspires whole religions. The music lay far outside the realm of keys and idiom, and the light in his face was unmistakable.
I swallowed hard and he stopped with a brief obligatory tonic, hardly bothering to find and satisfy the harmonic tension. The absence of music was eerie; glasses clinking at the bar seemed surreal, amplified.
"You… you move me," I croaked, shivering. I knew he knew what I meant.
With a peaceful smile and a soft laugh he replied, "Of course, it doesn't come from me. You know where it comes from."
My eyes widened as my suspicion was confirmed. I felt like I was tripping."Yes… I do…"
There in his eyes was I. "Krishna," he said, beginning to wipe the instrument.
I blinked, startled. What? Krishna? "Then… it's… it's the same spark, isn't it?"
He paused for a moment and looked at me closely, then slowly nodded and drew the cloth through the body of the worn clarinet. Behind him stood Irving Charles, the mellow bassman, a cigarette dangling between the littlest fingers of his plucking hand. Monique was walking sexily toward us from the bathroom, and the moment of undiluted recognition was quickly passing.
"Phew," said Bill Kelsey.
"Phew," I replied. It was a cosmic slap, an event that shocks the vignetting from inner vision.
There wasn't much we could add. The only small talk we managed was that he had started playing when he was five. I mumbled something incomprehensible about a bicycle trip and was suddenly back on the street, feeling high and beyond words.
You must log in to post a comment.