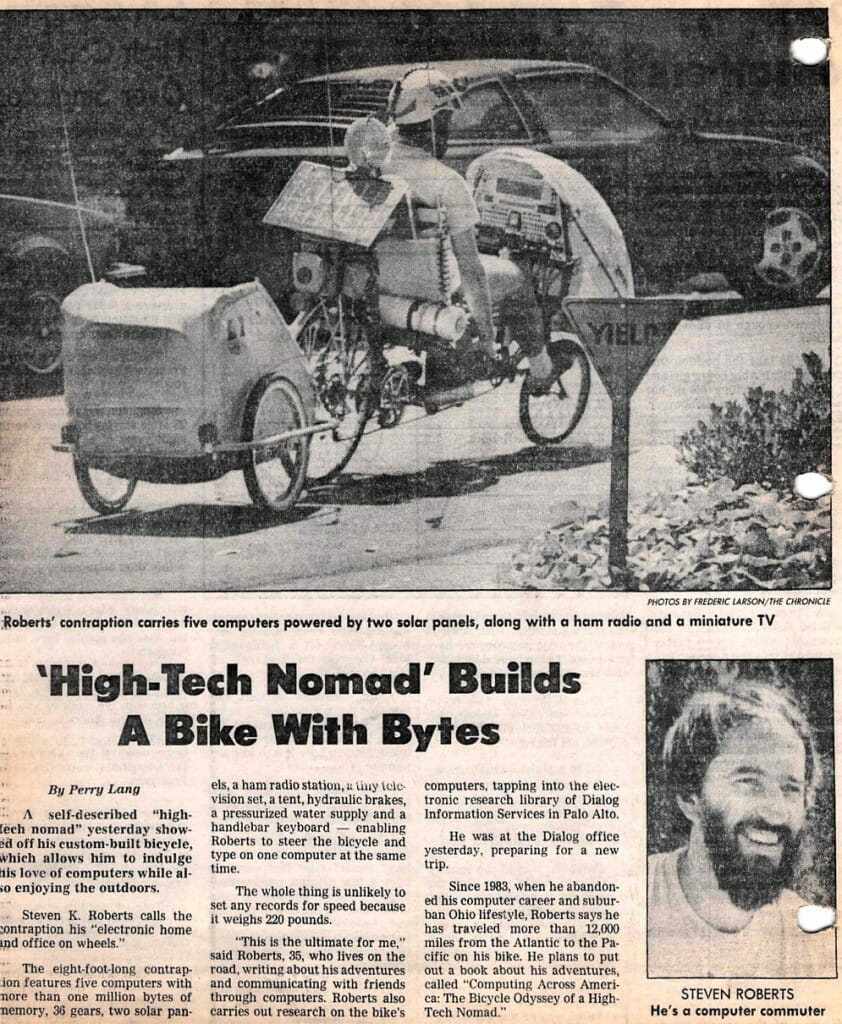 High-Tech Nomad Builds a Bike with Bytes – SF Chronicle
This interview happened when I was visiting Dialog, a huge online database vendor that used to be a key part of my freelance business (before the bicycle expedition, I was an occasional "information broker," doing research for clients). I spent a few months in Silicon Valley, with occasional flurries of media coverage.
by Perry Lang
San Francisco Chronicle
May 12, 1987
A self-described "high-tech nomad" yesterday showed off his custom-built bicycle, which allows him to indulge his love of computers while also enjoying the outdoors.
Steven K. Roberts calls the contraption his "electronic home and office on wheels."
The eight-foot-long contraption features five computers with more than one million bytes of memory, 36 gears, two solar panels, a ham radio station, a tiny television set, a tent, hydraulic brakes, a pressurized water supply and a handlebar keyboard — enabling Roberts to steer the bicycle and type on one computer at the same time.
The whole thing is unlikely to set any records for speed because it weighs 220 pounds.
"This is the ultimate for me," said Roberts, 35, who lives on the road, writing about his adventures and communicating with friends through computers. Roberts also carries out research on the bike's computers, tapping into the electronic research library of Dialog Information Services in Palo Alto.
He was at the Dialog office yesterday, preparing for a new trip.
Since 1983, when he abandoned his computer career and suburban Ohio lifestyle, Roberts says he has traveled more than 12,000 miles from the Atlantic to the Pacific on his bike. He plans to put out a book about his adventures, called Computing Across America: The Bicycle Odyssey of a High-Tech Nomad.