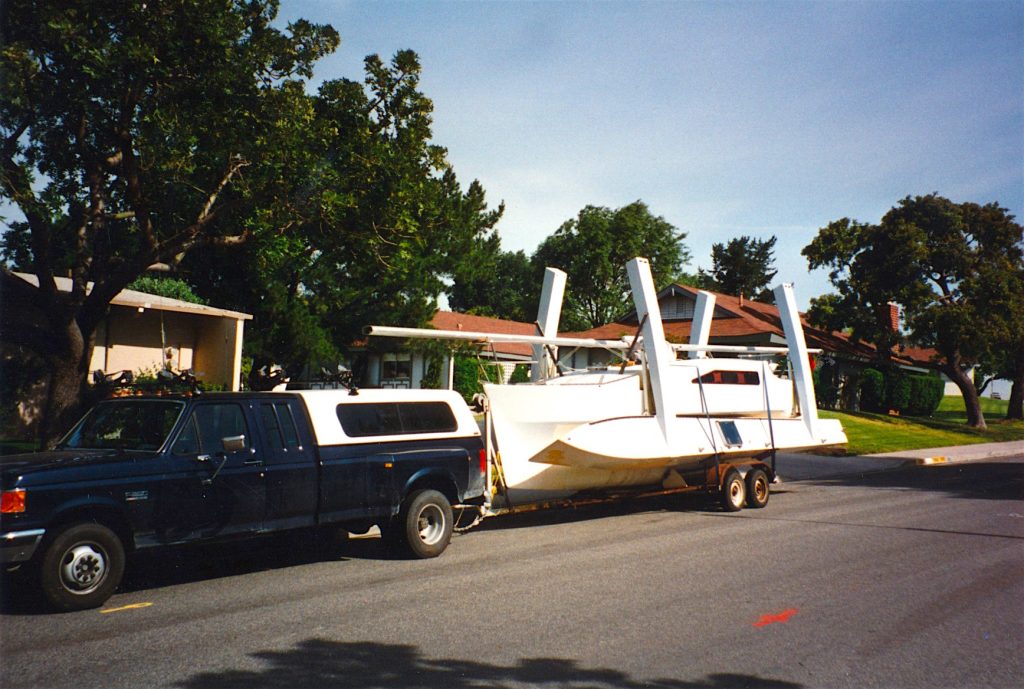 This was the beginning of "Phase 3" of the Microship project. This was kind of insane, but an amazing opportunity presented itself and I couldn't resist. We luck into a great deal on a piece of multihull history, a folding 30-footer that predates the Corsair F-31 (though it's a bare hull). We zoom to Seattle to swap the Libra kayaks for a pair of rotomolded Storms, and the turret and manpack are becoming successful student projects. Digital Ocean, Digital Vision, and Yakima join the sponsor roster.
by Steven K. Roberts
Microship Status Report #85
San Diego, California
April 9, 1995
* News Flash! * We Have A Boat! *
The physical shape of the project has just been defined, and we no longer have to consider the grim prospect of boatbuilding! I just wrote a modest check as payment in full for a rather unusual trimaran…
The boat, affectionately and informally known as Hogfish by its former owner, was built about a decade ago by John Walton (son of Sam Walton and long-time president of Corsair Marine). It was essentially the prototype of the F/31 trimaran, and incorporates an approximate clone of Ian Farrier's four-bar folding system. The length is about 30 feet, deployed beam is 22 feet, and empty weight is 3,000 pounds. Construction is S-Glass epoxy over foam core, and the crossbeams are carbon-fiber box sections. She comes equipped with kick-up rudder, tiller, centerboard, bow and stern pulpits, rusty trailer, mainsheet traveler, and a 40-foot aluminum mast… but no deck rigging and virtually no interior. We have our work cut out for us, but this is a HUGE step forward!
The nice thing about this is that it eliminates the massive time commitment of trying to build, yet is vastly cheaper than buying a ready-to-sail trimaran. In other words, we scored — the critical substrate is already done, and we don't have to hack finished work to support the custom additions that will turn this into the Microship… or LEVIATHAN, which is again a tempting name now that we've reached yacht-scale.
A netfriend from Canada, Paul Picot, just arrived today for a visit, and we're taking off for Marina del Rey tomorrow to trailer the ship to San Diego — initially to be stored in a local storage yard until we establish a new lab. You'll be hearing a lot more about this in the months ahead.
For now, since we're in catch-up mode, a quick overview description will have to suffice. The boat has an aft cabin — a huge plus, since it provides a dedicated space for the lab/office/computer/comm center. Under the spacious center cockpit is a small engine room, and forward is the main cabin. It's a bit odd as cabins go — a huge centerboard trunk eats space, and all the tankage is glassed in around its base. Forward of the mast-support arch is a forepeak where we'll probably put the head, and the bed will mode-change to form a dinette that coexists with the galley. Bear in mind that this is a folding tri, and there is considerable hull flare that yields both a fine waterline shape and a cramped interior.
Outside, of course, she's huge. There's about 15 feet between the crossbeams, so much that I'm worried about the stiffness of the folding solar array unless we find a new way to do it (I'm even considering tiling the deck and crossbeams, but I worry about the loss of non-skid surface). The amas have access hatches, and will probably host the kayaks (delightful new Current Designs "Storms" — more on those in a moment). Originally, the boat was built with an innovative freestanding wing mast, but that's an invitation to structural disaster on a boat with many tons of positive righting moment… so we're using a conventional stayed rig that can be stepped on-water using one of the winches. There's a convenient anchor locker in the deck, as well as under-seat stowage in the cockpit.
I've discussed this boat with Ian Farrier and John Marples, both well-known multihull designers, and the only cautionary note has concerned the excessive dihedral — yielding a tendency to rock between the amas when at anchor. We don't know the PPI (pounds per inch immersion) spec yet, but I suspect that the problem will be considerably eased with our full electronics and touring load — it's only been tested empty.
Anyway, more as this develops, but the good news is that the quest for a substrate is at last over. Here she parked next to the Fulmar:
Seattle Tour Report
Since my last update, Faun and I have done another one of those 3,000-mile marathon drives (bringing our total in this 9-month relationship to roughly 14,000… over 50 miles a day). This time, it began with a 4-day filming with the French TF-1 television network — a half-hour documentary will air in Europe around the end of this month. We did get in a good Microship interview and some lab footage, but the star, as usual, was the bike — including a brutal 30-degree rain/snow ride in Joshua Tree National Monument and some amusing human encounters in Palm Springs and Lake Elsinore.
Once that was over, Faun and I zoomed north in the Mothership with the Libra double kayaks nestled in their lovely new Yakima racks, dropped the bike trailer (the 20-foot Wells Cargo) at Alan Selfridge's house in the Santa Cruz mountains, and continued north to Ferndale, Washington — just south of Canada. Here, we swapped the big boats for the new rotomolded Storm singles… absolutely the sweetest plastic kayaks I've ever tried. We spent a few hours kayaking around the north side of Bainbridge Island, picked up the Fulmar trimaran from its storage spot in Port Orchard, and couch-circuited our way south… stopping to spend a day kayaking and sailing with Greg Jacobs on Black Butte Lake. From there we dropped in on Faun's mom to make a household-goods raid, recovered the bike from the mountains, did a speaking gig at IBM Santa Theresa Labs, hung out with Dave Berkstresser for an evening, then borrowed his Volvo to convoy back to San Diego with both trailers… stopping enroute in Marina del Rey to buy a 30-foot trimaran.
And it's good to be back to the land of powerful espresso and eager students!
Student Projects, Old & New
Yes, the student projects continue to be a big part of all this. First, you might enjoy the following brief vignette, saved from an email exchange with the turret team a few weeks ago:
Steve Roberts: "What's the startup procedure for the video turret? We managed to load the board and run INIT from HyperTalk, which reset the turret position, but all other commands crashed… Some trick phrase I need to type to launch the multitasker? XYZZY?"
Nathan Parker: "But if we told you then we'd have no job security! Ok, here's the trick to get it to work: You have to wrap the power cord around your thumb three times so that it will pick up the RF transmissions from the secret dongle Alex has imbedded in his skull, and then put a drop of my blood between pins 24 and 25 of the HC11 where it will slowly vaporize while the A/D converter reads its conductivity and matches it against my daily blood-ion-count cycles. Or you could just download the correct file. I forget which one…"
Last quarter yielded astonishing results. The ECE-190B program was a smashing success, with a finished turret control system complete with HyperTalk front end, a full set of well-documented tools and interface hooks for the manpacks, extensive progress on enclosure pressure monitoring, and new communication tools for the Hub. Thanks to all who participated! Some were so good that I wish I could flunk them… just to have them around again next quarter…
I'm just beginning to meet the new crew, and so far it looks like we have two mechanical engineering teams of two people each, as well as about 6-8 electrical engineers. The mechanical projects are the folding solar array and ultralight sealed manpack packaging; the electricals will probably involve reverse engineering and control of Sony DAT and 8mm video systems, solar performance monitoring, and further refinement of the data collection and communication tools. Pieces are coming together… it's actually conceivable that within a few months some of this FORTH code will be ROMable and we can turn our attention more to the front-end HyperTalk and equipment packaging.
Sponsor and News Updates
Finally, I'd like to thank our new sponsors!
Digital Ocean has shipped three of their Groupers — elegant wireless AppleTalk nodes that will allow the two manpack Macs to coexist transparently on the same network with the two shipboard Macs. This is a critical component in our overall control and file-management scheme, and will go a long way toward achieving a seamless work environment that migrates from ship to kayak to land with minimal disruption.
Digital Vision is providing a SCSI frame grabber that will live in the main Mac and appear as a node on the video crossbar — allowing any video source to be inhaled and converted to a publishable image. Our first demo of the wireless manpack, in fact, will use both this and a pair of Groupers to allow an ambulatory PowerBook user to control the video turret from a tool within Netscape, aim the camera at some part of the lab, and see an interlaced GIF appear on the LCD.
Yakima quite amazed me a couple of weeks ago by swiftly solving our kayak-portaging needs — with only two days elapsing between initial phone contact and Fed-Ex shipment of a full system for carrying two boats on the diesel truck. The racks went together easily and logically, and passed the brutal test of 3,000 miles and lots of on-off cycles.
Finally, my father, Ed Roberts, has just made a donation to help support the rigging and outfitting of the new boat. While we are by no means fully "bankrolled," this significantly reduces the impact of the myriad hardware needs for which we are unlikely to obtain sponsorship. You know what BOAT stands for… "Break Out Another Thousand"…
In a future issue, I'll recap the full sponsor list with a brief summary of each — the foregoing are just the latest. Our deep thanks go to everyone who helps make this possible!
With that, we bring this issue to a close — tomorrow I meet with all the new student teams, then take off for Los Angeles with Paul (who has just finished assembling a light bar while I've been writing this, allowing us to legally haul that rustbucket unlit trailer down the freeway!).
You must log in to post a comment.