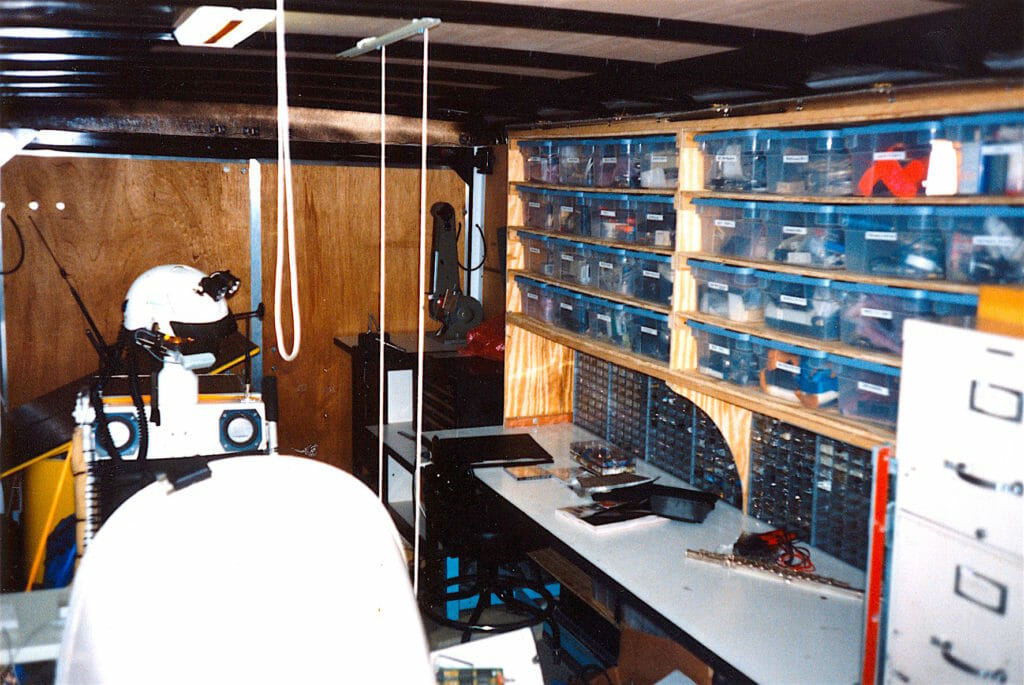 I spent much of 1993 schmoozing for lab space for the Microship project while still doing media and speaking gigs about the bike, and this post to my mailing list is a perfect snapshot of that time between projects. The broader tale of that complete development decade is here. From April 1, 1993:
Hello! This is not a bikelab report, but #21, filled with road stories and not much technology at all, is nearly done. I'm now about 2/3 finished with a speaking tour around the US, currently westbound into the Rockies with the intent of being in San Francisco by Monday for Texpo in Moscone Center…
Anyway, the reason for this posting is to issue an urgent request for space. As you probably know from previous reports to this alias, the next project (the Sea Moss Microship) is set to begin very soon. Much of this current tour is devoted to visiting interesting companies whose products will appear in the new system — Motorola, Qualcomm, GeoQuery, New Micros, Digital Ocean, AT&T, Microtech, Linear, Metacomet, Fluke, and many more — and the design is stabilizing into an efficient and streamlined nomadic platform. BEHEMOTH is scheduled to move into its new home in the Computer Museum in Boston when I hit the water in 1995, and by the middle of next month I want to be working full time on packaging hacks to the Fulmar-19 trimaran, the sleek substrate of the Microship.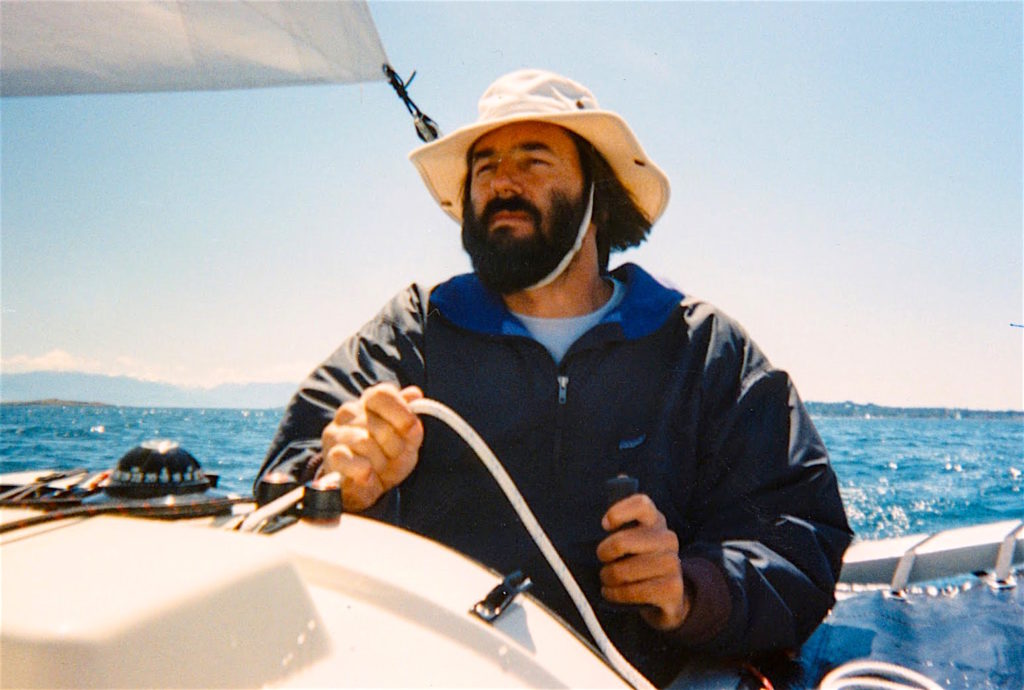 The only problem is… I need lab space. I was reasonably confident that the problem was solved: a group of 9 professors at the University of Washington in Seattle became quite excited about the prospect of having a robust and stimulating student project platform, and the cooperation between industry and academia was extremely alluring to all concerned. But the proposal was denied. The UW academic interest continues unabated, but there is no other site available unless we find a way to fund a rental nearby.
I am posting to you all in the hopes that somewhere among the 2500 or so recipients of this there are a few people with space resources to share. Let me briefly outline what I'm looking for and then comment on what I offer in return…
I need about 1200-2000 square feet of ground-level lab space, with good lighting. It should be near water so test runs and training sessions are readily available. Ideally, the boatlab should be associated with a healthy corporate or academic culture… or at least in a location where such resources are nearby. I need close mothership parking (my 40′ mobile lab), and I should be able to sleep on-site or very near without upsetting anybody (the overhead of a separate living space is a total waste during an intensive focused project). It should be possible to make occasional nasty smells (fiberglass) and loud noises (machining) without aggravating my neighbors, and coming and going at any time day or night must be acceptable. Security is critical, given the value of all this stuff and my lack of insurance, with good access control and hopefully on-site security personnel. I need phone and electricity, and I expect to use the space for 18-24 months.
The bulk of the BEHEMOTH project was hosted by Sun Microsystems in Mountain View, which was absolutely ideal: a lively and intelligent corporate community, a perfect 1200-square-foot lab, great security and resources, Sparcy's cafeteria, location in Silicon Valley, excellent net connections and computers, and more. While returning to Silicon Valley would seem the natural choice given the familiar support facilities, I'm not certain that's best given the need for water and an associated aquatic community — Seattle, San Diego, Marin County, and Boston have all come to mind as places where a massive high-tech resource base coincides with alluring water and a well-established sailing/kayaking culture. (Besides, the old bikelab has been carved up into offices, and there's not a lot of unused space at Sun…)
I've even thought about enlarging the mothership to a 40-foot fifth wheel and using THAT, appearing on-site to work with sponsors and various wizards… but that imposes too much overhead and probably belongs in the realm of fantasy (fun though it would be).
What would my prospective host get in return for this valuable resource of space? If corporate, the project will serve as a stimulating focus for brainstorming, shaking people out of linear thinking, and bringing a wide range of technologies into one place to help broaden the local perspective and yield spinoffs onto other markets. This sounds pretty vaporous, but it's real — one of the major personal costs of specialization is excessive focus, and a good, fun, multidisciplinary project can spark all sorts of new ideas. The other benefit, of course, is PR — this whole nomadness gig yields surprisingly steady media attention in a wide range of markets, and this inevitably rubs off on the project's host site.
If located at an academic facility, the Microship project will do all of the above, plus serve as a substrate for EE, ME, and CS student projects and other educational activities. This is what has the UW professors excited, and were it not for the bureaucratic problem, a lab there would already be a fait accompli. Personally, I still think that's the best option given the other characteristics of Seattle, so I'm particularly interested in Puget Sound opportunities that may allow a tie-in with the university there.
Finally, there is the conventional option of renting some perfect little office-warehouse near water in some suitable light-industrial area… but for this I need a sugar daddy or consortium of supporters. Since I've never asked any of my 150 or so sponsors for cash, this option seems vague, but I suppose it's not out of the question.
Thank you for indulging me in this quest — and for your patience with my low output of stories these days! There are many… some 7,000 mothership miles since the last real report… and the next posting to this alias will be of the more traditional variety. I look forward to getting my email at a motel in Wyoming tonight and finding the perfect lab space waiting… somewhere… out there…
Cheers from the road!
Steve
---
Steven K. Roberts N4RVE
NOMADIC RESEARCH LABS
Signature file updated: 4/1/93 at 21:04 Mountain
Current position: Lat 41 17 57.89 N Lon 105 35 36.54 W (a motel in Laramie, WY)
Elevation: 7366 ft
Latest travel: 274 miles at 298 degrees on 4/1
Travel mode: Mothership (diesel)
Next stops: SF, Santa Cruz, LA, San Diego, Portland, Seattle
Weather here: COLD and clear
Next media appearance: Discovery Channel "Next Step" 5/27 at 6:30/9:30
(also on KRON in San Francisco 5/2 at 10:30)
Current project: email interview — The Wireless Industry Prospectus
Comment of the week: Never assume that a modular phone jack implies connectivity. Small town motels are a nightmare.