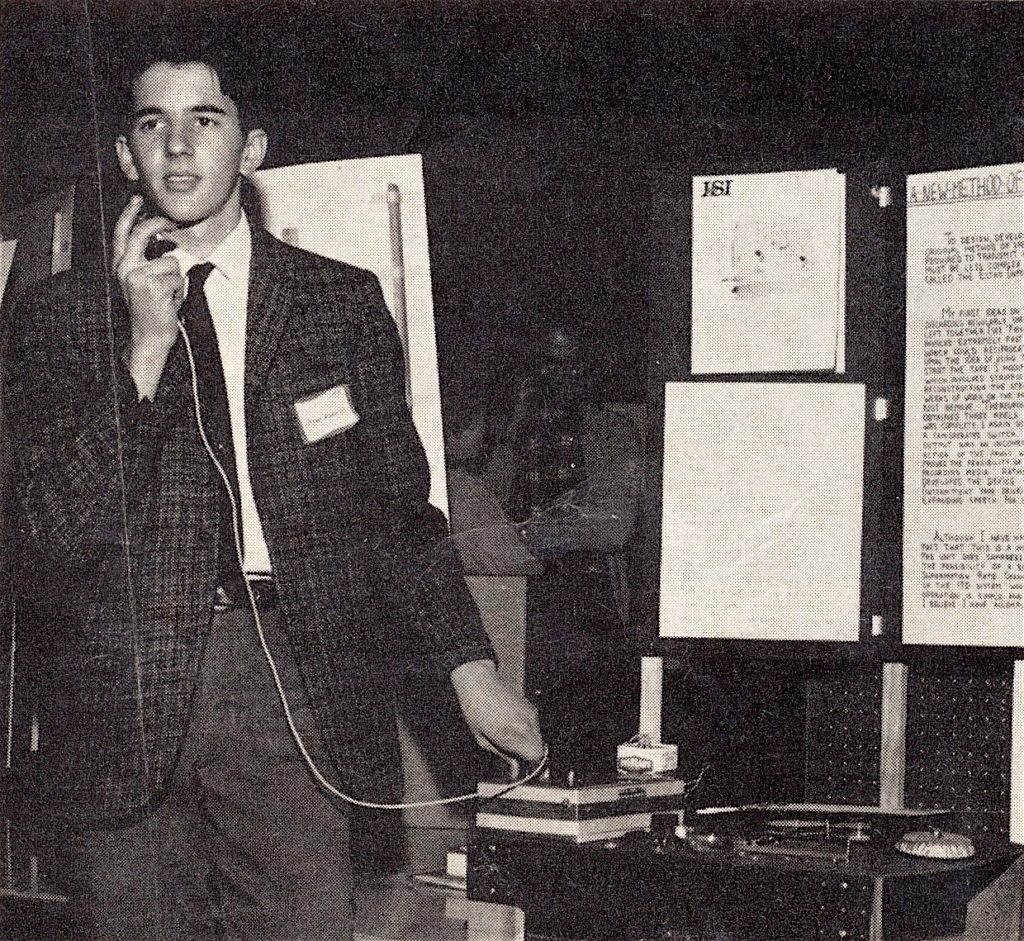 Speech Compression in 1968
Photo above: STEVE ROBERTS, son of Household Refrigerator employee Ed Roberts, demonstrates his exhibit at the recent Louisville Regional Science Fair held at Jeffersontown High School. Steve's project, "A New Method of Electronic Speech Compression," won him six awards and a number two spot at the fair.
This article appeared in the weekly General Electric News, published at Appliance Park for employees (my father was an engineer there). It seems to be the only photo I have of this year's science project… explained in a bit more detail after the article below. The tone of the piece is quaint… "oh, those clever kids these days!"
Want to Feel Dumb?
Just Attend a High School Science Fair
General Electric News
Louisville, Kentucky
April 19, 1968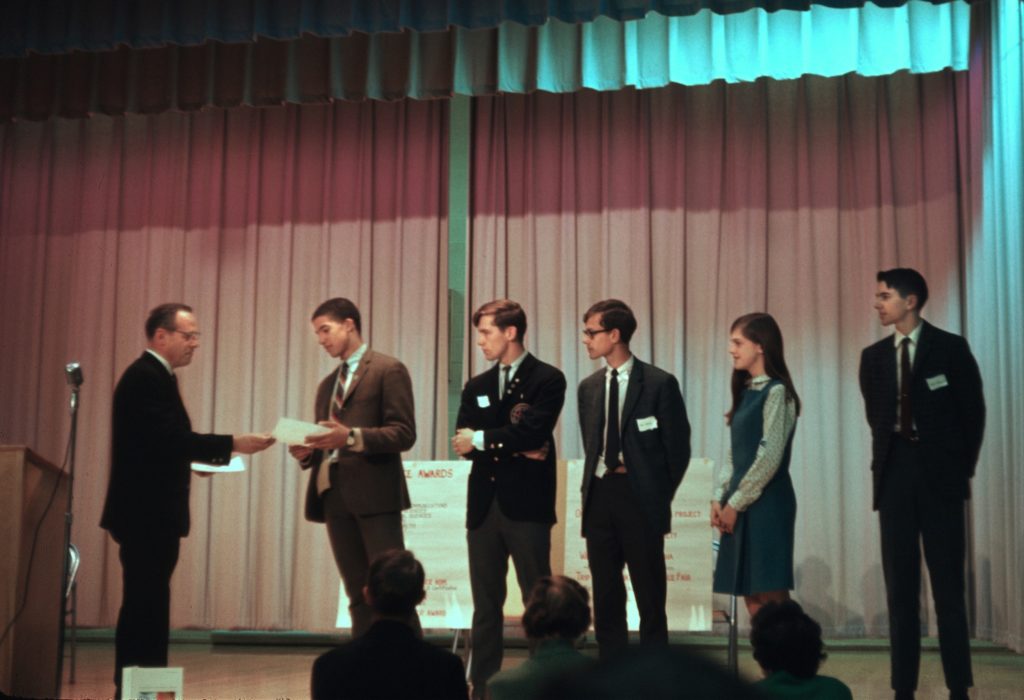 A local newspaper printed a story recently called "Science and Stupidity" in which it stated, "Nowhere is the generation gap, the failure to communicate between adult and teen-ager, so apparent as at a high school science fair…
"Parents are proud but puzzled at what their child has done."
To a great extent this was the way it was recently when 109 high schoolers from throughout Jefferson County set up exhibits in the Jeffersontown High School gym for the Louisville Regional Science Fair.
Among those entering their projects were several sons and daughters of Appliance Park employees. Many of the parents of these high schoolers wore smiles of understanding but later admitted that they were somewhat, or totally, confused over what their son or daughter had entered.
But not all the fathers were totally confused by their son's ingenuity in the field of science. One of these men is Ed Roberts, an engineer in the Household Refrigerator Department at Appliance Park. His son, Steve, entered a project called "A New Method of Electronic Speech Compression," enough to stagger the minds of most of us.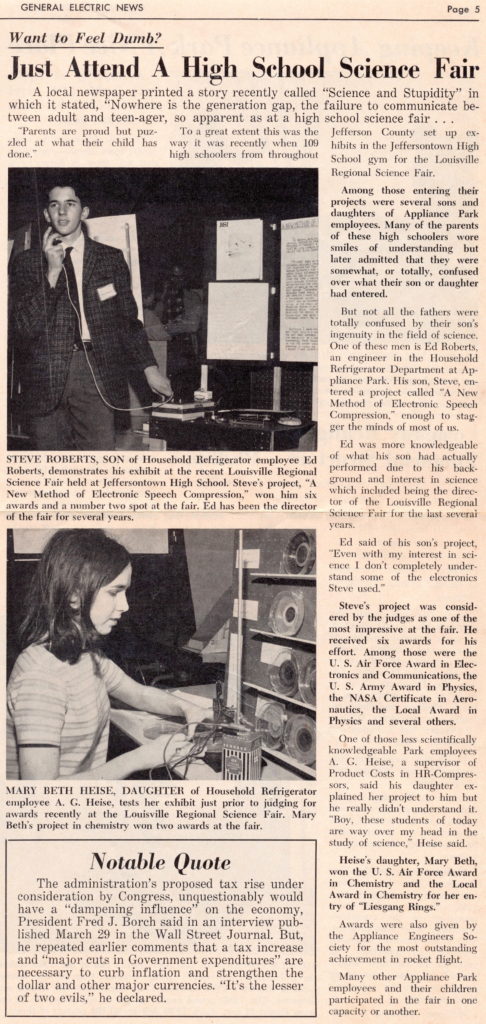 Ed was more knowledgeable of what his son had actually performed due to his background and interest in science which included being the director of the Louisville Regional Science Fair for the last severai years.
Ed said of his son's project, "Even with my interest in science I don't completely understand some of the electronics Steve used."
Steve's project was considered by the judges as one of the most impressive at the fair. He received six awards for his effort. Among those were the U. S. Air Force Award in Electronics and Communications, the U. S. Army Award in Physics, the NASA Certificate in Aeronautics, the Local Award in Physics, and several others.
One of those less scientifically knowledgeable Park employees A. G. Heise, a supervisor of Product Costs in HR-Compressors, said his daughter explained her project to him but he really didn't understand it. "Boy, these students of today are way over my head in the study of science," Heise said.
Heise's daughter, Mary Beth, won the U. S. Air Force Award in Chemistry and the Local Award in Chemistry for her entry of "Liesegang Rings."
Awards were also given by the Appliance Engineers Society for the most outstanding achievement in rocket flight.
Many other Appliance Park employees and their children participated in the fair in one capacity or another.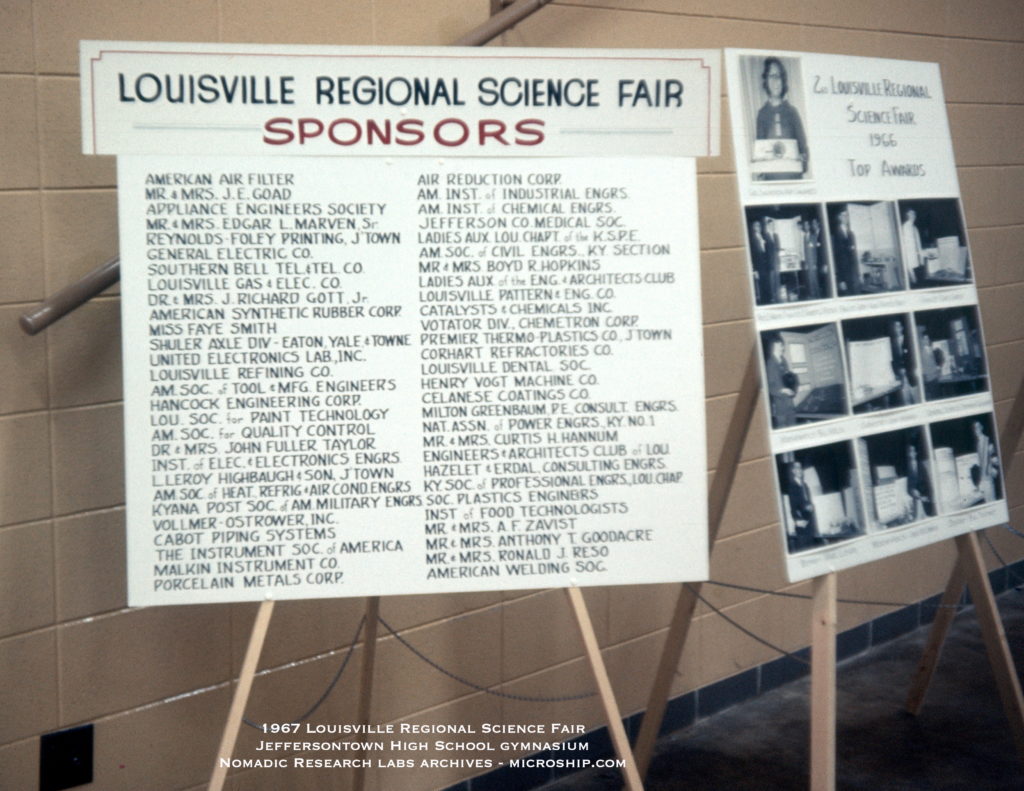 My Speech Compression System
The intent of this project was to be able to record an hour-long lecture, then play it back in half that time without the "Donald Duck effect" that comes from simply speeding up the tape.
Inspired by my dad's 8mm movie projector which moved film in quick steps and then lingered long enough on each frame to let the image register, I decided to move ¼-inch audio tape in short steps while recording, then let it flow continuously on playback. I did that by building a tape transport with a slotted capstan, using an optical sensor to turn off audio drive to the head when it was stopped (to prevent clicking). To play back, I simply rewound the tape and replaced the slotted capstan with a solid one. The net effect was chopping out lots of little bits of speech, but not changing the actual rate of recording. To adjust compression ratio, I chose from three capstans with different slot widths (which I made out of hard-rubber discs, grooved by a leather-working burner tool).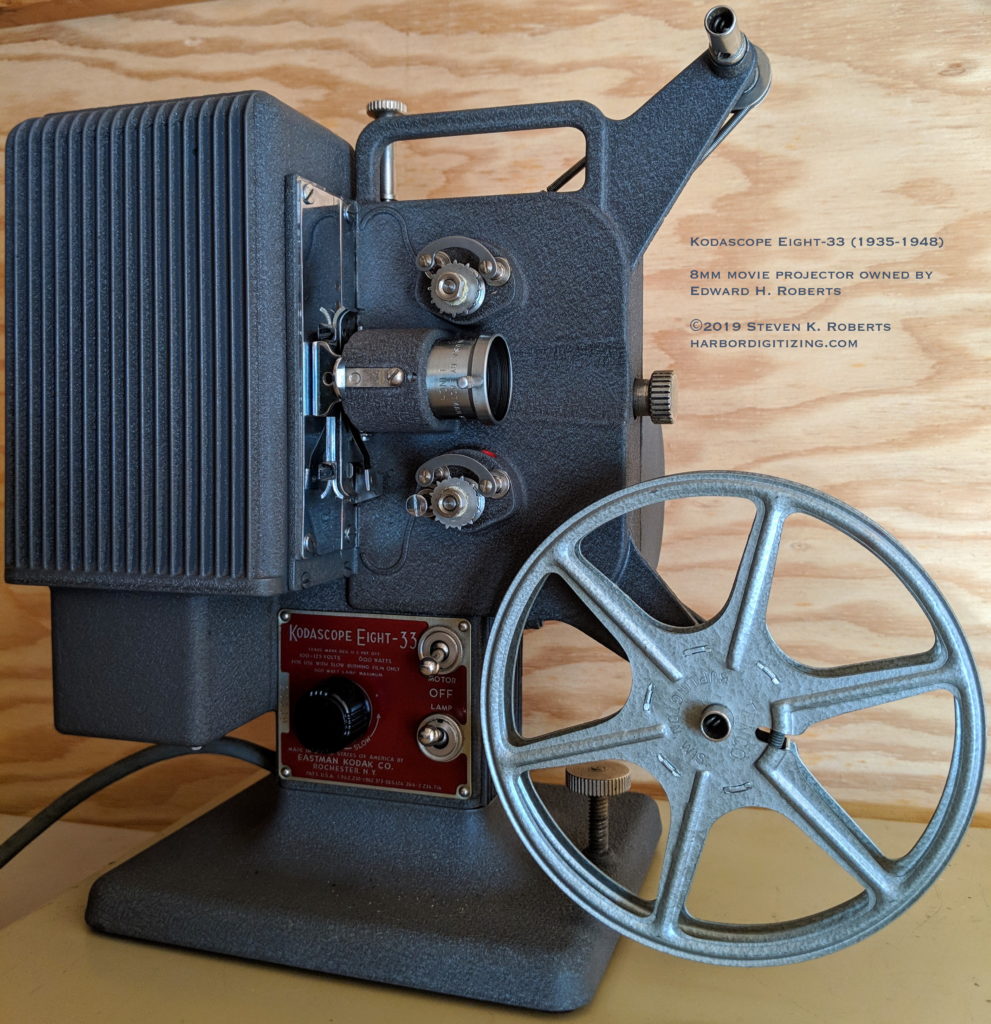 This project was a break from my obsessive work on speech synthesis, which occupied me in 9th, 10th, and 12th grade (at last getting me to the International Science Fair with a working model of the vocal tract based on X-rays of my own head).
Paleo-imaging non-sequitur
I looked at the photo in the article above with my laboratory microscope, and was fascinated to be reminded of how far we have come in photo reproduction….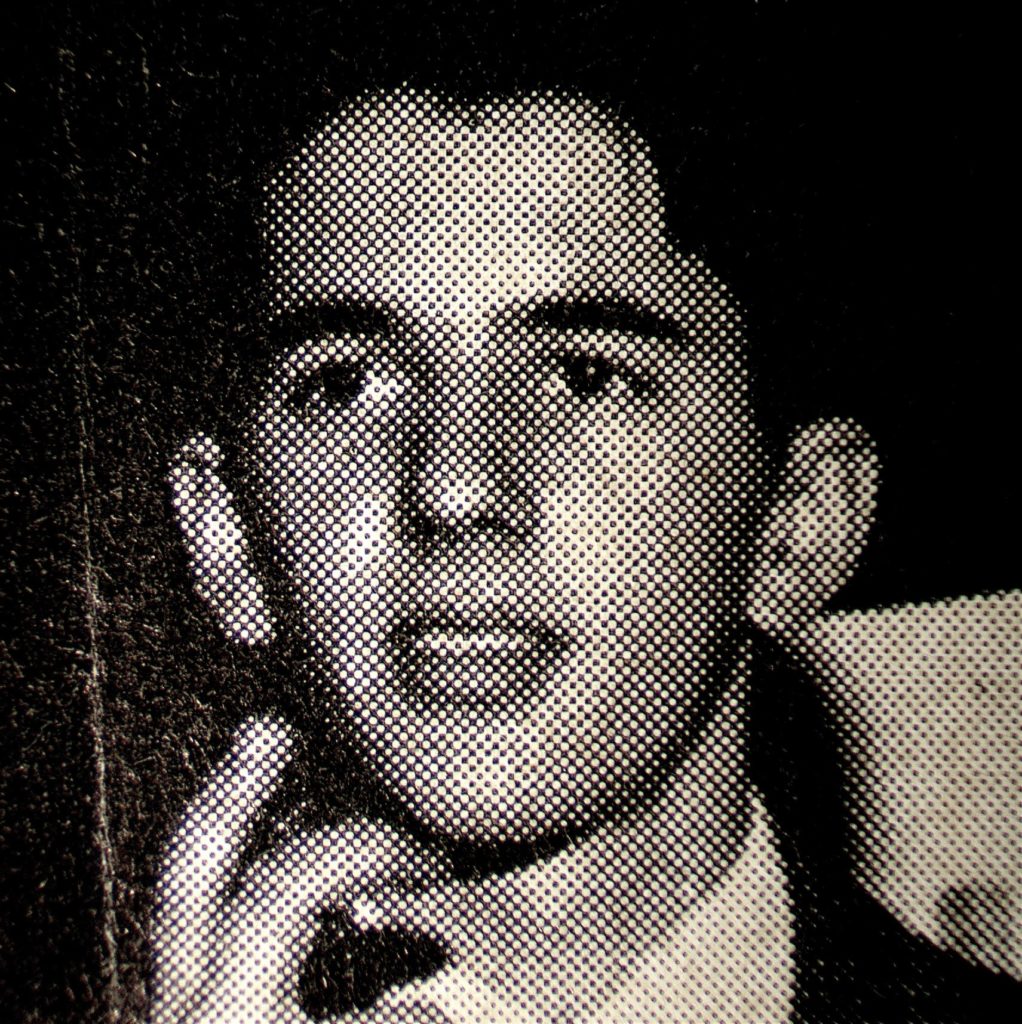 "Doctor, what is this weird pattern of dots on my face? Girls won't even talk to me."
"Well, son, you have a case of Halftone Syndrome. Dots on the face are not uncommon at your age, and will clear up… but they may be visible in future scans. In the meantime, try to stay six feet away from other people until your resolution improves. Avoid screens, and don't touch a moiré eel or the aliasing will get worse."