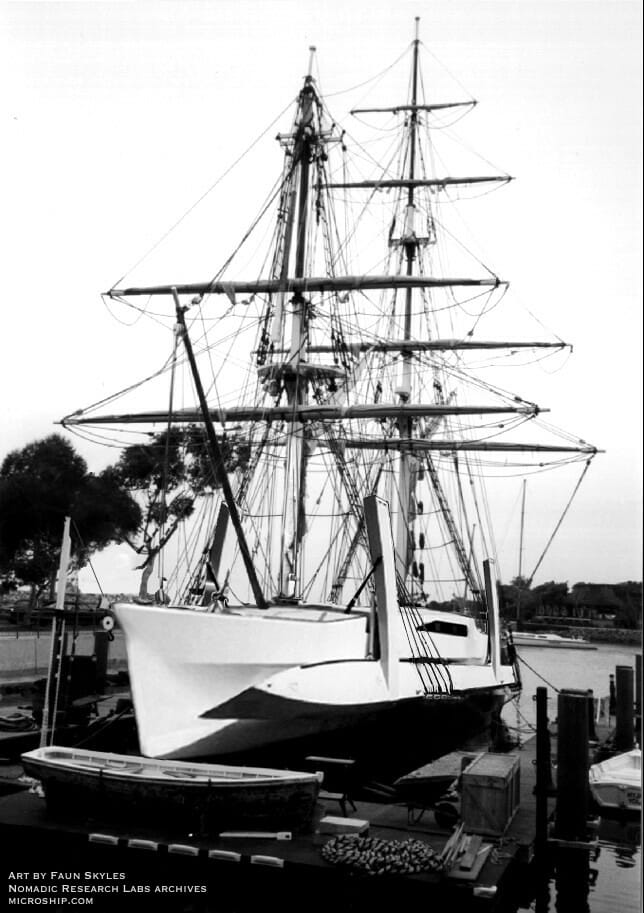 Technomad Takes to Water – Cruising World
Cruising World has always been one of my favorite armchair-sailing publications, and it was an honor to find my way into its pages early in the Microship project. This was during the brief period in which the substrate was Hogfish, a one-off folding trimaran built by John Walton and Mike Michie, predating the establishment of Corsair Marine. Here is the tale of our finding that boat abandoned behind a Los Angeles warehouse; over the next couple of years we moved it to the building sponsored by Apple in Silicon Valley, made some structural changes at the forward bulkhead, then decided on micro-trimarans instead. What a long, tangled, journey. Ironically, I bought a Corsair 36 many years later, and cruised her for a season before making an even bigger change of direction… to an 18-ton steel monohull. The name "microship" no longer fits…
Anyway, here's the piece in Cruising World, capturing some of the early enthusiastic confusion of the project: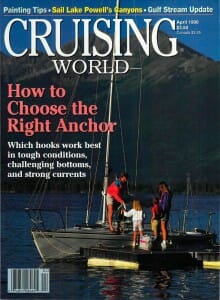 by Barbara Marrett
Cruising World – April, 1996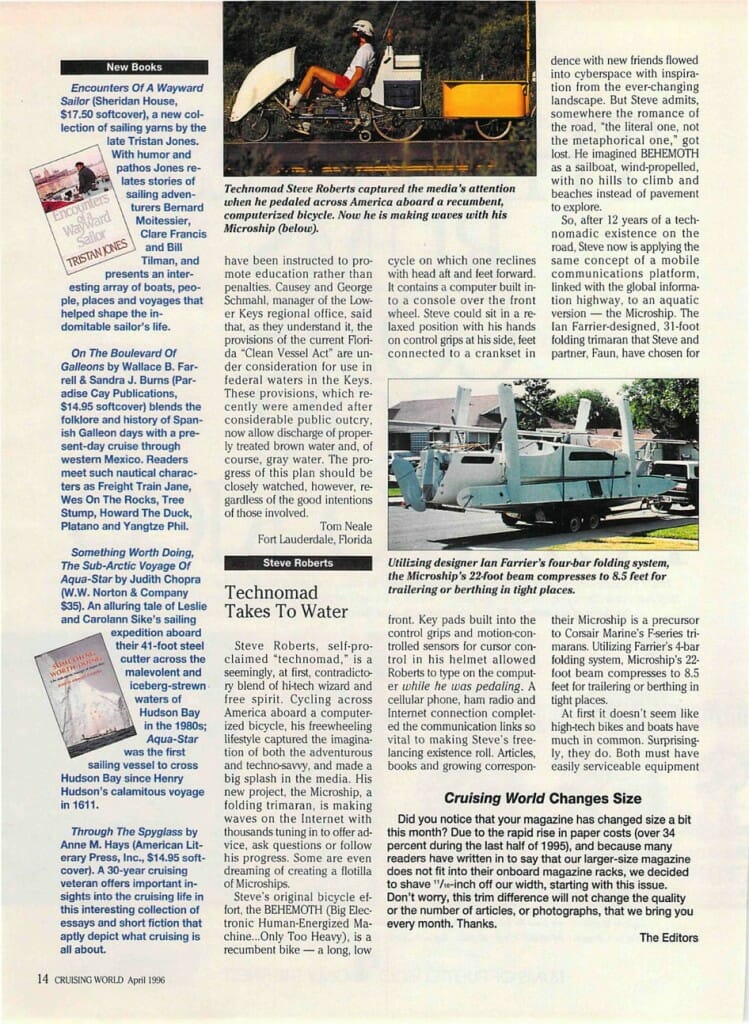 Steve Roberts, self-proclaimed "technomad," is a seemingly, at first, contradictory blend of hi-tech wizard and free spirit. Cycling across America aboard a computerized bicycle, his freewheeling lifestyle captured the imagination of both the adventurous and techno-savvy, and made a big splash in the media. His new project, the Microship, a folding trimaran, is making waves on the Internet with thousands tuning in to offer advice, ask questions or follow his progress. Some are even dreaming of creating a flotilla of Microships.
Steve's original bicycle effort, the BEHEMOTH (Big Electronic Human-Energized Machine…Only Too Heavy), is a recumbent bike — a long, low cycle on which one reclines with head aft and feet forward. It contains a computer built into a console over the front wheel. Steve could sit in a relaxed position with his hands on control grips at his side, feet connected to a crankset in front. Key pads built into the control grips and motion-controlled sensors for cursor control in his helmet allowed Roberts to type on the computer while he was pedaling. A cellular phone, ham radio and Internet connection completed the communication links so vital to making Steve's freelancing existence roll. Articles, books and growing correspondence with new friends flowed into cyberspace with inspiration from the ever-changing landscape. But Steve admits, somewhere the romance of the road, "the literal one, not the metaphorical one," got lost. He imagined BEHEMOTH as a sailboat, wind-propelled, with no hills to climb and beaches instead of pavement to explore.
So, after 12 years of a technomadic existence on the road, Steve now is applying the same concept of a mobile communications platform, linked with the global information highway, to an aquatic version — the Microship. The Ian Farrier-designed, 31-foot folding trimaran that Steve and partner, Faun, have chosen for their Microship is a precursor to Corsair Marine's F-series trimarans. Utilizing Farrier's 4-bar folding system, Microship's 22-foot beam compresses to 8.5 feet for trailering or berthing in tight places.
At first it doesn't seem like high-tech bikes and boats have much in common. Surprisingly, they do. Both must have easily serviceable equipment that will stand up to years of movement, moisture, temperature extremes and human abuse. Both use solar power. Steve plans a 1,080-watt solar array to power an electric thruster (instead of an outboard) possibly with a backup small diesel generator. Twin kayaks that can be attached together to form a stable catamaran configuration for ferrying loads will substitute for a traditional dinghy.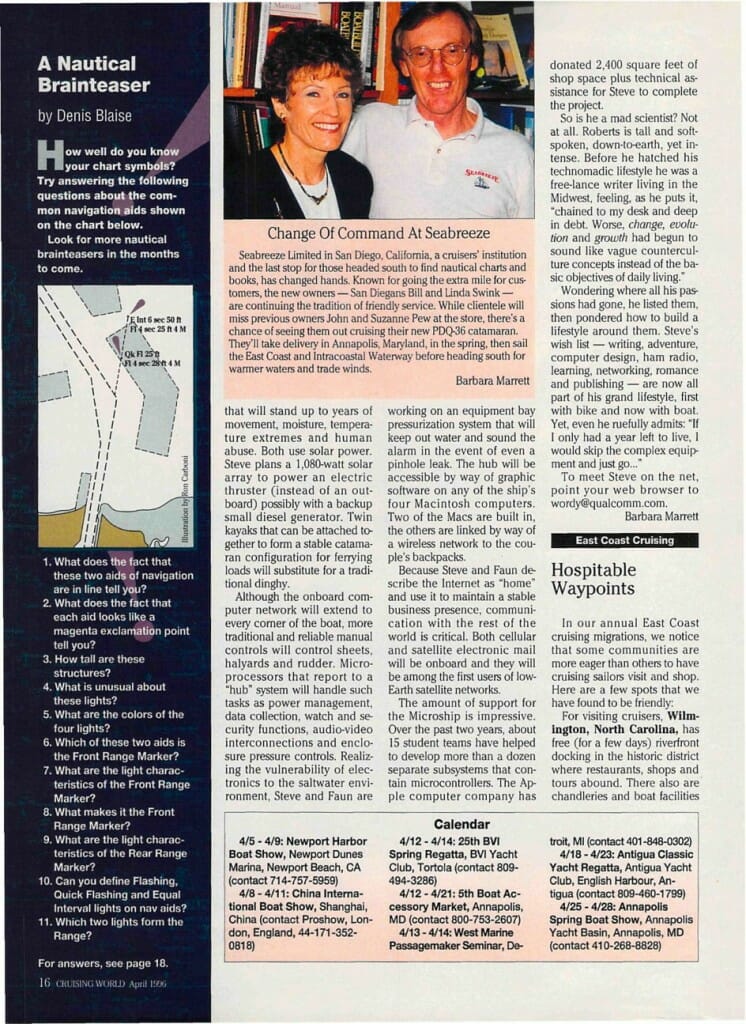 Although the onboard computer network will extend to every corner of the boat, more traditional and reliable manual controls will control sheets, halyards and rudder. Microprocessors that report to a "hub" system will handle such tasks as power management, data collection, watch and security functions, audio-video interconnections and enclosure pressure controls. Realizing the vulnerability of electronics to the saltwater environment, Steve and Faun are working on an equipment bay pressurization system that will keep out water and sound the alarm in the event of even a pinhole leak. The hub will be accessible by way of graphic software on any of the ship's four Macintosh computers. Two of the Macs are built in, the others are linked by way of a wireless network to the couple's backpacks.
Because Steve and Faun describe the Internet as "home" and use it to maintain a stable business presence, communication with the rest of the world is critical. Both cellular and satellite electronic mail will be onboard and they will be among the first users of low-Earth satellite networks.
The amount of support for the Microship is impressive. Over the past two years, about 15 student teams have helped to develop more than a dozen separate subsystems that contain microcontrollers. The Apple computer company has donated 2,400 square feet of shop space plus technical assistance for Steve to complete the project.
So is he a mad scientist? Not at all. Roberts is tall and soft-spoken, down-to-earth, yet intense. Before he hatched his technomadic lifestyle he was a free-lance writer living in the Midwest, feeling, as he puts it, "chained to my desk and deep in debt. Worse, change, evolution and growth had begun to sound like vague counterculture concepts instead of the basic objectives of daily living."
Wondering where all his passions had gone, he listed them, then pondered how to build a lifestyle around them. Steve's wish list — writing, adventure, computer design, ham radio, learning, networking, romance and publishing — are now all part of his grand lifestyle, first with bike and now with boat. Yet, even he ruefully admits: "If I only had a year left to live, I would skip the complex equipment and just go…"
Resources
A bit more on this boat is in my article in Multihulls, March/April 1996.
Footnote: we did some serious reverse-engineering of this boat, pulling the lines of the center hull using a grid taped to the floor and an adjustable-height pointer we dubbed the "bum plob." David Berkstresser took many hundreds of data points and created a computer model, then used that to produce a scaled miniature with his homebrew 3D rapid prototyping machine.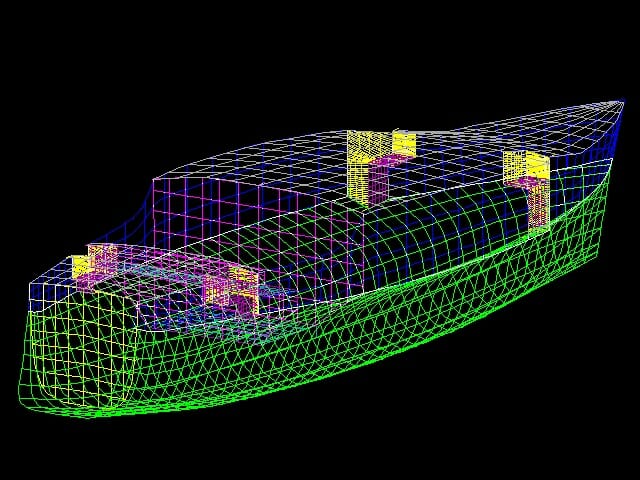 You must log in to post a comment.