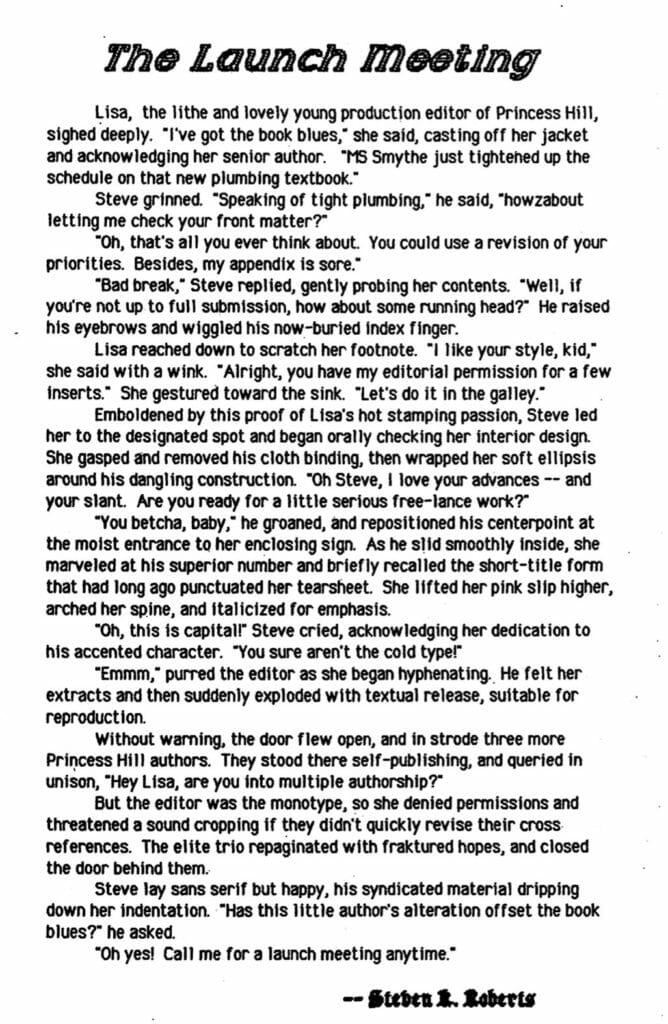 This erotic tale of publishing jargon was the product of a giggly afternoon in 1981, inspired by editorial flirtation while I was writing my Industrial Design with Microcomputers textbook (Prentice-Hall, 1982, ISBN 0-13-459461-4). In that pre-Internet age, this had a brief life as one of those nth-generation photocopies that got passed around with furtive snickers… but I never posted it electronically until 2016. Some of the ~65 twisted references to editing and publishing terms are getting a bit obscure as the technology evolves, and the protagonist's pseudonym, LISA, was an acronym for Library and Information Science Abstracts (I was deep into the online information retrieval world at the time). Here are photos of me in my workspace at about that time, including the computer system.
by Steven K. Roberts
August, 1981
Dublin, Ohio
Lisa, the lithe and lovely young production editor of Princess Hill, sighed deeply. "I've got the book blues," she said, casting off her jacket and acknowledging her senior author. "MS Smythe just tightened up the schedule on that new plumbing textbook."
Steve grinned. "Speaking of tight plumbing," he said, "howzabout letting me check your front matter?"
"Oh, that's all you ever think about. You could use a revision of your priorities. Besides, my appendix is sore."
"Bad break," Steve replied, gently probing her contents. "Well, if you're not up to full submission, how about some running head?" He raised his eyebrows and wiggled his now-buried index finger.
Lisa reached down to scratch her footnote. "I like your style, kid," she said with a wink. "Alright, you have my editorial permission for a few inserts." She gestured toward the sink. "Let's do it in the galley."
Emboldened by this proof of Lisa's hot stamping passion, Steve led her to the designated spot and began orally checking her interior design. She gasped and removed his cloth binding, then wrapped her soft ellipsis around his dangling construction. "Oh Steve, I love your advances — and your slant. Are you ready for a little serious free-lance work?"
"You betcha, baby," he groaned, and repositioned his centerpoint at the moist entrance to her enclosing sign. As he slid smoothly inside, she marveled at his superior number and briefly recalled the short-title form that had long ago punctuated her tearsheet. She lifted her pink slip higher, arched her spine, and italicized for emphasis.
"Oh, this is capital" Steve cried, acknowledging her dedication to his accented character. "You sure aren't the cold type!"
"Emmm," purred the editor as she began hyphenating. He felt her extracts and then suddenly exploded with textual release, suitable for reproduction.
Without warning, the door flew open, and in strode three more Princess Hill authors. They stood there self-publishing, and queried in unison, "Hey Lisa, are you into multiple authorship?"
But the editor was the monotype, so she denied permissions and threatened a sound cropping if they didn't quickly revise their cross references. The elite trio repaginated with fraktured hopes, and closed the door behind them.
Steve lay sans serif but happy, his syndicated material dripping down her indentation. "Has this little author's alteration offset the book blues?" he asked.
"Oh yes! Call me for a launch meeting anytime."